I need to take a brief interlude from talking about the Fighters to post about the Tokyo Big 6 League opening day games, because otherwise they're just going to fall through the cracks and the second weekend has already passed. Opening Day was actually on April 11th, last Saturday.
I bugged my friend Pau to get discount tickets for the game, because he attends a certain Big 6 University that is completely abysmal at baseball. Infact, they are so abysmal and draw so few fans that tickets were discounted from 1300 yen to 300 yen. Score.
Unfortunately, when we actually arrived and sat in student seating, I got politely told to get rid of my camera by a bunch of totally nerdy-looking Todai ushers, who said something about how the cheerleaders didn't want people photographing them, so cameras were banned everywhere in Jingu from now on this year. What? However, we saw plenty of people with cameras further infield, so we wandered over that way and found some seats about halfway up. It was a bit far back for me to get good photos, but better than nothing, I guess.
I don't even really know what to say about the first game. It was a slaughter, and Waseda totally killed Todai,
11 - 0
. Part of why I wanted to see this game, even though I knew it'd be a landslide, is that two of my favorite Big 6 pitchers were likely to be out there -- Tokyo's Yuichi Suzuki, and Waseda's Tatsuya Ohishi.
Suzuki is tall, left-handed, and doesn't totally suck at baseball, which makes him a rarity for a Todai player. I've gone on about him once or twice before on here, notably when I happened to be there for one of his
only two wins ever
.
Ohishi, well, I've been in love with this kid since fall Soukeisen 2007. At first I thought it was just funny that a little kid behind us was mispronouncing "Oh-ishi" as "oishii", which means delicious, and we were saying that this pitcher was really not delicious. However, as it turned out, he really IS delicious. He can throw 155 km/h and has the most unreal stats I've seen for anyone in the Tokyo Big 6 league in quite some time. He's a reliever and pretty much just always follows that handkerchief kid. Last season Ohishi struck out 34 guys in 16 innings and allowed 5 baserunners in that entire time, no runs. And he didn't even face Todai! He's amazing and I love him and I want him to be the Fighters closer in 2-3 years.
Anyway, I got to see both of my favorite guys pitch, and I got to see a lot of Waseda batters go totally postal on the Todai pitching. I'm not sure what's up with Suzuki-kun, as he threw 159 pitches in 7 innings and didn't pitch at all in the second weekend, though. I wonder if all of those weekends of throwing 300-400 pitches is finally catching up with him now that he's a senior. (In a message on the Todai club page he said
something
about suffering such a defeat to Waseda and he would leave the Meiji series to Nishimura, but... eh.)
Anyway, some photos:
It is customary to bow before devouring your prey, see.
This is Yuichi Suzuki, the ace of the University of Tokyo baseball team, who may have pretty much blown his arm out. Oops.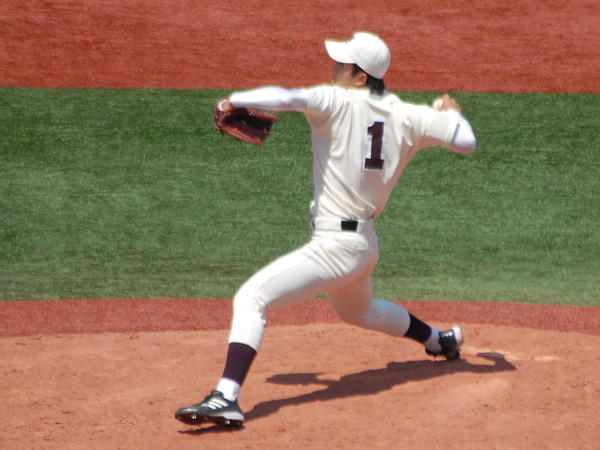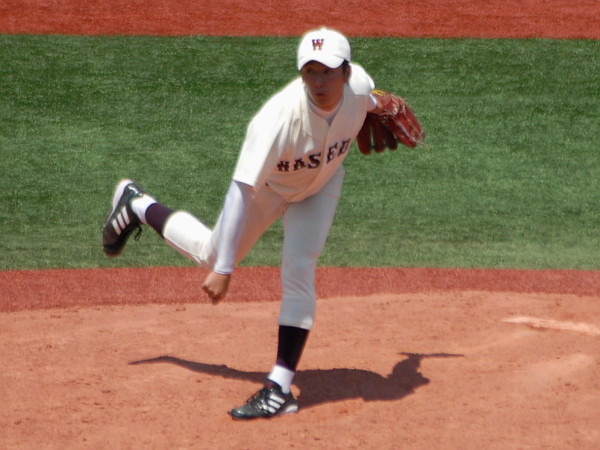 This is the most famous college pitcher in Japan, Saitoh Yuki. He became famous back in 2006 for winning Koshien as a senior at Waseda Jitsugyo HS and carrying a blue handkerchief with him to wipe the sweat off his forehead.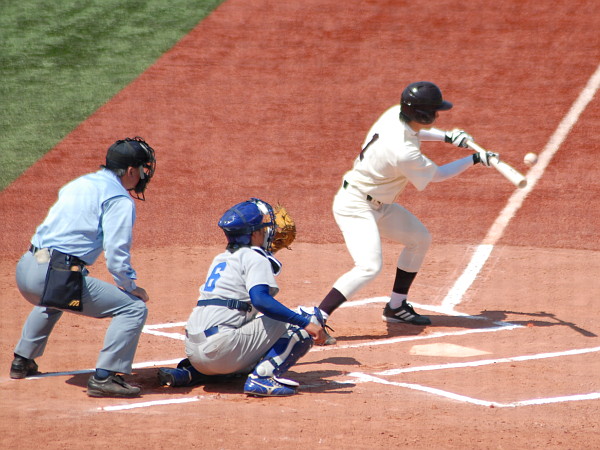 Here is Mr. Handkerchief at bat, bunting away.
Todai first baseman Nagomu Kasai. Earth to Kasai: even if you wear Oakley sunglasses, it will NEVER be cool to be on the Todai baseball team.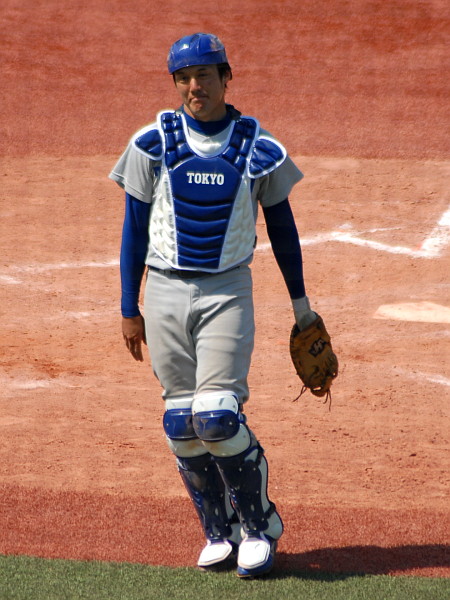 Todai catcher Atsushi Tanaka. He's incredibly expressive, and he had to keep chasing foul balls or running after wild pitches from the non-Suzuki pitchers. I kind of imagine him smirking a Japanese equivalent of "That's all right, that's okay, THEY'RE gonna work for US someday!"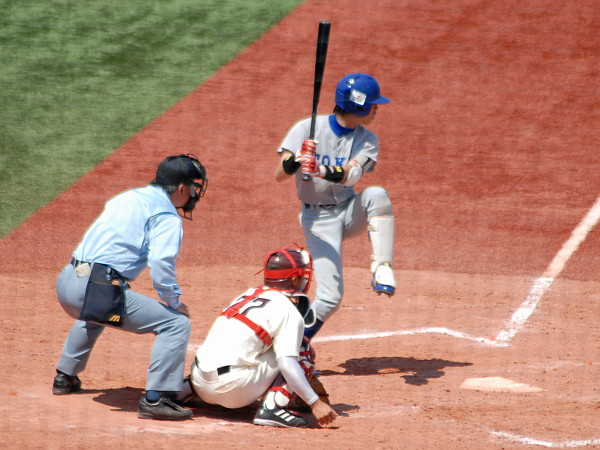 Todai cleanup batter Shota Utsumi, perhaps the skinniest cleanup batter ever, coming in at a whopping 5'9" and 155 pounds, if that.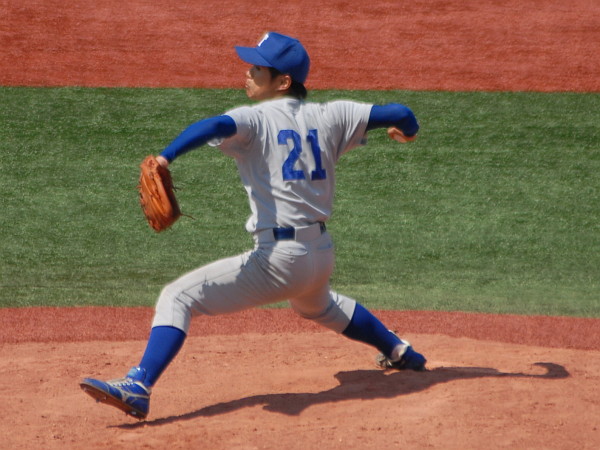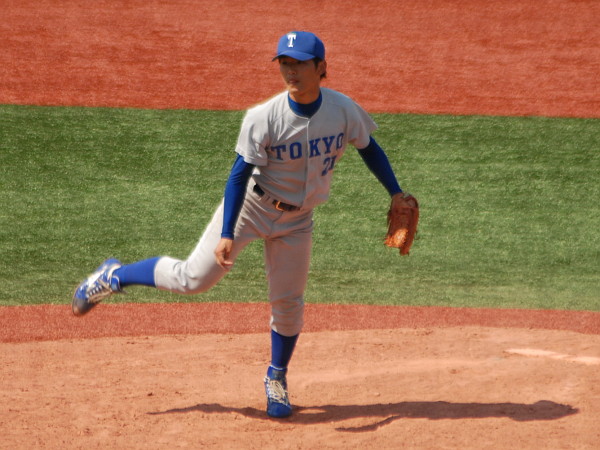 After Suzuki finally gave out, and Ikuto Nishimura got roughed up, sophomore Hibiki Wada came out to pitch. He's named Wada and wears #21... and that's about all he has in common with the Hawks pitcher Tsuyoshi. Wada, at 5'8" and 150 pounds, is actually SMALLER than Utsumi. Wow!
(We were joking for half the game how Todai has an Utsumi, a Wada, a Tanaka wearing #6, all of these pro players!)
In the 7th inning, I saw my Ohishi warming up in the Waseda bullpen, and for whatever reason, even though they totally didn't need a closer, he came in to pitch the 8th and 9th. I was happy to see him pitch anyway, and of course he got 4 strikeouts. He's so good. Yeah, it's Todai, but he'd do that against any college.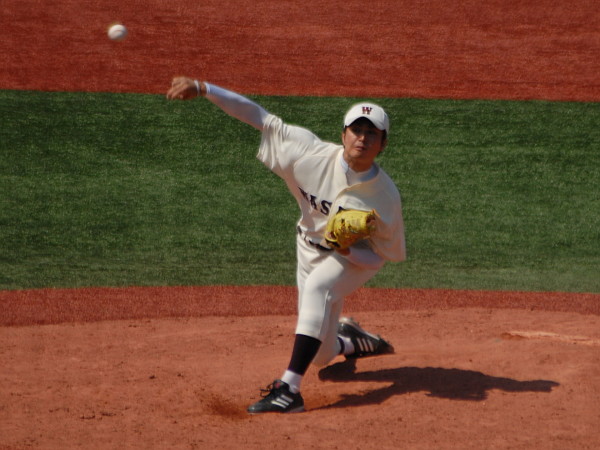 Don't mind me while I swoon for a second. He's seriously probably my favorite college baseball player EVER. I just wish Waseda games weren't so well-attended, so I could sneak down to the field sometime.
Final score. Ouch.
Pau left right after Ohishi pitched the 8th inning of the first game, but I decided, despite that I was getting sunburnt to a crisp, to stick around for the second game, of Keio vs. Rikkio. I like Keio's starter Nobuaki Nakabayashi, and also their captain Tetsuya Urushibata, so this second game was a lot of fun for me to see, except that Keio
lost the game 1-0
to Rikkio. However, Nakabayashi went the entire game and was far more economical with his pitches -- and Urushibata got 2 hits, more than anyone else on the Keio squad. Unfortunately, the Rikkio pitcher I like, Masahito Nihira, only got to make a brief appearance at the end. On the other hand, I hadn't seen starter Kenji Tomura before, and he was interesting to watch too.
Also, in the second inning of this game, Rikkio catcher Maeda fouled a ball back a bit behind us and it bounced and landed in the seat of the older lady sitting next to me! It bounced behind us and kind of got lodged in her back, and she was like "It's on my butt!" as she jumped out of her seat to retrieve the ball. An usher came by a few seconds later and basically asked her to give the ball back in exchange for a Tokyo Big 6 pin as a "present". That's kind of cool and kind of lame all at once. I'd certainly rather have a baseball than a pin.
Anyway, this was a super-close pitcher's duel and a lot of fun to watch, and well worth the sunburn I had to endure for the week afterwards.
More photos!
Rikkio catcher Daichi Iwabuchi, before the game.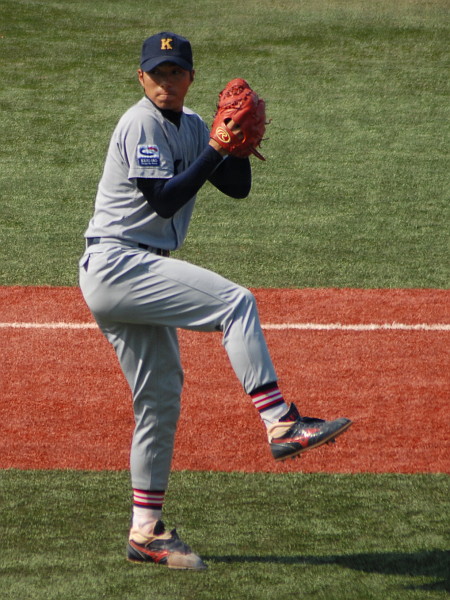 The aforementioned Nobuaki Nakabayashi, Keio's lefty ace starter.
Another bow to start the game.
Rikkio second baseman and captain Reo Nakayama gets the first hit of the game.
Nakayama also scores the ONLY run of the game, also in the first inning.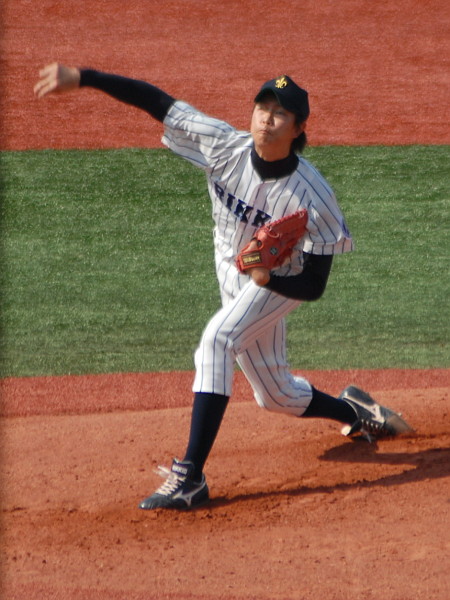 Tomura, the tall stringbean-like Rikkio pitcher. He's seriously listed as like 6'2" and 170 pounds.
Keio captain Tetsuya Urushibata.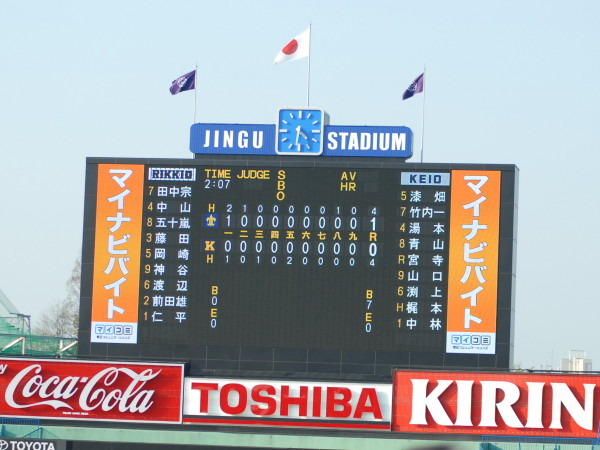 Sad, sad, sad.
I will note that the game ended in a very climactic way: Tomura walked the first two Keio batters in the bottom of the 9th, and then he was taken off the mound in favor of my guy, Nihira. But I wanted Keio to win, so I couldn't really cheer for him. Anyway, the next guy sac bunts the first two runners over to 2nd and 3rd, and then they intentionally walked pinch-hitter Kajimoto. The bases were loaded for Keio pitcher Nakabayashi to bat. He's actually a pretty good batter for a pitcher and all, but this time he hit a pop fly out to left. After him was my other favorite guy, Urushibata, and he... also hit a pop fly, caught by the shortstop in shallow left, which ended the game.
Rikkio, for their part, seemed absolutely delighted to win such a close game. They've been kind of crappy the last few years, so maybe they'll do a little better this year, make things interesting and all.
Anyway, I'm always the first one to say that Tokyo Big 6 baseball is completely lopsided competitively, but that doesn't mean it's not a ton of fun to watch. The student cheering sections are fantastic, the marching bands are great, and the baseball is almost as heartfelt as Koshien games, just the level of play is a lot higher, aside from Todai, of course. I'm looking forward to taking in a few more games this season and in the fall!