After all of the fun of the Fighters come-from-behind win on Saturday, I went back there on Sunday for more come-from-behind winning fun!
I showed up at 10:30am for a 1pm game, met up with my friend Hiromi, and this is the line we had to wait in, half an hour before the doors even opened: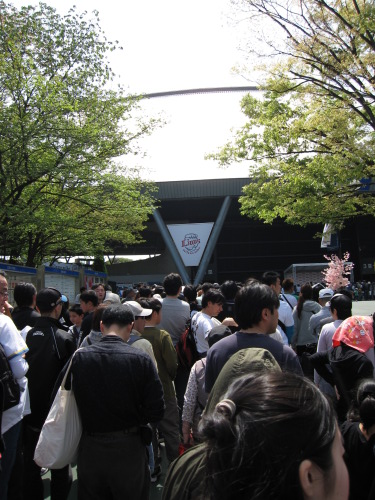 Fortunately, our friends had arrived at like 8am and saved seats for us in the front when they went in.
Hiromi and I ran off to take photos at the bullpen and elsewhere. I already posted my
exploring the new features at the Seibu Dome
photos in another post, so here are just a few shots I got of the Fighters. I didn't bring my GOOD camera, just my new point-and-shoot, so I don't really have that many...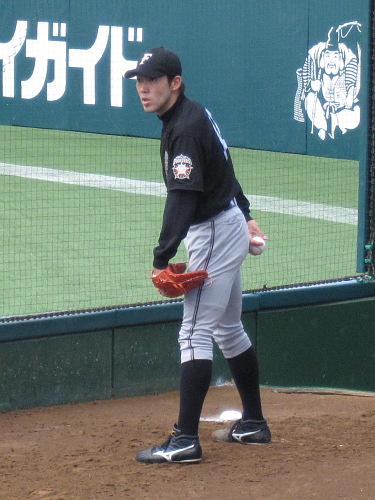 Kazuhito Tadano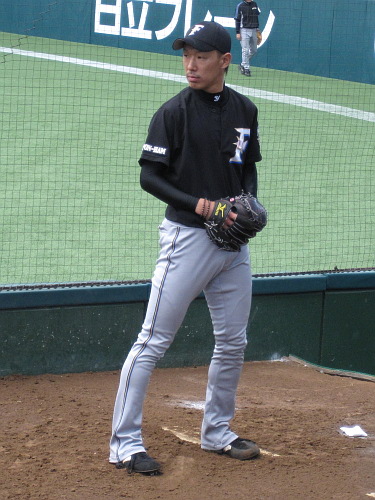 Tomoya Yagi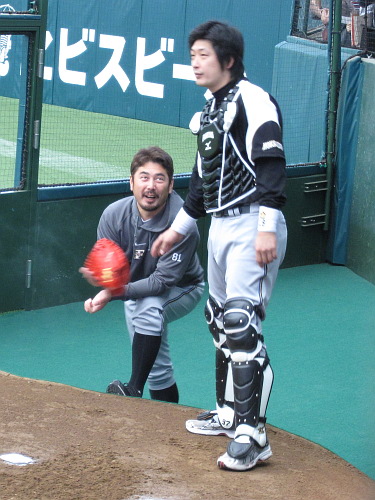 Pitching coach Masato Yoshii laughing with bullpen catcher Shunsuke Sugiyama.
We wandered over towards the infield and saw some more batters doing tee batting before heading into the batting practice cage...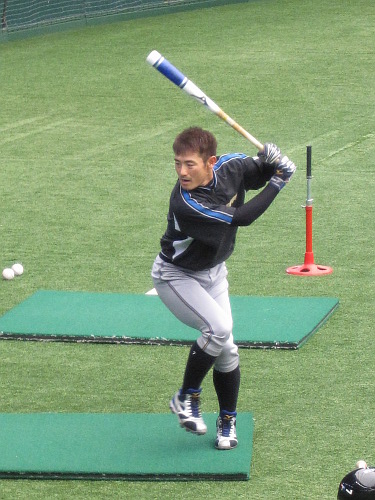 Tomochika Tsuboi!
Kensuke Tanaka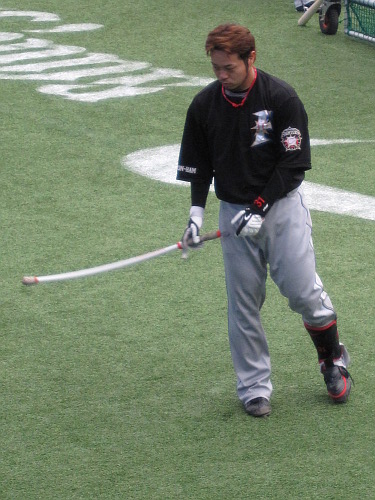 E-I-I-CHI (clap clapclap clapclap clapclap) Koyano. No, I'm not sure what he's holding.
After we explored the new restaurants and bathrooms and elevators and all, we went back towards the bullpen, where Brian Sweeney was running back and forth and warming up. We saw more of our friends hanging out there yelling stuff at Brian in Japanese...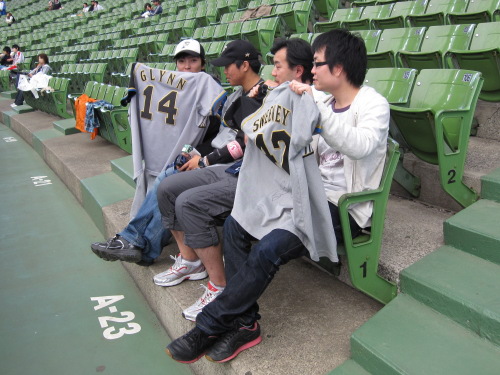 The guy holding the Glynn jersey asked me in Japanese, "Can you help us? Talk to him in English for us?"
I blinked. "What do you want me to say?"
He said "Tell him that he should ganbatte for Ryan's sake too!"
I'm like "EEEEEHHHH?"
But I basically told Brian all the stuff they were saying -- "Brian, they want to tell you good luck but they can't speak English... this weirdo over here wants you to kick ass for Ryan's sake too..."
Then we headed up and got some delicious miso katsudon and went back to the outfield to cheer. One of the ladies in the Hokkaido posse had a ton of big felt signs that she and her daughter made, including this awesome one for Brian Sweeney...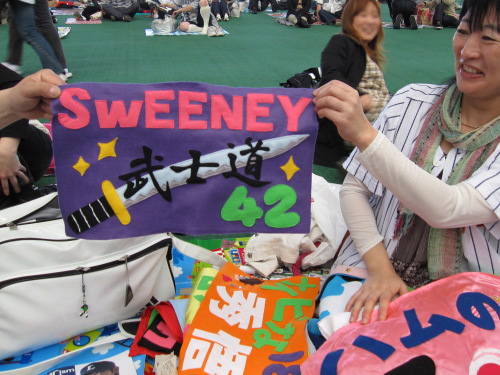 (The kanji spell out "Bushido", in case you are wondering.)
Brian Sweeney was the Fighters' starter for this game, and the Lions put up John Wasdin, so it was a showdown of non-Japanese pitchers.
At first, it seemed like Wasdin was going to come out ahead, as Sweeney had a really rough beginning, walking the first two batters, Kataoka and Kuriyama, before Hiroyuki Nakajima singled home Kataoka to put the Lions up 1-0 quickly. Okawari-kun Nakamura singled next, Kuriyama scoring to make it 2-0, and then Nakajima scored a bit later on a groundout to short, so it was
3-0
in favor of Seibu coming out of the first inning.
However, the Fighters struck back in the second; Eiichi Koyano led off with a double, and then Shinji Takahashi grounded to third but Nakamura made a bad throw and the ball got past first, Koyano running to third on the play. Luis Jimenez singled after that, scoring Koyano,
3-1
(and Shinji ran to third, sliding in). Shota Ohno grounded out to third, the play forcing Jimenez at second, but Ohno beat the relay to first, and Shinji scored on the play.
3-2
. Then our "saikou no kyu-ban", or greatest 9-spot batter ever, Makoto Kaneko, doubled to right, moving Ohno to third, so Kensuke Tanaka could almost hit a homer to right, but fail, instead getting the sacrifice fly, scoring Ohno,
3-3
. Itoi grounded out but the game was tied.
I noted that despite us having one run in and runners at the corners with no outs, there was no chance music. On the other hand, the ouendan were being pretty goofy, at one point saying things like "Okay, time to sing the song for Inaba... if you don't know the words just make sure you join for 'Kattobase Inaba!' Things like that. One of the other guys came out and said, "Don't forget that this game is being broadcast on BS1 today, all over the nation, so I want them to hear us ALL OVER THE NATION! Now give me a loud voice and..."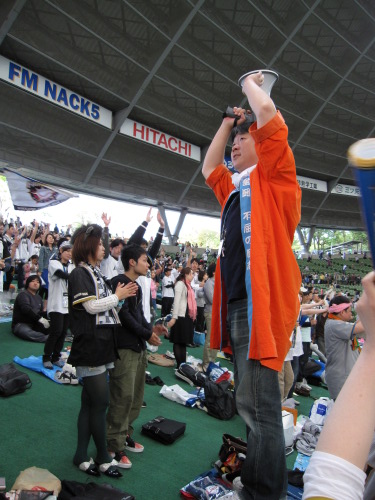 Anyway, things were peachy until the bottom of the 5th when the Lions decided to score some more runs and make it
6-3
and knock Sweeney out of the game. Kazumasa Kikuchi took his place on the mound and mostly kept things under control through the 7th inning.
In the meantime, the Fighters chipped away at the Lions lead. Masamitsu Hirano, who we'd seen on stage outside the dome before the game, pitched the top of the 6th, and immediately gave up a solo homer to Shinji Takahashi (
6-4
). He struck out the next two guys, but then Kaneko hit another Patented Kaneko Double, and Hirano walked the next two batters to load the bases. With Inaba up to bat and bases loaded our hopes were pretty high, but Tomoki Hoshino came in to pitch to him and got a ground out to first. Doh.
The Lions decided they were no longer messing around and brought in Shinya Okamoto to pitch the 7th, but Koyano managed a double off him and Jimenez drove him in with a single.
Still, the Fighters managed to squander another bases-loaded chance in the 8th inning, so it was
6-5
in Seibu's favor going into the 9th inning. Their closer Alex Graman (who is mostly seen at the park these days on the big screen for their "baseball English" segments) was taken off the active roster in mid-April for problems with a stiff left shoulder, so I suppose right now the closer's spot is up for grabs, though one could note that Seibu mostly solves the need for a closer by bashing the heck out of their opposition anyway.
Former closer Chikara Onodera drew the short straw that day and got the call to finish out the game for the Lions.
And well, the Fighters just weren't having any of it. Shinji Takahashi led off with a double, and Toshimasa Konta pinch-ran for him, advancing to third on a Jimenez groundout. Saturday's game hero Tsuboi came in to pinch-hit for Shota Ohno again, and just as before, he delivered -- he hit a long low ball out to left field that we thought was foul, but turned out to be fair, and next thing you knew, Konta was crossing the plate and Tsuboi was standing on second and the game was tied
6-6
. We all went absolutely CRAZY in the stands, being as a whole ton of us were holding up Tsuboi signs and towels and yelling like crazy for him to begin with. (I may or may not have mentioned that I was sitting with several Fighters fans from Hokkaido, including one guy who I met last year during the playoffs who is a huge Tsuboi fan. And I was wearing my Tsuboi t-shirt, so...)
Makoto "Double Trouble" Kaneko came up after that and hit his THIRD double of the day, scoring Tsuboi and putting the Fighters up
7-6
, and he also scored after advancing on a Kensuke groundout and an Itoi single. Hisashi Takeda closed out the bottom of the 9th in a 1-2-3 inning and the
Fighters won the game 8-6
.
It should surprise nobody that Kaneko was the game hero...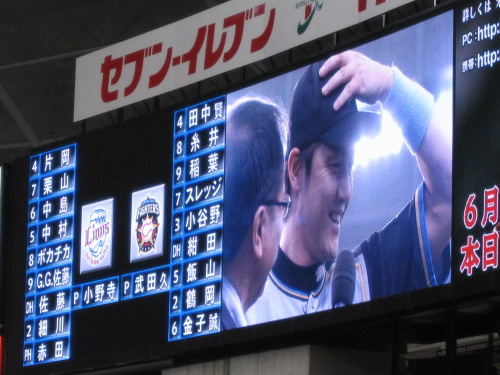 ...and they asked him about all of his doubles, and he basically said "I'm not really trying to hit doubles. I don't want to think about that and ruin my concentration. I just want to help the team. We are all working as hard as we can."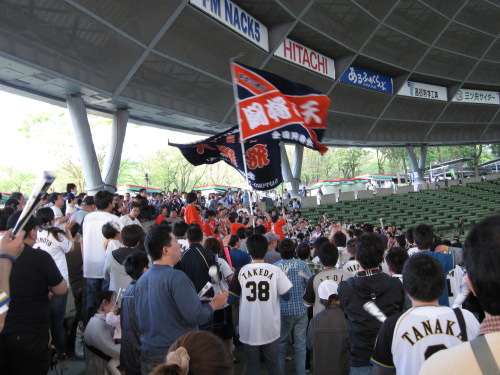 Postgame celebrations from a different angle than usual. It's so weird being on the first base side at Seibu rather than the third base side.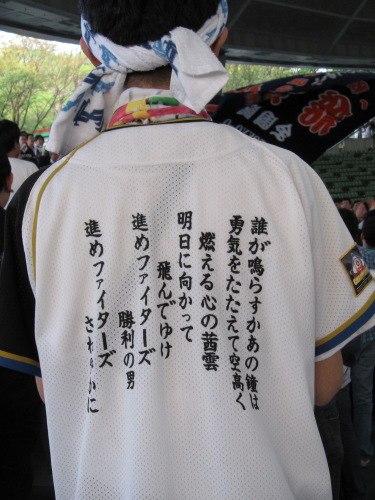 I've really got to start taking more photos of awesome jerseys I see. This one is of the lyrics to the Fighters 賛歌.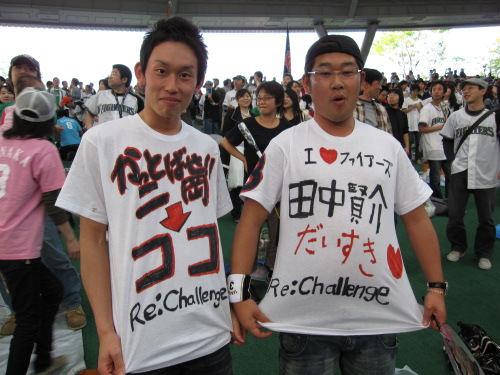 Oh yeah, and I have no idea who these guys are, but they basically sat down behind me and my friends right before the game started and cheered with us the whole time. They were really nice guys and had even made these awesome t-shirts (the left one is cheering Nioka, the right is for Kensuke Tanaka).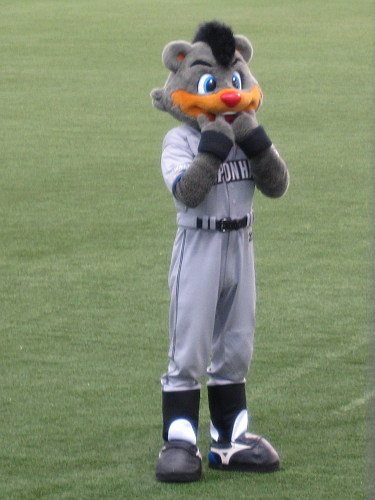 We've been really lucky that mascot BB has been touring with the team for most of the Kanto games so far -- the Tokyo Dome series and the Seibu Series as well. So it's a rare shot of BB in the away jersey, which we don't usually get to see.
Anyway, sweep is nice. Very nice. And it put the Fighters in first place, too, which made it even sweeter sweep.