I went to Jingu last night (April 16th) with the
Tsubamegun
guys. Actually,
Simon
let me mooch off of his Yakult fan club membership to get a discount seat in the outfield.
The reason I went is because: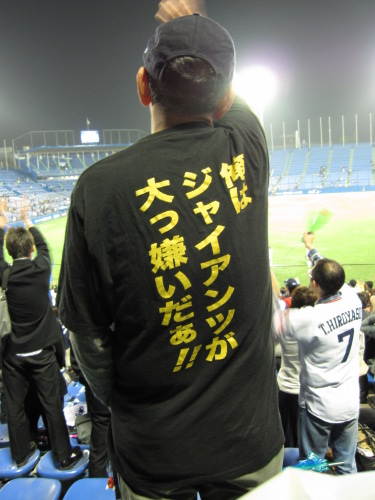 ...I hate the Giants. And that is the COOLEST t-shirt I have ever seen in my life. ("俺はジャイアンツが大っ嫌いだぁ" means "I *HATE* the Giants!") Christopher said he would order a bunch for us. I just hope I have one in time for the Giants-Fighters series, though I could pretty much wear it to ANY baseball game in Japan, seriously.
For the first time in many years, I actually sat in the Yakult cheering section. I go to Jingu a lot, and I've even sat on the Yakult side once or twice before, but the last time I remember actually sitting in the Yakult outfield was in 2004.
We got to find out many of the antics of where the Tsubamegun guys sit at the top of section D, including a group leader guy who had a megaphone and spent half the game yelling "RAMIREZ!!!! FUUUUCK YOOOOUU!!!" into it, despite that I never heard him say anything else in English. We also got to meet Oji, the "beer prince" of the bleacher bums, who is apparently an actual Swallows fan and goes to the non-Jingu games and sits in the cheering section, then sells beer at the Jingu games. Many regulars will only buy beer from Oji because he's a fan. Or something like that. Any time anyone in our group wanted beer, Christopher or Garrett would stand up and yell "OOOOOOOJIIIII!!" and magically, he would appear with beer.
Also, I apparently know enough of the words of Tokyo Ondo to sing along and do a decent umbrella dance with the best of them. Though really, it was just neat to get to sing "Kutabare Yomiuri!" such that it had MEANING for once.
(As I explained to a few of the folks around in the stands, "I'm really a Fighters fan, but I'm more than happy to be here and yell a lot about how much I want the Giants to lose.")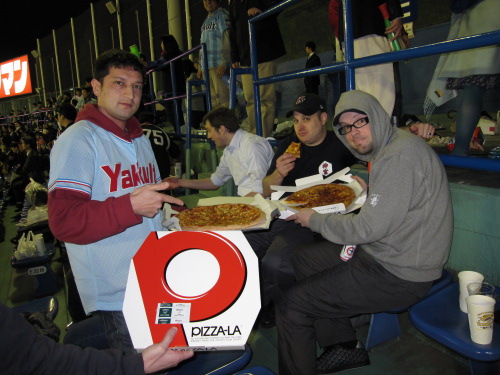 The guys ordered pizza after a few innings and it showed up exactly at the same time Giants starter Utsumi was taken out of the game.
Pizza-la actually has "Jingu Stadium, Gate 18" as Christopher's home address in their database. It is not all that rare for him to order pizza in the middle of the game and have them deliver to Jingu, it seems. Pretty crazy.
The Swallows won the game we saw, which was very satisfying, mostly because they beat the Giants. It was partially because of...
...Game Hero Number 1, starter Shohei Tateyama. He gave up a home run to Ogasawara's clean-shaven doppleganger in the first inning, and another one in the sixth, but other than the doppleganger's two jacks, the Giants didn't score any other runs. Infact, Tateyama found himself sitting there with loaded bases and one out in the 7th, but managed to strike out Alfonzo and then Yoshitomo Tani hit a pop-out, and that was it. Ryota Igarashi and Chang-Yong Lim finished out the game.
Meanwhile, as for the Swallows bats, the biggest one was apparently...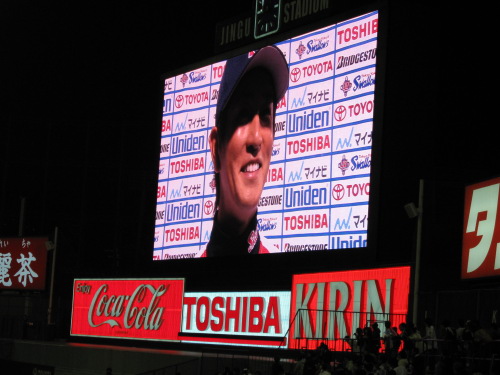 ...Game Hero Number Two, Keizo Kawashima! Err... Keizo Kawashima? Really? Yes, somehow the former Fighter, who hit four home runs all of last YEAR, hit his third one THIS MONTH when he launched a 3-run shot into the front few rows of the Giants cheering section in the 5th inning, which put the Swallows ahead, never to fall behind, and they
won the game 6-2
.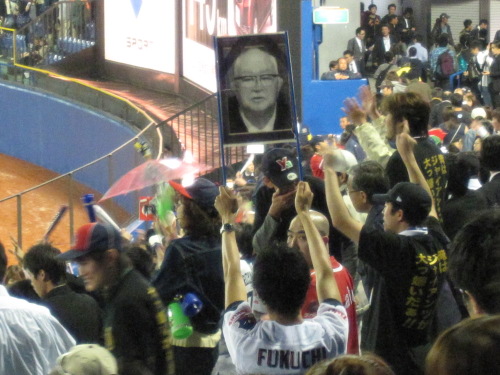 Okay, I just thought this was totally crazy, but some people in the Giants-Hating brigade actually brought a photo of Tsuneo Watanabe with them to hold up. WTF?
Lots of fun, I hope to see a game with these guys again sometime.