Every time I doubt that Kazuhito Tadano should be starting at the top-level team, he comes through with something amazing and surprises us all. I guess I should always be doubting him.
Tuesday, April 7th, was my first day of school at my new teaching job (I'm an assistant English teacher at a public junior high school in the northeastern part of Tokyo now, which means I actually have evenings free this year!). At 5pm I pretty much bolted from the teacher's room to head down to the Tokyo Dome for the Fighters-Marines game. Fortunately, I was meeting up with a group of friends who were saving seats in the front row of the rightfield stands, so it was okay that I was only getting there shortly before the game started.
2009 Pinbadge Quest so far (4): Shinji Takahashi (fanclub gift), then Sho Nakata, Jason Botts, and Kensuke Tanaka (originally got Hideki Sunaga, but traded to Waka-chan since she's a huge Sunaga fan).
The starting pitchers were the aforementioned Kazuhito Tadano for the Fighters, and then the 19-year-old Yuki "Karaage-kun" Karakawa for the Marines.
One of the most exciting parts of the evening was actually the very first inning, when the Fighters defense pulled off a
triple play
, partially due to great defense and partially due to stupid baserunning by the Marines.
See, Daisuke Hayakawa led off with a single to center, and then Kazuya Fukuura singled to right, moving Hayakawa to third. With runners at the corners, DH Tasuku Hashimoto hit the ball to left field, a low-flying ball that looked sure to be an RBI single or double. Terrmel Sledge charged it, CAUGHT the ball
(one out)
, threw the ball in, Koyano relayed it to home in time to catch Hayakawa trying to tag up and score
(two out)
, and then... for whatever reason, at that point Fukuura ran to second and catcher Tsuruoka threw the ball there and Kensuke tagged him out on his way.
Three out
.
We were all really confused in the stands why there were three outs, but it was cool nonetheless. I certainly didn't see Fukuura run over until I was rewatching the play later that night on the sports news.
Tadahito Iguchi hit his 150th career home run in the 2nd inning, a big arching shot into the Lotte cheering section, to give the Marines an early
1-0
lead.
And so, that's how things were for a while. Until the 5th inning hit, and Tomohiro Nioka came to bat, and the opening strains of "Sky High" blared across the speakers, and a bunch of people started mocking his old Giants entrance, doing "whooooooaaa! [clapclap clap clapclap] along to the music, and "Go Go Nioka!" and so on, though the ouendan leaders were putting up their arms in big X's like "Stop, stop, stop, that's not good", until...
...CRACK! Nioka hit a HUGE home run into the left-field seats!
1-1
!
Well, you better believe that next time he came to bat, especially since it was right after Karaage-kun got swapped off the mound for Itoh, we were ALL OUT doing his old Giants song...
Yeah. And he got a hit, too, making him 3-for-3 on the day!
The Fighters added 3 runs in the 7th inning (3 hits off of Itoh) and 5 runs in the 8th inning (5 hits and 2 walks off of Matsumoto) and won the game by a wonderfully lopsided
landslide score of 9-1
.
Makoto Kaneko had a 3-RBI double, and I kept saying how it's only 6-7 years overdue, but I might have to finally make this Kaneko Year for me. We'll see what happens with Hichori -- he came into this game late, but really didn't look so great out there. I'm kind of worried about him.
Kazuhito Tadano and Shinya Tsuruoka were the game heroes -- Tadano for the obvious pitching 8 innings of 1-run baseball, and Tsuruoka because he hit the first RBI single in the 7th inning that put the Fighters ahead.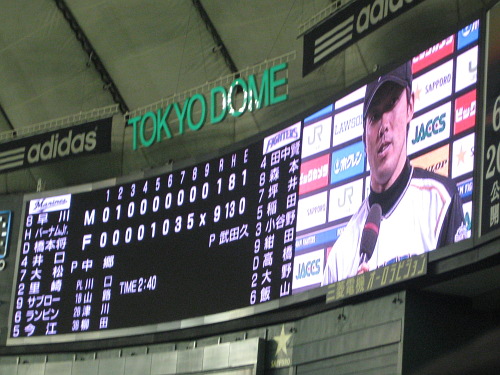 I made a Tadano sign halfway through last year, which I get to use a lot because I seem to see him start a lot of games. (Seriously.) The weird thing is, I didn't see anyone else holding up a Tadano sign, yet they didn't put me on the big screen at the Dome at all during his speech. However, the next day I heard that my friends and I *were* on TV holding up our Tadano and Tsuruoka signs, along with one that said "Banzai! First win!"
We are apparently very "multicultural", or so said Ojisan when he told me about it.
The players came out towards the stands after the hero interviews and threw some baseballs up to the crowd, but sadly we didn't catch any in our group.
After the game, the ouendan did a TON of cheers, including doing some more for the WBC. It was odd, they did an "I-CHI-RO!" cheer, and an Inaba jump, and another Darvish cheer, and well, someone convinced them to do the Ogasawara cheer! Everyone was like "Ahhh, how nostalgic..." Including me, since I was wearing my Ogasawara jersey. I don't usually, but the Fighters home jersey really does look best over a white button-down suit shirt, see.
It was certainly a nice way to start off the year, in more ways than one, especially after the Fighters got swept in Sapporo by the Rakuten Golden Eagles. I felt bad that the Marines had to lose, but that's just the way things go sometimes.