Continued from
part 1
, though this is more like one of my typical photoposts with some more details about the game.
I spent the first inning and a half of the game in the camera well on the third base side, trying to very specifically take photos like this one of Lions starter Hideaki Wakui: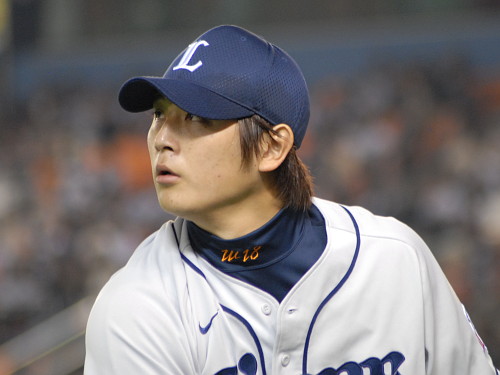 Because as usual, this was the closest I could get to the Lotte starter Naoyuki Shimizu:
It is kind of funny, though, that since Wakui changed his uniform number to 18 this year to accomodate Kazuhisa Ishii's 16, this game featured both team's "ace-number-wearing pitchers".
Speaking of guys named Shimizu, Takayuki Shimizu, who escaped the Evil Empire to come over to Seibu this past offseason, did pretty well in this game. But not only that, I was actually impressed with his spirit in the dugout -- he was yelling and cheering and clapping for his teammates the entire time (and was even out there running and stretching and clapping for the opening ceremonies as well). I've never been a Shimizu fan beyond the obligatory Urawa Gakuin nod, but even I have to admit he looks ninety times less evil in his new threads, if a hundred times more confused:
Also, the Seibu ouendan sang the old "Go West" ouenka for him like he had for the Giants -- and THEN also sang their new ouenka song for him. I thought that was really cool in a way. Sort of like how the Fighters are using "Sky High" as the at-bat music for Tomohiro Nioka.
Anyway, the game led off with this man, Yasuyuki Kataoka...
...running out a beautiful infield single that bounced to second, and then a few minutes later, getting himself tagged out trying to steal.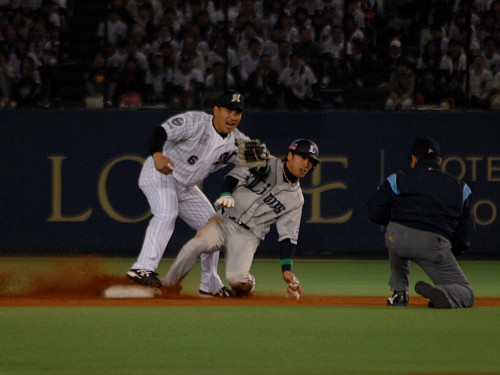 Whoops.
But besides that, nothing much happened in the time I spent in the camera well, sadly, and the score was still tied at 0-0 when I made my way up to the stands after the bottom of the second inning. Though, I did take a ton of photos anyway, so let me share a few more before I continue, just to be gratuitous:
More Wakui.
Ginjiro Sumitani, who I secretly hope will someday stab Toru Hosokawa to death in his sleep.
Hiram Bocachica (I have many more of him that I need to pass on to
these guys
I suppose.)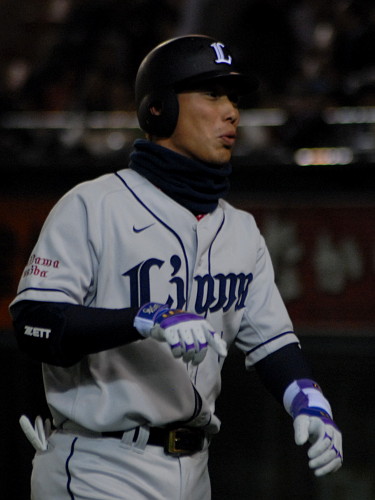 Yoshihito Ishii. Another Urawa Gakuin alum. Saitama Pride!
And because you know how obsessed I am with different stadiums and how they do "Please watch out for foul balls", here's the one at Lotte. Note that it says you can keep foul balls hit during the game...
Anyway, I apparently picked the right time to come watch the game and see Yasuyuki Kataoka run himself into yet another blunder leading off the third inning, this time successfully stealing second and then getting doubled off on a liner to Iguchi. Even better, though, was the Marines getting ahead in their half of the third -- with one out Daisuke Hayakawa walked, then Kazuya Fukuura singled him up to second, and though Nishioka struck out, Tadahito Iguchi came through as the cleanup batter and hit a ball out to right-center for a double that let both of the aforementioned runners score,
2-0
. Wakui proceeded to hit Shoitsu Ohmatsu in the back with a pitch, and either as revenge or just a wacky coincidence, Tomoya Satozaki immediately lined out to the mound after that... right into Wakui's crotch. Somehow, he barely reacted at all, and the inning just kind of ended and he ran into the dugout with the rest of the team.
(I'm really not allowed to relay the conversation that took place after that, because it might embarrass the parents of the kids involved. Or in one case, it might embarrass the kid of the parent involved.)
Hiram Bocachica WALLOPED the ball waaaaay into the Seibu cheering section in the top of the 5th -- I actually thought for a minute that the ball might have left the stadium since I couldn't see it anymore. That made it
2-1
, and after the fifth inning was complete, we were treated to some more fireworks! They looked really neat over the field:
And that's about when Seibu decided to launch some fireworks of their own.
You see, I've got this weird relationship with Toru Freaking Hosokawa, the Seibu catcher. For whatever reason -- be it karma, be it fate, be it that I'm not a Lions fan goddamnit, but somehow, my presence turns him from being a wimpy catcher that got his butt judo-tossed by Benny Agbayani, into a HUGE PILLAR OF STRENGTH LAUNCHING HOMERUNS LEFT AND RIGHT. I mean, to give you some perspective, Hosokawa's hit 3 grand slams in his career, and I've been there for two of them -- in the opposite team cheering section.
So it should be no surprise that as Naoyuki Shimizu started to get up towards 80 or 90 pitches, and the Lions were actually hitting him in the top of the 6th, there was a GG Satoh single, a Takayuki Shimizu single, and then Toru Hosokawa came to the plate, and I had a sinking feeling in my stomach, and it wasn't just from devouring a delicious Lotteria Bobby Burger during the 5th inning. I instinctively knew as the ball came to the plate and Hosokawa took a swing at it, that BLAM, it was going to go over the leftfield wall for a 3-run homer and turn the score to
4-2
Lions.
Naoyuki Shimizu came out of the game and was replaced by Yoshihiro Itoh, who's now in his second year with the Marines. Itoh originally hails from Higashi Fukuoka HS, the same school as Shuichi Murata and Yuki Yoshimura and Kensuke Tanaka and so on, though his path took him through Kokugakuin University and JR Tokai before he finally made it to the pro leagues. He also completely defies physics, I swear: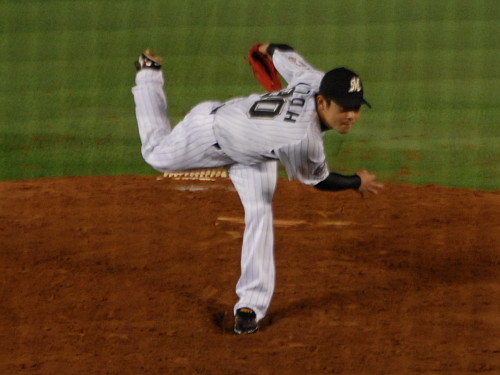 But he managed to get out of the inning without any more damage, and shut down the Lions in the 7th as well, striking out Okawari-kun and GG Satoh, even.
The Lions added another run in the top of the 8th. Old Man Takagi, a lefty, came out to pitch to Takayuki Shimizu, who bats lefty, only to find himself facing Shogo Akada, who bats whatever way suits him at the time. And at this time, he decided that hitting a double to right field was a good idea. And then Toru Freaking Hosokawa bunted him over to third, and Hiram Bocachica hit a huuuuuuge fly ball out to center... which was caught, but of course Akada scored on the sacrifice.
5-2
. An astute observer might notice that all 5 of the Seibu runs were batted in by the 8th and 9th guys in the order, TFH and Bocachica.
Alex Graman closed out the game and it wasn't too hard for him to finish things out in an orderly fashion with the
Lions winning 5-2
.
I do, however, have one more fun thing from the stands to relate -- see, when you sit behind home plate, you never know who's going to be around. (It actually is kind of sucky in a way -- you can't say anything bad about any players, because for all you know, their family is sitting right there next to you, or in front of you, or whatever.) So in addition to the families that I *could* recognize and had met before, it also turned out that Lenn Sakata (who currently manages the Marines' minor-league team) and his wife Shane were sitting a few rows ahead of us.
As it turns out, Shane is amazingly friendly and nice, and she actually came up to talk to me, which surprised me to no end. She also
blogs about Japan
and various things, and is pretty crazy about baseball too (obviously), so we chatted for a while. She asked if I'd want to meet Lenn, and of course I was too shy and didn't want to bother him -- I know that it's got to be annoying having people come up to you during a game to bug you and all. But they ended up leaving early to go home, right after the 7th inning balloons, so...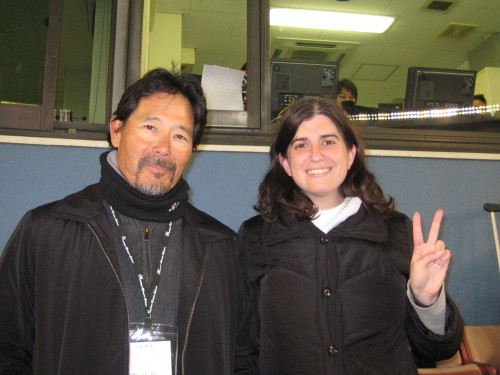 I stumbled over having anything coherent to say to him, like "I go to watch your team up at Lotte Urawa ALL THE TIME!" but undoubtedly just sounded like another ridiculous baseball fan.
Wait a minute, I *AM* just another ridiculous baseball fan.
But that was pretty cool, and hopefully I'll catch them again at another game someday.
After the game ended, there was a sea of people emerging from the stadium, and I didn't even try to get a bus back to the station, but just walked up with the throng. However, I want to point out that Marines marketing is doing a great job of decorating Kaihin-Makuhari station -- in addition to big Marines player posters up and down all the platform escalators, they redid the little Marines area on the first floor with the 40th anniversary stuff: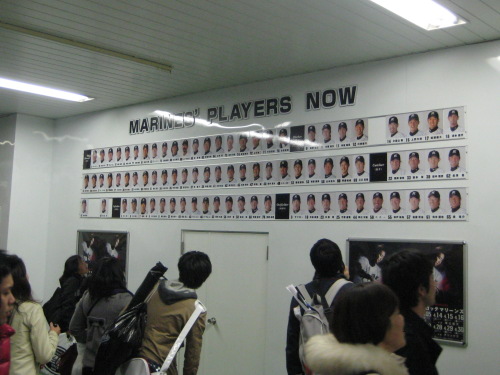 Anyway, it was a disappointing loss on Opening Day, but the Marines managed to come back and win the next two games to take the weekend series from Seibu, which is more than I can say for the Fighters, who just got swept by Rakuten over the weekend. Ugh. As for me, I went to a Fighters-Marines ni-gun game on Saturday, which I'll post about in a bit, and then this coming week I'll be heading to the Tokyo Dome for more Marines-Fighters fun on Tuesday and Wednesday nights! Yay!