There's a lot to tell about the opening day game at Chiba Marine Stadium, but mostly, it's all going to come down to how a bunch of dedicated, crazed Lotte fans in the right field bleachers turned this...

into this:

Click the bottom one to see a larger version, which is really me trying to photoshop 5 images together, since I have no normal lens currently (mine broke a few weeks ago) and had to take photos of it in chunks. It's gigantic, but will give you an idea of the exact sentiment of the Lotte fans about the management's idea to make this Bobby's final season no matter what.
Let me back up a minute.
The day started when I arrived at Chiba Marine Stadium around 5:30ish; I was running late coming down from Tokyo. Getting off of the stadium bus and walking towards the gates, the first thing that greeted me was a group of people with clipboards and petitions and huge banners -- basically, people are trying to get as many fans as possible to sign a petition to keep Bobby in Chiba after the 2009 season.
The bottom photo, by the way, is Declan, who's actually a member of the Lotte ouendan, and is just as crazy as the rest of them are. (I met him last summer at the infamous Shunsuke The Lionhearted 16-0 game.) He explained a little bit about what was going on, and told me to make sure I aimed my camera at the bleachers when they put out the Marines Is My Life banner. He wasn't kidding.
I proceeded to convince the kankeisha folks that I was a reporter, and found my way onto the field, where I got to say hi to Bobby and to Frank Ramppen and Paul Pupo and the rest of the gang. Although things seemed a little bit different in mood than last year, Bobby was still in good spirits: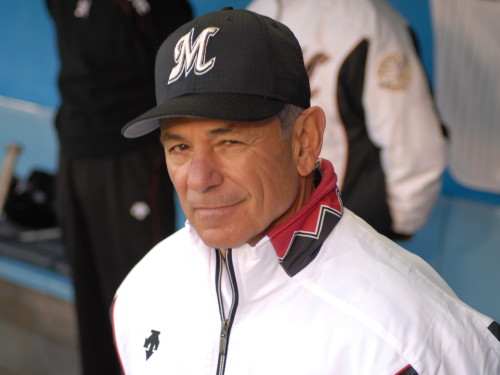 A little bit later a guy I hadn't seen before came out and asked Frank a question about pitch counts, and I realized it was Chase Lambin, so I basically made a "Dude! I really enjoyed
your blog
!" comment and congratulated him on making the team and all.
The ouendan started playing the Lambin cheer song at that point, and he was kind of like "Cool! What should I do?" and Frank suggested, "Go out and take a bow!" Instead, he went out and followed Bobby's example and started signing stuff for the fans in the field seats. A little bit later Gary Burnham also came out and did the same thing: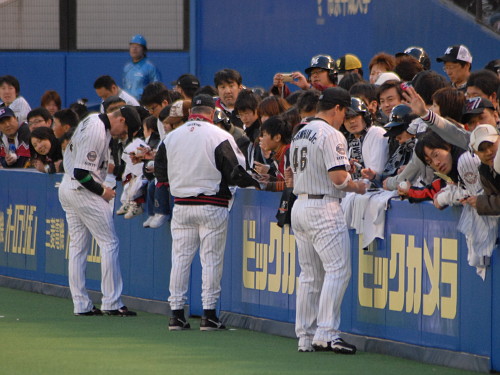 Tadahito Iguchi also went and signed stuff for a while. Those fans are lucky!
I hung out watching the antics in the dugout. A cameraman started coming by and shooting the players. Yoshihiro Itoh made a really goofy face and pose: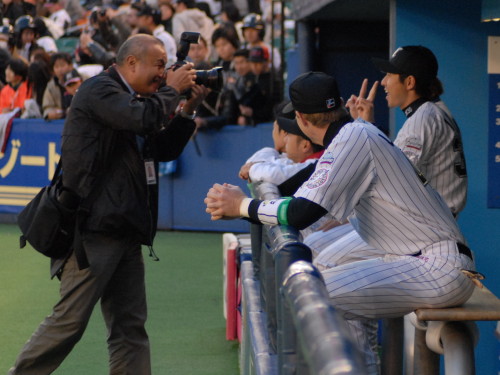 Whereas Brian Sikorski just worked on his bubble gum: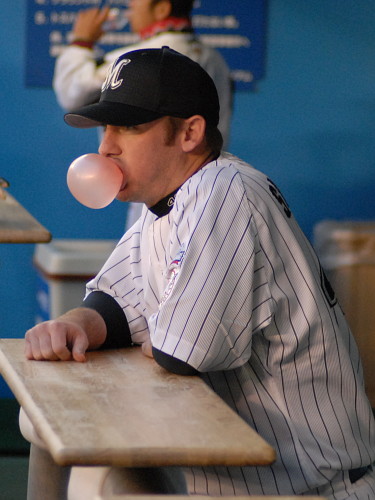 I was going to go upstairs at that point, but was diverted to go try to take photos of the pre-game ceremonies instead, which were about to start. I decided to go sneak into the third-base camera well for a good vantage point, though I had to first make my way through the Narashino High School marching band as well as several Lions players to do so. The kids were all lined up through the back hallway with their instruments, and were saying "konnichiwa!" to anyone who walked past them, including me. So I smiled back and said "Ganbatte!" They laughed.
Opening ceremonies were pretty crazy! The had the M-Splash dancing girls come out and dance, and there was a short video about the last 40 years with the team under the Lotte moniker, from Orions to Marines, from Tokyo Stadium to Kawasaki to Chiba, with various star players and events covered. And then there were fireworks, and the marching band kids played a song or two, including We Love Marines:
The band mascot and the girls with the cellos even waved Marines flags around.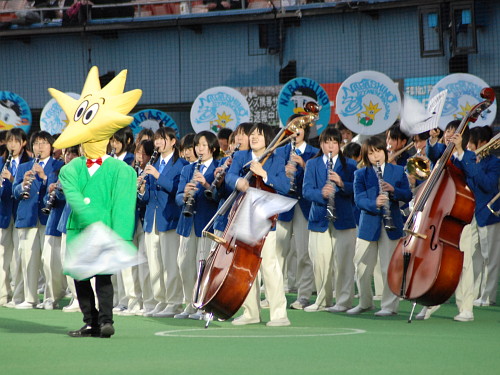 After that, they started announcing the players on both teams, and the lineups. Only problem is, for some reason, the lights were NOT turned on in the stadium, and by this point it was pushing 6:15ish, which is already nighttime in Japan, so it was REALLY hard to see/photograph a lot of this stuff. I did get a few shots of the Lions as they came out, though: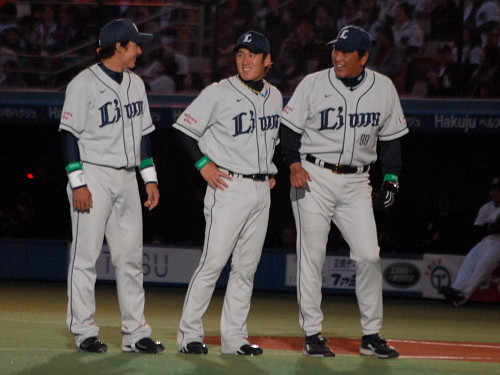 (Kuriyama and Kataoka with manager Hisanobu Watanabe)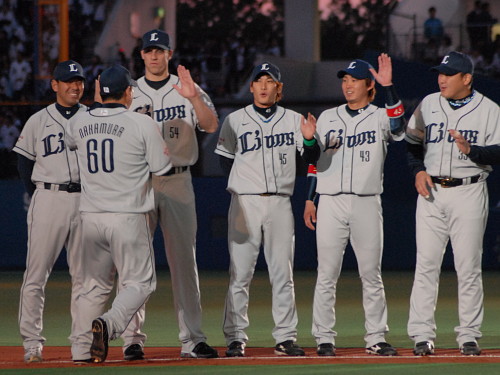 (Takeya "Okawari-kun" Nakamura high-fives people as he runs out to join the lineup)
I was in a dreadfully bad position to catch the Marines lineup, and could only vaguely get shots as the players came out to high-five Bobby. Here's Kazuya Fukuura, batting second, playing first base, and wearing high socks: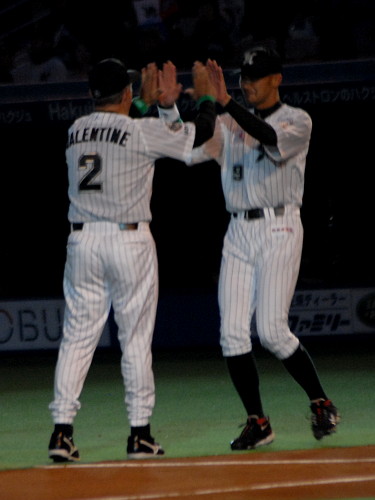 After announcing the lineups, they had a pretty neat ceremonial first pitch -- battery-mates from the inaugural 1969 Lotte Orions team!
Pitcher Masaaki Kitaru (木樽正明), who won the Pacific League ERA title in 1969, going 15-9 with a 1.72 ERA.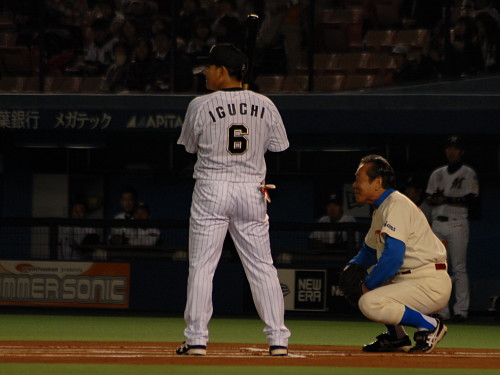 Takeo Daigo (醍醐猛夫), who caught in EVERY game of the 1969 season for the Lotte Orions, and whose career spanned about 5 name changes for the team. He's from the same part of Tokyo that I live in now, and went to Waseda Jitsugyo HS... two years ahead of some dude named Sadaharu Oh.
As appropriate, Kitaru threw a (decent for a 61-year-old guy!) pitch to home plate, and Tadahito Iguchi swung and missed it.
After that, the stadium started getting fired up for the game to really start. The ouendan started singing one of the Lotte fight songs, and the "Marines is my Life" banner shown at the top of this post was unfurled... and then, as the song ended, and the banner was rolled up... it transformed into an entire set of new banners, all in support of Bobby Valentine, as the ouendan changed their song from the Lotte fight song to a Bobby fight song. Oh, I can't really do it justice, just watch this video (filmed by someone else, forwarded to me by Mitch Murata). The transformation happens at about 2 minutes in, and it's really impressive.
I mean, just the sheer coordination it must have taken to set up all of those banners, and put them up under the Marines is My Life banner in like 2 minutes, and have everyone in on it -- that's nuts. That takes work and dedication. I'm proud to be a Fighters fan, you know, but I'm not sure we could ever pull off anything quite on the scale of this.
Anyway, all of this excitement and the game hadn't even started yet!
(I'm actually going to cut off this post at this point since I think the pre-game was the most important part of the day, and I'm already 24 hours behind on getting it out. I'll have some more photos from the game and a little bit of game report up soon enough, I hope.)