Johnny was a pitcher
But Johnny is now done
'Cause Johnny's shoulder hasn't healed
Since late 2001.
I'm really not the right person to talk about Tomohiro "Johnny" Kuroki. You want to ask the legions of late-1990's Lotte Marines fans, or
BigManZam
, and so on. Kuroki's injury happened around the same time I was getting into Japanese baseball, so in my time he's always been "The injured former ace".
But dammit, I know what it's like when a player means a lot to you and they get injured, and you keep hoping the guy's gonna bounce back and heal and be himself again. Heck, I still get angry when I remember how Bobby Madritsch got his arm blown out by the Mariners and then pretty much fell out of baseball. And he was just around for one season with us! So I fully sympathize with the Lotte fans.
I was down in Chiba today for the Baystars-Marines game (which I'll talk about a little bit more later) and went through the Marines museum after the game, where they had a
Johnny Kuroki exhibit
for this entire week, since there was an open-sen game at Chiba Marine Stadium every day. (Sadly, I believe they lost the actual game that was his retirement ceremony, but hey, whatever.) The exhibit was a really nice gesture and I think a lot of fans enjoyed it.
Sorry for the crappy cellphone picture quality, but I didn't go down today as a photographer, just to watch some baseball and hit up Costco afterwards.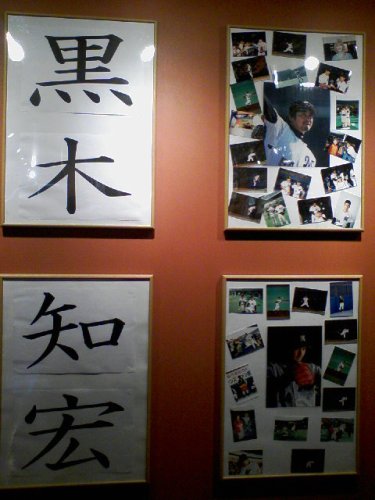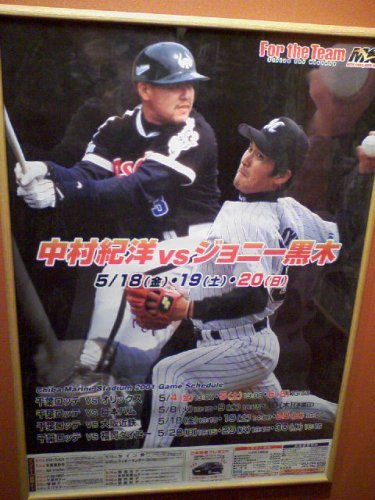 (That says, by the way, "Norihiro Nakamura vs. Johnny Kuroki". Heh.)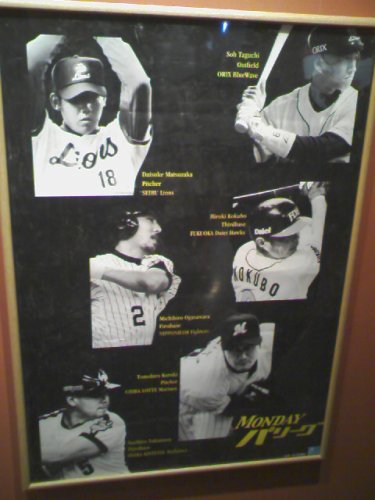 (I wish they'd bring back Pacific League Mondays! Also grrr Ogasawara.)