Technically, it is still Friday in America, so here's a set of pictures that I took last week.
Photo set: Fighters at Swallows, March 12, 2008
Last Wednesday afternoon, I didn't have classes to teach until 5pm, so I went down to Meiji Jingu stadium to take in the afternoon Fighters-Swallows open-sen game. I got a seat in the front row and spent a lot more time taking pictures than anything else. (Besides, it was the SLOWEST GAME EVER. One hour in, we had barely gotten through one and a half innings.
No joke
.)
I was there with my camera and trusty zoom lens,
Just snapping some photos of players and friends...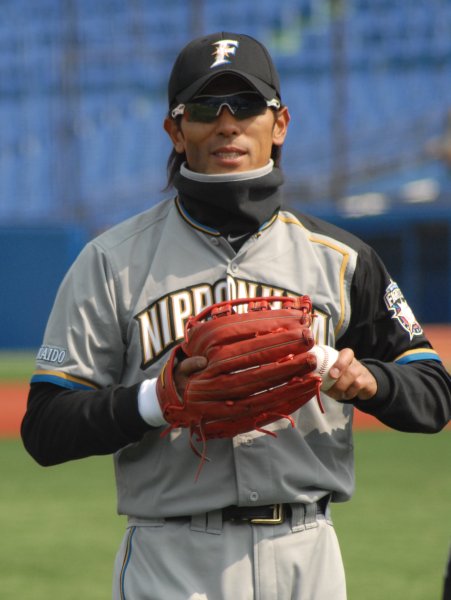 Atsunori Inaba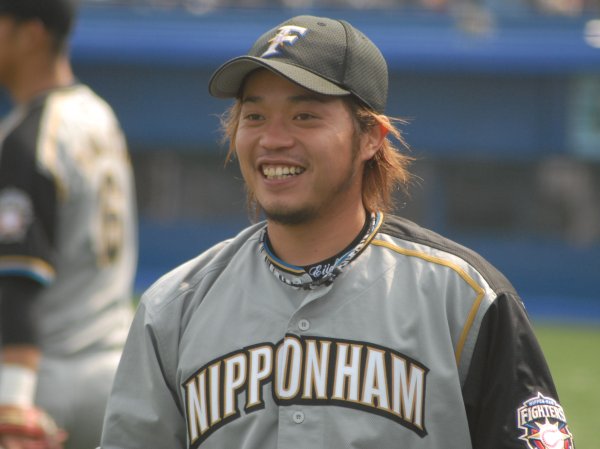 Eiichi Koyano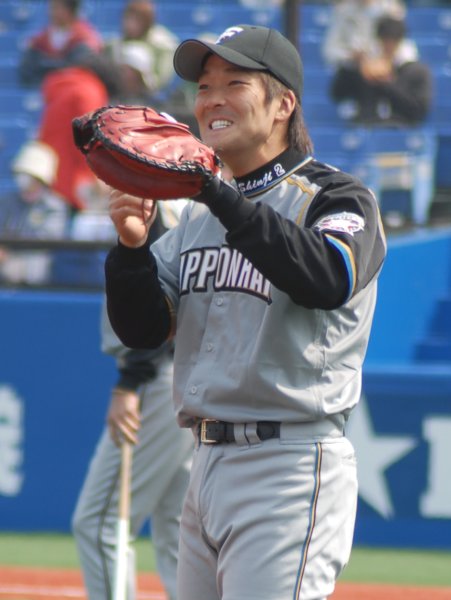 Shinji Takahashi
When out by the bullpen there arose such a clatter,
I jumped from my seat to see what was the matter.
The voice through the speakers was talking away,
It said, "Starting, Darvish." The fans all said "HEY!"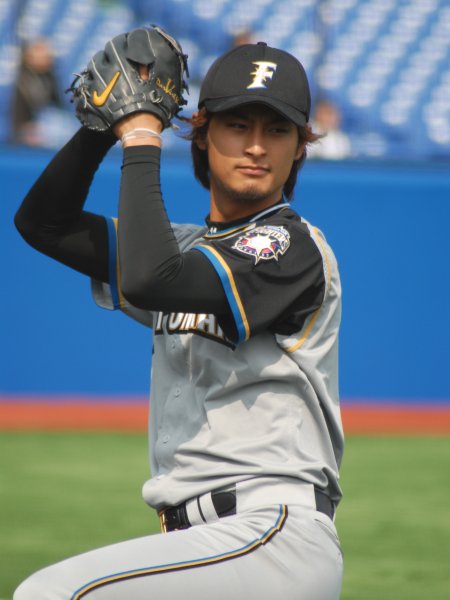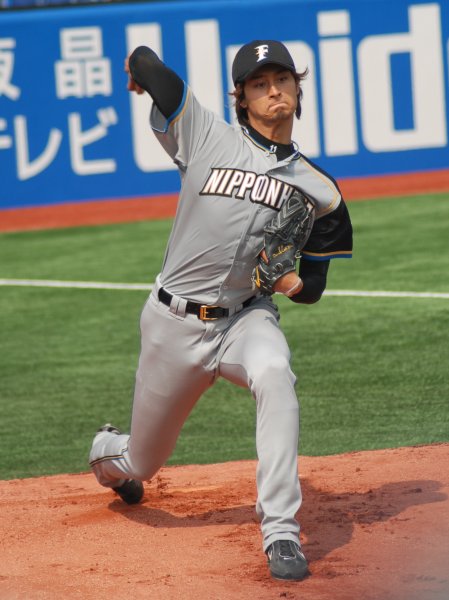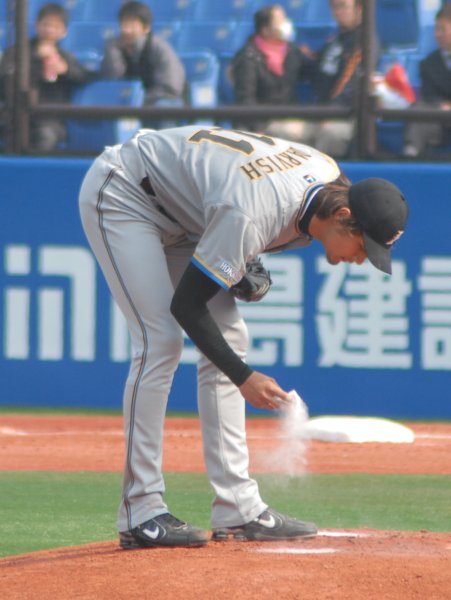 The game started off with a Hichori smack,
The ball landed far in the right warning track.
He rounded the bases, for an in-park home run?
But got tagged out at home plate, which finished his fun.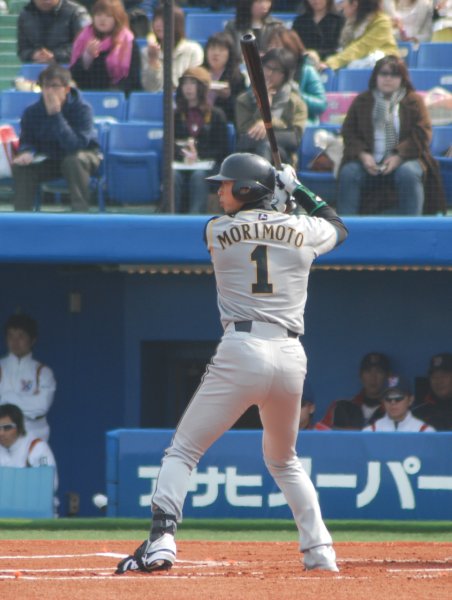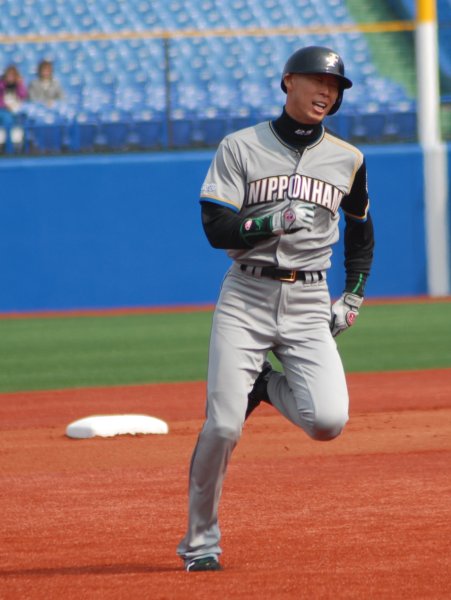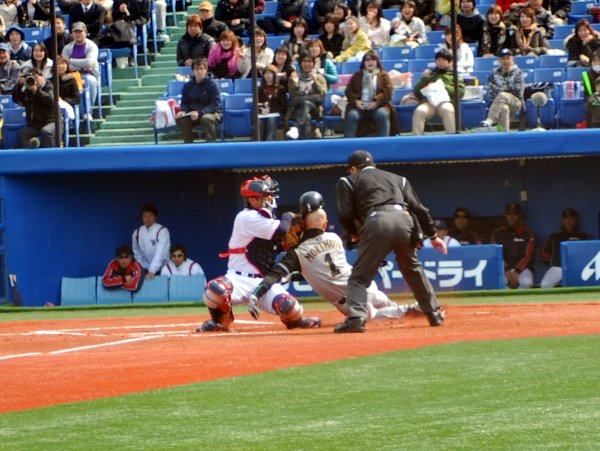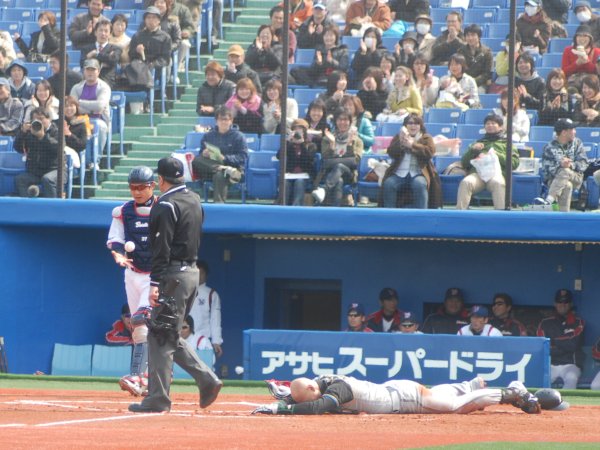 Well, anyway.
The Fighters scored one run in the first inning -- Kensuke walked, Inaba singled, and Terrmel Sledge doubled. Shinji Takahashi walked, and the bases were loaded, but Yakult starter Muranaka struck out Koyano and Yohei Kaneko after that to end the inning.
Yakult also scored a run in the first inning; Keizo Kawashima led off by walking, then Hiroyasu Tanaka singled, and Norichika Aoki also walked, so bases loaded... and then... RIGGS ALSO WALKED! Which scored a run! Darvish looked really sheepish about that one. Guiel popped out to shallow right field and Tanaka couldn't score, and then Shinya Miyamoto also hit what should have been a sac fly to right after that, except Inaba NAILED Hiroyasu Tanaka at the plate. It rocked.
There were a lot of walks and a lot of sac bunts and a lot of people caught stealing bases, and even an ever-so-common 5-2-3 double play, but by the time I had to leave around 3:30pm to get back to work around 4, it was still tied 1-1 in the middle of the 6th inning. I believe that a bit later, Sho Nakata came into the game, and the
Fighters eventually lost 2-1
. Whether or not it has anything to do with Nakata is left as an exercise to the reader.
Oh, and I was seriously sitting so close to the field that I could hear the catchers talking to each other about who's gonna warm up who in the bullpen (Shinji was like "Bah, go get Ryota [Imanari]" at one point). Atsunori Inaba kept jogging up and down the field line, causing me to send a text message to one of my friends, "OMG Inaba just walked by me!!!!". When Ryan Glynn and Micheal Nakamura walked by at one point between the bullpen and dugout, I said in English, "Hey, good luck Michael, good luck Ryan," and they looked up at me, did a double take, and Ryan was like "Uhh... thanks!"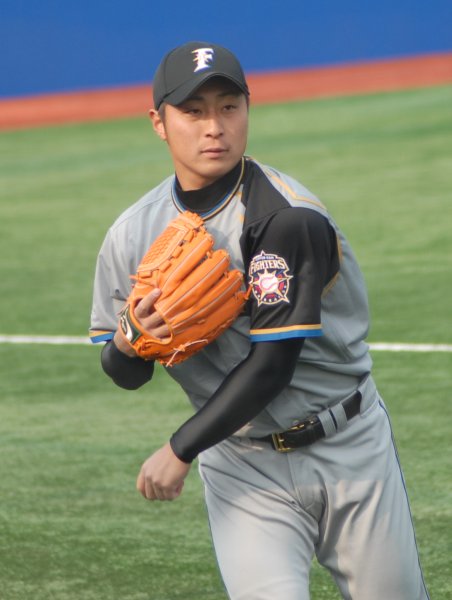 Former Waseda lefty Ken Miyamoto.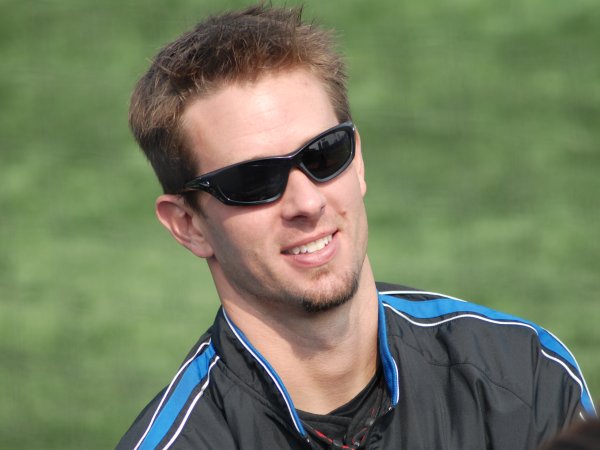 Ryan Glynn.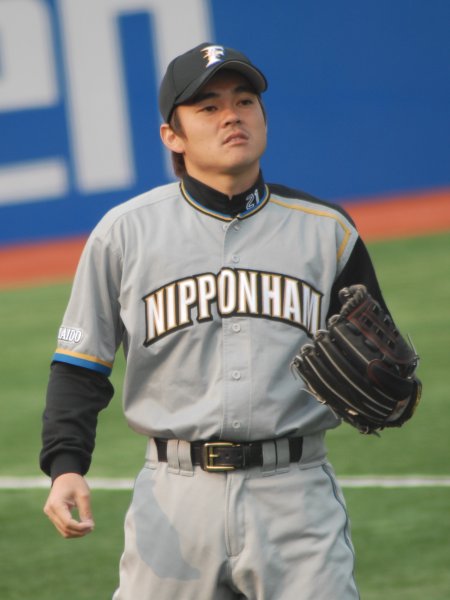 Hisashi Takeda!
I wish I could sit next to the field on a beautiful sunny day more often. It was really a treat. There were less than 4000 people at Jingu that day, which made it really nice and relaxed, though not particularly quiet (the ouendan were still out in force for the most part). And a lady even gave me a free ticket to the game -- it seriously was a pretty perfect afternoon in most ways.