Sunday was the last day of open-sen for the Pacific League, and for Lotte, it wrapped up a 6-game homestand as well. A crowd of 19,516 came out for the Sunday game, which is really not a bad turnout at all for a preseason game. It was certainly enough to make the rightfield seats shake with the force of several thousand jumping Lotte Marines fans.
However, I was sitting on the other side, where there was also a decent sea of blue and a lot of singing as well: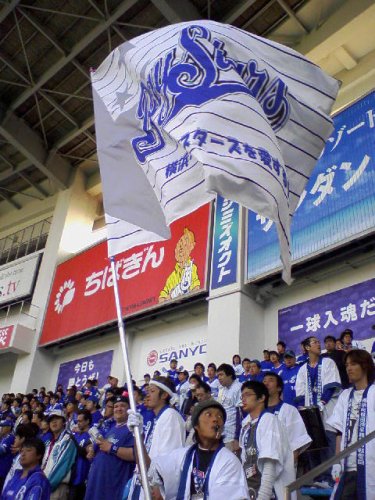 I got to sit in my favorite spot in the Lotte leftfield bleachers, actually -- right in front of the band, almost above the visitor's oendan platform, and in the back row of the front section so I could lean against the railing. The one downside to outfield seats is that they often don't have any backs, so it can get pretty tiring in a long game.
I was pretty thrilled when I saw the starting lineups. The pitching matchup was Yokohama's Terahara vs. Chiba's Karakawa. You see, my original algorithm for deciding which Kanto-area team to go cheer for on Sunday morning had gone something like this:
"It's sunny!" - ok, that takes out Tokyo Dome and Seibu Dome and leaves Jingu and Chiba
"I've been to Jingu twice this week! And I can walk to Costco after a game at Chiba!" - ok, so heading to Chiba, but who to cheer for?
"They had Shunsuke pitch yesterday and Naruse the day before!" - ok, maybe I will not be cheering for the Marines then
"Yokohama will probably have Hayato Terahara!" - hey, that's exciting...
"My Marines t-shirt is in the laundry but I haven't worn my Baystars shirt since November!" - oh, that's even more convincing...
"I probably won't be at a game in Yokohama until sometime in May, but I can come back to Chiba way before then. I need to practice the Yokohama cheer songs." - sold.
My brain works in strange ways.
To be fair, I still don't quite know all of the words to all of the Baystars cheers even after learning most of them last season, but that actually makes me kind of happy, since I like learning new words. I'll try to make an ouenka post with them and the Dragons cheers sometime (though I first need to go learn the new ones for Wada and Norihiro before I can do that).
Uh, anyway, so, Karakawa and Terahara. For background, Karakawa was one of the highly prized high school prospects in this year's draft. He's from Chiba prefecture, even, from Narita high school. Terahara, on the other hand, was also a prized high school prospect about 6 years ago, after setting the speed gun record at the summer Koshien tournament (his record was eclipsed by now-Yakult rookie Yoshinori Satoh), and while he was kind of all over the place with the Hawks, he seems to be settling down pretty nicely with the Baystars.
Naturally, Karakawa pitched a flawless first inning, striking out Toshihisa Nishi and Takuro Ishii, and getting Yuki Yoshimura to pop out to second.
Terahara wasn't about to be upstaged by some kid, and he also pitched a 1-2-3 inning. I was thinking this was going to be a pretty nice pitcher's duel, except then Karakawa was taken out of the game and replaced by Yasutomo Kubo. DOH!
Shuuichi Murata apparently felt the same way, and he led off the second inning by hitting a grounder off Kubo's leg, which Imae then fielded and threw to first in time (Murata is not exactly a fast guy). But then Takahiro Saeki, who also is not particularly fast, beat out a CLOSE throw to first by Jose Ortiz. Saeki moved to second on a groundout by Aikawa but that was it.
The Marines didn't do anything in their half of the second, although I noticed that Saburo did NOT change his theme music from Yuzu's "Eikou no Kakehashi", which is good, because I pretty much always think "That's the Saburo song!!" whenever I hear it. The odd part is, they stopped the song as usual after a line or two of the chorus. Now after the speakers stop at "tadorizuita," you'd usually hear the Marines fans singing "ima ga aru. dakara mou mayowazu ni susumeba ii, eikou no kakehashi he to", except instead, the song stopped and there was just DEAD FREAKING SILENCE. Huh?
Masaaki Koike led off the top of the third with a single, but then catcher Toshio Saitoh laid down such an awful bunt that Satozaki was able to snap it up and fire to second to catch Koike in a double play. Whoops. Nishi popped out to right field after that.
As I was thinking that Terahara had just had a nice two innings, Jose Ortiz hit a ball up the middle and Nishi had to field it pretty deep in the hole, so the throw was close but a little late to first base. After that, Kazuya Fukuura grounded to first base, where Saeki tried to head off for a double play, except his throw somehow got past Takuro Ishii at short and rolled into the outfield, so instead of two outs, there were no outs and Ortiz at third and Fukuura safe at first. (It was ruled an error, which makes sense.) Imae came up after that and hit a long sac fly ball to centerfield; Koike made the catch easily but his throw in was too weak and was picked up by Ishii at short, who saw it was too late to get Ortiz and didn't throw home.
1-0.
Tsuyoshi
Nishioka hit a high pop fly that Murata caught out by the Baystars dugout, and then I thought Daisuke Hayakawa grounded out to second, except he was apparently called safe at first. This started off the cascade of bouncing Lotte fans, but then Julio Zuleta struck out to end the inning.
I stood up and held out my Takuro Ishii name towel at the start of the 4th inning and yelled "TAKUROOOOOOOO!!!" The guy next to me also yelled "TAKUROOOOOOOOO!!!!!" So naturally Ishii went and got a single! Yuki Yoshimura followed that up with another single, and so did Murata, and before you knew it, all of those singles added up to a run as Ishii scored!
1-1.
Saeki hit a foul fly out to third after that, but Aikawa managed a looooooong fly ball to right field. Saburo caught it in the corner in foul territory, but it gave Yoshimura enough time to run home from third base.
2-1.
Takanori Suzuki hit a big fly ball out to center to end the inning.
Ohmatsu singled in the Marines' half of things, but Satozaki grounded into a double play after that (5-4-3). Nishi and Ishii may be the oldest middle infield in Japan at a whopping combined age of 73 years, but so far they seem to be holding up pretty well.
The 5th, 6th, and top of the 7th innings were naptime. Literally: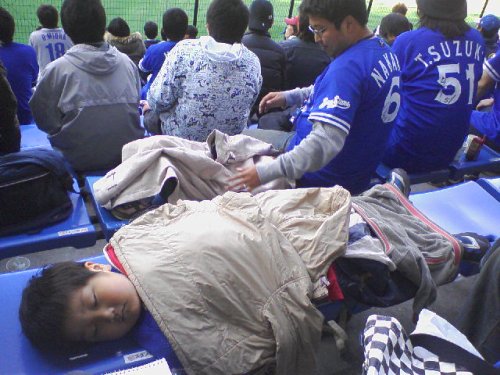 (This kid was so cute. He also came up and cheered with us.)
Terahara finished up 6 strong innings, giving up no earned runs and striking out 5. Kubo finished up 4 slightly-less-strong innings, giving up 2 earned runs and striking out 1. Winston Abreu pitched the top of the 6th and was also pretty good, with a strikeout and a lot of help from Tsuyoshi Nishioka at short, especially after Abreu also took a grounder off the leg (I swear the Baystars weren't aiming to take out the pitchers. Really!) Takagi and Ogino shared duties for the top of the 7th.
(J.J. Furmaniak came out to DH in the 7th and I yelled "JJ, HISASHIBURI!" which got a funny look from the people around me, but hey.)
Futoshi Kobayashi replaced Terahara on the mound for the Marines' Lucky 7 inning. Or more appropriately it could have been called the E7 inning. Nemoto grounded out and Satozaki singled, and Takehara popped out. It seemed like it'd be a quick enough inning when Fukuura hit what looked like a routine pop fly to left field. Except that Hiroaki Ohnishi, who had just come out to play left field... lost the ball in the sun? Or something? I don't know, but it landed just inside the fair line, and then as he tried to recover it, he fumbled the ball more, so by this time Satozaki had already run all the way around the bases and scored, and Fukuura ended up at second. The scorers called it a double for whatever reason.
2-2.
Naturally Imae followed that up with what looked like a normal single to left-center, except Ohnishi fumbled that TOO and so Fukuura scored and Imae made it to second.
3-2
. At least this one actually got called an E-7 by the real scorers. Nishioka walked, and Benny Agbayani hit a single to center. Imae scored, but Nishioka tried to get from first to third on the play, and ended up getting caught in what I have noted as a 8-5-4-3-5 rundown which ended the inning, but not before the run counted, so things were at
4-2
as we headed into the 8th inning.
Yusuke Kawasaki came out to pitch for Lotte in the 8th, and things started innocently enough with Koike grounding out to short. But then Kazunari Tsuruoka singled to center, Toshihisa Nishi walked, I held up my Takuro Ishii towel, and the trumpeters started playing chance music! (Which, amazingly, I remembered the words for.) And Takuro Ishii hit a shot out to right field, way into the corner, and started running. Benny had to go chase after it, and while he did, Tsuruoka scored! Nishi scored! Ishii got to third! Wheee! That tied things up at
4-4
and there were a lot of high-fives and cheers in our section. Yoshimura hit a sac fly after that, scoring Takuro.
5-4
. Murata grounded out after that, but the Baystars had amazingly pulled ahead. The guy leading Baystars cheers was so excited about it that he fell off the platform. No joke.
Takeharu Katoh shut down Lotte pretty well in the bottom of the 8th, and Brian Sikorski (!) shut down the Baystars in the top of the 9th. I was kind of surprised when they put Matt "Mattwhite" White in to pitch the bottom of the 9th, but hey. He started off by walking Koichi Hori, but remember I mentioned that old-but-awesome middle infield? They got Takehara on a 4-6-3 double play, and then Fukuura grounded out to second as well, and that
was the game at 5-4
.
Bobby and the gang came out to make a speech after that, about some of the improvements that were made to the stadium (a party area up on the 3rd base side, a stadium-wide light board) and to the team (wait a minute, he claimed the new uniforms were an improvement...) and said he hoped all the Lotte fans would enjoy the new stadium until the very last game of the Japan Series.
I wasn't surprised there was no game hero given that this was open-sen, but the Baystars ouendan started up the music and cheers for the after-game victory songs... and then another Lotte video started showing on the big screen. So we waited for it to finish. And waited. And waited. And finally I think we just gave up and sang through the player fanfares, the Baystars song, the "Winning Ball" song, and then the leader yelled "And because we would not have won the game without Takuro Ishii, who scored many runs and hit in many runs and played really well, let's sing Takuro's theme a few times to recognize him". So we did. And I waved my towel, and was generally happy. I like Takuro.
After the game I wandered around the stadium to see what stuff was around. I went through the Marines museum (most of which hasn't changed since I was first there) and saw the
Johnny Kuroki exhibit
, which I already wrote about a bit. I also found out that in the grand scheme of
Chiba Marines 2005 hands
, my hands are apparently
much smaller than Satozaki's
but
just about the same as Kosaka's
, which should be no surprise since I am basically around the same size as him (he's a little shorter/lighter than me, actually). Kosaka. Sigh.
They had a weird little Bobby shrine that people were posing with, and a guy asked me if I could take his picture by it, he was holding up a Kuroki jersey, so I figured what the heck, and asked him to take my picture by it too. Pretty bizarre. I think I stood on the wrong side now that I look at it, though:
And then I headed off to Costco, where I went shopping and ate the same crappy Costco pizza that I hated when I was living in Seattle, but which I now covet because it TASTES LIKE AMERICA! I saw plenty of people wearing Marines and Baystars gear in Costco too; it's really only a 10-minute walk from the stadium, so I wouldn't be surprised if people sometimes plan their afternoons to include baseball and a Costco run afterwards. (I guess for the new "party" area, maybe people could go to Costco first for beer and snacks, of course. I'm not sure tailgating culture really exists here per se.)
Next time I come down to Chiba I'll be cheering for the Marines. (I may be in a lot of trouble otherwise.) I'll have to find out exactly what goes into those Lotteria burgers that causes the spontaneous bouncing, though.