I went down to the Tokyo Dome on Sunday night (March 23) to see the Red Sox play against the Giants. It was a pretty bizarre experience, and sort of reminded me of when I tried the Outback restaurant in Shibuya a couple of weeks ago. Yeah, you're eating the steak and potatoes and it tastes like America, but you are still undeniably in Japan, and you can't figure out which half of your brain is rejecting the other. Even with the dudes behind you yelling "LET'S GO RED SOX" and clapping, and the announcers speaking in English, and the plethora of white guys on the field, there's still a message that flashes up for every foul ball and a pleasant Japanese female voice telling you to be careful of foul balls. And there's the drums and cheers coming from the right field stands. But wait, where's the left? Where's the balance?
Anyway, I got there about an hour early and watched some batting/fielding practice. Again, it was just plain surreal. Near me, several Giants were playing catch, such as 19-year-old rookie
Hayato Sakamoto
, Dark Lord
Shinnosuke Abe
, and
Ogasawara's
clean-shaven
doppleganger
. And further away from me, the second-string Red Sox were taking batting practice.
Bobby Kielty
's red hair caught my eye immediately; I wasn't aware he was on the Sox, but I'd recognize him anywhere.

Red Sox take batting practice, Giants take fielding practice.
Even the pre-game was a weird mix of normal Japanese game stuff and MLB mixed stuff. There was a
flowers presentation
for managers Terry Francona and Tatsunori Hara, and the ceremonial first pitch was by former Giants legend and recent HOF inductee Tsuneo Horiuchi. But then there was a big ceremony to introduce all of the lineups, and they played the
Star-Spangled Banner
, and Kimigayo, neither of which normally happens at games here.
Don't tell anyone, but I ended up cheering for the Giants. I'm a strong believer that there's no such thing as being completely impartial when watching a game, and in this case it seemed like Yomiuri were the underdogs. Also, I have no clue how to cheer for the Red Sox, but at least with the Giants there are nice regimented shouts and claps and all. Have I become brainwashed?
Besides, Tetsuya Utsumi is amazing. He struck out 5 Red Sox batters in a row -- and these aren't chopped liver, either, these were
Kevin Youkilis
,
David Ortiz
,
Manny
Ramirez
, Mike Lowell, and JD Drew. All of these guys are star players in their own right, and Utsumi just mowed through them.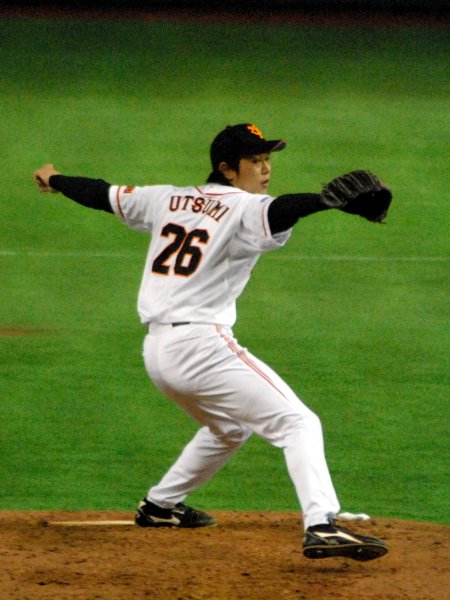 Dear Utsumi: I wish you weren't on the Giants and I wasn't morally obliged to hate you. Please switch to another team. You can bring Yoshinobu with you, too.
It wasn't clear the Giants were the underdogs at first, actually. Knuckleballer
Tim
Wakefield
started for the Sox, and he throws slower than even most guys in Japan (he was averaging around 105 km/h), even with the movement. The Red Sox ran themselves out of the top of the 1st (Youkilis ran on Ortiz's strikeout and got caught in a rundown; Pedroia broke for home and Seung-Yeop Lee threw to the plate and got him), and then the Giants got off to a
1-0
lead in the bottom; Nioka was hit by a pitch and Ogasawara walked. Seung-Yeop Lee stretched to hit a pitch he had no right reaching and knocked it into a blooper in shallow center for a single, scoring Nioka.
The Giants got their second run in the 4th inning. Lee led off with a single, and Abe followed it up with another single. Lee should have run to third in the first place but stopped at second, until Drew fumbled the ball in the outfield so Lee ran to third anyway. Terauchi pinch-ran for Abe and stole second; but then with runners at second and third, Tani grounded out to second, Pedroia to Youkilis. Youkilis threw to third base and Lowell tagged out Terauchi for a double play, although Lee scored, so it was
2-0
.
The Red Sox were scorelss in those first four innings due to Greisinger pitching the first two and the aforementioned Utsumi pitching the second two. Submariner
Yushi Aida
came in for the 5th and also got the Red Sox out pretty well.
But then Adrian Burnside came in to pitch the 6th inning for Yomiuri, and the floodgates opened. Youkilis led off with a single (and was pinch-run for by Moss); Ortiz struck out for the third time, but Manny Ramirez also singled (and was pinch-run for by Ellsbury). Mike Lowell walked, for bases loaded (and was pinch-run for by Lowrie). To be fair, during Lowell's at-bat, he hit a high pop fly foul in left field, and only Nioka ran for it -- not Ramirez, not Ogasawara, so it just landed. If that ball had been caught, it would have been huge -- two outs with runners at first and second is a lot better than one out with bases loaded, right?
Naturally, JD Drew came up after that and hit a 115-meter grand slam into the left field bleachers.
4-2
.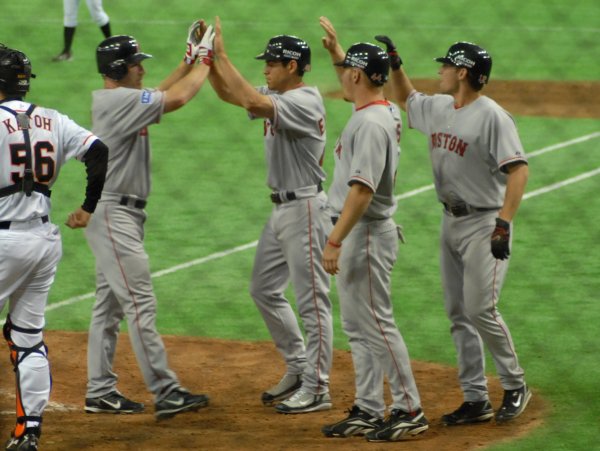 A grand-slam hitter and three pinch-runners high-fiving at the plate.
The Giants never scored another run in the game, and the Red Sox kept adding to their tally. Jed Lowrie led off the 8th inning with another home run, off Tetsuya Yamaguchi.
5-2
. Kielty, who replaced Drew, walked after that, and two batters later Alex Cora grounded to Sakamoto, who made a fantastic play to head off Kielty at second. But even with two outs, Kevin Cash walked, then Dustin Pedroia walked, so it was another bases-loaded situation. Brandon Moss singled, scoring Cora and Cash.
7-2
.
The Red Sox added two more runs in the top of the 9th. Kiyoshi Toyoda looked good to start off with two strikeouts, but then Kielty doubled,
Crisp tripled
, Cora singled, and soon it was
9-2
, which is where it would end.
JD Drew was game hero. He seemed sort of confused by that.
The MLBization at the Tokyo Dome was pretty surreal to me. They did a "hidden baseball under the pagoda" trick in one inning, then did the
Hot Dog Race
in another inning ("Relish noooooo!!") and played That Neil Diamond Song Which Shall Not Be Named in the 8th inning. And despite that the scoreboard was completely in Japanese, the announcements were all in English.

Uhh... what?
Hideki Okajima pitched the 7th inning for the Red Sox, and they played that bizarre Okie-Dokie song for him. Flashes from cameras went off around the stadium with every pitch he threw (it reminded me of being at Ichiro's record-setting game in October 2004, but that's another story). The Giants fans behind me who had been cheering for all the players suddenly reverted to yelling "Okajima!!" instead of "Ohmichi!!" which was pretty weird.
Today was Yomiuri catcher Ken Katoh's 27th birthday. Katoh came into the game to replace Abe in the top of the 5th, but his first at-bat was in the 6th inning, right after Wakefield came out of the game. There was a long pause for the pitching change, so with
Katoh standing at the plate
, the ouendan trumpet players played "Happy Birthday To You", and half of the stadium sang Happy Birthday to him. I thought that was really nice of them.
Another great moment was the Giabbits showing off how many tricks and stuff they can do, and the Green Monster was just bowing down to them, green with mascot envy. Or something. Later in the game the three mascots danced together to "Gettin' Jiggy With It", which was pretty surreal.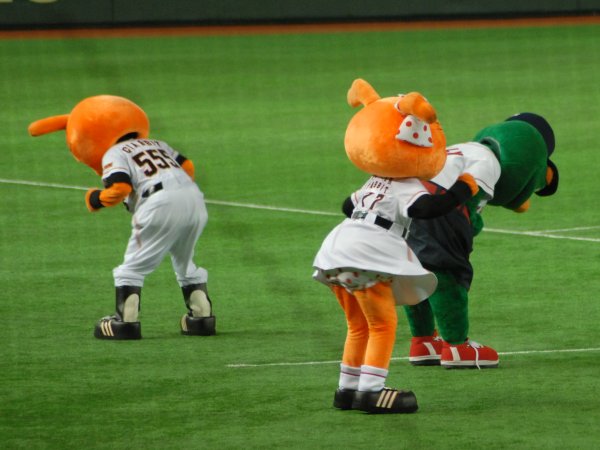 Giabbits and the Green Monster get jiggy with it.
Actually, the most surreal thing might have simply been being at a game where one team had an ouendan and the other didn't.
Or, it might have been when I nearly ran, literally, into Shigetoshi Hasegawa and his posse when I was leaving the stadium (if I was looking where I was going, I would have been more careful to see the group of guards dividing the crowd, but alas, I just wanted to ESCAPE at that point)
Another crazy thing was how they marked the
left field wall
and the
right field wall
with signs saying "328 feet". I don't think they usually even have a "100m" sign up there, so that was kind of wacky.
Anyway, man. Utsumi. He's good. So is Hayato Sakamoto. News Zero did a short interview with him, and they showed how he and Masahiro Tanaka used to play youth baseball together. They're apparently the only two 19-year-olds in pro yakyu this year, or something like that. Crazy.
[puts back on her Anti-Giants hat and Ogasawara Doppleganger Repellent]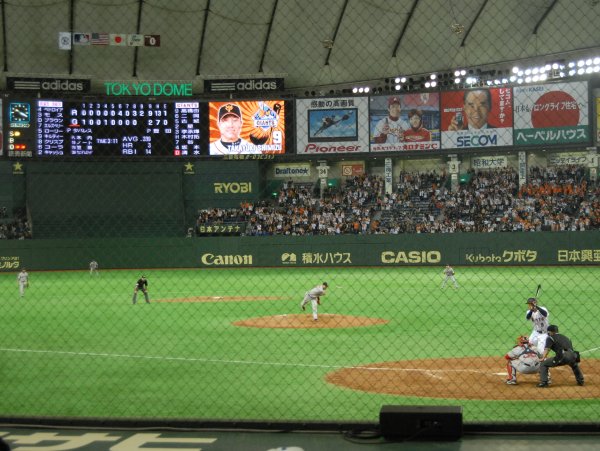 Shimizu goes west to end the game.
See all of my game pictures
here
, but keep in mind that the lighting in the Tokyo Dome is AWFUL.