(This is actually about Friday night's game -- May 11th -- but I have been so busy this weekend that it's been written in bits and pieces.)
I first want to make an announcement: if you're going to wear Japanese baseball shirts or caps around Seattle, could you please at least know SOMETHING about the game, or even about the team you're wearing the hat of? Or at least not give me funny looks when I ask you about it?
(Walking to Safeco Friday night I ran into a guy wearing a Tigers #39 Yano t-shirt, who literally didn't even know he's a catcher; I asked "Uhh... that's interesting, why Yano?" and he was like "Uhh... well, this was the only Hanshin Tigers shirt I could find when I was in Osaka, I don't even know who Yano is". Then, walking back uptown after the game I see a guy wearing a Yomiuri Giants cap at an intersection, so I'm like "Oh, you like the Giants? I'm sorry," and he says "well, it's the TOKYO Giants," and I'm like "I know, dude. They're as bad as the Yankees. I mean, what did you think of the Ogasawara signing over the winter?" and he looks at me completely blankly, and I'm like "It was as bad as Johnny Damon with the beard and all, y'know?" and I get the same blank look, and I just continue walking when the light changes. Sigh.)
Anyway, Yankees games always sort of suck for me. There's too many people around to get around during batting practice to take pictures, and then there's too many people to go get food quickly, and then there's too many people yelling at each other during the game. I know it's more exciting to be at a full stadium than a half-full stadium, but I'd rather be at a stadium full of 45,000 Mariners fans, rather than the normal 18,000 Mariners fans, another 16,000 Yankees fans, and then 11,000 people who were brought along by one group or another and are really just there for the beer.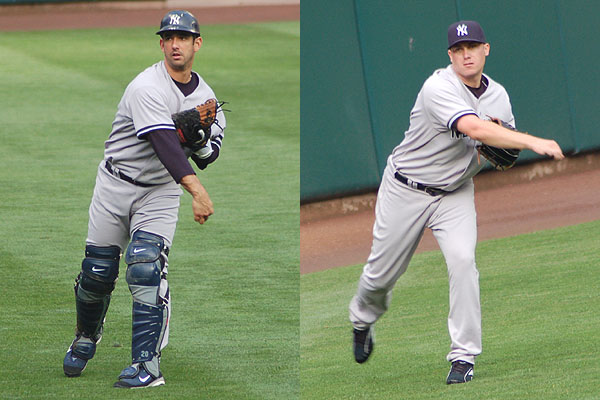 Who's the pitcher? Jorge Posada, or Darrell Rasner?
"Short" version: The Yankees were totally Washburninated. End of story. No, really. In eight innings, he struck out 6 batters, almost all swinging (save Melky Cabrera's called third strike to end the 2nd inning). There were many split bats and flying bats, and the Yankees were just plain off guard. Only a few balls were hit out of the infield, and almost all of them were pop flies to shallow center (or something resembling shallow center, ie, somewhere Ichiro could get to). Hell, the Yankees didn't get a runner past second base all night. That's pretty goddamn good. And after being Washburninated for 8 innings, they were Putz0red in the 9th for the shutout.
As for the Mariners, it wasn't like this was a landslide game or anything, but they did just fine. Ichiro doubled in the 3rd inning past a diving Phelps, and Raul Ibanez singled him in a little while later. Sexson singled as well, but Guillen grounded into a fielder's choice to end the inning. But that's okay, as Beltre led off the 4th inning by walking, and then Kenji Johjima took one of those right-in-that-perfect-spot-to-hit-a-home-run pitches and hit it over the leftfield scoreboard for a 371-foot Funk Blast, bringing the score to 3-0, where it would actually stay for the rest of the game; the Mariners stranded two runners in the 5th and then Scott Proctor shut them down on six straight flyballs in the 6th and 7th innings. High-socks Brian Bruney came out to pitch the 8th, and Guillen walked, and was replaced by Jason Ellison, who got caught stealing a little bit later. Beltre doubled, which was sad, because Ellison may have scored on that anyway if he hadn't tried to steal. Unfortunately Johjima lined out and Betancourt struck out to end the threat, but hey, that's okay, as the
Mariners still won 3-0
, and the score allowed Putz a save chance and all.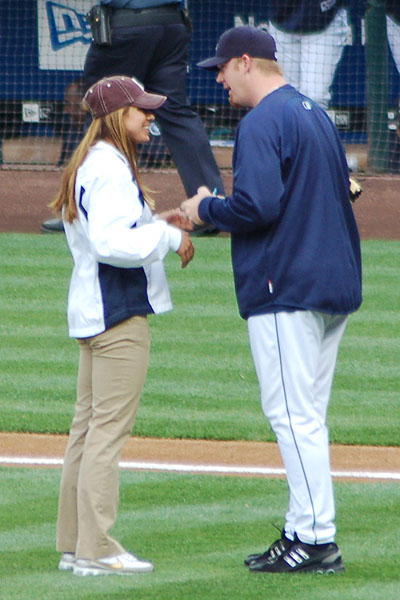 JJ Putz: Man, you sure don't throw like a girl!
Jessica Mendoza: Thanks! Neither do you!
Jessica Mendoza, an outfielder for the women's national softball team which won a whole ton of stuff in 2006, threw out the ceremonial first pitch, which was pretty cool. I mean, it'd be even cooler if it was Jennie Finch, but that'd also run the risk of half the stadium pleading with her to join the Mariners rotation.
The Yankees booing squad was sort of wacky this year. Johnny Damon was booed a lot. Bobby Abreu was booed by me, and nobody else. Derek Jeter got some booing, and then the typical A-Rod booing happened, although this time it was also interspersed with people cracking up about it.
Robinson Cano
is wearing #24 now, which bothers me, because I associate that number with Tino Martinez. I realize he probably switched to make room for Jolly Roger, but still.
Watching Yankees batting practice was kind of funny. Despite the fact that the stadium was crazy crowded, I still had a decent time running back and forth taking various pictures of players, such as
Mientkiewicz and Pettitte
,
A-Rod
,
Matsui
,
Nieves
,
Wang and Rivera
, and
Professor Farnsworth
.
I also saw former Mariners and Yankees relief pitcher
Jeff Nelson
wandering around on the field during batting practice. I guess he's got a pretty good excuse to come out for a game like this one!
I managed to still get a decent spot to watch Rasner warming up, but ended up mostly being fascinated by Jorge Posada instead, because Rasner is boring as hell to watch. No, really, I just didn't find anything interesting about him whatsoever. Posada, on the other hand, is expressive and flexible and was actually playing catch with another random Yankees staff guy rather than warming up with Rasner, which should have probably been a sign of something, though I'm not sure what.
(You know, the more I think about it, I've actually kind of been a Posada fan for a while. Since he's not as flashy and hyped as most of the other long-time Yankees, nor as flashy and hyped as his Red Sox counterpart Jason Varitek, I guess I just don't think about it that often. But he's a pretty good player and seems like a pretty good guy, too.)
Awww.
Oh yeah, the guy who replaced Dominic Woody as the Mariners bullpen catcher,
Brian Schweiger
, finally has a real jersey, and is wearing Woody's old #87. Schweiger was drafted by the Mariners in the 2003 draft, same year as Adam Jones and Ryan Feierabend and Eric O'Flaherty and all. I suppose it's great for him that he's suiting up in a Mariners uniform several years before some of his draft classmates, and yet, at the same time, I'm sure this isn't what he had in mind originally.
Some Blake Lewis guy sang the national anthem. I was told that he is a famous local boy, but since I actually don't really watch any TV that doesn't involve baseball, I have no real idea who he is. He had a nice enough voice, I guess.
Not only was the stadium full of people, but I happened to have one of those Token Drunk Guys in the row in front of me. You know the type -- early-30sish, yuppie-looking, has no idea what's going on in the game and is pretty much just at the park to yell and drink beer. I don't think he shut up for the whole game. It started out innocently enough, and just kept going. "COME ON KENNY! AUNT JEMIMA! CMON!!" "YEAH RAUL, WHY DON'T YOU BUNT IT, COME ON JUST GET THE BAT ON THE BALL, GET ON BASE WHY DON'T YOU." "A-B! HEY YEAH A-B! YOOOOO ADRIAN!" and so on and so forth. Token Drunk Guy also tried to become friends with the whole section, so when the guy next to me got pizza, TDG's like "HEY BUDDY HEY NEIGHBOR, WHY DONTCHA SHARE SOME OF THAT PIZZA!" or when a ten-year-old kid in my row caught a foul ball, TDG made a big show of taking a picture of it, then asked if he could hold the ball and took a bunch of pictures of himself with it.
The Yankees Fan gag on the screen this time involved a dude in a Yankees jersey waving a Yankees flag up in the Lookout Landing area, and then he gets DEVOURED by Mega Moose. I suppose I prefer that to the actual Mega Moose bouncing around on the field.
I have to admit that with A-Rod kickin' the high socks and playing third base and being godly at the plate this year, plus that he was generally smiling and laughing the entire game, makes it really hard to dislike him for anything else he may or may not have done recently, such as wear a uniform top that says "New York" on it.
I'm betting the Japanese broadcasters had a ball with this game, since Ichiro got on base three times and stole two bases and scored a run, and Kenji Johjima hit the game's only home run. Hideki Matsui didn't do anything at the plate, but a lot of stuff was hit his way in the outfield, so he got a chance to at least show that he can throw a ball much better than Johnny Damon. And then the umpire at third base was none other than
Bob Davidson
, who was referred to as "aitsu", or "THAT guy", in the Japanese press for quite a while after he made that ridiculous reversed call against the Japanese WBC team. Though, it's been a year, maybe people have forgotten about that by now.
I'm glad Washburn kicked ass. I hope he continues to do so. Oddly, this was my 6th Mariners game of the year, and they're now 5-1 in games I've attended. I've seen two Felix starts, three Washburn starts, and one Baek start. Go figure.
I've been trying to write this game report all weekend when I have bits and pieces of time, and it's simply not happening, so I'm going to hit "publish" and just add to this as I think of things. I'm sorry it sucks. If you're at Tuesday's game, by the way, we're trying to get a bunch of the Lookout Landing regulars to
sit together in the upper deck
, section 320, so come say hi or sit with us if you're there. It should be interesting, but hey, Felix and crazy blog people, what could be better?