(This is really about the May 16th game, just super-belated.)
I wish I had more to say about this game, but I really just don't. I went to it mostly because it was on my 16-game plan and because it was a sunny day, so it'd be good for picture-taking. As you can see from the
other entry
, the picture-taking worked out pretty well. I saw a whole bunch of players all over the place, caught Bartolo Colon and Scot Shields clowning around pretending to be infielders, and eventually got third base coach Dino Ebel to sign my ticket stub (since I was too far over to get Tommy Murphy).
I stationed myself at my normal spot in section 149 and chilled out for a while, and was eventually found by "two-rs-and-two-ls" from Lookout Landing, who put up with me taking pictures and babbling for a while. I did attempt to steal John Lackey's soul, but I think I failed miserably, given the way he pitched later.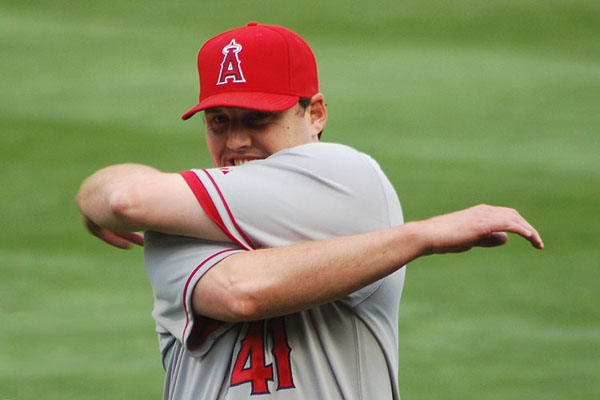 Strangely, "The Angels" anagrams to "He Tangles". And "Strangely" anagrams to "Try Angels". I don't know where I'm going with this.
For a change, I decided to go down to the bullpen and catch the Many Faces of Cha Seung Baek warming up. We also got to see George Sherrill flicking sunflower seeds, and the appearance of The New Guy, Jason Davis. Lots of people congratulated Johjima on his home run from Tuesday night, and as Baek and Johjima left the bullpen to go to the field, there was a neat mix of encouragement being shouted out in both Korean and Japanese.
On the other side of the bullpen, Scot Shields was having quite a dialogue with some fan up in the stands. He really cracks me up.
Dan and I watched the first inning from the overhang over the bullpen in left field, and it was a pretty annoying inning at that. Reggie Willits led off with a double and advanced on a wild pitch to Vlad, who eventually walked. Matthews hit a single into center, and everyone ran wild, Willits scoring and Vlad going to third. For whatever reason, Sexson was staying at the bag to hold Matthews, and so Kotchman was able to hit a single to right through where he usually would have been; Guillen's throw in wasn't bad but was too late to get Vlad at the plate, so the score was 2-0 Angels by the time the dust cleared and Jose Lopez caught the next two pop flies.
Ichiro led off with a single, which was something like his 6th or 7th consecutive single, and then stole second, which was his 45th consecutive successful stolen base. Vidro grounded out and Ichiro went to third, but Ibanez hit the ball into the ground in front of home plate and it didn't go much of anywhere, so Ichiro couldn't score as Lackey charged in to field it and throw Ibanez out at first. Sexson grounded out and that was it for the Mariners baserunners until the 5th inning, as Lackey retired 14 in a row before Johjima managed a single off Lackey's shin.
I went to my actual seat after the first inning ended, and then sat there for a long string of batters being retired on both sides in mostly boring ways.
Baek settled down after the first inning, and only allowed one baserunner from the 2nd inning until the beginning of the 6th. Orlando Cabrera led off the 3rd inning with a broken-bat "single" where Ichiro ran halfway across Seattle and ended up dropping the ball. Cabrera advanced to third eventually but did not score.
The "Fact or Fiction" gimmick for the day was "MLB Player Names". The names given were Dallas Braden, Shane McShovelhead, Boone Logan, Nook Logan, Toast Friedrich, and Boof Bonser. I sort of assume most of the readers of this blog could identify who all of the real players in that list are...
A guy came up to me to ask about my camera somewhere around the 5th inning, so my notes are a little bit sparse at that point. Also, Dustin Moseley started warming up in the bottom of the 5th after Lackey took the grounder to the shins, and that distracted me as well. (In case you don't know, Dustin Moseley is my new Angels crush for the year. He's a good compliment to Rich Harden as my A's crush; now I just need a good counterpart on the Rangers. CJ Wilson, maybe. Hmm.)
Baek got out of the top of the 6th inning with a decent amount of luck. Vlad singled, and then Casey Kotchman hit into what should have been a fielder's choice, but Betancourt dropped the ball, so Vlad was safe at second and Kotchman at first. Fortunately, Erick Aybar grounded to Lopez, who was right by Kotchman at the time, and tagged Kotchman and threw to first to complete the double play.
Lackey also had a decent amount of luck in his half of the 6th. Jose Lopez started off by running out an infield bouncer to short, and then Ichiro singled to center. Vidro grounded out, advancing both the runners -- and then they did the tried-and-true approach of walking Ibanez to get to Sexson, loading the bases with one out. Usually Richie Sexson would punish someone who tried that by hitting a grand slam, but it was not to be, and instead he grounded to third, where Figgins threw the ball home to get Jose Lopez out by a mile on the force. Jose Guillen then struck out on an extremely noisy 3-2-2 pitch to end the inning, and that was pretty much it for the Mariners offense for the evening, not that there was that much of it to begin with.
The Angels added a few runs to their side in the 7th. Shea Hillenbrand led off with a single to Jose Lopez in shallow center, he just couldn't make the throw in time. Mike Napoli laid down a sacrifice bunt, but Baek astutely fielded the ball and threw Hillenbrand out at second. At this point, Eric O'Flaherty came in to pitch, and the first thing he did was walk Chone ".125" Figgins, which is never a smart thing to do, and thus it was easy for Reggie Willits to single in Napoli from second, making it 3-0. Chris Reitsma replaced O'Flaherty at that point, and I swear on the very first pitch to Orlando Cabrera, Figgins and Willits both took off for a successful double steal. Cabrera, of course, singled to left, scoring both of the aforementioned Haloheads to make it 5-0, but then Vlad hit into another one of those Jose Lopez Double Plays where he tagged up the bag and threw to first.
Lopez made a few more sweet plays, and George Sherrill pitched the 9th, and nothing much more happened -- not even for the Mariners offense, as the last 9 batters were retired by the Angels bullpen, Dustin Moseley taking the 7th and 8th and Scot Shields taking the 9th. Although, one funny play happened when Vidro grounded to Erick Aybar, who dropped the ball, and scrambled for it, and picked it up and threw it to first, and Vidro was so slow that he still didn't beat the throw. Contrast that with Jose Lopez diving to make a stop on a Gary Matthews grounder, then pretty much turning and throwing to first from his knees and making a perfect peg to beat a running Matthews. That play even became the final clip on the Great Plays Video Vault reel.
And yes, the final score was
5-0 in favor of the Angels
. All in all, it really wasn't a particularly exciting game, and the field box area was so empty by the 8th inning that I ended up moving all the way to something like section 138, row 20, in the bottom of the 8th. It turned out to be a fantastic vantage point for taking pictures, but it was pretty dark by then, alas.