Okay, to be perfectly honest, Jose Vidro had very little to do with the actual outcome of this game, but someone sitting behind me yelled "SODO VIDRO" during his first at-bat and it cracked me up. Plus, I don't really have a better clever title for this game. I suppose "Gonzowned" or "Germanowned" might be appropriate, as they were the key contributors for the Padres; Adrian Gonzalez going 3-for-4 with a walk, and Justin Germano for helping the Mariners make sure they didn't score any runs over his 6 innings. Either way, the Mariners are now back into part of the standings where the cup is half-empty rather than half-full.
I really need to stop taking pictures at games, because putting together
photo sets
makes me forget about the whole game-summarizing gig.
Giles: "Dude, that's what you get for sliding headfirst."
Beltre: "Hey shorty, help me stand up."
"Marcus-sized" version: Felix Day started off in a sort of crazy way, with Mike Cameron singling and then getting himself picked off first base to end the top of the first. It continued being strange with Ichiro getting caught stealing third after successfully stealing second, in the bottom of the first. In the second inning, Felix notched three strikeouts, but also gave up doubles to Gonzo and Bard, resulting in a run for the Pad People. The Mariners managed to get a run in their half of the second despite Adrian Beltre getting himself thrown out at second sliding headfirst (see above picture); Betancourt singled to Khalil Greene, who threw the ball over first baseman Adrian Gonzalez's head; it bounced into the stands. Jose Lopez then hit a single to drive in Betancourt, tying the game at 1-1.
Sloppy seconds gave way to sloppy thirds as Marcus "Little Brother" Giles led off the inning with a double down the right field line. Felix struck out ex-Mariners Cruz and Cammy, but threw a wild pitch during Cruz's at-bat which moved Giles to third, so Adrian Gonzalez, who I may have mentioned was owning Felix, singled to center, scoring Giles, making the score 2-1. Khalil Greene subsequently hit a big bouncer to third which Adrian Beltre did a splendid job snagging and throwing, but it was just unfieldable in time. A wild pitch moved the two guys up, and then Josh Bard walked, loading the bases, but Kouzmanoff grounded out to first.
The Padres also threatened in the 5th inning, where Felix again managed to both load the bases and notch three strikeouts and come out of it run-free, bringing his strikeout count for the day up to 9. Since he was on a pitch count, he was pulled after 5. Sean White followed That Felix Show again, and almost finished out the game. Strangely, he actually struck out 4 guys in almost 4 innings. He was pulled with 2 outs in the top of the ninth with Adrian Gonzalez on third, Kouzmanoff on first, and Russell "Three Outcome" Branyan due up to bat. Eric O'Flaherty came in to pitch, and Geoff Blum pinch-hit and struck out.
The Mariners suck, so the
score stayed at 2-1 Padres from the third inning onwards
. I mean, really, they only had 5 baserunners after the second inning, and two of those were futile singles off of closer Trevor Hoffman in the ninth; with runners at first and second and no outs, Adrian Beltre wavered between bunting or not bunting and eventually just popped out foul, and that was sort of the deciding point, as the next two batters went down meekly and ended the game. Frankly, Hoffman scares me because he
doesn't
seem overpowering. He's sort of like a Mad Mex margarita; you drink it thinking "I don't see what the big deal is, I can't taste the alcohol in this at all," and just when you're thinking, "I might as well have another," it knocks you flat on your ass with a killer Cuervo-ball.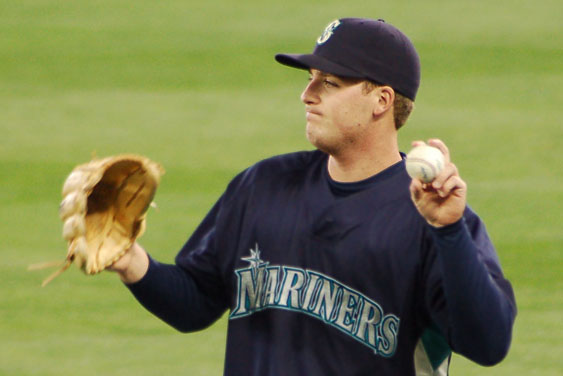 It was Little Leaguers of Washington Day, and Eric O'Flaherty was representing Walla Walla.
I got on the bus this morning wearing my Johjima jersey and a Phillies cap. The driver was like "Are you a Jamie Moyer fan?" and I'm like "I'm from Philly. I wear the cap when they need extra karma, like on Moyer starts, or when they're re-enacting the 1993 World Series against Toronto, like today."
I showed up at the park at about 11:30am, which was pretty stupid on my part, for two reasons -- one, there was a bit of rain falling, so the roof was up, which makes the light terrible for taking pictures. Two, it was Little League Day, and a Sunday morning at that, so there was no batting practice. There was no fielding practice. There wasn't much of anything except approximately fifty bazillion little leaguers in a "parade" where they all walked around the perimeter of the field. Occasionally a couple players would breach the parade and go play catch on the field.
Chris Young
was actually out there for a while, and later on Heath Bell was, and a couple various Mariners played catch as well; Baek and Weaver (?!) and Sherrill and O'Flaherty and such were out on the field, and at one point
Davis and Batista
were in the bullpen throwing a bit. Totally exciting, I know.
Instead, I went around doing some research for my Safeco Field Food Project. I'll put up some preliminary stuff here in a few days.
I got lunch, went to my seat, and a bit later
Matthew Carruth
dropped by to say hi, which was pretty cool; I hadn't met him before, but he just graduated from Penn, and he spotted my Phillies cap. We hung out and talked for a while, pretty much until halfway through the first inning, when enough people showed up in my row that there were no empty seats anymore and they kicked him out. We watched Cla Meredith and Justin Hampson throwing a baseball around before the game, which is always fun since sidearmers are neat. When they were done, Cla actually went out of his way to go to the stands and find a little kid to give the baseball to, and then signed stuff for people, both of which are gestures that earn him major brownie points in my book. I was pretty tempted to run down and get him to sign my ticket, but I figured that'd make me seem like an even bigger dork.
(My section was packed, though two sections over it was pretty empty towards the back. Bretticus also stopped by later in the game like "THE KING IS BACK! AND YOUR SECTION IS TOO FULL TO STOP AND TALK TO YOU!" And then the woman sitting to my right, who is part of the stuffy older couple that I'm pretty sure has those seats on the same 16-game plan as me, said "Why, YOU'RE an awfully popular young lady, aren't you?")
The couple on my left were a lot more into the game, although when Sean White came out to pitch, we had a conversation that went like:
Him: "Sean White? I've never heard of this guy."
Her: "It says he pitched four perfect innings on Wednesday!"
Him: "What's his strikeout pitch?"
Me, butting in: "He doesn't have one, exactly."
Her: "Oh... maybe that's why he's walked 10 and only struck out 6?"
Me: "Bingo."
Sean White: "I think I'll make Deanna look bad by striking out Terrmel Sledge." [CLANG!]
Him: "No strikeout pitch, huh?"
Me: "Uhh... I think I'll talk more trash about Sean White so he'll strike out more guys."
You know, the Mariners pitchers notched 14 strikeouts in this game total and lost. The Padres pitchers got 2 and won. This would seem strange to me if not for the fact that I have guys like Erik Bedard and Johan Santana on my fantasy team. Though, on the other hand, several Mariners hit warning-track shots that happened to get caught; a few more feet and they'd be home runs. So. Blame Safeco.
Something you all should know is that I don't hate Willie Bloomquist, although I'm not necessarily a fan, either. Either way, I have to say that he flat-out sucked today, in the field and at the plate. You know that when a guy hits a ball to left, and Willie's jogging towards it, and he misses it and it bounces into the bullpen for a ground-rule double, and you're thinking "Ibanez makes that play," then it was a BAD PLAY. BAD WILLIE. ROLL OVER. PLAY DEAD.
I SAID WILLIE! NOT YUNI! ARRRRGGHH. Yes, while Lopez actually seems to be getting better at second base, Yuniesky Betancourt seems to be getting worse at shortstop, which is really sort of a problem.
The AM-PM "too much of a good thing" today was 1600 Tootsie Rolls. If I'm calculating this correctly, that's
25 pounds
of Tootsie Rolls. My theory is that Heath Bell actually stole half the supply, though.
Pop quiz: Marcus Giles is shorter than
A. Most of the little leaguers at the stadium
B. Most of the groundskeepers at the stadium
C. Deanna the Marinerd
D. All of the above
Jose Cruz wears stirrups. That rocks almost as much as high socks. I think the last player I saw wearing stirrups in a Mariners game (aside from Pilots/Rainiers throwback days) was Jamie Moyer. I may just be misremembering, though. Josh Bard, on the other hand, wears actual high socks.
"Ask the Mariners" today was "What actor would play you in a movie?" I think I'd seen several of them before -- Ichiro's answer of "Brad Pitt" was expected, and Kenji Johjima's answer of "Tom Cruise" was funny but not that far out there. Accurate ones included Broussard wanting Harrison Ford and Ibanez wanting Vin Diesel. They got weirder and weirder as it went on. Felix said Will Smith. JJ Putz said Will Ferrell. Chris Reitsma said Rodney Dangerfield. Jarrod Washburn was like "My favorite actor is Al Pacino", who totally doesn't resemble him. Richie said he always wanted to be a movie star, so he'd play himself. George Sherrill also said he'd play himself... "I'm a great actor. Did you see my commercial?" Going further out there, Jose Vidro said he wanted to be played by Sean Connery. I'm sure there's plenty of great Celebrity Jeopardy potential in that one.
There was a random guy in my section who kept running up and down the aisles waving a Mariners flag and yelling "LET'S GO MARINERS!!!! WOOOOOOO!!!!!" The reaction, of course, was people laughing, not people cheering along with him. Ahh, Seattle. It really WAS a subdued crowd, considering the sheer number of kids there, including that Felix kid, who you'd think would elicit more cheering.
I checked out the team store after the game for once, and the player-issued jerseys are now back up to their normal $150-200 price tags, on a rack on the second floor. Also, they didn't have any Pat Borders jerseys anymore. I'm heartbroken. On the first floor, they switched the kids' and women's clothing sections, and added the Alyssa Milano "Touch" clothing line, but only in Super Small Sizes, apparently. And for those that want $95 replica jerseys, the only ready-made player numbers they had were Ichiro, Johjima, and Felix, though there was a wide selection of ready-mades for the authentic jerseys, which cost a lot more.
Oh yeah, and I saw something amazing before the game. I mean, something I'm not sure any of us have ever seen before: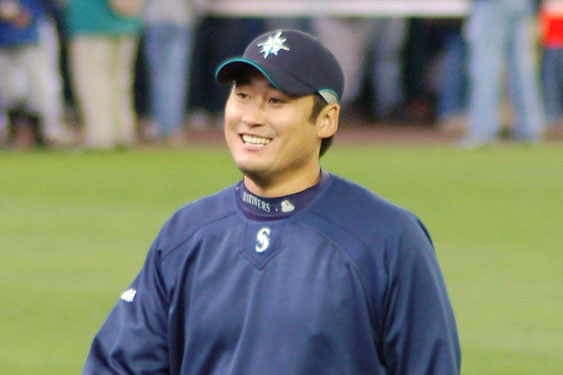 This is Cha Seung Baek's smiling doppleganger.
OH MY GOD, CHA SEUNG BAEK KNOWS HOW TO SMILE.
And speaking of which, the Mariners are heading off to Cleveland to make up a game with the Indians from the Great Blizzard of '07. Cha Sizzle takes on Captain Cheeseburger Sabathia now that Ohio has finally thawed out. However, if I was in Ohio and wanted a good rollercoaster ride, I think I'd head to Cedar Point instead of Jacobs Field.
As an aside, on Saturday evening (or the afternoon of the 20th in Japan) I got to watch the Hawks-Fighters game over the net for once, which was nice. It was Hawks manager Sadaharu Oh's 67th birthday, and Fighters second baseman Kensuke Tanaka's 26th. The Hawks lost and Kensuke hit a triple. It was also my favorite catcher Tomoya Satozaki's 31st birthday, but he's on the DL currently. Sort of like that punk Kazumi Saitoh, who didn't even show up at the stadium for Kazumi Saitoh Day on the 19th.