I am sure that by now everyone has heard the news that
Chris Snelling has been traded to Oakland
for Ryan Langerhans, who was traded to Oakland literally like three days ago. Man, how the hell am I going to stalk Doyle AND Swisher and Harden and the rest of the A's? Damn you, Billy Beane!
Anyway, this is a day late report about Tuesday evening's game, because for whatever reason, I got home from the game on Tuesday night and fell asleep immediately. It really wasn't a boring game or anything, though it was pretty quick. I got there fairly late since I was stuck at work, and completely missed BP, getting there in time for pitcher warmups, basically.
The game actually started off with a pretty neat ceremonial first pitch -- some guy who used to be a hotshot high school baseball player in Hiroshima until a shoulder injury ended his pro ball aspirations and he became a sushi chef instead: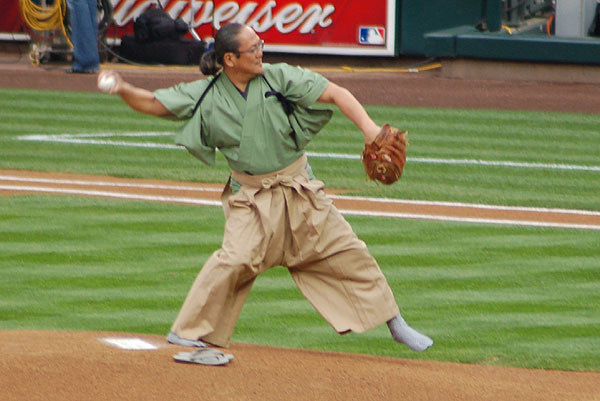 Iron Chef Masaharu Morimoto serves up a ceremonial first pitch.
Actually, to be fair, there were two ceremonial first pitches. James Sun, a UW alumni and entrepreneur who was apparently on The Apprentice, also threw out a ceremonial first pitch after Iron Chef Morimoto.
"Short" version: Javier Vazquez only let up one hit in the first three innings, a double to Jamie Burke; in the meantime, Jarrod Washburn gave up a home run to Luis Terrero (!?) in his first at-bat with the White Sox. Just as I was thinking Vazquez was a pretty good pitcher, he fell apart, giving up consecutive singles to Beltre and Vidro. Ibanez hit into a fielder's choice which scored Beltre, but it barely mattered as Richie Sexson hit a FUNK BLAST to dead center, 418 feet, bringing the score to 3-1 Mariners at the end of the 4th. The bats quieted down on both sides again until A.J. Pierzynski hit a ball into the foul pole in right field for a bare-minimum 335-foot homer in the 7th inning, making it a closer 3-2.
Brandon Morrow came in and shut down the White Sox in the top of the eighth (two pinch-hitters, three strikeouts, one walk), and in the bottom, Burke started things off by working a walk; Ichiro hit a line drive to centerfield which was luckily caught, and that was it for Vazquez. Mike MacDougal came in literally only long enough to let Beltre hit a double to left, which didn't quite score Burke. Then everyone's favorite ex-Mariner, Matt Thornton, arrived on the scene and struck out Vidro. Then it came to Ibanez, who said, "Screw you, Thornton" and hit a single to right, scoring Burke and Beltre. Earned runs for everyone! Except Thornton, of course, who struck out Richie Sexson to end the inning.
JJ Putz came in and it was a nice quick 9th inning as the
Mariners won the game 5-2
.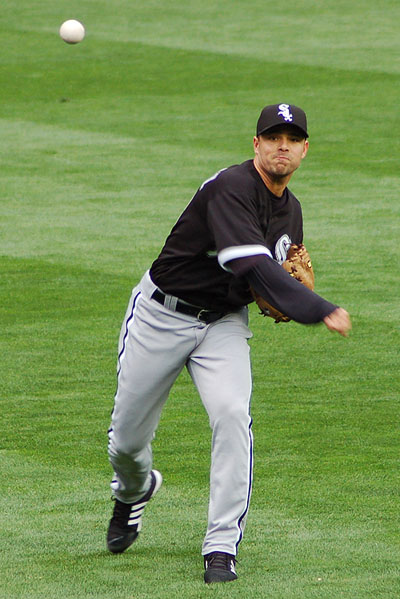 Javier Vazquez is no match for a good FUNK BLAST.
Something I noticed when the bullpen guys were walking out before this game that I had also noticed during the Royals game the other day is that Sean White seems to be the "rookie relegated to carrying a pink backpack" for whatever reason. I know this is a common form of rookie hazing, and I saw it done by a few teams last year as well, but why on earth is White the one with it instead of, say, Brandon Morrow? (Photo proof from the Royals game, which I need to finish my photo set from:
this is clearly White
, and
this is clearly a pink backpack
).
I was direly disappointed that Joe Crede was DHing in this game instead of playing third base. He's one of the third basemen in the AL that's truly fun to watch, and not just because he wears high socks and always smiles.
The scoreboard had Jose Guillen listed as the Mariners right fielder, even though they had announced it as Ben Broussard during the pregame show. I could clearly see that Broussard was out there in right field, and even when he first came to bat, they had his name and stats up on the main part of the screen, but the lineup still said Guillen. It wasn't fixed until somewhere around the second time through the order.
The other funny scoreboard snafu was that when Richie Sexson hit his home run in the 4th, the boards actually started doing the Funk Blast thing before the ball actually cleared the wall. It has grown now to the point that the left field board still flashes "FUNK BLAST", the centerfield scoreboard flashes "FUNKY", and then the boards which usually show pitch speed and current batter statistics, alternately blinked "GIVE US THE FUNK" and "WE WANT THE FUNK".
Music trivia was "Call Me", by Blondie. I even guessed 1980, knowing that they'd never ask a question about the Phillies. Sure enough, it was "Who was the 1980 AL MVP?" and I'm like "Oh, this is easy, George Brett," and nobody believed me.
Digital Dave Trivia was "Who got the first Mariner hit in Safeco Field?" Answer (highlight to see): David Bell. I actually didn't know that, but then again, in 1999, I lived in Pittsburgh and didn't pay much attention to the AL. The dumb part was where Digital Dave's like "And I'm going to run off and have a Shishkaberry!" Around then, the roof started closing due to rain, too.
There were a lot of calls where I could have sworn the ball was fair, and the umpire called it foul, and they were all against the Mariners. The most notable was one that Adrian Beltre hit down the left-field line in the 8th -- I mean, Alex Cintron even touched the ball. Maybe I've failed the Hample Test or whatever, but by the last one I wasn't the only one booing the decision.
Oh yeah, so home runs. Richie's was by far the biggest. Terrero's and Pierzynski's were both dead pulls -- Terrero's had some pop to it, and it landed near the back of section 151, but as I said, with AJ's, I actually thought Ben Broussard was going to catch it, that's how close it was. The ball even bounced back on the field after hitting the foul pole, and I thought it was just a really long foul ball.
Jermaine Dye fouled a couple of shots into the upper deck on the third base side. They were kind of scary.
I have to admit I didn't see what the hell actually happened in the 6th inning with Beltre and Ibanez. Basically, Beltre started the inning by singling to left, and during Raul's at-bat he stole second. Raul singled, and that advanced Beltre to third, but they held him up as Dye fired the ball back in. So, Richie comes up, and he basically hits a looooooooong fly ball to center field, the kind that you know everyone WANTS to put "FUNK BLAST" on the scoreboard for, but which is actually caught near the warning track. So, I look down and start writing "SF8" on my scorecard, expecting Beltre to tag up and score. But what happens? Ibanez, instead, tags up and takes off for second, and Terrero throws in the ball, Uribe is cutoff and he fires to Iguchi at second, who makes the play and Ibanez is out. I don't even have the slightest idea whether Beltre ran, because I simply didn't see it and there was no replay. It's one of those cases where seeing the game at the ballpark is more confusing than watching it on TV. Either way, it seemed like a pretty dumb move on Ibanez's part.
Tadahito Iguchi had several distinctions for the evening: first, he left absolutely none of his at-bats to the whims of fielders, being hit by a pitch, walking twice, and striking out once. He was, infact, the only White Sox batter to get on base via anything other than base hits.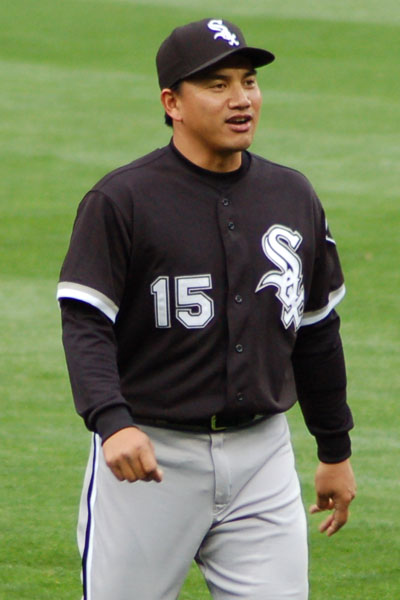 Iguchi says, "I'm down with OBP! Yeah, you know me!"
Kenji Johjima, Iguchi's former teammate in Japan with the Fukuoka Softbank-formerly-known-as-Daiei Hawks, was out on Tuesday with back spasms, though he was back in the game on Wednesday. It's pretty awesome that we have someone like Jamie Burke around, so it's not like "Oh god, Johjima's out? That sucks!" and more like "Hey, Johjima's out, no biggie, hope he's better soon."
I would like to take a second to talk about Brandon Morrow again. When he came out to be the setup guy in the 8th, the score was 3-2, and I know Washburn probably didn't want to hand off such a close match, but he had just hit 101 pitches and was obviously sort of losing steam. I was actually pretty excited since I'd just seen Morrow pitch on Sunday, and I also thought it was great he'd be facing Terrero and Ozuna and all, except Ozzie chose to go ahead and put in Mr. High Socks Darin Erstad to pinch-hit for Terrero. Fine. Morrow got off to a slightly shaky start, but then it was whoosh, whoosh, whoosh, HE GAWN. So of course, instead of Ozuna, out came Alex Cintron to pinch-hit. One or two pitches broke a little wild here too, but Cintron couldn't catch up with Morrow's 95-ish fastballs either, and he also got to sit down.
I don't think the Sox had anyone to pinch-hit for Iguchi, but oddly, Morrow seemed to be more unsure of himself pitching to a right-hander, and Iguchi walked on four straight pitches. The crowd seemed sort of annoyed with that and rose to a low murmur.
So up comes Jermaine Dye, and the second pitch just KNOCKS HIM FLAT ON HIS ASS, at which point the crowd's getting excited, expecting to see Morrow blow by Dye with some more heat. Except Morrow ends up throwing two more balls and gets up to a 3-1 count. So I can hear the people around me booing; some little kids a few rows back are yelling "TAKE HIM OUT, TAKE HIM OUT" and whatever.
Me, I just sat there calmly, watching. "I believe in you," I think I murmured.
And sure enough, whooosh, ball comes in twice, ball gets swung at twice, Dye is out!
Lots of pumped fists, lots of happy kids. The Mariners managed to get a whole bunch of runs in their half of the 8th. It was all good.
The Mariners next get to play a whole bunch of Yankees games, interweaved with some Tigers, Angels, and a make-up against the Red Sox. While all of those teams have a few slow starters, I think they'll provide more of a challenge and let us see what Morrow really can handle. I know a lot of people would like nothing more than to see him strike out Alex Rodriguez. We'll see, I guess.
But for now, hey, the Mariners are two games over .500. Who knew?