The other night as the rainstorms raged, I was working on cropping pictures while rewatching some of H2 (a Japanese TV show mostly about high school baseball). I was up to the episode when the Senkawa team is actually playing at Koshien, and as a few of the actors are gathered in front of the Babe Ruth monument by one of the gates, I realized -- crap, I totally forgot to take a picture of it on either of my trips out there! The first time, I did walk around the whole stadium, but it was raining horribly and I was in a bad mood and didn't think of it, and the second time, I got to the stadium about five minutes before the game was starting, having run over from the Osaka Dome.
You can read my
blog entry
about my Osaka baseball-filled day, and
the addendum
. The game I saw at Koshien featured the
Tigers beating the Bay Stars 5-3
, as Tomoaki Kanemoto hit a 3-run homer in the 5th inning which put them ahead, and Wei-Tzu Lin hit a home run when he came in to pinch-hit for starter Tsuyoshi Shimoyanagi in the 7th. Ken Kadokura started for Yokohama and got the loss. I got so excited about getting to see Kyuji Fujikawa pitch in the 8th that I lost my lenscap.
Unfortunately, I really never had good lighting conditions any of the time I was at Koshien. The first time was on Sept 6th -- after my
adventure buying tickets at the Hanshin dept store
, we went out to Koshien
only to find the game rained out
, so I took a few pictures while walking around the stadium in the rain. The next time was that game I went to on the 9th, but it literally got completely dark within half an hour of the game starting, and I was up in row 30-something of the Yellow seating area behind first base. I guess it was a great vantage point for lots of crazy balloon-releasing action, at least.
Photoset with thumbnails and descriptions here:
Tigers vs. Bay Stars at Hanshin Koshien Stadium, September 9, 2006
(also rainy day Koshien from Sept 6th)
Koshien Stadium, inside and out.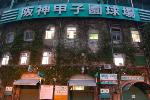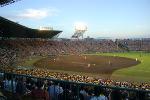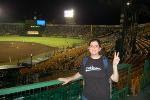 The seventh inning stretch, and balloons.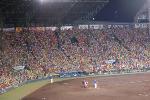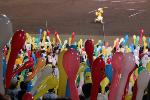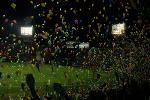 Kyuji Fujikawa!, the Tigers bullpen car, and Jeff Williams.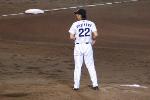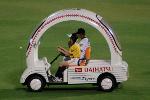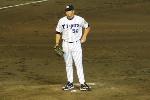 Tigers fans post-game street party, crowds at the subway station, merchandise stand.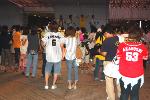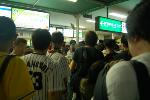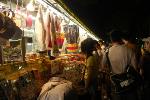 Indoor practice building, the "back" gate, signs at the train station.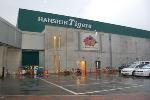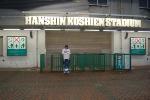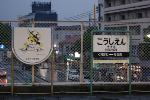 Wei-Tzu Lin, a balloon-wielding couple, the balloon release moment, a food-box stand, and the sign outside the station: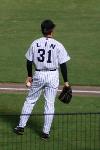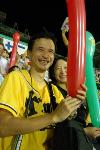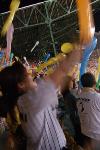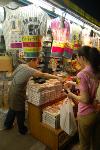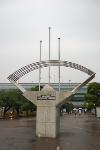 I really need to go back there sometime when it's actually like, light outside -- and I need to get there early and try to watch BP and stuff. Oh yeah, and I need an aisle seat, dammit.