Before I begin this entry I just need to mention that the
Bay Stars traded Hitoshi Tamura to Softbank for Hayato Terahara
. This is one of those "They did WHAT?!?" sorts of deals. Hitoshi Tamura, before being repeatedly injured this year, was finally coming into his own as a slugger (71 home runs between 2004 and 2005); Hayato Terahara was a high-school star who could throw 97 mph and was a hugely hyped prospect in 2001, but hasn't become consistent at the top-league level yet. So both of these guys are gigantic question marks. It makes sense from the perspective of Softbank being heavy on starting pitching and light on guys who can actually hit a baseball with a bat, and Yokohama being the reverse, but Tamura's too likely to run into a wall and kill himself, and Terahara's too likely to go up in flames. Oy.
ANYWAY. PHOTOS.
I think this one or the
Sendai one
will end up being my favorite set. Having daylight makes a huge difference.
This set of photos is from September 8th. We took a day trip down to Hiroshima that day, doing touristy things during the day and a baseball game at night. Hiroshima is the most convenient city for that -- literally, we took the streetcar to the stop for the A-Bomb memorial, stepped off the car, looked across the street, and... there's Hiroshima Shimin Kyujo, the Carp stadium. Hiroshima Castle was a 10-minute walk from the stadium in the other direction. Due to heatstroke I begged to go to the stadium early so I could sit down in some shade -- so I ended up getting there in time for batting practice. Which was really awesome for shooting pictures. Even though there was a fence as usual, it was fairly wide, so I just had to put my lens up to it. Unfortunately I couldn't get up to the fence in the infield, though.
I also ended up sitting in a great seat -- right by third base, up high enough to see over the fences, and with a generally good spot to watch
Dragonbutt
Masahiko Morino, and also to watch this super-intense umpire who I never got a good picture of, sadly. He made these huge gestures to call strikes.
Aaaaanyway, you can read my
blog entry
for that day or see the
box score
on Yahoo or something. In short, Hiroshima is a bandbox, and I saw 7 home runs hit while I was there. The Dragons were ahead 7-2 for quite some time, and then they just sort of fell apart in the 8th. We had to leave in the 9th when it was 7-6 or risk missing the last train back to Osaka, and when I checked the score back at the hotel, I couldn't belive it -- the Carp had tied the game in the 9th and come back to win in the 10th. Doh! This is why I NEVER leave games early.
Photoset with thumbnails and descriptions here:
Carp vs. Dragons at Hiroshima Municipal Stadium, September 8, 2006
There's exactly 100 in the set, and I really love about 90 of them. The first half is pretty much from BP time, so it's a lot of player shots. I'll pick out a subset to display here like I've been doing... but really, I love this set. You should just look at all of the pictures. :)
Hiroshima Stadium, outside, inside, and at night: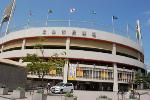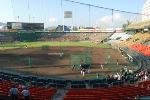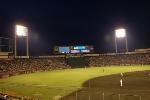 Shigenobu Shima getting an award: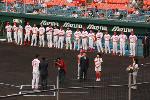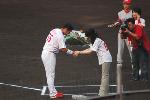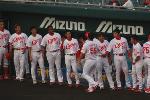 The infamous "Dragonbutt" shot, 7th inning balloons, and cheering Dragons fans.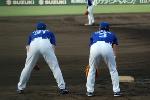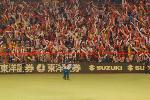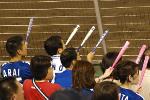 Mitsuru Sato, Denney Tomori, Motonobu Tanishige, Dragonbutt, Fukudome: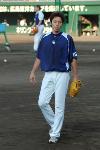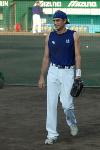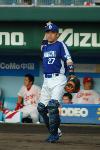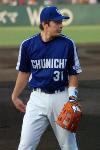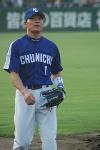 Fukudome, Tatsunami, Morino, Carp manager Marty Brown, Carp mascot Slyly (a Philly Phanatic clone):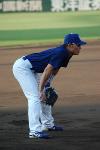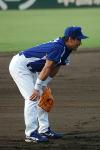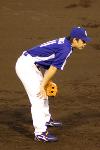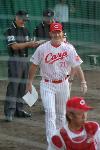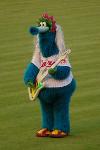 2006 CL ROY Eishin Soyogi, Yoshinori Ogata, Shima, Tomonori Maeda, Masayuki Hasegawa: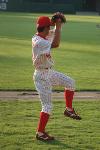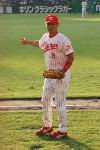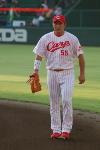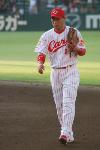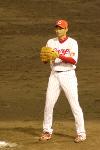 Grounds crew, Marty Brown "Wanted" T-shirt, Soda Girl, an Ibata fangirl and a Tatsunami fangirl: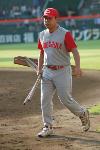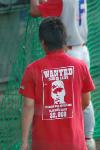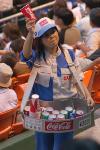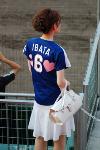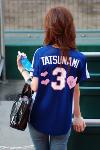 I'd love to take pictures at an afternoon game in Hiroshima someday.
Next picture set should be some part of my Osaka adventure -- where on the same day, I went to a Fighters-Buffaloes game at the Osaka Dome and then an hour later went to a BayStars-Tigers game at Koshien. Not sure if I'll split them up, we'll see.