I'm in Philly now. Yay.
I hear Barry Zito signed with the San Francisco Giants for a metric bucket of money, with an option for an additional bucket of money. Hmm, maybe this gives me more of an excuse to try to go down for this year's Giants-Phillies games.
On the way up to Philly, I stopped in DC to hang out with a good friend of mine. We were debating what to do for a few hours before my train, and since he's also a baseball geek and has become a bit of a Nats fan, we thought we'd go wander down to the area near the Navy Yard metro stop and look at the new stadium construction: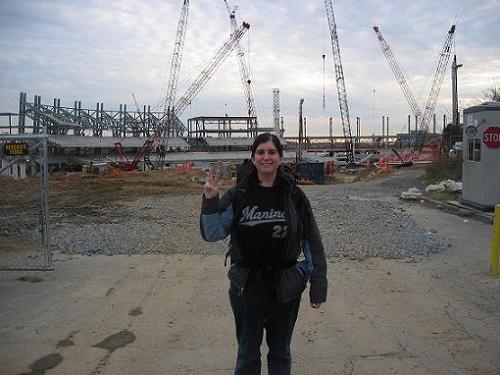 This is probably my oddest "Look, I'm at a stadium" picture ever.
(Bonus points if you can identify the shirt I'm wearing.)
The area around the
New Ballpark
, as it's currently called, is really a dump. We're under the impression they'll be trying to gentrify it a bit, as the area across the street from the construction site is basically all deserted and abandoned buildings. We walked around the area a bit and took a bunch of pictures (I'll post more some other time if people want to see them, but right now I don't really have good photo editing stuff so I just resized that one with Paint), which seemed to amuse the construction workers who were leaving the site -- I get the impression they don't get all that many tourists there.
As an aside, my mom and I drove past the Richmond Braves stadium the other day when we were near there, and I was impressed by how big it seemed compared to Cheney! I haven't really been to all that many AAA stadiums, so maybe I'm just easily impressed.