You know, young is relative. For perspective, our first-round draft pick Brandon Morrow was born July 26, 1984. Tonight's (actually Tuesday night's; Blogger has been down) Twins starter Francisco Liriano is 9 months older than him, born October 26, 1983. And our Felix Hernandez is almost two years younger, born April 8, 1986. And if you combine them, Liriano and Felix are still 9 months younger than Jamie Moyer (November 18, 1962).
Anyway, my friend Dave had scored some pretty goddamn awesome seats to this game -- 125, Row 10, right behind the on-deck circle, and as such I spent most of the game trying to snap pictures (which all came out crappy) rather than trying to take notes (which all came out unreadable).
Short version: Neither the Twins nor the Mariners are particularly noted for their offense, and it was no different tonight. Mike Morse, who seems to be getting off to another "hot start" this year, knocked in the first Mariners run in the 4th inning with a double. Ichiro batted him in on a single off Liriano's bare hand -- good thing he didn't injure it. Studly Joe Mauer, who would end up being 4-for-4, knocked in the first Twins run in the 5th inning with a double, and Jason Kubel, who scored said run, also hit a solo home run off Teddy Beardado in the 8th. Fortunately, the Mariners scraped across extra runs in the 6th and 7th innings, as Willie Bloomquist did some pretty good baserunning and Raul Ibanez batted in Jose Lopez on a pretty nice double. Felix was actually pitching pretty well, as was Liriano, and I think Felix just got luckier. Either way, it was a fun game to watch, as the
Mariners won it 4-2
.
Dave and I showed up early and just went to the bullpen, as we'd just missed the end of batting practice, sadly. (I wanted to see if I could get Lew Ford to sign my sudoku book.) However, we did run into Conor Glassey and his dad there, which is always fun, and so we had a while talking about the Twins and the draft and all sorts of fun stuff. And then we got to see Liriano warm up. His motion is awesome, very smooth, barely any kick, it's like, one second he's got the ball, and the next, whoooosh, Joe Mauer's got the ball. I actually saw him throwing a bit when I was at the Metrodome last year, and he's even better now.
"I've got a baseball and an awesome left arm
and I'm not afraid to use them."
(My bullpen shots are not nearly as cool as the
Liriano picture on yahoo
, sadly.)
Anyway, it was really amazing to watch this game from so close up. Felix struck out the first two batters swinging, which seemed to be a good sign for the night, but then Joe Mauer came up and smacked a single, and Torii Hunter smacked a double, and Mike Cuddyer walked, loading the bases, which was a bad sign for the night. Morneau grounded out to Big Richie though. Whew.
That was really the only jam of the night Felix found himself in. The Twins had a terribly big disparity between the 2-5 batters (Kubel, Mauer, Hunter, Cuddyer) and the 6-1 batters (Morneau, White, Batista, Castro, Castillo; plus I'll count pinch-hitters Tiffee, Rodriguez, and Little Nicky Punto) tonight:
                  AB   R   H  RBI  2B  3B  HR  BB   K  SB/CS    OPS 
2-5 Batters       16   2   9    2   3   0   1   1   4   1/0   1.525
6-1 Batters       20   0   1    0   1   0   0   1   3   0/1   0.195
Seriously, all of the odd-numbered innings seem to have Kubel and Mauer getting hits, and all of the even ones have the bottom of the lineup sucking. It's sort of amusing.
In the third inning, Kubel singled and Mauer doubled, and they were again left on second and third as Hunter grounded out and Cuddyer struck out.
In the fifth inning, Kubel singled with two outs and this time Mauer drove him home with a wicked slice to left field for a double -- Ibanez was playing way to the right of where he normally would, or it probably would have only been a single. Dave commented that it looked like they had put a shift on for Mauer, which isn't unreasonable since he was pulling the ball for the rest of the night. And Hunter struck out to end it.
Due to Morneau getting caught stealing after a walk in the 6th, the next "odd" inning was actually the 8th. Felix had pitched seven strong innings of one-run ball, and so they brought out Eddie Guardado for some reason. The speakers blared the start of "Hell's Bells" but didn't play much of it, so I joked - "They'll play more of the song when he earns it -- by not giving up so many game-ending home runs." Immediately after I said that, Jason Kubel launched a 404-foot home run into the right-field seats. Mauer hit a single, making him 4-for-4 on the evening. So Hargrove decided to just play Musical Bullpen, going through four pitchers in the inning. Mateo came out for Hunter and Cuddyer, getting a strikeout and a single; Sherrill came out for Morneau, getting a strikeout, and Putz got Terry Tiffee (who still looks like a 16-year-old despite being 27) to ground out to end the inning.
But yeah, Felix's line for the evening was 7 IP on exactly 100 pitches, 1 run, 6 hits, 2 walks, and 5 strikeouts. I can live with that
Liriano wasn't quite so lucky, only getting one 1-2-3 inning, though it was ironically out of the 3-4-5 part of our lineup. Go figure. He kept himself out of trouble for the first three innings in general, though.
In the fourth, Johjima came up and hit a clean single to center. Bloomquist bunted him to second, and then Mike Morse came up and drove in Johjima with a double to right which escaped Cuddyer. As that first run of the game scored, they put up the big "MAY THE MORSE BE WITH YOU" thing on the centerfield board, which still makes me giggle, despite how stupid it is. (Hell, I sponsored
Morse's b-ref page
just to make that dumb joke.) Morse advanced on a wild pitch before Betancourt grounded out, and then Ichiro hit a single which basically bounced right over Liriano, who grabbed for it with his bare left hand, but couldn't get it; by the time the ball was recovered, Morse had scored and Ichiro was safe at first. I think Liriano should just be glad he didn't injure his throwing hand. Ouch.
During Ichiro's at-bat, the crowds were chanting: "I-CHI-RO!"
The crazy loud beer girl was screaming, "BEEEEEEEEEER!"
They kept echoing back and forth -- "ICHIRO!" "BEEER!" "ICHIRO!" "BEEEER!"
I turned to Dave like "Two great tastes that go great together?"
In the 6th inning, Johjima led off by almost hitting a homer into the bullpens, but instead it was just a bounced ground rule double. Willie Bloomquist bounced a grounder to Justin Morneau, who smartly threw the ball to third, catching Johjima in a rundown, eventually having Castro tag him out on the basepath. Bloomquist actually got to second on the play, though, and immediately stole third. When Mike Morse grounded to third, Bloomquist ran home, and it was a really close play at home, but T-Fat's throw was terrible and so Willie was safe, happily marching into the dugout with his head high and his uniform all full of dirt from sliding.
(When Willie came out to the ondeck circle in the 7th, I saw his uniform and held up my camera and sent out brainwaves towards him: "Turn around, Willie! Turn around!" And he did.)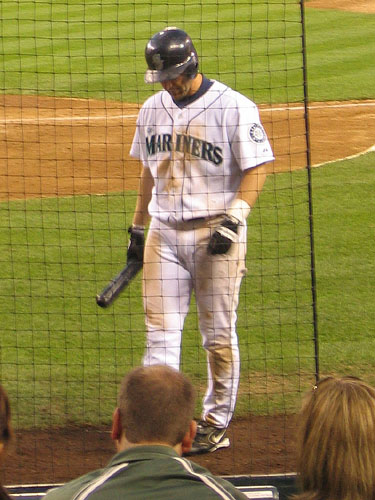 Yes, Willie, that off-white looks lovely on you.
You'll notice that Johjima led off three innings, due to Sexson sucking. Infact, the Mariners had the exact opposite lineup split of the Twins in terms of production -- their 6-1 (Johjima, Bloomquist, Morse, Betancourt, Ichiro) were awesome and the 2-5 (Beltre, Lopez, Ibanez, Sexson) were terrible:
                  AB   R   H  RBI  2B  3B  HR  BB   K  SB/CS    OPS 
2-5 Batters       16   1   2    1   1   0   0   2   3   0/0   0.409
6-1 Batters       18   3   8    3   2   0   0   2   2   2/0   1.031
Matt Guerrier came out to pitch the 7th inning for the Twins, and the scoreboard brightly declared: "Has not given up a run against Seattle this year in 6 IP". It wasn't true when they put it up there, and it definitely wasn't true after he walked Lopez and gave up a double to Ibanez which scored Lopez. Right after that, though, Jason Kubel made the Web Gem play of the night when he tracked down a low liner from Richie Sexson and made a diving sliding play to trap the ball backhanded in his glove. It was really a pretty nice play.
Bloomquist's at-bat was pretty funny from another standpoint besides the dirt -- he popped the ball up foul right in front of the screen, and Joe Mauer ran back to get it, but when he caught the ball it bounced out of his glove against the screen and back into his glove. Umpire Larry Poncino, who is rather large, ran back there to follow the play, and he called it a no-catch, shaking the netting like "Ha, nice try, kid".
Catch the ERA on this guy.
Jesse Crain came out to pitch the 8th inning, and when he came out there, he had an ERA of 6.66 -- on 6/6/06, no less. That was pretty funny. Carl Everett came up to pinch-hit and launched his bat into the stands again, before grounding out and dropping Crain's ERA to 6.57.
Putz didn't have much trouble ending the 9th inning. They even have a video clip thing for him now along with the big "CLOSING:TIME" sign on the screen -- I wonder if it's just necessary for every team to have some video montage and big song-and-dance when their closer comes out? I suppose it's designed to keep the fans in the seats until the last out rather than having them all leave early, and to psych out the opposing team a little.
Speaking of Eddie, besides the home run to Kubel, early in the game they ran "Ask the Mariners" and the question was "Who on the team would you want to go on a roadtrip with?" A bunch of guys answered Ibanez (Ichiro said "Because he speaks Japanese"), someone said "Gil Meche, because he doesn't talk very much", and then half the team said "Eddie Guardado". Johjima ended the clip, though, saying in Japanese, "I don't really know yet, but I don't think I would want a ride with Eddie." Zing!
Overall, getting to see two young hyped pitchers like Liriano and Felix pitch close-up was pretty cool. And it was actually a "Young Hotshot" pitching day in general -- Brandon McCarthy got the win for the Sox, Kazmir got the loss for the Devil Rays, Chien-Ming Wang got the win for the Yankees, Kerry Wood and Jake Peavy found themselves on the losing end of contests, and of course, King Cole Hamels got his first win for the Phillies. But the most impressive pitching performance wasn't from a young hotshot, it was from Jason Schmidt,
getting a complete-game 16-strikeout win
over the Marlins. Yes, it's the Marlins, but still, why did this have to happen the week that I'm matched up against the guy in my fantasy league who has Schmidt on his team? Grrr.
Anyway, Blogger's been having issues all day and night, so I bet by the time I get to actually publish this entry, Wednesday night's game will have started. Sigh. I really should stop being lazy and move the blog over to marinerds.com already.