Wheeee, that was fun. Just a few hours before heading to the game, I suggested that it might be cool if Raul Ibanez got a home run for his birthday, and he did just that. Did you know that June 3rd is Carl Everett's birthday? Maybe he will hit a home run for his birthday too. That would be nice. I really wish I could go to June 8th's game with a big "誕生日おめでとうございます城島さん!" sign for Johjima, but it's an afternoon game. Damn. Petagine's birthday is June 7th (and Emiliano Fruto's is June 6th), too. Busy week.
Short version: Jamie Moyer got a 93-pitch, 2-hit, 2-hour complete-game shutout victory over the Kansas City Royals as the
Mariners roiled the Royals, 4-0
. This is sort of like saying "The Mariners went to the bakery and bought a cake and walked home with it," except it's more like "Jamie Moyer was just sitting there and some dude handed him a cake. It was decorated with back-to-back home runs by Jose Lopez and Raul Ibanez. Yuniesky Betancourt brought the paper plates and napkins and double plays, and everyone had a lovely walk." Besides the two home runs off of Bobby Keppel's 82nd and 83rd pitches of the night, the Mariners scored two runs in the 8th inning off Jeremy "It doesn't matter if I suck, I'm a Royal" Affeldt.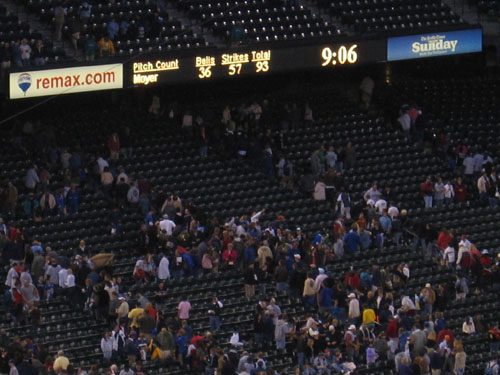 Shortest. Game. Ever.
To be honest, there isn't really very much to say about this game. It really is the shortest complete pro baseball game I remember attending. Not very much offense was mustered on either side. As a matter of fact, I was marvelling that it was only like 8:25pm at the start of the 7th inning, but wondering whether the game might go into extra innings if neither side could manage to score a run.
The bottom of the 7th inning really was probably the most exciting few minutes of the game in terms of offense; the 7th inning stretch was over, the game started again, Bobby Keppel threw his 82nd pitch of the evening to Jose Lopez, and BAM! it was over the left-field scoreboard. Neat! Then Birthday Boy Ibanez stepped up, and smacked the first pitch again into right field, deep, deeper, going, going, gone! Lopez's went 373 feet, Ibanez's went 351. Still, that was pretty cool. Richie Sexson came up and I was like "Okay, now it's Richie's turn to hit one," and a few pitches later he TOO hit a huge line drive out to left field. This one bounced into the platform between the scoreboard and the left field wall, though, and landed back on the field; Richie hadn't really been running hard since he thought it was a home run, so as he tried to get to second base, he was tagged out by a mile and credited with a single. Whoops.
Looking at my scorecard, between simple groundouts and double plays, Yuniesky Betancourt had a hand in acquiring 15 of the 27 outs. There were 6 straight 6-3 plays, and one that should have been a 6-4 but he threw the ball about two feet to the left of Lopez and into right field instead. There were 3 double plays involving him; two 6-4-3's and a 1-6-3. And the other three outs were popups, none of which were actually really in his territory, of course, but Betancourt's boundaries extend pretty much from Ibanez to the ball girl to the pitcher to the second base umpire, I think.
Seriously, though, Betancourt's glovework was fantastic. In the third inning, after Mientkiewicz had been hit by a pitch, Angel Berroa lined a ball at Betancourt hard. He got the ball but fell on his butt with the backward momentum, but WHILE SITTING ON THE GROUND still managed to flip the ball to Jose Lopez in time to get the double play. It was insane. In the 9th inning, he managed to get a grounder by John Buck, while running way back in the hole, and still fired it to first base in time. He's just one hell of a player; he makes the hard plays look routine and the superb plays look normal.
Beltre also had a hell of a nice stop off Esteban German in the 8th inning, where he went down on a knee to stop the ball, ended up spinning around on the ground with the momentum of it, but still trapped it and transferred it in time to throw it to first base off one knee.
The "Stump The Broadcaster" trivia was "What player holds the single-season record for most AB without a sacrifice hit?" Rick Rizzs had to choose between three players -- two of them were
Frank Thomas
and
Garret Anderson
, I forget the third -- and he went with Frank Thomas, but the answer was actually Anderson. Thomas has actually gone his entire career without ever hitting a sacrifice (bunts, I assume -- sac flies seem to be counted separately on b-ref), but Anderson has the record for single-season at-bats without a sacrifice, mostly because he gets more at-bats because he doesn't know how to take a walk.
I spent half the game bouncing up and down and singing "M-I-E-N-T-K-I-E-W-I-C-Z" over and over again. For some reason, I couldn't come up with a good tune to sing "G-R-U-D-Z-I-E-L-A-N-E-K"; I think it's got something to do with the hop of the "double-u". Instead, I ended up just referring to him as Grudzilla.
Anyway, yay, book club today! Saturday! 5pm! Elliott Bay! Yankees suck, hooray! Royals suck too! Joel Pineiro vs. Seth Etherton, whoever the heck that is.