But apparently the Yokohama Bay Stars do.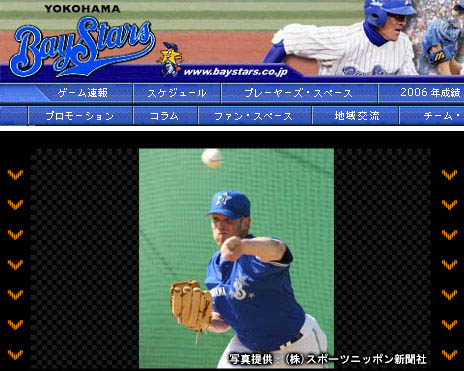 Hey, I think I saw this guy in Tacoma last year!
So I was poking around the random Japanese baseball team sites looking for more spring training videos. The "
Everyone Loves Shinjo
" autograph chase on the Fighters' site is pretty funny. The Marines have been putting up player clips/interviews, though; today's is my favorite rookie switch-hitting shortstop
Nishioka
, the other day they had that punk
Imae
, too, featuring things like Bobby Valentine shouting "Move yer ass!" at the Japanese players taking fielding practice.. I'm waiting for the Watanabe one...
But, I digress. The point is, I loaded up the Yokohama Bay Stars site, and they had a Macromedia slide show thingy, and the second picture was of a pitcher who looked vaguely familiar to me, as if, perhaps, he had been on the Tacoma Rainiers last year. It couldn't be, could it?
Yes, yes it could.
Damian Moss is trying out with the Yokohama Bay Stars at their spring training camp. Crazy, isn't it? Upon looking around for more articles, I see that
Japan Baseball Daily
did mention it yesterday; apparently Moss was invited to try out with the Bay Stars in camp and nobody bothered to tell the manager about it. Whoops.
Today's report
says that Moss throws like a girl, though with good control. ("Damian Moss threw in the bullpen today and manager Kazuhiko Ushijima just rolled his eyes, as Moss' fastball had nothing on it at all (getting up in the low 80's, if that) and he is five pounds overweight.")
Oi! Yokohama! I'm a lefty who throws like a girl! Can I come to spring training camp too?