Yeah, I'm boring, and this isn't even that good a picture. But when I read that Tuffy Rhodes signed a minor league deal with the Reds, and wrote a
short entry
about it, it got me looking through some of my Japan pictures again, and I even found one I'd taken of the big screen during said post-game MVP speech, so I figured, what the heck.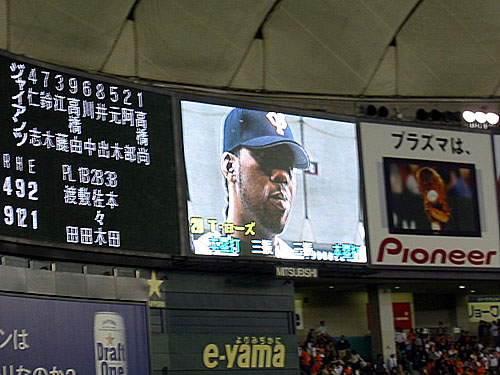 T. ローズ / 本塁打 三振 三振 本塁打
T. Rhodes / HR  K  K  HR
This is pretty much what Tuffy Rhodes did in Japan -- hit home runs and strike out.
By the way, I'm not bitter, but the Rainiers site says that "Less than 15 minutes after individual tickets went on sale, there were no seats left for Mariners Day at Cheney Stadium." Goddamnit. You know, considering that a season ticket mini-plan for 7 games at Cheney costs less than one Lower Box seat ticket to one game at Safeco Field, and I will undoubtedly go down to Tacoma to
stalk Pat Borders
see a few games at Cheney this year anyway, perhaps it would not have been too ridiculous to spring for one of those plans in order to get tickets to the April 1 exhibition game as well, but alas, I hadn't bothered to do the math.