I intended to put this up several weeks ago. But, well, things are busy. I finished up my summer job contract last weekend, and this weekend I'm helping host Microsoft Puzzle Hunt, and then ON TUESDAY I AM FLYING TO TOKYO!! On Thursday I'll be at the Tokyo Dome for the Fighters game!!! I'll be in Japan for around 6 weeks, then I'll be moving to San Francisco and starting a full-time job in December. Exciting, huh?
Anyway, this post is supposed to be about the past -- my photos from one of Hideki Irabu's last professional appearances ever, playing for the indie league Kochi Fighting Dogs.
Two years ago, in the dead heat of August, I took my first
Seishun 18
trip across Japan, with the intention of watching a few days of Koshien and then going to Kyushu and Shikoku to visit some friends and to watch some Shikoku Island League baseball. By COMPLETE RANDOM CHANCE, the day that I was planning to be in Shikoku anyway on my crazy train schedule happened to be the day that Irabu was debuting as a starter for the Kochi Fighting Dogs! When I heard about that, I just HAD to go to Kochi and see the game; it was too bizarre a coincidence.
I wrote about the
Nagasaki Saints
game I went to at the time, but for the Kochi game, all I had time for was a
placeholder
. This is mainly because the day afterwards, I literally spent 19 hours straight on local trains to make my way back to Tokyo from Kochi, leaving Kochi at 10am and arriving in Tokyo at 5am the next day.
Anyway, the game was at Kochi Municipal Ballpark, which holds 6000 people; they had 1400 or so on this day, which is a big crowd for these indie leagues.
I found a space in the "shade", which is to say, under one of the weird stand boxes they had on the bleachers. It was around 95 degrees F outside; they had people at the top of the stands with huge coolers full of cold Japanese tea that you could get cups of for free; I must have run up there every inning or so.
And yeah, I saw Irabu pitch, for the first time in yeeeeears; I never saw him pitch in Japan, but I saw him pitch in the Majors, go figure. But for a 40-year-old he really wasn't that bad -- 7 innings, 3 runs, 5 walks, 3 strikeouts. He was somewhat comical fielding bunts, but what would you expect? The game was eventually a 4-4 tie as the bullpen gave up a run after he was off the mound. It was kinda strange, as the Saints game I saw was also a tie.
Official game score, with scorecards
.
After the game, by which point I was pretty much totally ready to leave because 4 hours in the sun was starting to melt my brain, it turned out Irabu was doing a signing session for 10 minutes, so I went and lined up for that and got his autograph on a Kochi shikishi. I greeted him in Japanese, but chatted with him a bit in English. I remember that I asked him whether the weather was better in Japan or in CA, and he said something like "I think it's better to be in Japan right now." I thanked him for the autograph and wished him good luck.
I was pretty surprised to learn of
Irabu's death
a month or two ago. I think he could have probably done some great things for baseball if he wanted to. It's sad how things work out sometimes.
Anyway, here are a ton of photos from that day in Kochi.
The Fighting Dogs mascot is... a fighting dog.
It was a very big deal about Irabu being there, and they were already selling merchandise for him, despite that he hadn't made his official debut yet.
This was the only real shade you could get in this stadium, underneath these concession stands.
The Ehime Mandarin Pirates had quite a representation up as well -- someone told me it's only a 4-hour drive or so, and this was a double-header.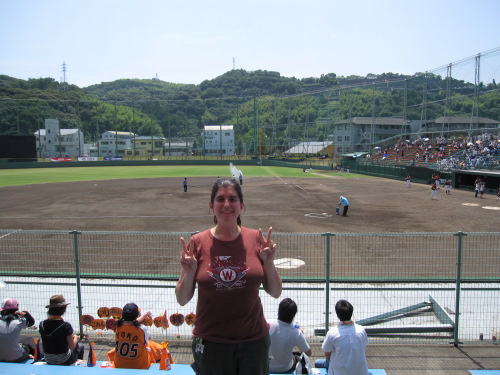 I got someone to take a photo of me; I don't actually have a lot of shots of the whole stadium, oddly.
Closer-ups of the ladies sitting in the front row who had made those uchiwa fans for all the Ehime players. (I talked to them for a while; they woke up at 5am to drive there.)
Here are a bunch of shots from Irabu's pre-game warmup. You could pretty much go right up to the railing and lean up against it, as many people did, so I was only a few feet away from him.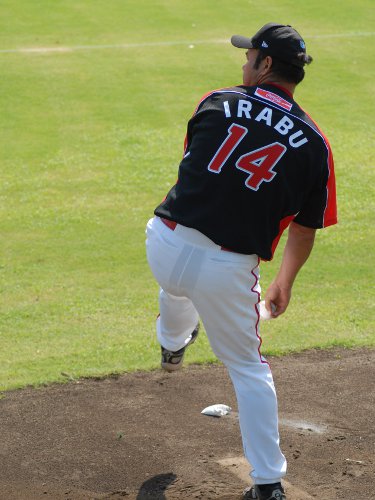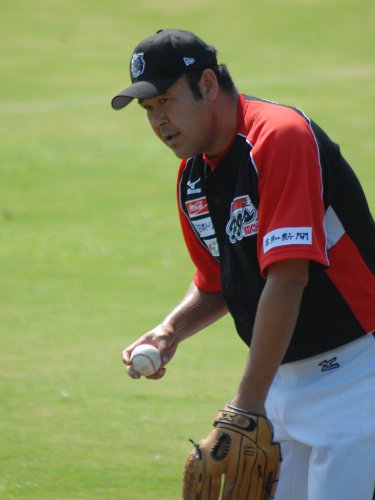 Anyway...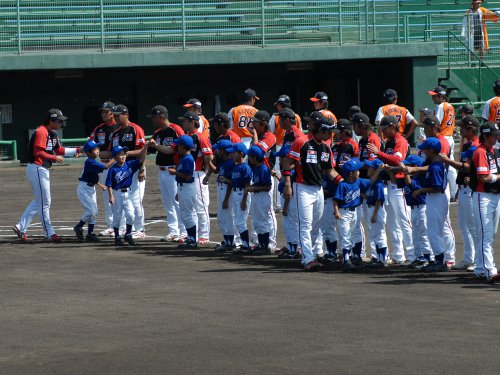 For pregame ceremonies, both teams came onto the fields with kids from the local little league teams.
All of the players had to say something brief to address the home fans and thank them for coming out on such a summer day; the guy talking here is Iida, who warmed up Irabu in the bullpen.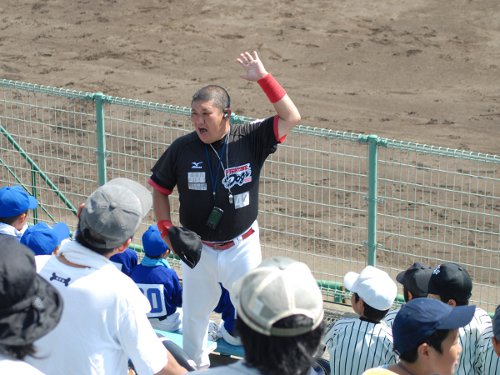 Here's the Kochi ouendan leader. Pretty tough-looking fighting dog sort himself!
The ceremonial first pitch -- thrown out by a local old guy wearing an Irabu jersey already. He was completely thrilled to be out there.
And the game...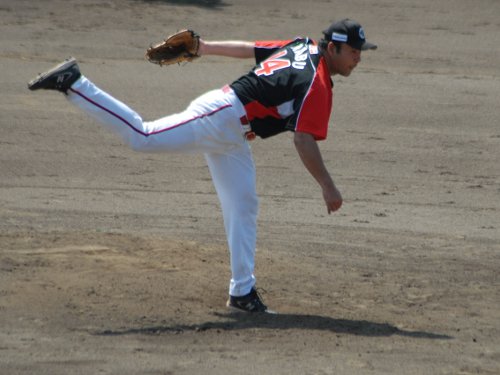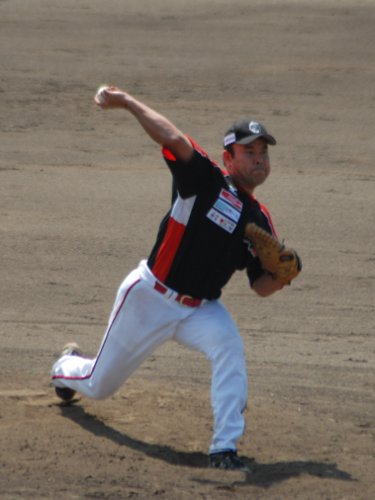 A few of Irabu actually out there on the mound during the game.
Francisco Caraballo. I saw him with Kochi and also later with the Gunma Diamond Pegasus, before he got picked up by the Orix Buffaloes.
The Ehime Mandarin Pirates starter, Shinpei Shinohara. I know he was in some draft lists for a while, but guess he wasn't quite good enough. I thought he was decent.
Fighting dogs leadoff batter Yamashin.
A tagout on the 3rd-base line.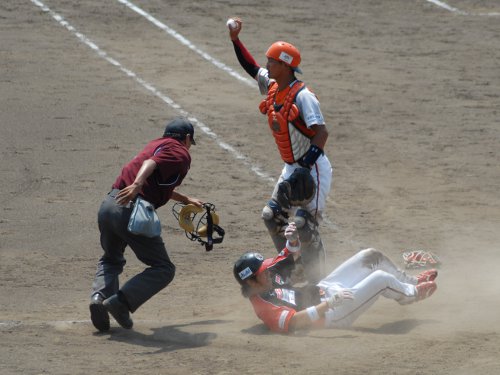 A Kochi guy slides into home plate. (He was out.)
Ehime's ouendan leader... not nearly as scary as the Kochi guy.
Scoreboard halfway through the game. The lower left corner says "From today, you can buy Irabu replica uniforms and t-shirts!!!"
The building out there behind right field is a cafe slash okonomiyaki restaurant called, of all things, "Timely". (In Japanese English, that's the word they use to describe an RBI hit.)
5th-inning stretch. In the indie leagues, the players themselves get to go out there with the brooms and be the grounds crew themselves.
And the dancing girls are, probably, on average, around 8 years old.
Mound conference with Irabu. (He finished the inning, though.)
Dogs pitcher Jeon pitched the 8th, and gave up the tying run.
And Iyono pitched a scoreless 9th.
Bowing lineup after the game.
Final score.
As I mentioned, after the game, Irabu signed for people for around 10 minutes, between the doubleheaders.
Here's Irabu sitting at the table.
And here's the shikishi I got signed! (It was 400 yen or so for a Fighting Dogs shikishi, since I didn't have anything at all to get signed with me. I guess I was really lucky!
Well, and since not all my posts are always 100% baseball, here's a bonus shot...
Kochi castle, at their little "datestamp" post.
Looking back, that was a really fun trip. I still remember being on those trains the next day, and checking the Koshien scores frantically -- it was Chukyodai vs. Bunri in the finals, and as you may recall, that was one heck of a crazy final game! Good times.