Monday, I decided not to go to the 3rd game of the Meiji-Hosei series and instead did a doubleheader of the Lions vs. Fighters at the Seibu Dump, then the Swallows vs. Baystars at Jingu.
I guess I arrived at Seibu around 12:30pm. First thing I noticed was a lot of people taking photos of the Seibu train cars. This is why: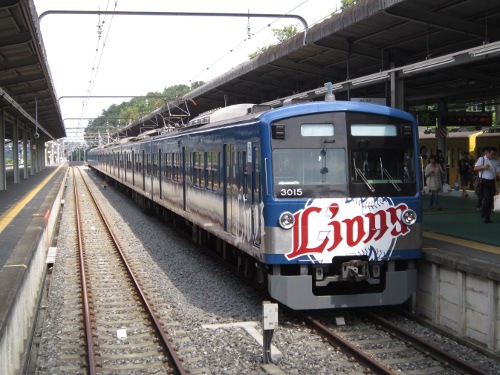 I'm assuming it must be a new makeover for the cars or something. Remember, if 20 Japanese people are all taking a photo of something, it must be special.
I tell you this because I went into the stadium, put down my stuff in the spot my friends had saved for me, and then noticed another huge group of people clustered by the outfield fence taking photos of something. This is why:
Apparently Yuki Saitoh is working on a new pitch. I dunno. Clearly if 50 Japanese people are all taking a photo of something, it REALLY must be special. Me, I spent 4 years watching Saitoh pitch for Waseda, so I'm kind of already over the hype, you could say.
Seibu still sucks for actually getting decent food within the stadium, at least if all you have is an outfield ticket, so like most people, I went back OUTSIDE of the stadium to find lunch. They had a lot of fancy bento boxes for various players, but what caught my eye was their "special limited edition Sapporo vs. Tokorozawa" bento: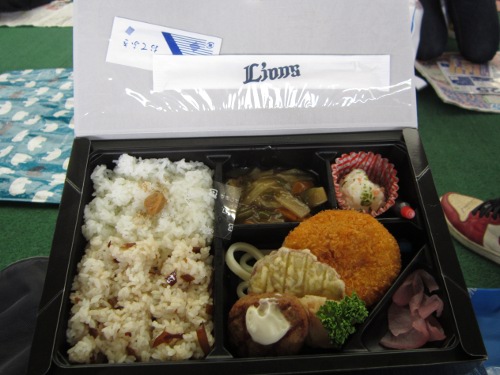 Interesting mix of stuff, though I have to admit I don't really get how it was either Hokkaido-themed OR Saitama-themed except for the potato croquette (that's a typical Hokkaido thing). I'm a sucker for these kinds of bento boxes, though; I love how you get a filling healthy meal with such a wide variety of stuff for such a reasonable price.
I guess we spent the next hour before the game either chatting, doing opening cheers, or watching the Lions fans do their new chance theme which reminds me of a weird cross of MVP-era Lotte plus the Fighters Chitty Chitty Bang Bang cheer, as it had a lot of "LA LA LA LA LAAAAAAAAAA" stuff going on, as well as a split part where men sing first and then women.
Shota Ohno was playing in this game, and hadn't at the Tokyo Dome on Thursday, so I spent a while studying his cheer, too. Fortunately, one of my friends who's a college student and fluent in English was sitting next to me, so I made him help me figure them all out.
Brian Wolfe started for the Fighters, and Kazuhisa Ishii for the Lions.
The first half of this game was pretty awesome from a Fighters fan perspective. We got on the board in the 3rd inning when Bobby Scales hit a home run, and then added two more runs to it in the 4th inning on a Sugiya hit, stolen base, an RBI double by Koyano, and an RBI single by Inaba-sama.
3-0
.
We loaded the bases in the top of the 5th, even, when Ishii hit both Yoh and Itoi with pitches. Unfortunately, we didn't DO anything with that.
Even so, things seemed good going into the bottom of the 5th. But Yutaro Ohsaki led off with a close single to second. Shogo Akiyama followed that up with a single, and Ginjiro bunted them both up to 2nd and 3rd. Yasuyuki Kataoka, batting 9th (??) singled in Ohsaki, making it
3-1
. Well, okay. But then Takumi Kuriyama followed that with another hit, bringing in Akiyama,
3-2
. And Takuya Hara followed that with YET ANOTHER HIT, bringing in Kataoka,
3-3
.
Naturally the only other thing that could possibly happen then was a 3-run homer from Hiroyuki Nakajima, right? Right.
6-3
. By this point I'd had enough and got up to go to the bathroom, expecting that Wolfe would be taken out and I'd have some time, but apparently that isn't what happened, and instead, while I was in the bathroom I could hear a really big roar of Lions fans cheering... as Okawari-kun Nakamura had hit his 41st home run of the year.
7-3
.
I've joked in the past that Seibu should hang me from the ceiling as an omamori for their players hitting homeruns, because BOY do they hit a lot of homers when I'm there.
(Side note: I don't know if it's this new ball or what, but it's kind of insane that Okawari has 41 homeruns, the next highest in the PL is Softbank's Matsuda with 23, then Seibu's Nakajima with 16. Even in the CL, the leader is Wladimir Balentien with 27 right now. There are some TEAMS -- I'm looking at Lotte with their 39 and Hiroshima with their 43 -- that barely as a WHOLE TEAM have as many homers as Nakamura does.)
Got back to my seat to see the inning end, anyway. And I got to see Kazuhito Tadano pitch the 6th, and I'm a relatively big fan of his all things considered, so it was nice to see him get into a game, at least.
The Fighters managed to take back 2 runs in the 7th from a Sugiya double, an Itoi single, a Koyano RBI single and an Inaba fielder's choice, making it
7-5
, but that's all they'd get as the
Lions won the game
.
To nobody's surprise, the game hero was Nakajima: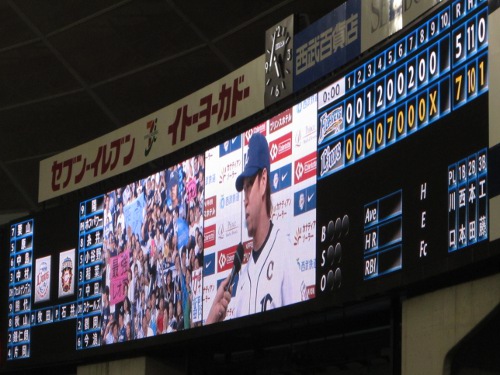 But I didn't stick around for the post-game at all because I was running off to Jingu. I basically quickly gathered up my stuff, packed up my bag, had Taicho make fun of me for having an Iihara jersey, and then ran to the Seibu train station. Quite frankly, my legs were killing me after 3 hours of sitting/standing on the slanted Seibu outfield turf -- I'd forgotten how painful that gets when you're not used to it.
The only other comment I have about the Seibu game offhand was that I'm not sure how to explain the exact difference, but without Hichori and Hichori fans in the outfield, there's a slightly different feel to things at Seibu. He was always a really big showman of sorts and always waved to fans and threw them baseballs and did antics and climbed on the fences, and his fans also kind of had goofy banners and lots of crazy green stuff, and I guess with Hichori gone and Kensuke injured, it felt like a lot of the goofiness was gone, and mostly replaced by a sort of glumness. And lots of Saitoh jerseys.
But anyway.
Onward to Jingu -- I managed to get a Seibu train that went straight from there to Shibuya, and then took the subway to Gaienmae, and I got into Jingu at about 6:30pm, or in the bottom of the 2nd inning.
Now, the nice thing about being late is that I deliberately decided not to keep a scorecard, which means that as a result, if you really want to read a more detailed log of what happened in the game, you ought to
go read the official Tsubamegun writeup
on their blog.
I mean, what I recall is:
- It was 1-0 when I arrived
- I saw Aoki hit his homer into the foul pole shortly after that to make it 1-1
- I had gotten back from my first jaunt around the concourse (more on that in a second) in time to see the WTF moment of the game when Fukuyama balked in a run to make it 2-1
- I saw Aikawa's home run too, which made it 3-1.
Now anyway, for what really happened to me during this game:
Kozo and I went hunting for food at some point in the 3rd or 4th inning. I bought a Shingo Kawabata t-shirt first, which I'd been meaning to do for a while, and then we surveyed a bunch of the places in the left field stands before Kozo decided to just get bulgogidon at the yakiniku-place that I forget the name of.
HOWEVER, when we got to the end of the stands, I saw Hossiezo, one of the Baystars mascots, posing at the food counter and with some fans! I went to take a photo and one of the "diana" girls was like "Would you like your picture with him?" and I said sure. I also told her how my name is ALSO Deanna, pronounced the same as their "diana", but spelled different.
I was so super-psyched about this, except GET THIS, the "diana" girl didn't press the button on my camera hard enough for the flash to fire, and the picture DIDN'T TAKE!
SIGH.
I was really bummed out about that. It's silly because usually I wouldn't have even had the chance to get a photo with a mascot anyway, this was just dumb luck, and I did get a photo with a Baystars star mascot a few years back. But it still kind of sucks to have that chance and to pose and all and then not get a picture. I realize that part of it is that I have a really cheap camera, but...
Anyway, we got food and went back to the stands. Shortly after that, I decided I wanted some soft serve ice cream, and went back hunting for that. The stupid thing there is that they sell it literally right underneath where we were sitting, but I didn't notice, and walked all the way to the other end of the outfield and back before figuring it out.
So, public service announcement: IF YOU WANT SOFT ICE CREAM AND ARE SITTING IN THE RIGHT FIELD BLEACHERS AT JINGU, IT IS IN THE SAME STAND ALCOVE AS THE PLACE WITH THE SAUSAGES. Which makes it right under the ouendan, basically.
Though I have to admit that the Belgian waffle place that just opened this year looks pretty damn good too. I'll try to report on that at a future time.
Anyway, I think that I had a decent time at this game, relaxing for once and not keeping score, mostly hanging out with Kozo and our friend Kentaro, who wants me to come to a Carp game with him sometime (and I really should, since I brought my Carp Saitoh jersey with me to Japan). Though I dunno, I was pretty exhausted by the time I got to Jingu in the first place -- the Fighters game took a lot out of me. So I was mostly at Jingu to hang out, really, and so the Swallows win was nice, but since I was zonked and since it was against the Baystars, I guess it didn't really feel like that big a deal.
Oh, one final photo from the day, along the same sort of "Spot what's wrong with this" variety: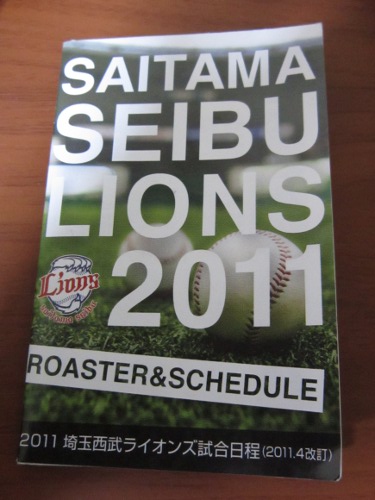 DEAR THE SEIBU LIONS:
I AM FAIRLY SURE YOUR LITTLE SCHEDULE BOOK DOES NOT INFACT SAY WHAT YOU THINK IT SAYS. ARE YOU PLANNING TO INCINERATE ALL OF YOUR PLAYERS?
LOVE, THE MARINERD