After spending all afternoon Saturday at Jingu dying of heatstroke, and being unable to endure the pro game that evening, I came up with the brilliant idea to only watch 1.5 games of Big 6 ball on Sunday and go home for 2-3 hours to change and shower and cool off and become human again. Then I came back to Jingu for the pro game in the evening.
I was at this game with Kozo and David from
Tsubamegun
, and also Ben, a a friend of ours who used to live in Tokyo and come to games sometimes, but now lives in Osaka. I had bought Ben's ticket that morning, so I met up with him at the subway station, and when we got to Jingu, guess what we saw -- fans taking photos with Swallows mascots! So I made Ben line up with me and take my photo with Entaro: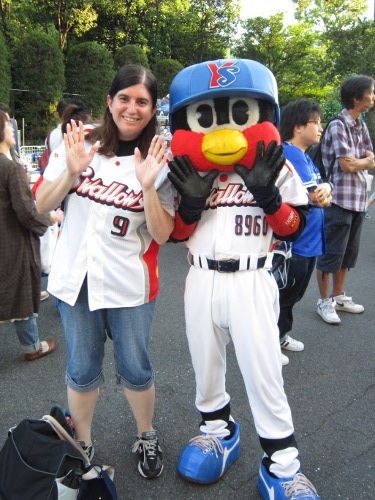 Then spent the hour before the game basically greeting people and getting food and learning the new songs and so on. (No, I'm sorry, but Hatakeyama's cheer is right out. His old one was hard enough, why did they have to change it?)
I will say that it was a spectacular sunset over Jingu, as usual: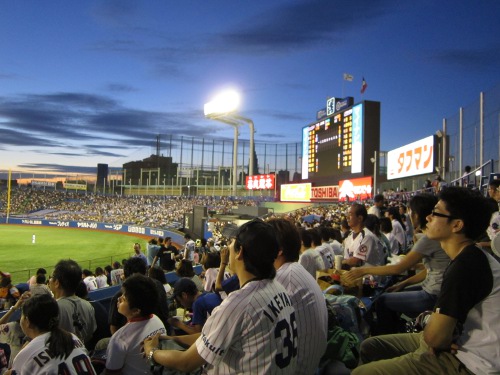 And actually, apparently, due to it being some kind of Yakult Family Night thing where they were giving out tickets or selling cheap tickets to Yakult company employees, a lot of the stadium was PACKED. The outfield was REALLY PACKED and even the infield on the 1st-base side was pretty full. Here's a view during the 7th-inning stretch: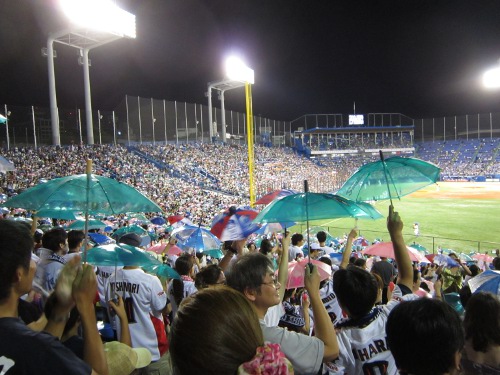 Now uh... the bad thing is that the first time anyone got out their umbrellas WAS infact the 7th-inning stretch.
(If you don't know, when the Swallows score a run, the Swallows fans get out umbrellas and sing "Tokyo Ondo" and dance around with umbrellas. If you don't know Tokyo Ondo, you might know it as "the 'Kutabare Yomiuri' song". The other time that Swallows fans get out the umbrellas is always for the middle of the "Lucky 7"th inning.)
The Baystars' starter was Kentaro Takasaki, who I was saying is their "ace". This is because he had 4 wins to his name (5 now!), which is more than anyone else on their pitching staff. He also has thrown more innings than anyone else on the team, and, honestly, were he on any other team in the league, he'd probably have a winning record rather than his current 5-12, 3.08 mark. 115 strikeouts and 34 walks in 155 innings is really not bad at all. Also, he's a pretty decent soccer player, which I learned
this winter
. But that's beside the point.
Takasaki, for better or worse, basically was just mowing down the Swallows lineup left and right. He pitched 4 PERFECT INNINGS before finally giving up a base hit to Shinichi Takeuchi. And it didn't stop there -- in eight innings, Takasaki allowed two baserunners. TWO. That Takeuchi hit, and a Kawabata hit that was barely a hit, if it hadn't gone off Tsutsugo's arm. Seriously.
In the meantime, the Swallows starter was Tatsuyoshi Masubuchi. Don't get me wrong, I loved Masubuchi as a reliever, and always looked forward to seeing him come into the game, and not just because he uses that Taio Cruz "Break Your Heart" song as his entrance music. (True story: I was in a store in Seattle, and that song came on the radio/whatever, and I just stopped in my tracks and said "Masubuchi??" Several people looked at me
really
weird. But I digress.) I don't know, though, I've never really thought he's all that great as a starter. Or maybe he just has bad starts whenever I see them.
In this case, he gave up a home run to Shuichi Murata in the 4th inning -- and we'd just been saying how Murata's power numbers are down this year. Then he had a disaster of a 5th inning, where even pitcher Takasaki led off with a single, and then Aranami tried to bunt him up but replaced him on base instead with a 1-6 FC. Ishikawa also singled, and then Shimozono walked, which loaded the bases for Murata... who didn't hit another homer, but instead was HIT BY A PITCH to give the Baystars another run. To add insult to oshidashi, then Tsutsugo hit a sac fly to center, and Tatsuhiko Kinjoh (!!) singled in another run. It was
4-0
by the time everything cleared.
Everything was looking great for Takasaki even into the 9th inning -- Aikawa led off with a single, but a pinch-hitting Whitesell hit a pop out to second, and then Aoki hit into a fielder's choice -- almost a double play but not quite. With two outs and Hiroyasu Tanaka at bat, Aoki ran to second base on defensive indifference. Unfortunately, that might have made the big difference in the game -- Hiroyasu then hit a solid single to center which scored Aoki to make it
4-1
. Having lost the shutout, the Baystars pulled Takasaki and put in Shun Yamaguchi, their closer. Yamaguchi then walked Kawabata, putting runners at 1st and 2nd for Hatakeyama... who hit a REALLY HIGH POP FLY right over the mound and would you believe it, whoever fielded it (Tsutsugoh?) DROPPED THE CATCH. Oh man. Hiroyasu scored.
4-2
.
But that was it -- Takeuchi then hit a pop fly to right that even Kinjoh couldn't possibly not catch, and that was the game.
Most of the people in the group we were cheering with fell asleep up on the tarps for half the game. They at least woke up for the 9th inning.
Takasaki was, understandably, the game hero. And he mentioned how it was the first time since June that the Baystars had won 2 consecutive games, and how he was proud of the whole team's effort in the game. I think I'm finally over my anger at the Baystars administration to the point that I now just feel bad for them.