I gotta admit, I didn't even know what the hell QVC was until I just looked it up.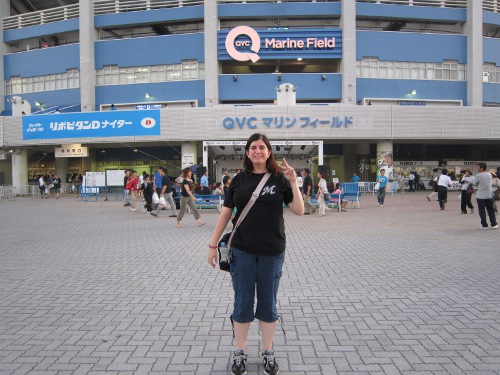 Going to The Stadium Formerly Known As Chiba Marine isn't all that much fun for me anymore. I have a lot of memories there, of course, from all the time I spent there during Bobby Valentine's time as manager, and so going there now feels strange, unless I'm sitting in the Fighters cheering section in left field.
But well, on Thursday night I had been sending phonemails with
Steve
to see if he was at the Tokyo Dome (he wasn't), and he suggested I come to Chiba Marine sometime during the weekend. And then they announced the starting pitchers for Friday night, and you wouldn't believe who was starting for Lotte...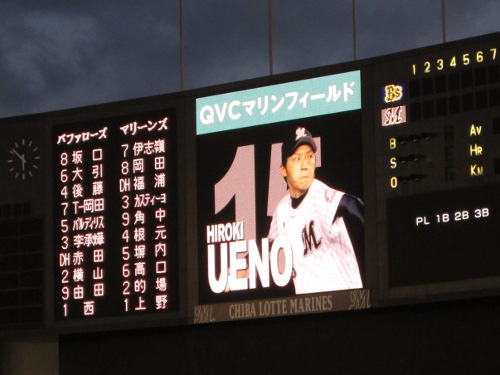 Hiroki Ueno is one of my favorite favorite baseball players and through a lot of dumb luck, I barely ever get to actually see him play. Infact, I think the last time I got to see him start a game might have been
Draft day 2008
when he was still at Toyo University.
Unfortunately, in this game at Chiba, he had a rough first inning -- he walked 3 batters, loading the bases, and then Seung-Yeop Lee (wearing the wrong uniform, apparently he didn't have his?) hit a 2-RBI single and Shogo Akada followed it up with another RBI single to make it 3-0.
The Marines put one on the board themselves in the bottom of the 1st, with Shota Ishimine leading off with a walk and stealing second, and coming in on a Jose Castillo single.
But that was it for a very long time as Buffaloes starter Yuki Nishi, all 20 years old of him, pitched a bunch of scoreless innings after that. In the meantime, the Buffaloes added a run in the 4th off a Sakaguchi RBI single, making it 4-1.
Nishi game out of the game in the 6th after giving up another run -- this time largely on letting Castillo advance on a wild pitch, so when Hisao Heiuchi made a dramatic infield single, headsliding into first just ahead of the throw from shallow center, it made the score 4-2.
As for Ueno, he went 7.2 innings, and if not for that horrible first inning, he would have won the game, so that made me kind of sad. Instead, the
Buffaloes won 4-2
, with Mamoru Kishida getting the save for them, and the Marines putting in Yuta Kimura for their last 2 innings.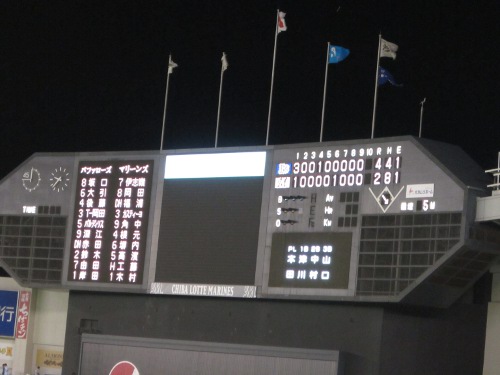 Other things:
There were fireworks. Apparently they change the firing location each game? We couldn't see them at ALL from the infield jiyuuseki on the 1B side:
Another observation is how popular Shota Ishimine is. Batting leadoff with an interesting cheer song (hailing to him being from Okinawa with a big "I-YA-SA-SA" cheer in the middle), I'm surprised by how many #5 shirts I saw at the stadium, and they were Ishimine shirts, not all just old Koichi Hori shirts. I thought people might be more pissed off about #5 going to someone again so soon after Hori left, but Ishimine's a likely Rookie of the Year candidate and is trying to fill those shoes as best he can. I said it
last fall
and I'll say it again, Ishimine is the MAN. Heck, one of my college baseball friends was at this game just because she's been following Ishimine around, she doesn't usually go to pro games all that much.
I'm saddened by how boring the Lotteria at the stadium got. Ever since the Bobby Burgers went away it's been kind of silly, the Taekyun burger was terrible, and apparently this year's special was a Saburo menchi katsu burger, but of course, the team traded Saburo -- err, Ohmura -- to the Giants, so now there's basically nothing special. I forgot to hunt down some Karakawa karaage. Oh well.
I went to the Marines team store to try to find ANYTHING of Ueno, too -- a t-shirt, a towel, a cell strap, ANYTHING. But there was nothing. I even asked a store clerk, like "Hey, do you have any Hiroki Ueno merchandise?" "Uh, who?" "Hiroki Ueno. Tonight's starting pitcher. Number 15." "Oh, number 15. No we don't."
Sigh.
Hanging out with Steve and and his friend Lou was fun though. I really have no reason to go to Chiba much anymore except Fighters games, so it was good to have people to hang out with.
Oh yeah, and after the game...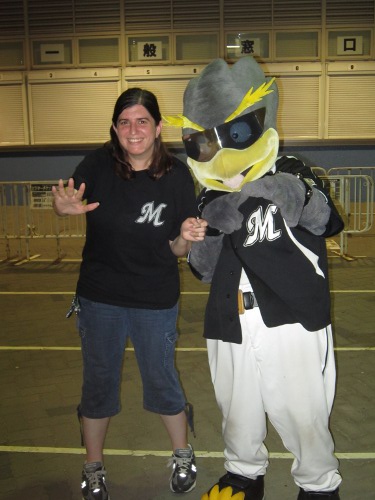 Way too many mascots in Chiba. This one is "Cool".