It's gonna be a Dragons-Marines Japan Series! Hooray! That is interesting! Though if I do get to go to any games, I'm not sure what I'll do. Probly will wear like, a Marines t-shirt and a Dragons jersey together, or vice versa.
I only saw the last few innings of the final playoff game, though. It was 2-1 when I came in, then Chunichi went up 3-1 on a walked-in run after an intentional walk. Ouch. But then the Giants tied it up off Asao... and then finally, in the bottom of the 9th, a pinch-hitting Ryoji Nakata walked. Morino was up after him, so I was hoping for a Morino MVP Moment where he'd hit a home run. But no, he also walked. So instead, Kazuhiro Wada, Gifu's Giant-Killer (not really), came up and lined a single into left field. "RUN HOME, FAT BOY!" I yelled at my TV as Ryoji Nakata came in and was immediately pounced by the rest of his team as the Dragons won the game. HOORAY.
The reason I didn't see the game, of course, was because I was busy with college ball. Week 7 doesn't actually matter for the standings, so there's a lot of interesting stuff that happens. For example, I saw Yuugo Satoh make his league debut, pitching one inning for Rikkio. He's a lefty pitcher from Seibo Gakuen, in Saitama... and I
saw him pitch last summer
during the prefectural tournament. So that was exciting. Games like this involve an interesting combo of "let's give some new kids a chance to get out there" with "...let's give our 4th-years a chance to play in one final game", so there were definitely a few pinch-hitters or relief pitchers who were largely "Who?" to me, despite that I've been going to these games for several years now.
The game results were predictable though. Meiji beat Rikkio, and Hosei beat Todai. Though Todai captain Maeda was really giving it his all -- he pitched very well for a few innings until he ran out of steam, even striking out a few guys. Kagami pitched for Hosei and threw 8 innings in what should be his last college game ever; in the "give the 4th-years a chance" vein, Shoya Yamamoto pitched the 9th.
The exciting thing for me was that I got to meet not one but TWO boys who played on Koshien championship teams!
One was 2009 champion Chukyodai Chukyo's Kanji Kawai, now a freshman at Hosei. I was at the Koshien game last summer where he hit a sayonara homer in the 10th inning. So it's only fitting that in this game he also hit a 2-run homer. I didn't really get to talk to him, but after the game I gave him a stack of photos I'd printed of him in the spring, and I did get an autograph and a photo with him: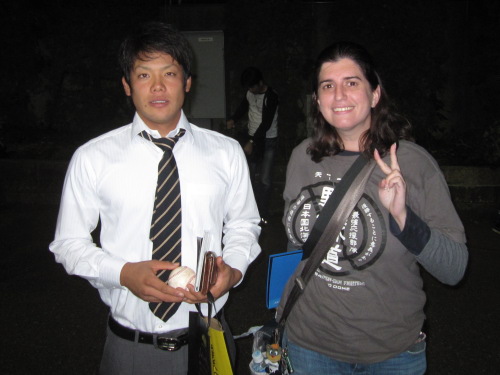 (That ball he's holding is his home run ball!)
The other was a lot more interesting. In the second game, I was sitting next to a random drunk Hosei alumni guy who wouldn't shut up, so that was kind of annoying, but next to him was a Hosei baseball club guy, and next to that guy was Mishima's girlfriend. An interesting mix, to be sure.
I finally asked the Hosei baseball guy who he was, since I had seen his face but couldn't remember, and it turned out he was Eiji Egashira! From the Saga Kita 2007 Miracle Kids team! He's now a sophomore at Hosei.
I only talked to him a little during the game itself, but afterwards he was outside by himself when I was waiting for players to come out, so I chatted with him for a while then.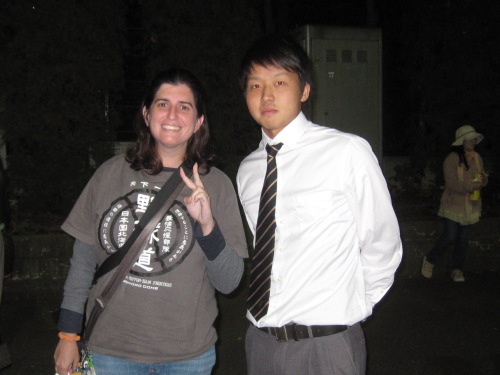 I explained that I moved to Japan in 2007 and that his team's Koshien was my first ever, and that I'd actually been cheering for them. And so we got to talking. I asked if he wanted to face Yusuke Nomura again and he said that of course he did -- maybe next year. (Nomura was the losing pitcher when Egashira's school won Koshien.) We talked about his teammates -- I said that I'd seen Ichimaru-kun play for Waseda a bunch, and he said "Dude! How did he do? Were you at the Waseda-Meiji game?" and we looked at my scorebook (to which he was like "SUGOI!") and we saw that Ichimaru did get a hit off Nomura, and he said "I bet he was really happy. Shohei Habu was also on that Koryo team, now those two are teammates." And then he told me about where a bunch of the other kids are from that Saga Kita Miracle Squad. Almost all of the basic 9 are in college -- places like Chuo, Asia, Fukuoka-dai, various others. Egashira himself, he said he came to Hosei because he got a recommendation from his coach, and being in Big 6 was, in his mind, the top of the top, for playing in college.
And he also said "You've only been living here for 3 years? How do you speak Japanese so well?" and I said "...but I don't! I can talk about baseball very well but everything else is so difficult!"
I asked if he'd be playing in the rookie tournament this time around and he said "I injured my shoulder... I can't throw. I've started rehabbing it but the muscles are still messed up." I was like "OMG that sucks I'm so sorry to hear it. I wanted to see you play again!" He said "Thank you so much. Maybe next year?"
Anyway, he was really nice and I really enjoyed talking to him. It was very surreal to be talking to a guy who I watched on TV 3 years ago when he was in high school. He seemed very humble and very down-to-earth, like, sure, he was part of a team that achieved what every baseball-playing kid in Japan aspires to, but, whatever, he was just another random non-active Hosei baseball club member, for the time being.
Aside from that... I got a few other Hosei guys to be in photos with me...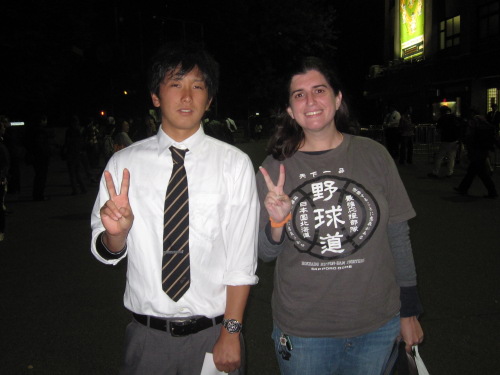 Kazuki Mishima, who said he'll be pitching on Sunday...
Kota Imamura, who is a really nice guy. I gave him some photos too and talked for a while. I have this hunch he'll be the captain next year but can't really explain why.
I also found Ryo Imai and talked to him for a bit about his plans next year; he's not doing anything baseball-related at all but instead is going to try to get into the business of running a live music house, or a bar with open mic, or something. He's always seemed kind of unique so I think it's great he's trying to follow his own dream, and I told him so.
Some of the other guys have companies to play baseball for next year; captain Ohyagi is going to Oji Seishi, I think, and Kento Kameda is going to Mitsubishi, things like that. I also got autographs from Shoya Yamamoto and Fumiya Kitayama and gave them some photos I had of them from earlier on too.
Oh, and of course, I had to go talk to this guy for the last time... and give him some Halloween candies and wish him luck...
I asked him, "Are you nervous about the draft this week?"
He said "Honestly? Yeah, I am."
I said "Ganbatte. No matter where you end up, I will cheer for you."
He said thanks.
I'm really nervous for Kagami too, of course.
Anyway...
Between the first two games of the day I also was on a rampage for signatures, so picked up a bunch of Meiji guys; Ikenaga, Araki, Kawabe, and Shashiki. Only got one Rikkio guy, but it was a good one, Keisuke Okazaki.
And I got a photo with Shogo Shashiki! I was very happy about that. He's very nice in person, I'd never really talked to him much before beyond simply aisatsu, but always had this image of him being a tough-guy type since he was a year ahead of Sho Nakata at Osaka Toin. Instead, he turned out to be very sweet.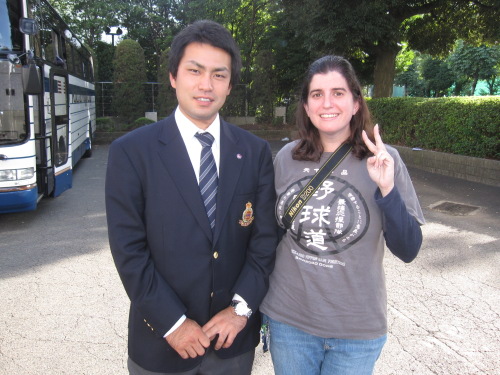 So, that was very cool. And I still have tomorrow to stalk more Meiji and Rikkio guys. Hooray!
I should add that the funniest of the Meiji guys was Shuhei Ikenaga -- I noticed him a year or two ago, he wears glasses and is a catcher, so of course my image is of him being cool like Furuta. And every time I've seen Ikenaga, even just as a bullpen catcher, he's always got a big smile on his face and is being cheerful and encouraging to the guys he's catching for. But trying to tell people that my favorite player on the team is a bullpen catcher is always kind of embarrassing. I'd never approached him before, so when I asked him for a signature he was like "...WTF? You want MY autograph?" and I said "YES! I think catchers who wear glasses are really cool!" He laughed. I told him I had two photos, please sign one and I'll give you the other, and he was like "seriously? you're awesome! thanks so much!" I'm glad to know that my perception of him was pretty close to the reality. Wish I'd gotten a photo with him, but the time between games is a little more frantic for the players trying to get to the team bus.
And for the record, Kazuki Nishijima was giving off a total "Do NOT come near me" aura as he RAN for the bus. So I didn't. Grr. Yusuke Nomura, on the other hand, bothered to say "My arm hurts, I'll sign stuff tomorrow, I promise."