Tickets for the Oct 8th Swallows game at the Tokyo Dome went on sale around September 4th. A week later, I stopped by, and outfield cheering seats were entirely sold out, so I got two seats in the upper deck instead. Then, on a whim, I checked whether there were any outfield seats for the Carp game on the 7th, and it was possible to get 1 seat, so I figured, what the hell, I have this Yuki Saitoh #21 jersey, might as well wear it one last time and do some more anti-Giants cheering.
A Yakult friend of mine was supposed to be at the game too, in the standing area behind the Carp cheering section, but he couldn't go due to work, so I was all by myself.
This was actually my first time in the real Carp cheering section -- I've been to bunches of Carp games over the years and to their old home stadium and their new home stadium, and even been on the Carp side, but I'd never done the outfield thing, just watched it from afar.
Well, I confirmed several things:
1. Your legs will HURT the next day. Specifically, your quadriceps. At first, it seems nice that you are sitting down rather than standing 90% of the time, BUT when you sing the cheer songs, you are supposed to alternate sitting and standing with the people next to you, and all the standing and sitting eventually totally hurts more than it would to just stand the entire time.
2. It is not very much fun to cheer for the Carp by yourself. You really need to have a friend or acquaintance sitting next to you who you are alternating standing and sitting with. No wonder a single seat was available; I bet no sane person would normally bother with it. Though to be fair, I think I was unlucky in being in the 10th row, right in front of the ouendan, so all the guys in my row were old old Carp guys, possibly former ouendan themselves, who were a bit frightening. (And despite this one empty seat being between their groups, they all seemed to know each other and kept talking across me.) If I had been down with younger people or female people I might have been able to bond a little more with my surroundings.
3. You truly do not actually have to know the words to any of the songs. After the first round of the song, people start the sitting/standing thing, where you just yell the player's name a lot, and none of the lyrics of the songs. A few are slightly different (like Takahiro Iwamoto's, which has no standing/sitting and instead of "kattobase" uses "atsuku moero Iwamoto") but overall, if you are accustomed to cheering in Japan and have seen the Carp before, you can pick up on everything they do within an inning, as I did.
Here's us cheering for Takuro Ishii (my former favorite Baystars player, who I suppose is now my favorite Carp player, although he probably will retire in a year or two given that he turned 40 this year):
Amusingly, they use the same cheer song he had with Yokohama, but the style is, obviously, somewhat different. Still, Takuro! Yay!
Anyway, this game featured the Giants' Shun Tohno going up against Hiroshima's Kenta "Maeken" Maeda. Maeken is one of the best young pitchers in Japan right now (he leads the CL in victories, strikeouts, innings pitched, etc... and that's playing for a 5th-place team). Tohno is a decent pitcher too, I suppose, though he seems to be having a rough year except when I see him (the last time I was in the cheering section at the Dome was also a Tohno start, against Yakult)
Unfortunately, Tohno was on, or more on than Maeda, or the Carp batters just aren't all sluggers like the Giants. Tohno went 8 innings of shutout ball. The Carp managed 3 hits and a walk off him, and two of those hits were erased by the batter being caught stealing second.
The Giants, on the other hand, got their first run in the 2nd inning when Shinnosuke Abe homered to right to make it
1-0
.
Maeda settled down after that and didn't even allow another runner until the 7th inning, striking out 7 guys over the next 4 innings. At one point he even struck out 5 batters in a row; Sakamoto/Yoshinobu/Furuki for the 5th inning and Tohno and Chono to lead off the 6th.
In the 7th, with two outs, Shinnosuke Abe singled to right, and then Hayato Sakamoto hit a 3-2 pitch into the left-field stands... in foul territory. The refs called it a home run, the scoreboard registered 3-0 as such, and EVERYONE in the Carp section was like "WHAT?" and Shigenobu Shima was like "WHAT?!" and manager Nomura was like "You gotta be kidding me", and so the four refs actually went and reviewed the video replay.
And they came out and said "Uhh... we looked at the video and sure enough, that was a foul ball. Our bad. Carry on."
Of course, what ended up happening is that Sakamoto walked on the next pitch and then Yoshinobu Freaking Takahashi went and hit a double to center and that scored the first two guys anyway.
3-0
.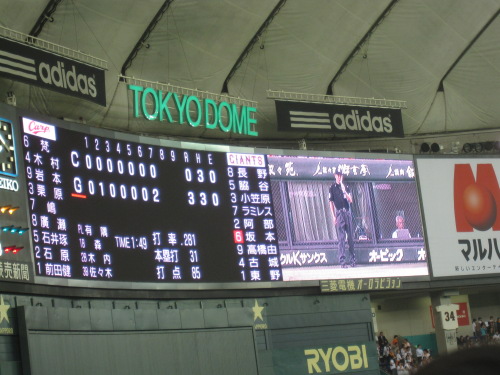 "We're gonna check the video. One sec."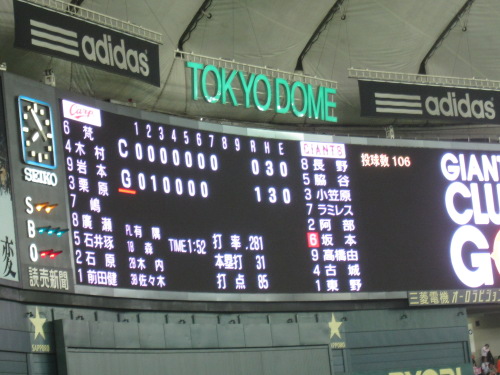 Scoreboard reverts to 1-0.
Yoshinobu redoes the undone damage.
This was a fast game, too -- the top of the 9th started at 8:15pm, with closer Marc Kroon taking the mound for the Giants. Soichiro Amaya pinch-hit to lead off but struck out. But Eishin Soyogi followed that up with a solid double to center. Shogo Kimura ALSO struck out. So here we are with 2 outs in the 9th, Takahiro Iwamoto coming up to bat against Marc Kroon, and just like
last time
I saw it, Iwamoto made solid contact off Kroon for a single to center that scored Soyogi.
3-1
!
Kurihara followed that with another single, and Kroon was taken out of the game to be replaced with Tetsuya Yamaguchi.
So the Carp put up a pinch-hitter too... Justin Huber.
I feel really bad but everyone around me was basically like "You have got to be FREAKING KIDDING ME".
And well, they were right, and Huber grounded out to end the game.
Shinnosuke, Yoshinobu, and Tohno were the game heroes.
Here are a few more shots from the Carp bleachers...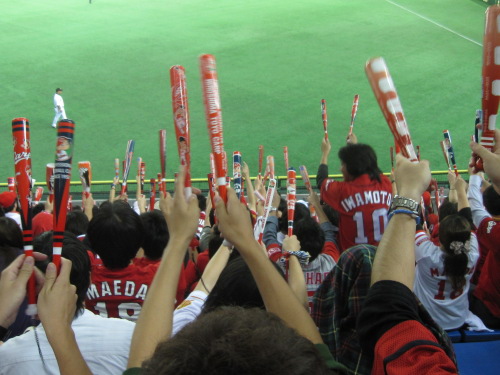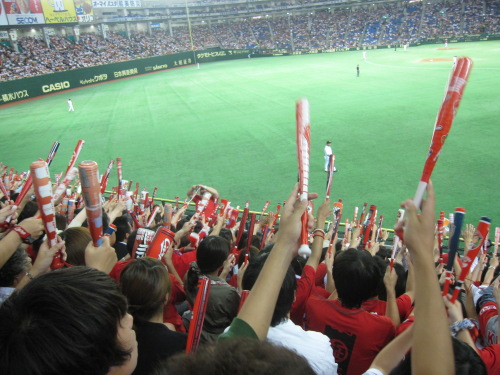 Hirose Fanfare.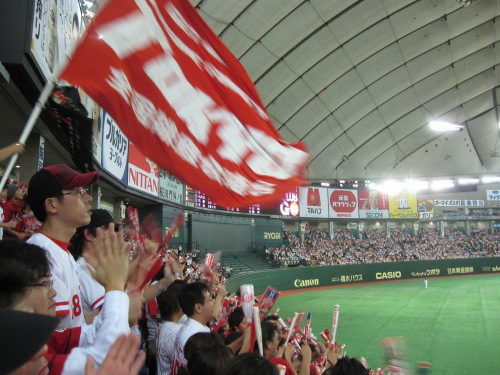 Tokyo Carp ouendan flag -- had never been so close to it before to actually read it.
This girl spent quite a while trying to take cellphone shots of Kenta Maeda through her binoculars. I don't think it worked.
And here's a shot of
me
. I don't feel like direct linking it.
This game was over by 8:30, but somehow I still didn't get home until after 10pm; I bought a
Draft 2010 magazine
at Yamashita and read that through my train rides, including when I decided to take a 15-minute detour at Ueno in order to sit on a less crowded train rather than get crushed all the way home on the normal train. Being Hochi, it is all about Saitoh, Ohishi, and Sawamura, and not so much about other players. The biggest "why is he not mentioned?" to me was Chukyodai's Yoshitaka Isomura, who did just file his
letter of intent
. If you're curious, so did Meitoku's
Andrew Singh
. The draft is in only 3 weeks and I'm guessing I didn't get picked to attend since I still haven't heard from them. Sigh.