Thanks to the rain stopping at 10:30 instead of 10am, the Tokyo Big 6 games for Sunday got "rained out", which made me more than a little annoyed as I sat home during the beautiful sunny afternoon and watched the Seibu-Lotte playoff game instead. I told Kozo, "I'm leaving when this game ends... or finishes 9 innings..." and naturally, Lotte tied it up again, and by the time I got to Jingu, that game had been decided, as I found out...
Congrats to the Chiba Lotte Marines and good luck in Fukuoka! My only regret is that I was vaguely hoping for a Chunichi-Seibu Japan Series because I'm fairly convinced it would be possible to actually get tickets to that, unlike a Lotte series, which won't.
Anyway, despite that this was the actual LAST REGULAR SEASON NPB GAME OF 2010, I just couldn't get excited about it for some reason. Maybe I was just tired, or still bummed out for the lack of college ball, or something. This game didn't actually have any meaning at all for either team; the Carp are in 5th place and the Swallows are in 3rd. The only POSSIBLE things that could happen at this game would be that if Swallows starter Kyohei Muranaka got 14 strikeouts, he could edge out Kenta Maeda for tops in the CL and take away Maeken's Pitching Triple Crown. Alternately, if somehow Aoki got 7 ABs and got 7 hits he could tie Matt Murton's 214 hits... yeah, that wasn't happening either.
Or, uh... did you know that Aaron Guiel leads the Swallows in home runs with 16, despite that he hasn't played at ichi-gun since July? No, seriously; D'Antona and Iihara and Whitesell all sit there with 15, and Aoki and Hatakeyama both have 14. So, it's possible that maybe at least Jamie or Yasushi could have hit two homers and gone ahead... but, no, the only Swallows player to hit a homer in this game was Shingo Kawabata, his only one of the season. Go figure.
The big billing for this game was that it was Yuki Tanaka and Munehiro Shida's retirement game. If you're not a dork like me who has many years of NPB stats in her head, you're probably wondering, "Who?" But plenty of people showed up with signs and stuff, because in Japan, people will support the players on their team, no matter how insignificant they may actually be.
Anyway, this was a fairly fast game. The Carp took an early
2-0
lead in the first inning on a Kenta Kurihara homer, made it
3-0
when speedster Masato Akamatsu stole second and advanced to third on a wild pitch and scored on an Ishihara single. D'Antona narrowed that to
3-1
by doubling in the 2nd, advancing on a Yasushi single and then scoring on a stupid yet effective fielder's choice groundout by Shinya Miyamoto.
Tetsuya Kokubo singled to lead off the 4th. Ishihara singled to right and then some throwing stupidity happened; Yasushi threw in the ball and somehow Kawabata and Miyamoto got confused about who was the cutoff man, and in the meantime Kokubo scored and Ishihara reached second as they recovered the ball,
4-1
. Shogo Kimura singled in Ishihara when a fly ball fell in center with 3 guys staring at it,
5-1
... and then got himself caught stealing to end the inning. Duh.
Yakult narrowed that lead to
5-3
on a Hatakeyama 2-RBI single in the 5th, and Kawabata's improbable homer cut it even more to
5-4
in the 6th.
Then the pitching juggling began on both sides. Ueno and Ohshima and Umetsu and Yokoyama would finish out the game for Hiroshima; I was kinda hoping to see Hisashi Takeuchi (former Hosei boy) make a triumphant return to Jingu, but no dice.
After 5 innings by Muranaka, the Swallows brought in Yuki Tanaka, aka just "Yuki", for his retirement appearance. The right-field stands went nuts cheering for him, and he struck out Ishihara on three pitches, before making way for a real reliever in Tatsuyoshi Masubuchi.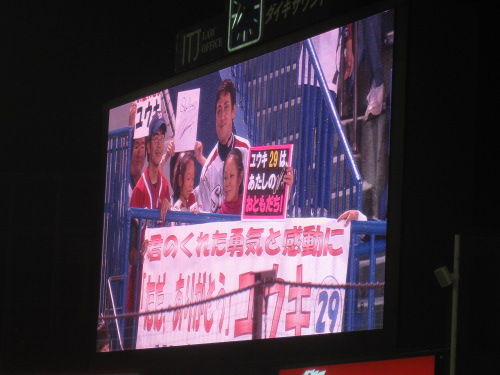 Patrick Yu with some Yuki fans between the 5th and 6th innings. Foreshadowing?
Scoreboard showing Yuki coming in for the last time ever.
For the record, I'm sure that for the rest of my life, whenever I hear the strains of Taio Cruz's "Break Your Heart", I'm going to think of Jingu. I'm sure I'll be somewhere, like in a cafe in Seattle, just minding my own business eating lunch, the song will come on the radio, and I'll look up like "Masubuchi?"
Anyway.
The other retirement appearance happened in the 8th inning; with there still being a one-out difference at the time, and me feeling all clever because I deliberately wore my Furuta t-shirt instead of my Iihara jersey to reverse Yasushi's luck (he went 2-for-3!), they pinch-hit the also-retiring Munehiro Shida for Yasushi. He grounded out pretty much on the first pitch he saw. Go figure.
And then he took the field for the 9th inning, playing right field in front of the Yakult stands. As he walked out to his position and looked up at the Shida banners being wielded by the ouendan and fans, THEN I understood why Yasushi was pinch-hit for.
Shida's at-bat picture on the board for the last time too.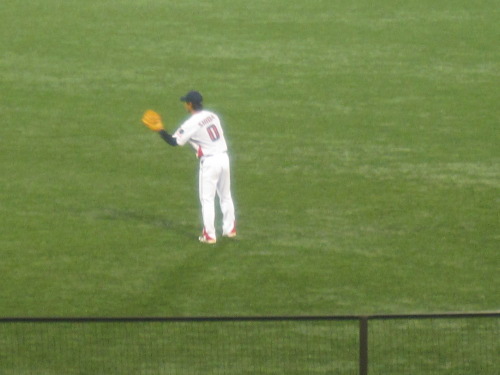 Shida takes the field for the 9th.
But anyway, the rest of the Yakult pitching was done by Oshimoto and Matsuoka. Matsuoka was making his 73rd appearance of the season, which is 2nd in the league behind the Giants' Yuya Kubo. (I actually didn't realize that Oshimoto only made 61 appearances; I think he pitches every time I see the Swallows.) Actually, it's 2nd in the COUNTRY given that the highest game count in the Pacific League was Tadashi Settsu with 71.
And appropriately, Matsuoka gave up a homer to Shigenobu Shima to make the game
6-4
before retiring the next 3 guys. Sadly the Swallows managed very little in their half of the 9th and that's how the game ended.
Final score. (Taken way afterwards but I liked this shot.)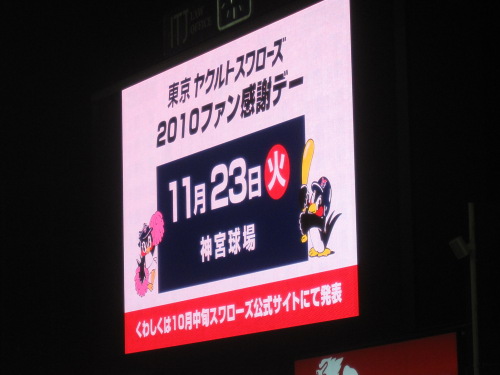 And by the way, Fan Day will be on November 23rd, if you are thinking to go.
The rest of this is just "screenshots" from the Final Game and Retirement Ceremonies, by which I mean photos I took of the scoreboard.
First, an "otsukaresama" to the Carp's Ken Takahashi, retiring after 16 years as a pro player between the Carp and his one year with the New York Mets.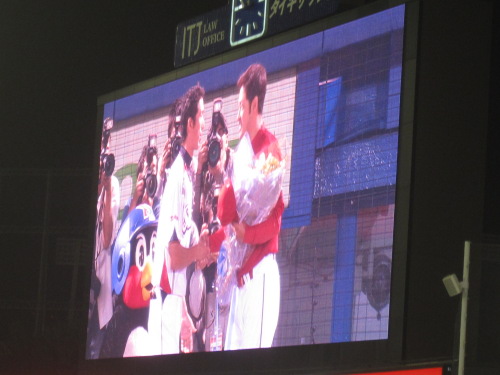 Flowers for Mr. Takahashi, though I can't tell which player gave them to him.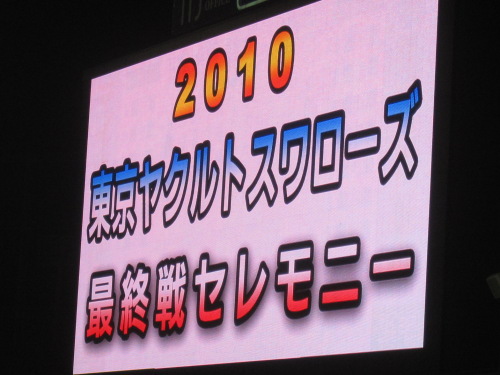 2010 Final Game Ceremony Start!
Manager Ogawa giving a speech. He is not nearly as charismatic as Shigeru Takada, but we are vastly more happy with his results as a manager.
Retirement Ceremony START!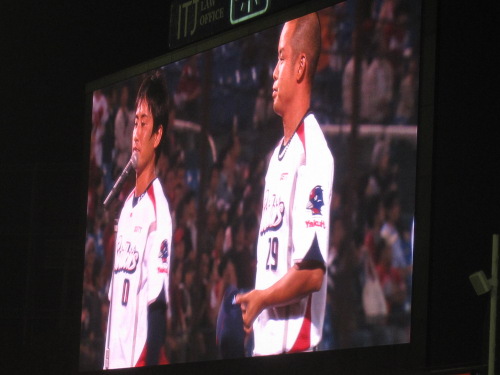 Shida and Yuki come out in front of everyone.
People in the bleachers hold up signs for both players.
Introducing Shida.
Yuki when he was drafted.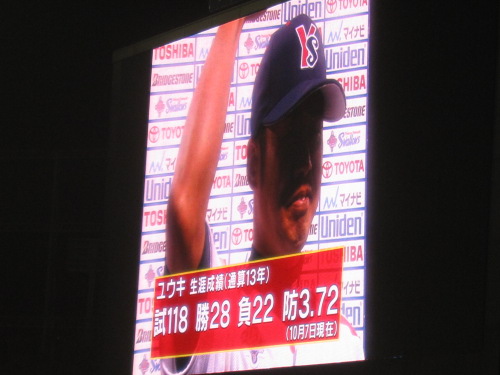 Yuki's career (mostly not with Yakult; he was with the Buffaloes for a long time until he got injured and then released.)
Yuki made a speech first but I don't really have pictures of it, he looked just very tired, and he even started off with "I've been trying to think of what to say here for a while but it's difficult."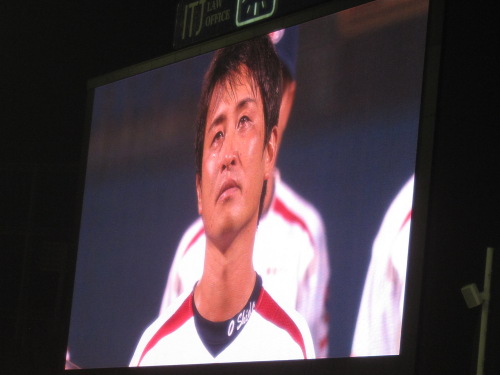 Shida cried during his speech. He'd been with the Swallows his whole career.
And of course there was a lot of flower-giving. Both players received flowers from their families and also from players on the team.
And just like every other big occasion of celebration, this required a
doage
, where the Swallows team members threw the retiring players up in the air 5 times.
People in the stands watch the ceremony; even the Carp fans stayed, so I kind of figured there might be a cheer exchange, but there wasn't. They did their own post-game cheering and final game goodbyes and left.
Afterwards, the people in the stands threw tons of streamers onto the field. The players had to leave the stadium via the separation between infield and outfield, so as they came by, people yelled out stuff or waved or cheered for various guys. Tateyama and Ishikawa bothered actually walking to the outfield fence and bowing to the bleachers; most guys just waved goodbye from the door by the bullpen before leaving. Jamie D'Antona waved at the outfield and bowed too. Shinya Miyamoto paused before leaving, put all of his stuff down, and got out a few baseballs and threw them into the stands.
Yuki and Shida both came out to the bleachers before leaving, and threw a ton of baseballs out to the crowd, though Shida went one better -- before leaving, he took off his jersey and threw THAT into the outfield stands. I didn't see where it landed or if a fight ensued, but some fan was really lucky!
I went down towards the field and grabbed some streamers for a silly photo.
You know what else is silly? Every Central League team except the BAYSTARS lost their final home game, so they undoubtedly were all similarly doing Final Game ceremonies without actually having won. (And come to think of it, I was AT the losses for the Giants and Dragons and Swallows... and the Swallows beat the Giants and Dragons in their final home games, but couldn't win their own!)
Oh, while I'm at it -- the last time I saw Shida in a game was 3 weeks ago, at Kamagaya, playing for the Swallows ni-gun team, on September 20. He came in as a pinch-runner to DH, and then also got a single of his own off Tomoya Yagi.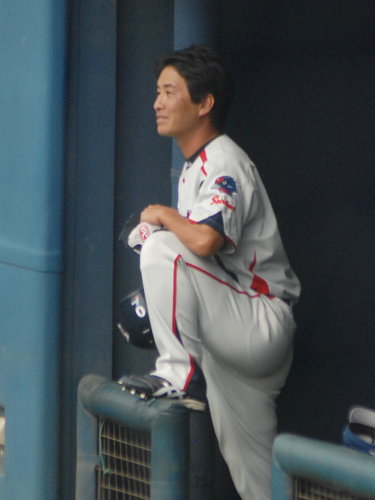 Early in the game I spotted him in the Yakult dugout. It was odd because I didn't recognize him at first, so I zoomed in like "Who's that guy?"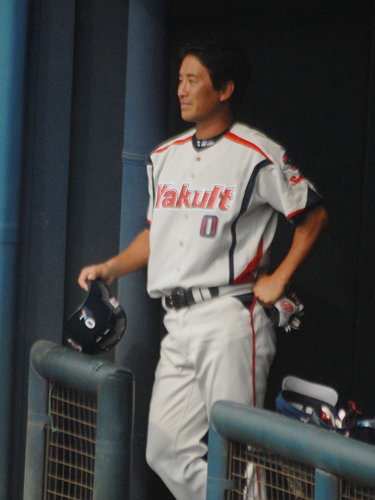 Then I realized, "That's Munehiro Shida! Why does he look so old and tired?"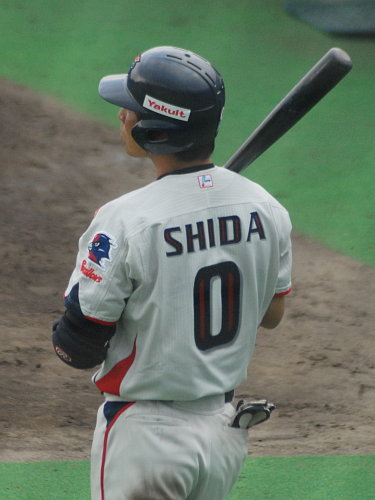 In the on-deck circle.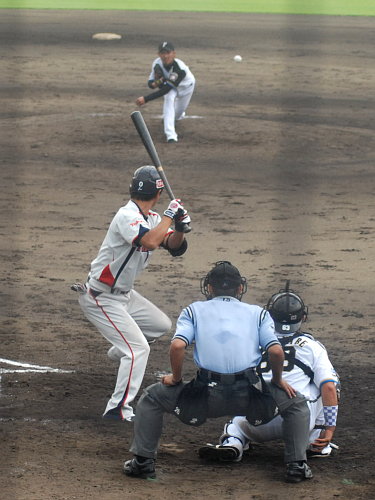 Shida batting against Yagi.
Kozo pointed out when we were walking to Sendagaya station after the game, though, that "in the MLB there is no way in hell a team would give a retirement ceremony like this to two marginal players." Like, you wouldn't see them get called up for one game and allowed to pitch to one batter, or get one at-bat and play in the field for an inning. And there certainly wouldn't be 20 minutes after the game devoted to them, or the entire team coming out to give them a doage, or all this other stuff. It's funny, I guess I have forgotten just how much more personal baseball is in Japan.
I mean, Yuki actually had a decent career potential before getting injured right in his prime and missing the 2008 season and getting released and picked up by Yakult. Shida, he came along as an all-field no-hit outfielder a year or two before Yakult got Aoki and didn't really NEED a bunch of Shida-type guys anymore. I remember Shida really well from ni-gun though, he was very popular with the minor-league fans.
I guess what is kind of scary is that they are both younger than my little brother (he was born in Feb 1979, both of these players were born in June 1979).
And, that was probably also my final pro baseball game for the year. I have no clue whether there is any chance in hell that I will be able to get tickets to any playoff or Japan Series games, should they be happening anywhere near here anyway.
It's a little funny because the Fighters finished up in Kanto in early September, so then I spent a month going to a lot of Swallows games, and then I'm still going to spend the rest of this month buried in college ball before that ends. THEN winter will hit, and I will get depressed and realize why moving back to the US is a good idea.
But until then...