(I started writing this on Oct 21st but got sidetracked. Basically, the inspiration for this post was seeing a pitcher whose name is in the draft and that I thought looked really good, but for some reason is not mentioned in almost ANY draft magazines...)
Thanks to all of the craziness in Tokyo Big 6 this semester, and a bunch of rainouts in both Big 6 and Tohto, the Tohto University Baseball League decided to switch their schedule from the normal 8-week format with Asia and Toyo playing each other in the 8th week to a 7-week format with 3 games per day in the 7th week, with the Asia-Toyo series happening as the 3rd game of the day each time.
(The 8th week will, instead, be used to finish the Week 4 games, as Toyo-Aogaku and Chuo-Kokushi have only played one game each; right now they have the 2nd day of games scheduled for Oct 26th, and it's likely there'll be at least one game on the 27th, and I think they want to be finished up by Oct 28th for Draft Day.)
I noticed that Tuesday's games, while scheduled to be played at 10, 12:30, and 3pm respectively, ACTUALLY started at 10, 1:15pm, and 5pm, so I thought there was a chance something similar may happen on Wednesday, and I could catch the final game of the day and see some Asia and Toyo players for their last time as amateurs.
I knew that the following players from both universities were registered for the draft:
Toyo
Keisuke Kanuma, RHP. Team captain, very solid but not particularly exciting pitcher. Kinda like Kazuhito Futagami.
Masahiro Inui, LHP. Had a brilliant semester in F08, has been average since. Left-handed but not particularly huge or overpowering.
Ryo Hayashizaki, SS. Hit a homerun off Ma-kun at Koshien 2006, has been a prospect since. Reminds me of Eishin Soyogi.
Takanori Satoh, C. One of the "Big 3 Catchers" of Tohto this year. Not as good as his predecessor, Shota Ohno, nor as good as Aogaku's Shota Koike, who unfortunately broke his hand this semester, but certainly not bad.
Asia
Kazunori Tanaka, OF
Shunsuke Nakamura, RHP
While I've seen all of those Toyo players many times, this was my first time to see both of the Asia players; the last time I caught an Asia game in person was several semesters ago, and neither of them were on the national team. I follow the league and have a general idea what's up with players, certainly, but it's just been a while since I saw that particular team in person. (I don't have a Tohto team the way I have a Big 6 team, but if I did, it would be Toyo.)
Anyway, the games did run late, but not quite late enough, so when I arrived at Jingu, it was the bottom of the 2nd inning. Fortunately, I was able to piece together the first inning and a half using the sparse game comments on the Tohto site as well as the batting lines; I knew that Masahiro Inui got knocked out after 7 batters in the top of the 1st, and that Asia captain Kenshiro Kashima hit a triple to bring in 3 runs and scored himself on a wild pitch to Bruno Hirata, so when I arrived it was
4-0
.
At that point, starter Shunsuke Nakamura was pitching for Asia University, and captain Keisuke Kanuma had replaced Inui on the mound for Toyo.
So, certainly, I was interested in seeing Nakamura. If nothing else, he has an interesting name collision in that there's also a famous soccer player in Japan with that name (though different kanji). I noticed that he was pretty tall; he wears #19 and so I thought maybe I was just guessing him as being near Kagami's height because they have similar builds and deliveries.  (But he is actually
listed
as 186cm/81kg, which is really close to Kagami.)
And my first impression was that he's a big kid who throws a big forkball. The first thing I saw him do was strike out Takanori Satoh and Takumi Horikoshi in succession. But he was also hitting 152-153 on the Jingu gun, mixing in a few change-ups as well.
Asia added another run in the top of the 4th when Hiroaki Ono walked and then Tomoki Takada hit a triple to right to bring in Ono, making it
5-0
.
Meanwhile, in the bottom of the 4th Nakamura allowed his second RUNNER of the game, when he plunked Atsushi Kimura in the back. After 5 innings, Nakamura had faced 17 batters and struck out 9 of them.
Asia added two more runs in the top of the 6th; Shota Tashiro was hit by a pitch and Hiroaki Ono hit one out to center that Toyo CF Yuya Oda dove for and missed, so it went for a double and Tashiro scored,
6-0
. Takada followed that with his SECOND triple of the day to bring Ono home,
7-0
.
That was it for Keisuke Kanuma. Not the greatest day for the two Toyo draft hopefuls, between him and Inui they gave up 7 runs in less than 6 innings.
But the rest of the Toyo bullpen performed admirably and the rest of the game was scoreless for Asia. Junki Fujita pitched 1.1 innings and walked one and struck out 2; freshman lefty Takaaki Nohma pitched another 1.1 innings and struck out another 2, and Takuya Uchiyama finished it out by hitting one batter and striking out another.
It didn't matter as Shunsuke Nakamura pitched the entire game for Asia, throwing 130 pitches, striking out 11, giving up 5 hits, one walk, and hitting one batter. The highest I saw the radar gun catch him at was 154 km/h (about 96.7 mph). The Toyo batters seemed to have no idea what to do against him.
The game went until around 7pm, so not as late as the other game, and Asia won 7-0. (
Box score here in Japanese.
) I decided to wait around by the players' buses outside, even though I don't know any of the players, I see Tohto League all of like 2-3 times per year usually so haven't gotten to get my face familiar with them. I didn't have anything to get signed but thought a photo or something might be nice...
Instead, though, I ended up talking to a friend of a friend from my Big 6 bleacher bum group, an older woman who's a huge Yusuke Nomura fan; turns out she likes Toyodai too. (She jokes that Nomura is her grandson; I think she's like 78 so it wouldn't be that far out there!) She suggested that I wouldn't want to talk to Inui or Hayashizaki or Satoh anyway since Toyo got totally beaten down; Inui particularly would likely be in a bad mood. I guess that's probably true.
So, I got nothing. Which is okay. I went to this game on a whim anyway. Also ran into one of my Kamagaya friends, who had managed to get Nao Higashihama's autograph. We walked back to the train station together and I grilled him about Shunsuke Nakamura, like "Why is this kid not listed in any of the draft magazines? And what HAPPENED to Inui today?"
Well, at least part of the puzzle, I understand now; even this year, though he is a senior, and freaking HUGE, with a REALLY FAST fastball, Nakamura is actually Asia's #2 pitcher, not #1. The #1 pitcher is Higashihama, and has been pretty much since Higashihama burst onto the scene last year as a freshman. So Nakamura kind of has been in the shadows for most of his time. Last year, most of the pitching was shared by Higashihama and then 4th-year Keisuke Kuramata (now a pitcher
for ENEOS
).
And I looked a little into his high school background; he was also a pitcher at Shiga Gakuen HS... and it seems that even then he was their #2. Shiga Gakuen has made it to Koshien all of once ever, at Senbatsu 2009. When Nakamura was a senior, in 2006, they made it all the way to the Shiga prefecture finals before losing 6-3 to Hachiman Shogyo. Hachiman went on to lose to Shizuoka Kogyo in the first round of Koshien 2006, which is now known as the Yuki Saitoh Koshien. The best account of that final Shiga tournament game that I could find is on
a Shiga Gakuen blog
. I believe that his teammate Takahiro Isa actually lost the game, though Nakamura was wearing #10 during the tourney, a number which generally designates "#2 pitcher" for most schools.
Also, when researching that Shiga Gakuen 2006 team, I came across a bunch of interesting pages, including
this scouting review
of a whole bunch of players from the Kansai area that year. I'm not going to go into too much detail, though I will say that the page ALSO raves about this excellent left-handed pitcher named Yudai Ohno, who is now a top guy in the 2010 college draft pick. But the thing is that their comment about pitchers from Shiga Gakuen for that year is that they considered a guy named Junkou Kawaguchi to be the best of the 3, that Takahiro Isa was considered their #2, and their comment on Nakamura is limited to, basically, "he's not really there yet as a pitcher, but the kid is HUGE and has a 144km/h fastball and a decent forkball in his arsenal."
Since then, Isa and Kawaguchi have gone on to
Aomori University
, in the middle of nowhere, where Isa has pitched a bunch and I'm not sure Kawaguchi ever appeared in a league game. And Nakamura is at Asia-dai, pitching games at Jingu in the top tier of the best or second-best college league in the country, depending on who you ask. So go figure.
(And looking at the
2006 HS draft registrees
also pulls up some interesting names of guys who are now 4th-years in college and going into the draft again, like Ryo Hayashizaki, and Rissho's Masaki Minami.)
Here are Nakamura's starts this semester at Asia-dai:

                   IP   BF   NP    H   BBH   K    R   ER
9/15  Kokushikan    9   33   112   6    1    2    1    1 
9/22  Chuo          5   22   74    4    2    2    4    1 
10/7  Aoyama        8   29   108   6    1    7    2    2 
10/15 Kokugakuin    9   34   150   6    3    7    3    3 
10/20 Toyo          9   33   130   5    2    11   0    0 
          
Total              IP   BF   NP    H   BBH   K    R   ER   ERA    WHIP
                   40  151  574   27    9    29   10   7   1.575  0.90 

It's clear that the Toyo game was better than average for him, and that I probably witnessed his best pitching performance ever and got a little hyper about him. On the other hand, overall his numbers aren't bad, and he CAN throw fast and he IS a huge kid. You can't blame me for seeing a 6'2" Japanese kid with a 96-mph fastball pitch a complete game shutout with 11 strikeouts against a top-notch college team (Toyo won the national college championship in the spring, after all, and I watched them beat down both Hachinohe's Takahiro Shiomi and Tokaidai's Tomoyuki Sugano) and thinking he might be something special.
Anyway, to sum up: this kid may end up being a sleeper in the draft and go in a later round to some team, and with good coaching become a very good pro pitcher. There have definitely been "perennial #2 guys" who get drafted and turn out just fine; even this past year saw Kenta Matsushita and Hisashi Takeuchi get drafted out of Big 6, and Takeuchi was well-known to have very little on his side besides a blazing fastball and a huge frame. But he's already appeared at ichi-gun for Hiroshima.
Or Nakamura may just end up in the industrial leagues or somewhere else, who knows. Unlike the Big 6 kids, I don't know much about him personally, so he may already have an entire backup plan in place for not getting drafted. (I personally talked to a Big 6 guy who has a really interesting draft backup plan including trying to play in the US... but I'm not going to say anything more about that until after draft day... and no, it's not who you think it is.)
Still, I personally hope he gets drafted just because it'd be funny to be talking about "Shunsuke Nakamura... no, the BASEBALL player!" Kind of like "Yuki Saitoh... no, the left-handed HIROSHIMA CARP pitcher!"
These photos suck because I only had my little camera with me at Jingu, but here are a few from that game on Oct 20th:
What it looked like when I arrived at Jingu. Dark and 4-0 Asia.
Shunsuke Nakamura.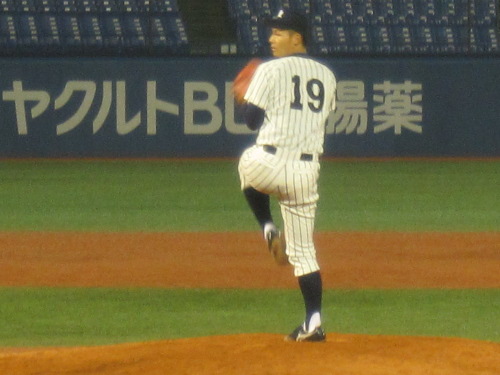 Nakamura again.
Nakamura pitching. His frame really reminds me a lot of Kagami's.
Bruno Hirata. I first saw him a few years back too, he's a 3rd-generation Brazilian-Japanese who was on the Brazil national youth baseball team, then came to Japan as an exchange student in high school at Hachioji because he hoped to play at Koshien, and stayed for college. I'm not sure what he's doing next year, though he's not entered in the draft.
Kazunori Tanaka at bat. Like I said, he's also entered in the draft, but he didn't impress me in particular.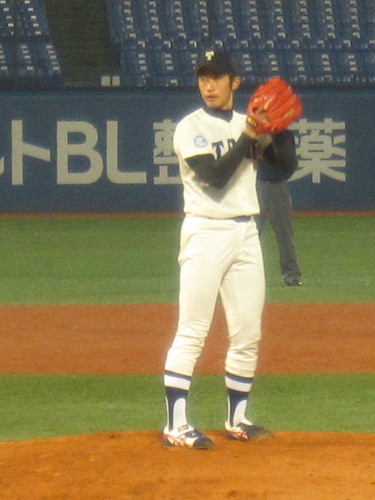 Toyo's Takaaki Nohma.
As you can see, unlike a Big 6 game, the stands are really sparse for Tohto games -- this is the entirety of the Toyo cheering section, including the cheer girls and the brass band and the alumni and fans.
Game over, the players line up and bow to each other.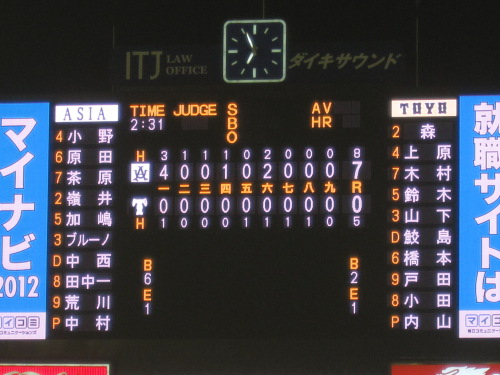 Final score.