I went down to Kamagaya for the
Futures
game on Sunday, the 13th.
Because these games are technically exhibition games, or "Eastern Challenge Matches", admission was free! But, because it was free, there were no charter buses to the stadium from Kamagaya Station, which meant either a 2.5-kilometer walk through 30-degree heat, or springing for a taxi. I spent 890 yen on a taxi to the stadium rather than the normal 100 yen on a charter bus and 500 yen on a ticket. Nothing in life is really free.
(At least the last few times I've gone to these games, I've generally managed to catch other hapless Fighters fans at the station and split a cab.)
Thing is, being Sunday, and the Fighters ichi-gun team being at home in Hokkaido, the stadium was really crowded. I would guess there were about 1000 people there, so I'm really not sure why they couldn't run a few buses for us. Everything else was like a normal Sunday game, including mascot events with Cubby, and all of the usual food stands and merchandise tables.
Anyway,
Ojisan
saved a few seats in the front row and I was the only person in his posse to show up, so I got to sit right behind home plate. Just like
last time I sat there
, I concentrated mostly on taking photos of the pitchers, since that's what I get the most ideal view of from back there. Sadly, the day was a lot sunnier than expected and I didn't correct well for it.
The Fighters starter was Keisaku Itokazu, who is cursed whenever I watch him pitch. Seriously. I saw him start at ichi-gun three times this year, for 2 losses and a no-decision. This Futures game doesn't count for anything, so naturally he went 6 innings giving up 3 runs and getting the win.
(Itokazu pitching to Kenji Satoh, who hit a 2-RBI double off him and scored on a subsequent Nakazawa single -- all in the first inning, which account for the 3 runs Itokazu gave up.)
The first pitcher for the Futures team was a really tall adorable kid named Shoki Kasahara. Well, he was adorable until I realized he plays for the Giants. At 190cm, he is tall regardless of how evil he may become someday.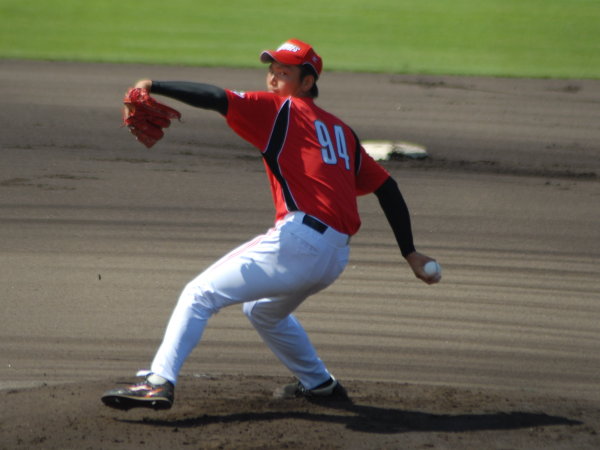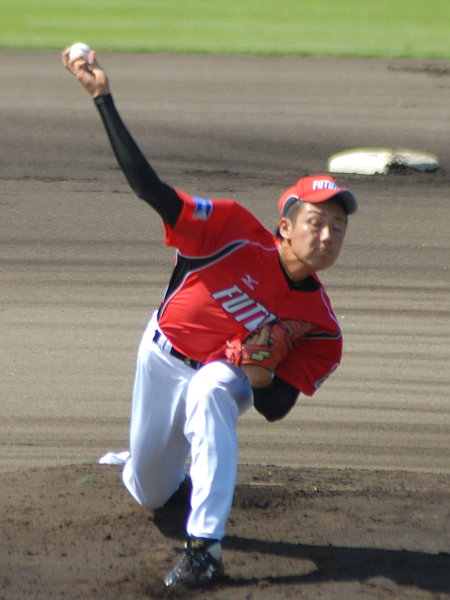 Kasahara pitched 3 innings for the Futures, facing 9 batters. He allowed exactly one runner, Kazuya Murata, who led off with a single and then got caught stealing second.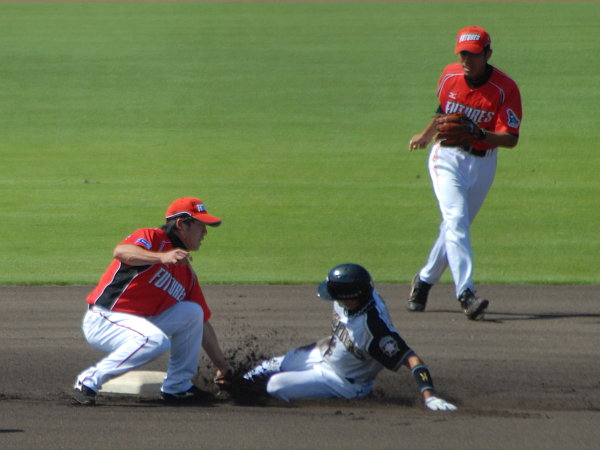 The next pitcher for the Futures was Takashi Maruyama, who's been with Yakult for a few years. Maruyama went to Aikodai Meiden HS, Ichiro's alma mater. Oddly, Maruyama has also seen significant amounts of ichi-gun playing time, which makes me wonder what he's doing on a Futures team, but whatever. He pitched two innings and gave up 2 runs.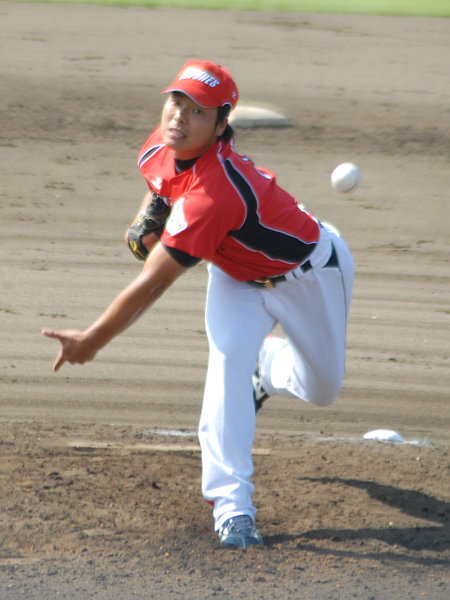 The next pitcher for the Futures was a guy named Keisuke Hayashi. He's a pitcher for the Chiba Lotte Marines, and I was convinced he had to be an ikusei kid since I've never seen him before and he sucked, but no, he's actually a numbered guy (#37). It seems he hasn't appeared in a single ni-gun game this year, though, and his numbers over the last three years are far from impressive: 24 games over 3 years, 0-2 with an 8.66 ERA, 35.1 IP with 58 hits, 6 home runs, 23 walks and 3 hit batters against 21 strikeouts. Not the most impressive career.
In this particular Futures game, Hayashi had the honor of coming out and giving up 8 runs in one inning, facing 12 batters. I don't think any of the runs were earned, though. The score was
3-2
when the inning started:
1. Takuya Nakashima singles to left. No out, runner at first.
2. Chon-so Yoh singles to right. No out, runners at first and second.
3. Atsushi Ugumori hits a pop fly foul by first base. One out, runners at first and second.
4. Suguru Ichikawa hits a grounder to short that the shortstop drops for an error. All advance. One out, bases loaded.
5. Masaya Ozaki strikes out swinging. Two outs, bases loaded.
(At this point, assuming normal play, the inning should have ended)
6. Yohei Kaneko walks. Oshidashi! Nakashima scores,
3-3
. Two outs, bases loaded.
7. Takayuki Takaguchi hits a ball that goes through the first baseman's legs for what is also ruled an error. Yoh and Ichikawa score, Kaneko moves to third.
5-3
. Two outs, runners at the corners.
8. Kenshi Sugiya walks. Two outs, bases loaded.
9. Kazuya Murata walks. Oshidashi! Kaneko scores,
6-3
. Two outs, bases loaded.
10. Takuya Nakashima walks. Oshidashi! Takaguchi scores,
7-3
. Two outs, bases loaded.
11. Chon-so Yoh singles to right. Sugiya and Murata score, Yoh goes to third.
9-3
. Two outs, runners at the corners.
12. During Atsushi Ugumori's at-bat, a wild pitch scores Nakashima.
10-3
. Ugumori eventually ALSO walks. Two outs, runners at first and second, and finally, a merciful pitching change.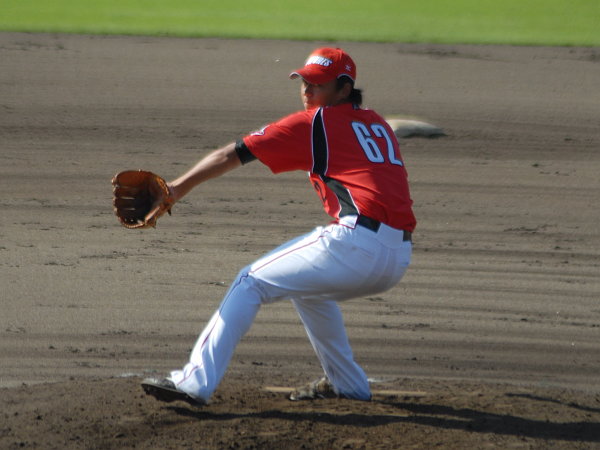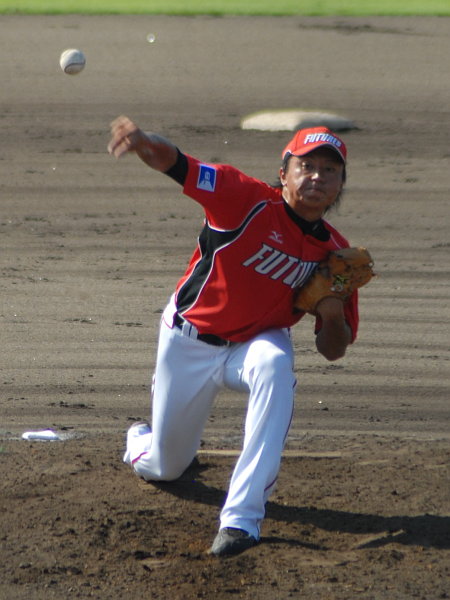 High-fiving as Ichikawa and Yoh score the go-ahead runs for the Fighters.
Hayashi certainly sealed a win for the Fighters, but it isn't the kind of win you usually feel good about.
Anyway, the guy who replaced Hayashi on the mound and immediately got a fly out to end the inning was a kid named Kenjiro Tanaka, who I vaguely remember seeing at Koshien two years ago pitching for Tokuha Kikuchikawa. He was taken by the Baystars in the first round of the 2007 HS draft, while Atori Ohta fell to the second round. However, Tanaka had shoulder trouble and didn't appear in any games with the Sea Rex in 2008 anyway, and has been struggling this year.
A left-handed kid, he threw 1.1 innings of this Futures game and only gave up two hits! Unfortunately for him, the two hits were home runs to Masaya Ozaki and Takayuki Takaguchi. Oops.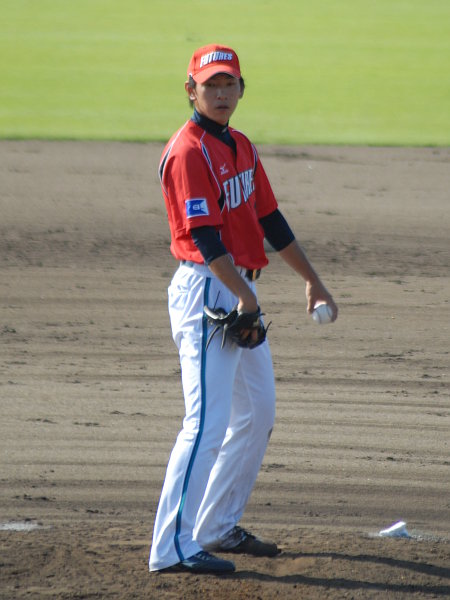 The last Futures pitcher was a tall kid named Yuki Nishimura, an ikusei pitcher from the Giants. His only transgression was giving up a 2-run home run to Suguru Ichikawa. I somehow managed to not get any decent photos of him throwing.
As for the Fighters, after Itokazu went 6 innings, our half-Indian lanky pitcher named Romash Tasuku Dass pitched the 7th. He was terrible, just like he has been almost every time I've seen him. He walked the first two batters he faced, hit the third, gave up a single and a triple to the next two, and a sacrifice fly completed the avalanche of 5 runners scoring. Yikes.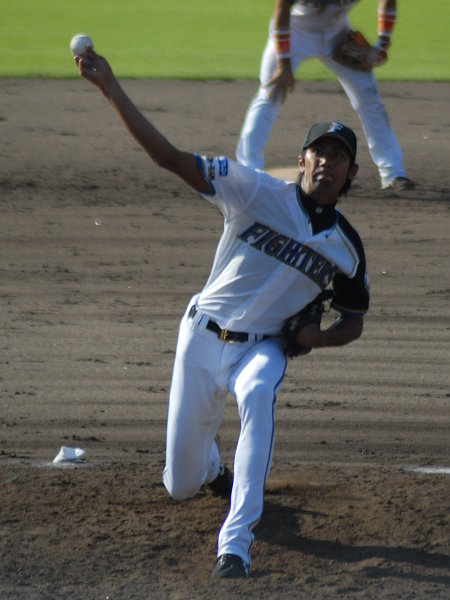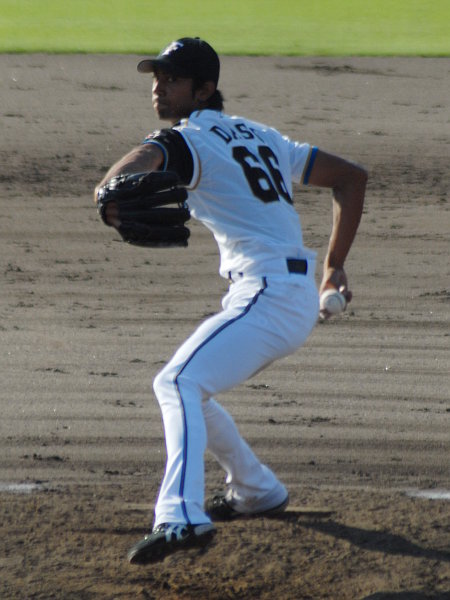 Toshinori Asanuma pitched the 8th inning, and wasn't too bad aside from two wild pitches.
The game ended in 8 innings with the Fighters winning 14-8.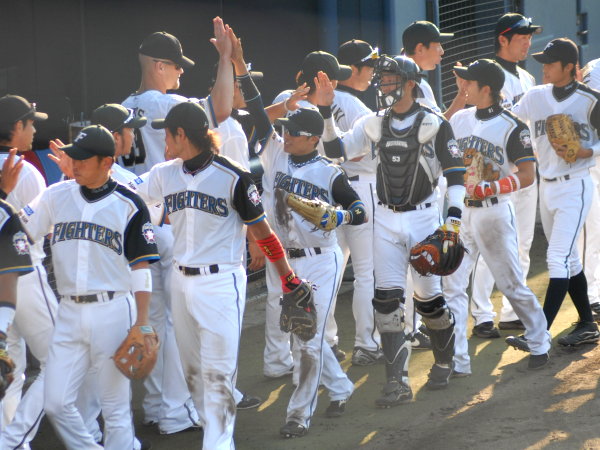 (I mostly took this because it was funny watching the guys jump up to high-five Botts.)
And a few more photos, for good measure... sadly, I do not have a good one of Takanori Suzuki, the former Baystars player who is now a minor-league coach with the Sea Rex. He was coaching first base during this game.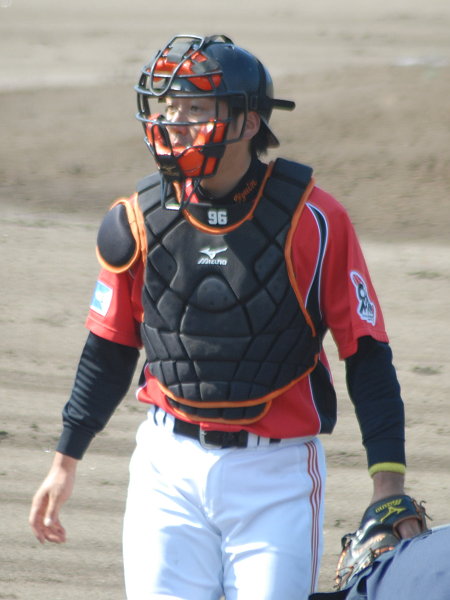 Futures (Giants) catcher Takahiro Ijuin. Here's something funny -- I thought he had borrowed Fighters bullpen catcher Teppei Komai's chest protector, because it had #96 on it and that seemed an unlikely number for a non-coach player to have. Little did I know that Ijuin DOES wear #96. Oops!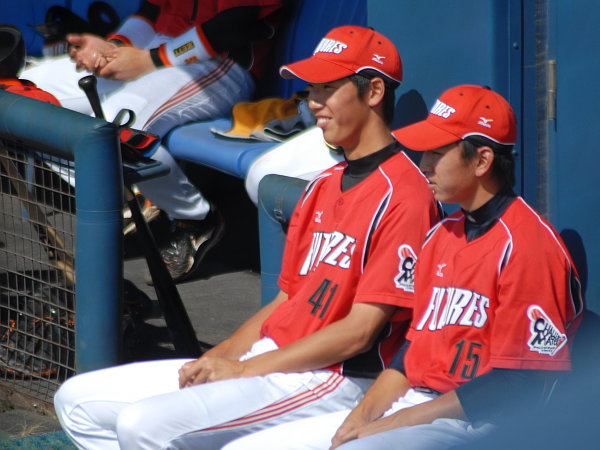 Futures pitchers Nishimura and Tanaka sitting by the dugout.
Futures manager, Giants ikusei batting coach Kee-Tae Kim, changes the pitcher and catcher for the 8th inning.
Chon-so Yoh warming up before the game.
Atsushi Ugumori.
Yohei Kaneko.
Kenshi Sugiya.
After the game I went with everyone out to the Fighters dorm and training facility, where fans often wait to try to catch players for photos or signatures. I got a few more photos -- surely eventually I will manage to collect all of the Fighters' minor-leaguers...
Yoshihiro Satoh! He has 4 career ichi-gun hits to his name and 3 of them are home runs. I am not making that up.
Kazuya Murata. One of my friends is a big Murata fan. Me, I was mostly wondering if I actually AM taller than him. (The answer: yes. Oops.)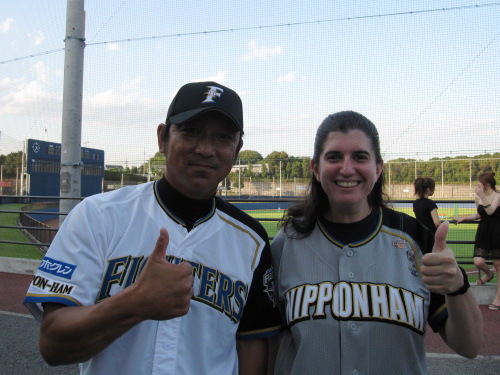 Coach Kiyoshi Yamanaka... really, two of my friends got photos with him so I said "me too!" He's a weird guy.
I waited around after the game for almost an hour and a half, until the very last Sunday bus back to civilization left at 5:19pm. In the meantime, the mascot Cubby also had to come back to the dorm and pack it in for the night, but not before trying to brutally murder a fan who wouldn't leave him alone by shoving him in front of a truck: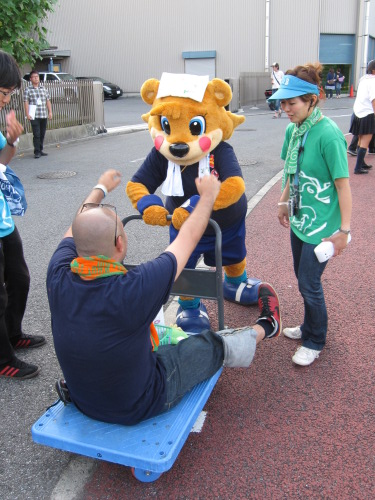 No, no, not really. The fan sat down on the Cubby Wagon to pose for a photo and Cubby made a joke out of it. It was funny.
Anyway, in case you are wondering why I was waiting for an hour and a half after the game -- I was really hoping to see my favorite ni-gun guy, Ryota Imanari. It's been a really long time since I saw him at all, let alone player-stalked him to say hi and see how he is doing. The last time I saw him in a game was July 5th, when he hit a 3-run homer against the Marines. It had seemed that there was a good chance he might even come up to the ichi-gun team after the all-star break... and then he broke his hand during a game against Seibu in the beginning of August. Doh.
Rumor had it that his hand was okay -- he even did a
sign-kai
at Kamagaya on the 6th -- but apparently he hurt his LEG last week while in the last stages of rehab. Crap. Ojisan told me that Ryota was scorekeeping and charting pitches, though, and was likely to still walk back up to the dorm after the game, so I should just hang out and wait.
I waited.
I got my photo with a few players, and watched the fielding practice in the stadium, and chatted with various people. We waved goodbye to players who got in their cars and went off wherever. Shintaro Ejiri drives a big black SUV-looking car, surprisingly. Yataro Sakamoto drives a little white sportscar. Jason Botts left in a taxi.
Yohei Kaneko, who actually seems to remember who I am these days, gave a bat to a high school kid who had been hanging around watching practice for an hour after the game. That was really nice of him!
But after all the waiting around, and seeing some players go in and come out of the sports facility, and bowing to the coaches and to Mizukami-manager and all, and more waiting... there was still no Ryota. I felt remarkably disappointed when I got on the bus to leave, which makes me wonder if I truly am becoming converted to the Japanese fan mindset. I insist that isn't true as I have several favorite players and even switch from time to time, but who knows.
I entertained a vaguely amusing idea to just shift my favorite ni-gun player to Yohei Kaneko, and then I'd just say that my favorite player is Kaneko at both levels.
But no, I wouldn't really do that. I just hope Ryota can get better soon.