"Good job good job Sweeney! We're counting on you next time too Sweeney!"
Way back in June, when I was acting as a makeshift interpreter for some fans in the left-field stands in Chiba, Akki told me to tell Brian Sweeney to make sure to win a game and be the game hero during the Tokyo Dome series, and throw us a ball in the stands afterwards.
Well, Brian got the win in
the game in the Tokyo Dome
, but he was three weeks late to fulfill the game hero request.
The forecast was for light rain all evening in Chiba, but there wasn't a single drop at the stadium as the Fighters and Marines battled through what was a fairly good pitcher's duel between Brian Sweeney and Hiroyuki Kobayashi. Kobayashi would eventually
strike out 10 batters in 7 innings
, but also gave up 10 hits which yielded 3 runs (2-RBI double by Kaneko, RBI single by Koyano), picking up his league-leading 12th loss of the season on what most people would call a quality start.
Sweeney, on the other hand, managed to somehow keep the Marines down the entire time he was out there. He threw
99 pitches in 7 shutout innings
, walked none, and gave up 4 hits against 5 strikeouts. After he left the mound, Yoshinori Tateyama gave up a run (double by Satozaki, double by Saburo). People in the stands were, for a change, saying "Sweeney, come back!" Then Hisashi Takeda took the mound to close out the game, and gave up a two-out single to Fukuura and walked Iguchi. Everyone was thinking that Satozaki could bring the game home for the Marines with one swing if he managed another blast like Tuesday, but fortunately he grounded out to short, as the
Fighters won the game 3-1
.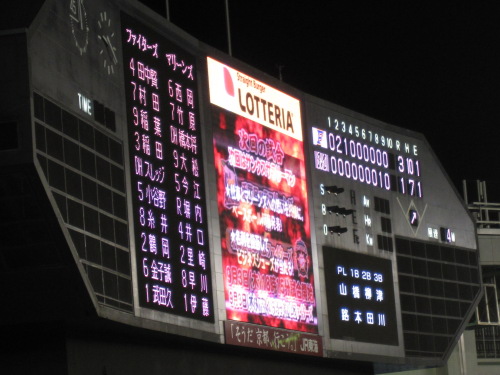 Brian was the game hero, though we couldn't see him on the big screen, we could just hear him. I recorded the hero interview on my little camera but the sound was crappy due to the wind -- but as a result I just discovered the
PacificLeagueMovie
channel on Youtube, which seems to be an official channel of Pacific League game digests and hero interviews and so on, so here is a GOOD quality version of Brian's hero interview, with my transcript/translation:
Today's game hero is the starting and winning pitcher, Brian Sweeney! Nice pitching!
Thank you very much.
Today was the first time you pitched for the Fighters since August 13th, 20 days ago. How did it feel to come out to the mound today?
It was good! It was good to get back out here in a playoff atmosphere and make an impact for the team.
Before the game, Nashida-kantoku asked you to please pitch as many innings as possible -- were you trying to fill his request?
His positive attitude helped me go deep in the game.
Today you threw 7 innings and 99 pitches. Do you think you could have stayed out there and continued pitching?
Yeah, I could have kept going, but... it was time for me to come out, and the relievers did a great job.
Today, you walked no batters at all! It seems like you make a good combination with [Shota] Ohno?
Ohno did a great job today. We worked really well together, and he just did a wonderful job behind the plate.
Your winning pitching today stopped the team's consecutive losses, and the championship magic number has been reduced again! Do you have a message for the fans?
The Magic number is still too high right now, but, thank you for believing in me -- I've had a rough season but you guys have been there for me all year so, thank you very much!
So, not quite as dramatic as if we'd been in the Tokyo Dome and had a huge celebration as the home team, but it was still pretty cool. In a total random coincidence, the lady I ended up sitting next to at this game was someone I had just met for the first time at the Fighters minor-league game in Sagamihara
last week
. She was standing next to me as I chatted with Brian outside the team bus that day, and afterwards told me that she was actually a big Sweeney fan but was too shy to try to speak English to him. As it turns out, she's friends with the group I had planned to spend this game hanging out with, so we sat there together yelling "GANBARE BRIAN!!!" and cheering with everyone.
In general, it was a really fun day out in the bleachers. Early on, after Kaneko's double, one of the ouendan leaders meant to lead us in a cheer of "KANEKO!" but got confused and instead said "okay, ready? KENSUKE!!" and everyone was laughing as he corrected to "er, that is, KANEKO!!" The next inning when we got ready to yell for Koyano's RBI, a bunch of us yelled "KENSUKE!!" as a joke first.
The guy we call Inaba Taicho in that particular group was trying to get a bunch of us to do Shuichi Murata's cheer song (from the Bay Stars) for Kazuya Murata, since our Murata doesn't have a song of his own. Taicho also brought his typical 7 Inaba jerseys with him (he has a Yakult one and some Team Japan ones and various Fighters ones), but this time gave 4 of them to the rest of us to wave and wore 3 of them at a time, because he was cold and didn't have a jacket.
At one point we were doing the Kanto chance music and actually had three separate players to cheer in three consecutive iterations -- we started with Itoi, but he was being intentionally walked, so with the count at 2-0 we switched to cheering Ohno despite Itoi still being at the plate, then noticed Ohno was being pinch-hit for, so we switched to Tsuboi. We also did the Kita no Kuni Kara chance theme all through the 9th inning, as the Fighters loaded the bases and left them that way. Oops.
I went to Saizeriya after the game with 6 other people from my group, and on the way from there to the station I ran into
Steve
, which again had my friends going "Why do you know so many Lotte fans?"
And on one final note...
The Marines made it official on Tuesday that
head coach Norifumi Nishimura will be the manager next year
. Nishimura is currently the 3rd-base coach as well, and he had a long and successful career with Lotte, though it was before my time so it's hard to figure out exactly what he was like as a player. I vaguely imagine him being a Nishioka type, but that's just in the abstract as a player because he was a switch-hitting infielder who got golden gloves at 2nd and 3rd base, and had several stolen base crowns and Best Nine and All-Star titles. I have no clue if he was also a "hot young exciting guy" like Nishioka is often viewed. There's a decent English page about him in the
BR Bullpen
, but it mostly just outlines his career.
(Sanspo actually put up a photo of
him and Bobby 14 years ago
when Bobby was here as a manager in 1995 and Nishimura was still wearing #3 and playing outfield for Lotte.)
I've only met him once or twice and he seems like a good guy, and it makes sense for Lotte to promote someone from within that is already familiar with the team, and a former Lotte star at that -- but I still think he's going to have a pretty tough time filling Bobby's shoes.