On Saturday, I told most people at Kamagaya that I'd be back on Sunday (July 5th), so I sort of felt obligated to go again.
This time, since I'd actually warned people of my incoming presence, they saved me a seat. And by "they" I mean
Ojisan
, and by "a seat" I mean "a seat RIGHT BEHIND HOME PLATE IN THE FRONT ROW". It wasn't the best place to take photos due to the thick iron fence they put up there, but it was one heck of a vantage point to watch the pitching from, and the Fighters' starter was Shaggy Shugo Fujii.
But first, Ojisan also gave me his ticket to the day's sign-kai, so I got more shikishi signed. This time it was Yachiho Hoshino and Atsushi Ugumori signing stuff, who were more interesting than Yoshikawa and Ichikawa were. Hoshino draws a star as part of signing his name (since "hoshi" is star), and Ugumori actually just scrawls "Ugu #65", which is fair considering his name 鵜久森 is really difficult to write.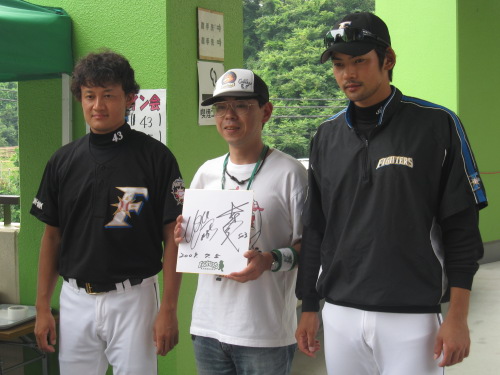 (The guy in the middle is a random fan who won a drawing to pose with the players, I think.)
After that, I went around saying hello to people. See, at Kamagaya, I've come to the conclusion that what goes through people's heads when they see me wandering through the stands can be broken down something like this:
5% - "A white girl? Must be one of the players' wives!"
50% - "How on earth did a poor gaijin wander all the way out here? And why does she have a signed Fighters jersey with a kanji name on the back?"
15% - "Hey, it's THAT GAIJIN. I've seen her on TV and at games around Kanto and such."
30% - "Deanna-san! How are you?"
Fortunately, the latter category has enough people in it at this point that I slowly get to know the people in the other categories through them.
Though then, while going back to my seat after buying lunch, who should I run into but Shane Sakata! She was at the game with some friends of hers and Lenn's from Hawaii, so I got to chat with them in English for a bit, AND they gave me a box of macadamia nut chocolates, which were freaking fantastic, if a bit melty. It's tough to get decent milk chocolate here; normal chocolate in Japan is kind of bittersweet.
And as if that wasn't more than enough excitement, then there was a baseball game, too.
The starting pitchers were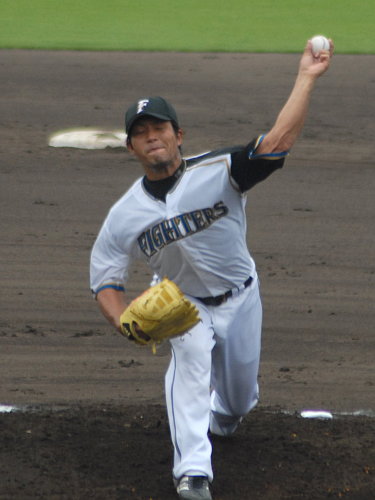 Shaggy Shugo Fujii for the Fighters, and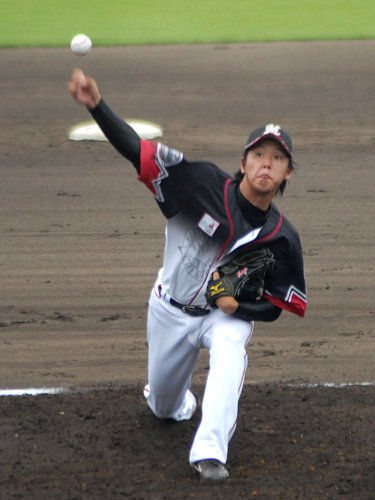 Kazunari Abe for the Marines. I keep thinking he's like 16 years old.
And yeah, I took advantage of my spot behind home plate to try to get those "ball being released from the pitcher's hand" shots. You can pretty much only take them from that perspective, so I thought it'd be a fun challenge for the day.
Lotte got off to a pretty quick start against the Fighters, anyway. Shunichi Nemoto picked up where he left off on Saturday and hit a double to left, and then Ken Shinzato bunted him to third. (Sho Nakata, playing first, didn't even bother charging the ball, which should give you an idea of how slow he is.) Ryusuke Minami then singled to left, scoring Nemoto.
1-0
. Kei Hosoya broke his bat grounding out to short, which moved Minami to second, and then Akira Ohtsuka hit a line drive to left field, which dropped behind Yoshihiro Satoh, and then as he and Yoh scrambled to recover it, Ohtsuka ran and ran and ran and managed to make it all the way to third (barely):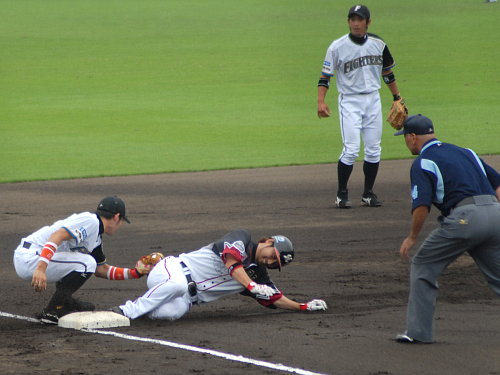 Which scored Minami,
2-0
. Takuma Sadaoka struck out after that to end the inning.
The Fighters got two quick outs in the bottom of the 1st and then DH Luis Jimenez hit a single to right field. Sho Nakata managed to lay off a whole bunch of low pitches and walked, and then Ryota Imanari walked into the batter's box, and took the very first pitch he saw and BLAM! sent it over the right-field wall. It was so close to the foul pole I worried that it actually WAS foul, but no, it was a genuine 3-run home run.
3-2!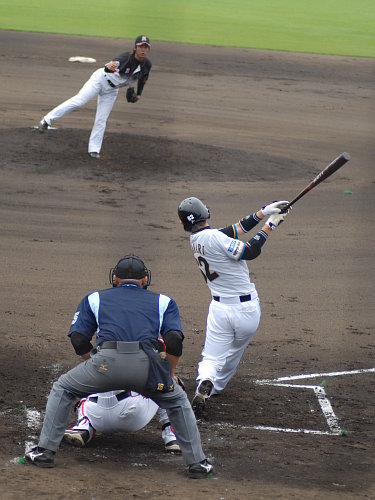 Ryota SMASH!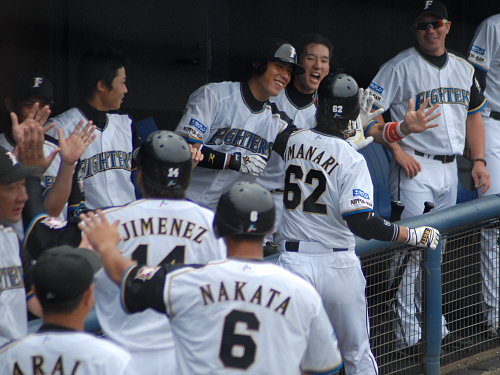 High-fives back in the dugout...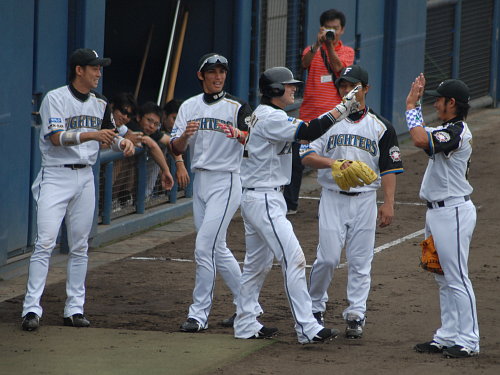 ...and outside the dugout.
Yes, with a 3-4-5 of Jimenez-Nakata-Imanari, who would have predicted that Ryota was going to be the one to hit the home run? But that's just the way things worked out. Satoh followed it up with a double and was then stranded on base as Ohhira struck out.
(Actually, Ojisan filmed the entire thing -- you can see video in
this entry about the game
, from Sho Nakata's at-bat to Ryota hitting the home run. I swear he was sitting next to me and I don't even remember seeing him filming, probably because I was too busy taking photos.)
Lotte wasn't too happy about not having the lead anymore, so in the top of the 2nd they took it back with two solo home runs by Aomatsu and Nemoto. I only have the post-HR high-five shots, but...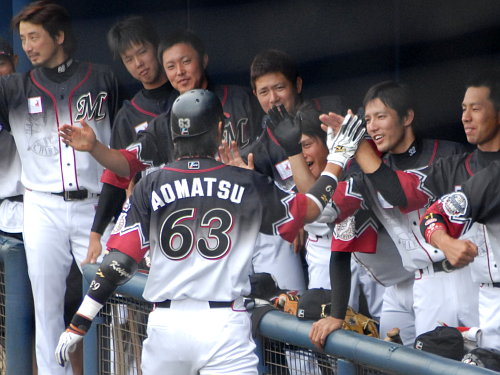 Aomatsu comes home. (You can see Nemoto on the right getting ready to high-five him.)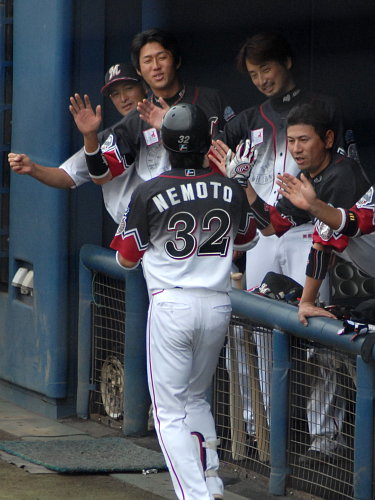 Nemoto comes home.
So that made it
4-3
, which is where it would stay for a really long time.
The Marines nearly scored another run in the top of the third -- with two outs, Akira Ohtsuka hit a single, a line drive shot right over Shugo Fujii's outstretched glove, and he moved up to second base when Takuma Sadaoka hit an infield single, Kenshi Sugiya falling down as he snagged the ball, unable to stand up in time to make the play. Takumi Kohbe followed that up with a single to center, and Chon-so Yoh charged the ball and threw it in. Akira Ohtsuka charged the plate, but the ball beat him there and he did a crazy somersault to try to avoid the tag, but in doing so avoided the plate and was eventually tagged out anyway as he lie sprawling on the ground, ending the inning.
Ohtsuka runs home. Go go Ohtsuka-Akira!
"Okay, okay, I give up, just tag me already! Oh, my aching back..."
Apparently Abe-kun was only pitching two innings, and Takuya Furuya replaced him on the mound for Lotte for the next four innings, and the Fighters were helpless against him. Seriously, it was kind of embarrassing, he notched 6 strikeouts in 4 innings and only gave up a walk and two hits.
Here's some gratuitous Furuya shots, including more "ball-leaving-the-hand" attempts: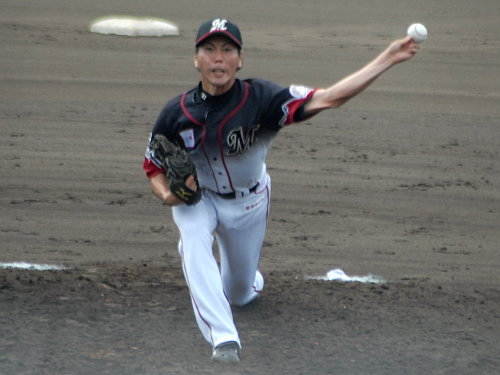 In the top of the 4th, the Marines put the first runner on when rightfielder Ohhira dropped Aomatsu's fly ball to right... and then Aomatsu managed to get himself picked off second on a pitchout to Masato Watanabe. Masato then walked... and when Shunichi Nemoto hit a liner back to the mound, Fujii caught it and threw to first to double off Masato, who wasn't quite quick enough running back to the bag. Sho Nakata was actually dragged off the bag fielding the throw, but somehow Masato was called out anyway, I'm not really sure how that worked. I guess he was on the bag long enough, or in time, or whatever.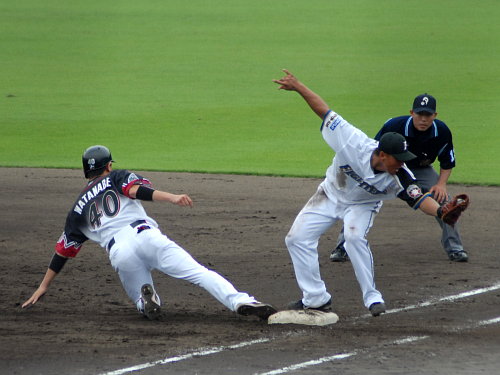 Sho Nakata pretending he knows how to play first base.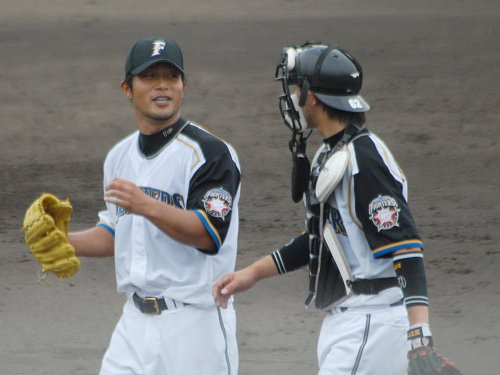 Shugo Fujii walks off the mound for the last time with Ryota Imanari, at the end of the fourth.
Ryo Sakakibara took over on the mound for the 5th and 6th innings. I hadn't seen him pitch in a long time, but he did pretty well -- 6 up, 6 down, and the 6th inning was even three strikeouts in a row. Quite nice.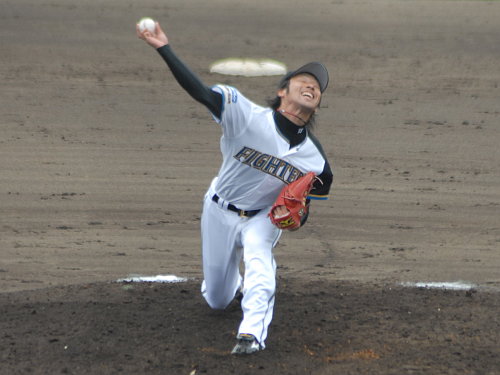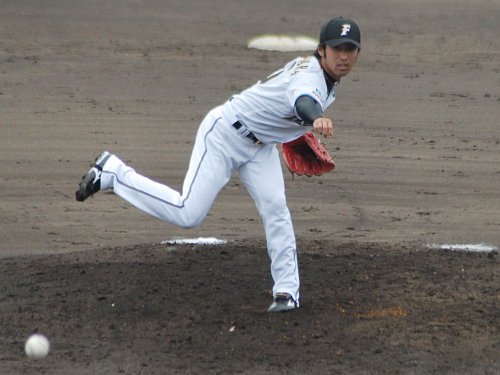 Ryo Sakakibara, who pitched the 5th and 6th innings.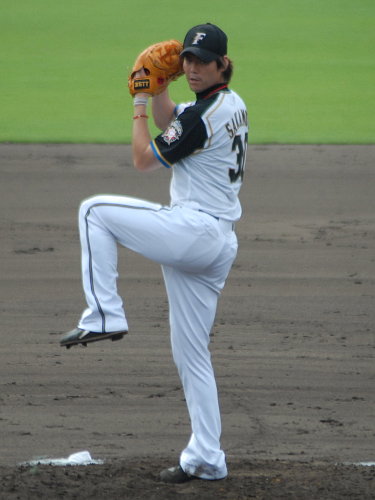 Yataro Sakamoto, who pitched the 7th and 8th innings for the Fighters. (He gave up two walks, to Hosoya and Ohtsuka, but was otherwise fine.)
Before the Fighters' Lucky 7, there was Cubby Taiso again, and it was very cute again:
And then Taiki Nakagoh took the mound for Lotte, and promptly walked Takayuki Takaguchi, and then misplayed a grounder by Takuya Nakashima (it was a sac bunt and Nakashima was safe at first as the throw drew Masato Watanabe off the bag). Chon-so Yoh bunted them both up to second and third and things were beginning to look good for the Fighters... so the Marines replaced Nakagoh with lefty relief pitcher Kodai Matsumoto, who struck out Takahiro Imanami and got a groundout from Luis Jimenez. Doh.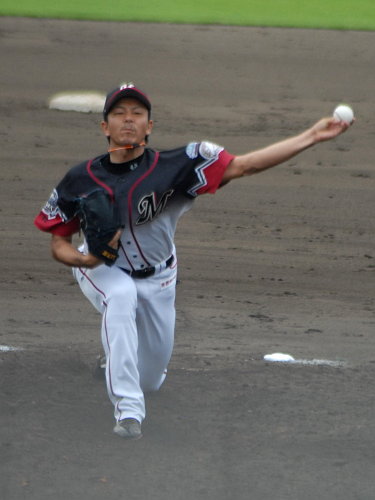 Matsumoto pitching.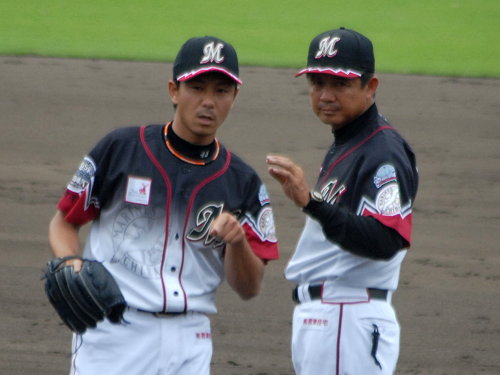 Matsumoto being coached.
It was about at this point that I went up to chat with Shane Sakata for two innings or so, so I don't really have many photos of the last parts of the game. Takayuki Kanamori pitched the 9th for the Fighters, and gave up two runs to Lotte. I thought they were unearned since Miyamoto reached base when Sho Nakata booted the ball on a grounder to first with Kanamori covering, and then with two outs, Shunichi Nemoto hit a single which moved Miyamoto up, and then Ken Shinzato hit a double which scored Nemoto and Miyamoto, making it
6-3
.
Kentaro Hashimoto, who had taken over on the mound for the final out of the 8th, also pitched the 9th for Lotte. Hashimoto came over from Hanshin in the Yasutomo Kubo trade, and is a right-handed reliever. Takaguchi singled, and then Nakashima and Yoh both struck out. With Imanami at bat, the Fighters down 6-3 with two outs in the ninth, Takaguchi just kind of ran to second and nobody tried to stop him, and then Imanami managed to hit a double to center, scoring Takaguchi.
6-4!
But then Luis Jimenez struck out on a checked third strike to end the game there.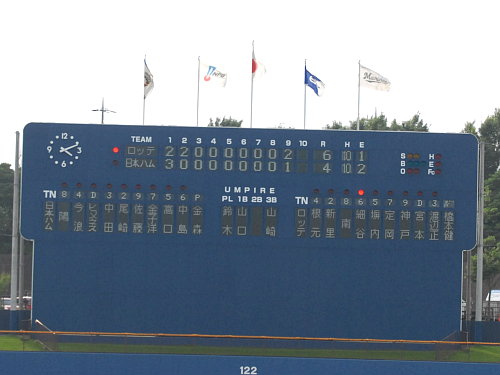 Box score on NPB's site
.
After the game I went player-stalking with my friends. I got photos with a few players again, but there was super-strong wind and so I look like crap because the wind was blowing in my face. I was still happy to catch these guys though -- Sunaga because now I've gotten my photo with all the Urawa Gakuin guys, and Yohei just because I like him and usually he runs away from us.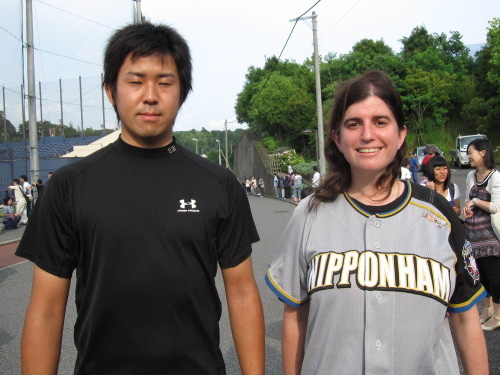 Me with Hideki Sunaga.
Me with Yohei Kaneko.
I also saw a friend of mine who works for the Fighters, who's helped me with fan club stuff all along when I can't figure out things in Japanese, but who I hadn't seen in person since last March's fan festival. So that was also good.
And well... these didn't fit into the story but I feel like posting them anyway to finish out the photopost:
Shunichi Nemoto
Takumi Kohbe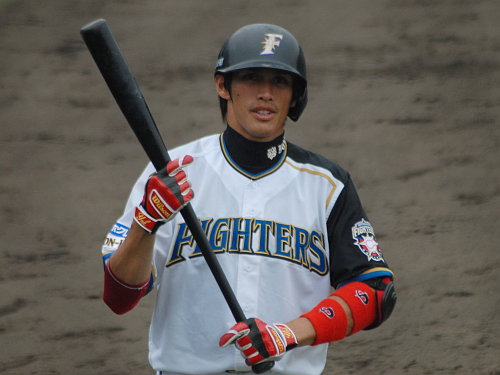 Chon-so Yoh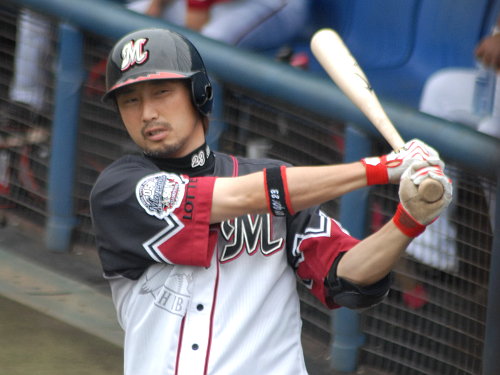 Akira Ohtsuka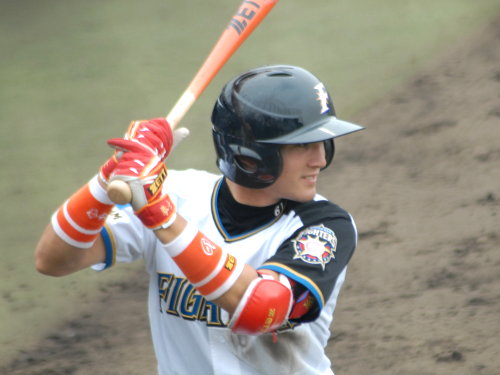 Kenshi Sugiya
Now I am off to the Fighters-Lions game in an hour or two, hopefully!