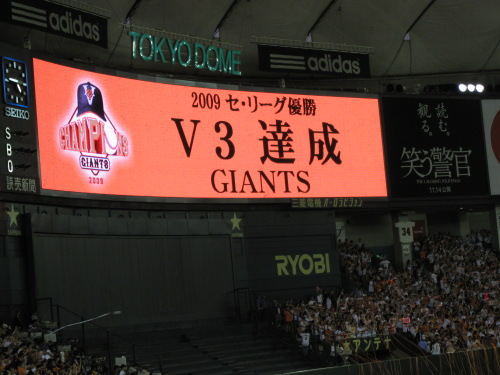 (I went to 5 games over the last 5 days of "Silver Week" -- two Fighters-Buffaloes games in Osaka, a Tokyo Big 6 game on Monday, a Fighters-Marines minor league game in Kamagaya yesterday, and then the Giants-Dragons game today. Yes, I've fallen into the problem of being too busy going to games to blog about them again. I'm also heading back to Sapporo on Oct 3rd and 4th, although I still don't have game tickets. Oops.)
The Giants-Dragons series at the Tokyo Dome over Sept 21-23 sold out ages ago, due to a combination of it being all national holidays, and being around the right time period for the Giants to clinch the Central League 1st place title. I had pretty much figured on not having a last chance at yelling a lot of "Yomiuri taose!" again this year, until a friend of mine emailed me last week, saying "Hey, it turns out I have an extra ticket to the game on the 23rd, a few seats over from the Chunichi outfield area. Want to go?"
Said friend is a former Chunichi ouendan member (from before the Kanto ouendan self-imploded last year) and a bit of a crazy old guy, but the offer seemed sincere enough, so I took him up on it.
This is where we were sitting:
(Fans doing the Hirokazu Ibata fanfare in the 4th inning.)
I was, of course, wearing
The Shirt
, though I covered it up with a jacket for fear I was going to get denied entrance to the Tokyo Dome. Once inside, I wore it until I put my Morino jersey on right before the game started.
Two days ago the Chunichi starter was Masa Yamamoto, and yesterday the starter was Wei-yin Chen, so we figured today, with the "we do NOT want the Giants sweeping us, SERIOUSLY" factor, the starter had to be Kazuki Yoshimi. Right?
WRONG. Ochiai-kantoku was going for the "They'll NEVER expect this!" factor and put up...
...Daisuke Yamai. Hey, it worked in the Japan Series in 2007, after all.
Anyway, as it turns out, it didn't really matter. Fate, luck, air pressure, and the Tokyo Dome were all on the Giants' side, and I don't think anything the Dragons did today could possibly go right for them.
I've been trying to rewatch as many of the iffy plays as possible to try to convince myself that the Dragons didn't really get an unfair shake here. I'm mostly convinced now, though at the time, since they don't replay anything USEFUL at the Tokyo Dome, these all looked pretty bad from our vantage point.
To start off, we had Ogasawara grounding out to second in the 1st inning. Except... mysteriously... he was safe? It sure looked like the throw beat him there at the time, though rewatching it now I can see that basically, the throw beat him there, but Blanco doesn't fully have his glove tightened around the ball until Ogasawara's foot hit first base. So in that case, I suppose it's a tie and goes to the runner.
This is not an iffy play but instead a bizarre event: in the second inning, Yoshitomo Tani hit a home run. (
1-0
.) I am not disputing that he hit a home run, but what happened next was crazy -- the home run went right into the Chunichi cheering section, a few rows from where we were sitting. People were all yelling "Throw it back! Throw it back!"
So the guy threw it back. Everyone cheered. It rolled into the outfield and the ball boy had to go get it.
Then four Tokyo Dome security guards came down and escorted the guy out of the section, to great booing from the rest of us. I asked, basically, "WTF?" and was told "Well, technically, he threw something on the field... and that's against the rules... even though it wasn't a bottle or whatever..."
(The guy was escorted back to his seat by a bunch of guards a few batters later, to applause from the Dragons fans.)
Apparently, the already-annoying Giants announcer has decided to start calling Alex Ramirez "Big Daddy Ramirez", which was only made more annoying by Ramirez leading off the bottom of the 4th inning with a home run.
2-0.
Kamei followed that up with a single to left, and then... again, with Tani at bat, we saw what looked like an inside pitch go by him, except it was called a hit by pitch. Really? Anyway, a Furuki single and Obispo BS hit later (it truly was a BS hit in every possible expansion of the letters, especially since Tani shouldn't have even been on base), it was
4-0
. Fortunately, I suppose, wonder boy Hayato Sakamoto chose that moment to strike out and Furuki got caught stealing third for whatever reason.
(Replay: yeah, the ball hit Tani's hand. BARELY. Even Tani himself seems vaguely surprised he's being given a base.)
Well, at least things started to go right for the Dragons a little bit in the top of the 5th. Wada led off with a hit, and while Koike hit a big fly ball that was caught, Ryosuke Hirata hit a line drive that dove into the left-field corner, leaving runners at second and third for what was one of the more improbable moments of the day: Motonobu Tanishige hitting a huuuuge 130-meter home run into the Dragons cheering section.
4-3
.
(This one didn't get thrown back.)
Anyway, for more variety on the "what kind of crap is this?" sort of luck the Giants were getting today, a pinch-hitting Ohmichi grounded out to third! Really! Morino was watching as the ball was going fair, and he got it and fired it to first in time for the out as slow-footed Ohmichi lumbered over. I wrote down a groundout to 3rd on my scorecard... except at that very moment the umpire suddenly decided that the ball was actually foul. What I don't get is, if the umpire knew the ball was what he was going to rule foul, why couldn't he yell something before Morino nearly killed himself getting to the ball?
(Replay: I have NO idea what the heck the umpire was thinking. Morino was clearly in fair territory fielding it, the ball was clearly fair in the path as it would have passed third base. The announcers even announce it as a "groundout to third, one out..." and even they're like "Wait a minute, it was apparently foul. Huh.")
Takahiro Suzuki pinch-ran for Ohmichi, stole second, got to third on a Sakamoto bunt, and came home on a Ramirez RBI single a bit later.
5-3
. It was particularly frustrating since it felt like he shouldn't have been out there in the first place.
Anyway, after 7 innings of Obispo, Daisuke Ochi and Marc Kroon finished off the Dragons in the 8th and 9th inning and that 5-3 score is where the game ended, with a runner at first and Kazuyoshi Tatsunami hitting a bloop to Furuki at third.
I guess the only amusing part was watching the penultimate batter, Kazuhiro Wada, walk -- as the count was 2 strikes and a ball with two outs, after the next three balls, every time, the Giants were clustered at the top of the dugout getting ready to run on the field and celebrate -- only to have the pitch get called another ball and have to fall back. Denied!
This is the closest thing I have to a final score photo:
Because basically as soon as the game ended, the freaking Giants started doing their celebration, so rather than doing something useful like displaying the final score, the scoreboard was displaying other stuff.
First we had to have people throwing tons of orange streamers on the field (and not getting escorted out of the stadium for it).
The Giants wait for critical mass in order to launch manager Tatsunori Hara into the air.
Hara actually smiled a few times during his speech. It was somewhat unnerving.
I left after about 5 minutes of the postgame stuff, and didn't stick around for the real ceremony. The funny part was, as usual, people were looking at me with a "Whoa, a gaijin" look as I walked by going towards the train station, but behind me I could hear people laughing as they read my t-shirt. For once, it was the good kind of laughing behind my back.
And then, to add insult to injury, the Keihin-Tohoku line was delayed for an "accident", so I had to play Train Tag to get around it to go home.
Yes, I'm whining. Yes, I hate the Giants, and this was a particularly frustrating way to end an otherwise pretty good vacation week. I'll try to put up short takes on the rest of the games I saw soon, maybe.