Look! It is me with a famous baseball-related person that is not a baseball player, for once: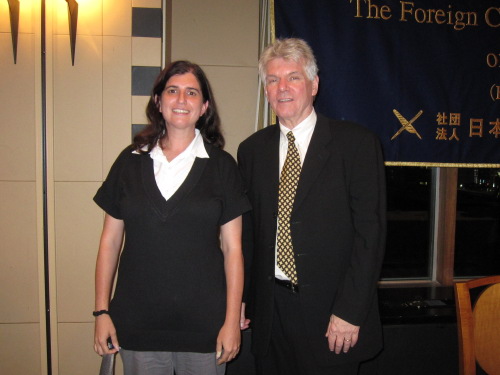 Yes, I met one of my heroes tonight -- the "Godfather of English Yakyu Writing", Robert Whiting. He was speaking at a
book event
at the Foreign Correspondents Club of Japan, and I was lucky enough to be invited as a guest.
It was a little hard not to be starstruck there -- as a wannabe Foreign Correspondent, being surrounded by tons of industry names was pretty intimidating. Even worse, being a harmless English teacher by day and crazy baseblogger by night, I had totally forgotten to bring business cards. Oops.
Anyway, if you are not already aware, this year they released a
2009 Edition of You Gotta Have Wa
, for the 20th anniversary of the book.
I'll tell you -- the core of the book itself is exactly the same as the old edition. If you are expecting an actual revision, that isn't the case here. There's just a new introduction and afterword, of about 12,000 words. Most of the new content just discusses what Robert considered the two most significant changes to the culture clash since
Wa
was written: the influx of Japanese players to the US along with the WBC competition, and the influx of American managers who came to Japan, and the trials and tribulations facing them.
Robert gave a speech for about an hour, essentially talking about those subjects covered in the new parts of his book, and telling a few bonus stories uncovered during his research. Then there was a Q&A for a while, where many people asked him questions like "What's the deal with Matsuzaka?" or "Why didn't guys like Darvish just go straight to the MLB?"
For once, I actually piped up and asked a question, though mine was probably a bit odd: "My favorite chapter in the original book is the one on interpreters -- if you were going to update that one, what would you do?" He answered mostly by saying "I probably wouldn't write that chapter at all now, thanks to them getting real bilingual people who have a clue about baseball as interpreters. The crazy mistakes that used to happen 20-30 years ago just aren't an issue anymore, since the interpreters aren't just guys cracking open their old JHS English textbooks or guys who speak perfect English but know nothing about baseball. You're not going to have an interpreter these days who thinks a 'hit-and-run' is a crime rather than a play."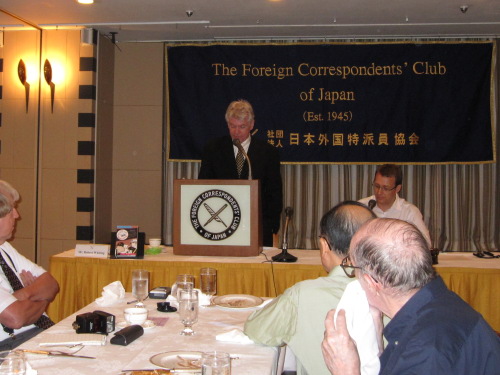 I finally did get to chat with him for a few minutes way after most people had cleared out. I told him how he's been one of my heroes nearly forever and how I moved to Japan with only 8 books and 3 of them were by him, and how he's an inspiration to the rest of us who try to convey the craziness of Japanese baseball to the rest of the world. And he had a lot of encouraging words for me as a fledgling wannabe baseball writer, and even suggested that I really *should* try to write a book about my crazy experiences infiltrating the ouendan, as it were.
I asked him to sign my copy of the new You Gotta Have Wa edition. And he wrote -- I am not kidding --
"For Deanna -
It was a pleasure finally meeting you.
WRITE YOUR BOOK!
signed, Robert Whiting, 9/24/09, Tokyo"
Them's fightin' words!
But seriously, he was a really nice guy, and it was a pretty good event. I got to see several familiar faces, meet a few new people, and even learned a few new things.