On Saturday, July 11th, I had a rare choice of which ni-gun game to ride my bicycle to -- Fighters vs. Swallows at Yakult Toda, or Shonan Sea Rex (Yokohama's farm team) vs. Marines at Lotte Urawa. Although it seems obvious that as a Fighters fan I should have gone to Toda, I ended up choosing Lotte Urawa for a few reasons: first, there are more seats there. Toda stadium basically has a tiny set of bleacher benches behind home plate and that's it. Second, I had calculated the Searex rotation and figured out that former Fighters pitcher Ryan Glynn was really likely to start for them. I hadn't seen the Searex yet this year -- heck, I haven't been to a Baystars game since the preseason -- and was also kind of hoping to see Takahiro Matsuka, as well as my ni-gun boyfriend Yuki Takamori. It's funny, I have a favorite ni-gun player for Yokohama, but not a favorite ichi-gun player since Takuro left. Maybe Atsushi Kizuka, though it's been forever since I've seen him play.
I rode my bicycle up there -- it's about 6 miles away and took me a little less than an hour -- and got to Lotte Urawa Stadium around 12pm for a 1pm game. Managed to get a front row seat on the first base side, next to a tall Japanese guy who also had a scorecard and a camera. Bet anything he's also a blogger.
This game was just another case of tough luck for Ryan Glynn, really. He was the Sea Rex starter, and for the second straight Saturday in a row, I was watching Yuta Ohmine start for the ni-gun Marines...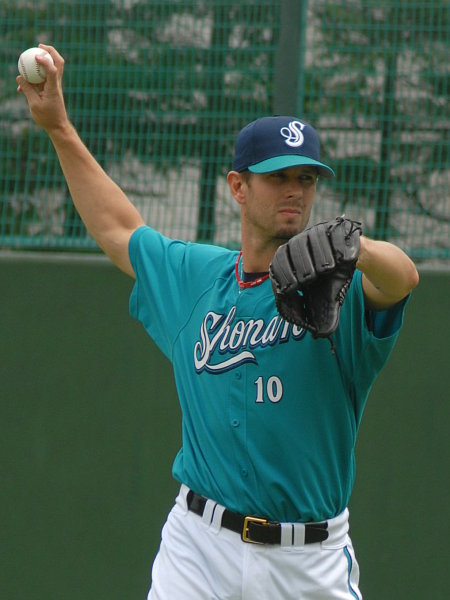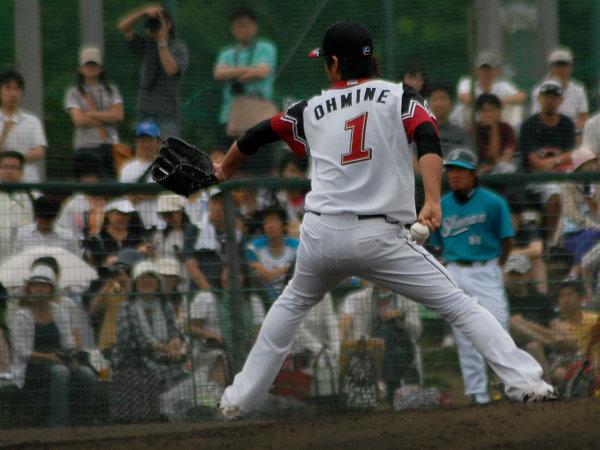 And well, it was just not fated to be a good game for Glynn. It's not really his fault, it's mostly the fault of everyone else out there in the field. Glynn threw 8 innings on 114 pitches, walked 1, struck out 6 guys and gave up 1 home run. Well, and he gave up 11 hits, about half of which I have marked as "through a diving 2B" or "past a lunging SS" and so on.
The Marines took a
1-0
lead in the 2nd off a few of those very "past a diving infielder" singles, as Kanazawa singled, Muniz singled and moved Kanazawa to third, and then Aomatsu singled him in. (Okada hit into a fielder's choice and then stole second, but when Nemoto struck out the inning ended with Okada and Muniz on second and third.)
The Searex might have tied up the game in the 3rd if they didn't run themselves out of it. Toshio Saitoh hit a nice single to lead off and then for whatever reason took off stealing on the first pitch to Noriharu Yamazaki, and was out by a mile.
So then of course, Yamazaki hit a single off of Yuta Ohmine's leg, or glove, I'm not sure which, but there was no throw.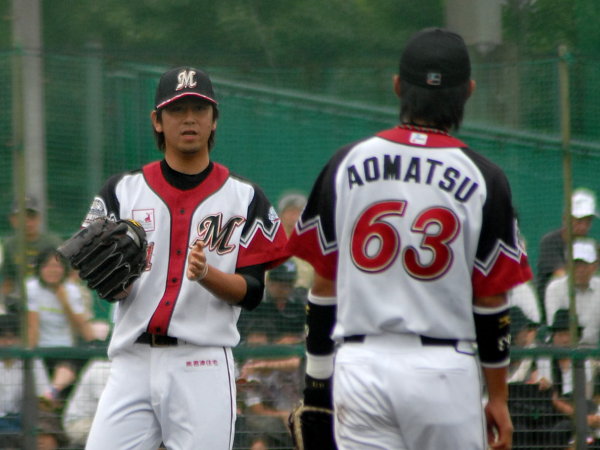 Instead, Ohmine decided he was determined to pick Yamazaki off first base.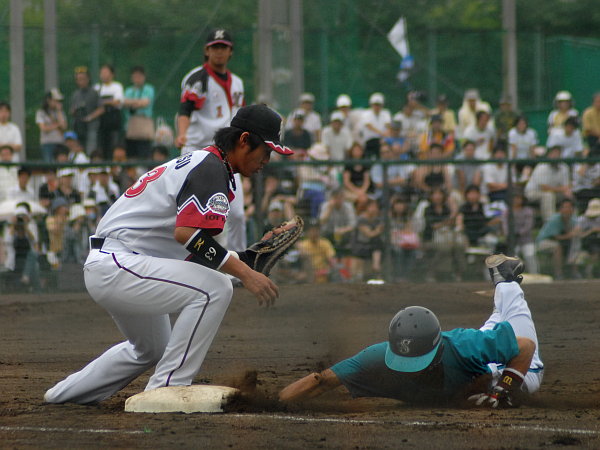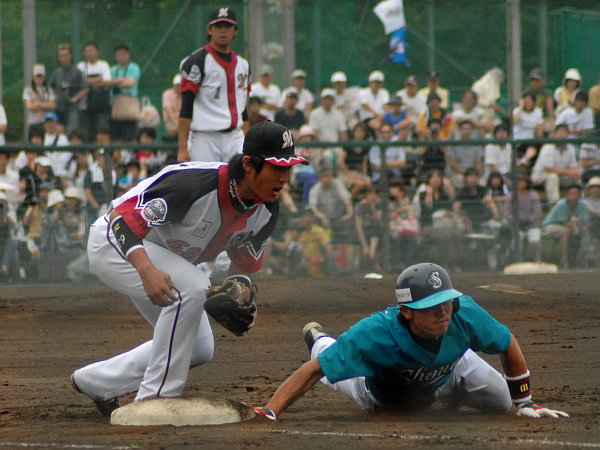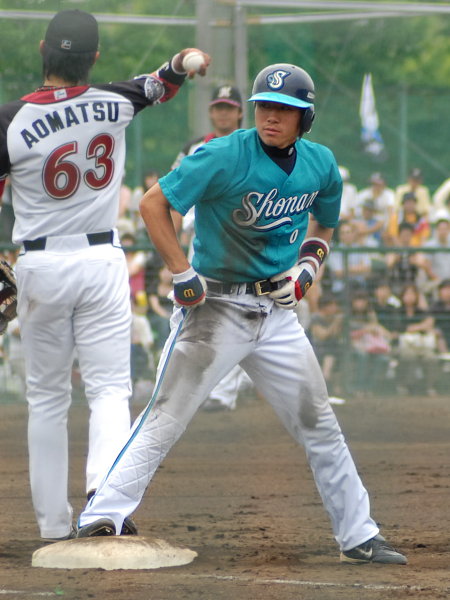 But it didn't work and ultimately he walked Kajitani instead. Naturally, that was followed up by Hiroaki Ohnishi grounding into a double play. How many ways can you run yourself out of an inning, seriously?
Well, the Marines grounded into a double play to end their half of the 3rd too, so then in the 4th the Searex finally did something. Keijiro "Waseda's Finest" Matsumoto led off with a double, and Yuta Naitoh struck out. Yuki Takamori (!) singled to right, and Matsumoto ran to third -- I had my camera trained on the plate waiting to see Matsumoto score, but he didn't, and I don't know why he held up at third. Toshiyuki Kitagawa also singled to left, and Matsumoto actually DID finally score.
1-1
. Atsushi Kita grounded to Nemoto, who threw to short for the force at second, but fortunately the relay to first was not in time for the double play, so Takamori went to third... but with runners at the corners, Toshio Saitoh grounded out for real. All of those runners and only one run.
The real turning point of the game was in the bottom of the 4th. Juan Muniz led off with a simple single to center, and Hiroshi Miyamoto followed it up with another simple single to center. Except, unfortunately, for Keijiro Matsumoto out there in center field, it was apparently not that simple a single to center, and when he went to retrieve it, whoops! Suddenly the ball was not in front of him, OR in his glove, but was infact past him and going back and he had to go run after it and retrieve it out by the wall. Poor, poor Keijiro! In the meantime, Muniz scored, and even Miyamoto was able to score by the time the ball came in.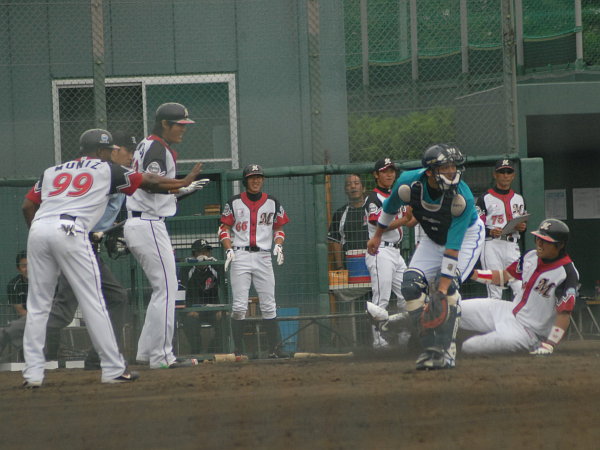 (Shown above: Miyamoto is sliding into home plate as Muniz and Aomatsu wave him in. Saitoh is Not Amused.)
So that made it
3-1
on a pretty big blunder. Unfortunately (fortunately?) I don't have a shot of Glynn while this comedy of errors was going on. The next two batters were retired on infield grounders, and then Nemoto hit a pop fly to shallow centerfield. People were joking from the stands, "Don't drop it, Keijiro!" but then Noriharu Yamazaki ran back and made the catch anyway. Thanks, Nori.
I dunno, though, that play kind of took the steam out of both teams for a while. The next few innings went by blindingly fast -- the most exciting thing that happened was at one point between innings Shingo Nonaka came out to throw with Yuta Naitoh in right, only Nonaka somehow lost control of the baseballs he was carrying (misthrow?) and had to go chase them down towards the bullpen, and so Yuta Sekiguchi threw with Naitoh instead... everyone in the stands was laughing at Nonaka, and even Sekiguchi yelled out, "Hey Shingo, can you gimme those baseballs so I can take 'em back?"
Kei Hosoya hit a home run over the left-field wall in the 8th inning, which made it
4-1
, which is where the game ended. Glynn threw a complete game; Ohmine threw 7 innings with Taiki Nakagoh and Kentaro Hashimoto picking up the 8th and 9th.
Box score here in Japanese
.
On the way back from the bullpen, Glynn was walking with his translator, and his translator noticed me and kind of nodded/smiled at me, so I smiled and said, "Tough game, huh Ryan?"
Glynn looked up, kinda smiled back, and nodded. "Yeah."
I think if it hadn't been such a ridiculous series of events, I might have tried to talk to him more, but I didn't really want to be a pain in the butt after such a game.
We've talked about it before on Michael Westbay's site how
Glynn is the unluckiest pitcher in Japan
, and no matter how well he throws, he always seems to be doomed to lose. It's kind of sad that it's continued with the Searex -- a complete game with 2 runs that were actually his fault, and the team simply can't score any runs, or at least keep themselves out of double plays and getting caught stealing?
Anyway, since this is a photopost, here are some more photos that I took that didn't really fit into the story...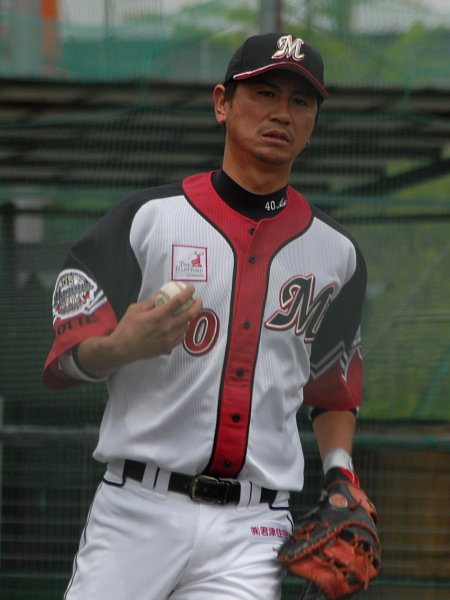 Masato Watanabe working out at first base before the game. (He didn't actually make an appearance in the game, though.)
Keijiro Matsumoto, walking to first.
TA-KA-MO-RI!!!!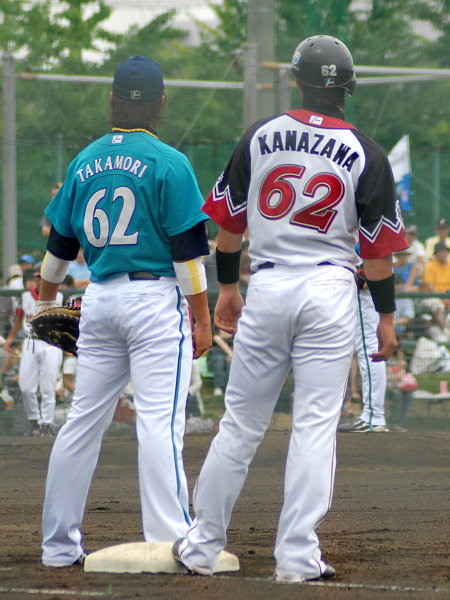 Yuki Takamori and Takeshi Kanazawa at first, #62 - #62.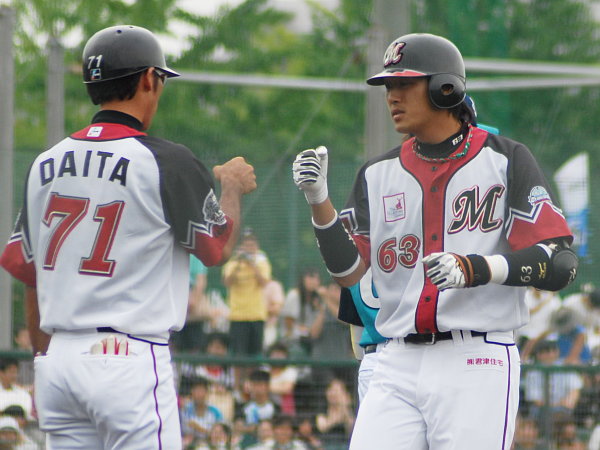 Keiyo Aomatsu high-fiving first-base coach Takenori Daita after hitting his RBI single to put the Marines ahead in the 2nd inning.
Yuji Hata warming up in the bullpen.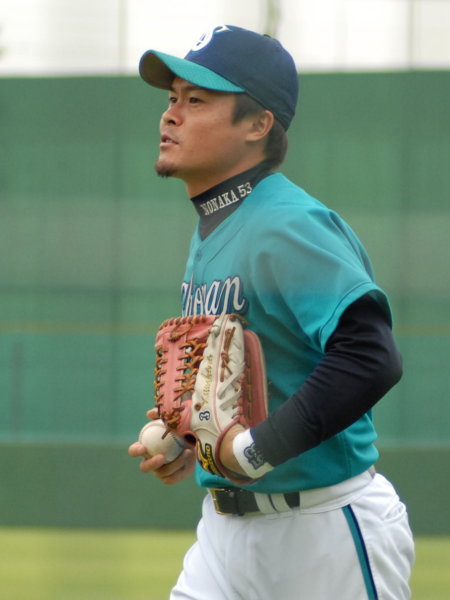 Shingo Nonaka running out to play catch or to chase baseballs or something.
Takayuki Kajitani hitting into a 3-6-3 double play and being out at first.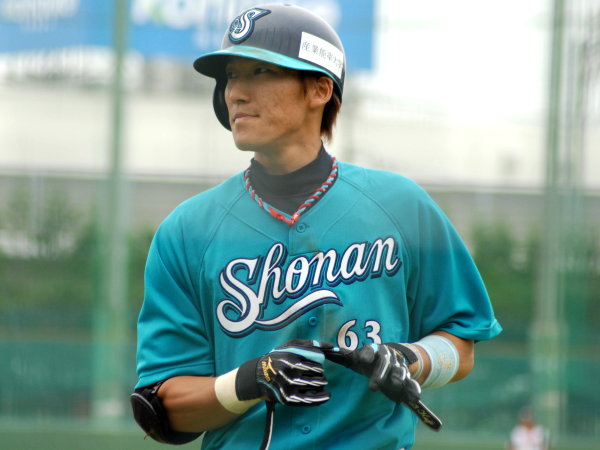 Kajitani, out and further out.
Yuta Naitoh.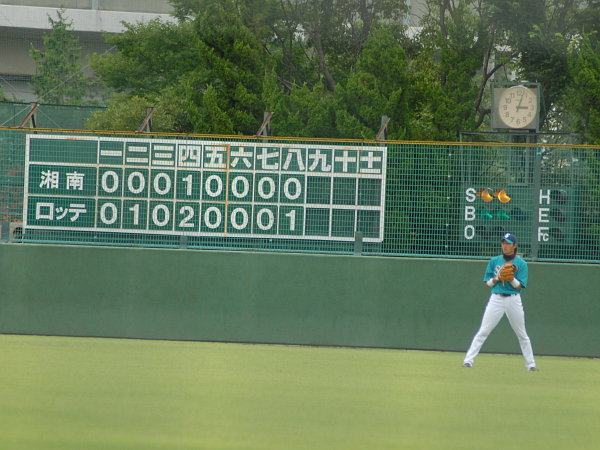 Keijiro Matsumoto standing in front of the scoreboard in the bottom of the 8th.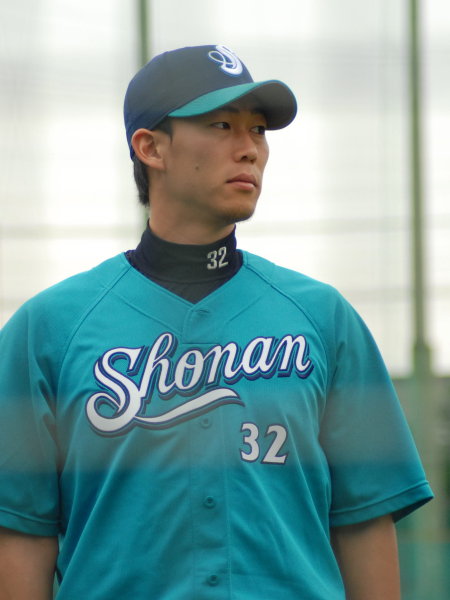 Okay, so this is Takahiro Matsuka, the smartest guy in baseball... no, just kidding. But Matsuka is the 4th man in the history of the NPB to have graduated from Tokyo University and to also play at ichi-gun. It is unclear whether this is more because Tokyo University does not attract students with baseball talent, or because anyone who graduates from Todai probably has better long-term career choices than "pro baseball player", and are unlikely to be unsucky enough to get drafted anyway. Either way, he is special. I wish I could have worked up the nerve to say something to him (since he was looking at me funny). Maybe next time.
(I know that you have to have fairly good English comprehension to actually get IN to Todai, though whether anyone keeps up with it AFTER passing the entrance exams is another story, of course.)
How the mighty have fallen. Yukiya Yokoyama #99 and Michiomi Yoshihara #45. Yokoyama used to be the Fighters' closer before Micheal. He wasn't particularly good. He spent the rest of his career with Yokohama, sometimes being good, sometimes not being particularly good. Actually, I think he's a fine pitcher, just never when I'm watching.
(I meant to try to write this entry while watching today's Fighters-Marines game, but I got way too distracted. Brian had a decent start, and Shota Ohno hit a grand slam!!! and Makoto Kaneko hit TWO home runs! And Hiroki Ueno pitched and I finally got to see him and was really happy! But then Hisashi "World's Smallest Closer" Takeda gave up 3 runs to tie it at 6-6 in the top of the 9th and so the game went on until 6pm. And just when all hope seemed to be lost, and it was 2 outs in the bottom of the 12th with runners at the corners, and 2 strikes on Tomohiro Nioka, he managed to hit a single to the right-center gap which scored a pinch-running Kazuya Murata. Whew. 7-6. Anyway, that's why it didn't get finished until Sunday evening.
Not that it really matters, although today on 7/12, the Searex managed to beat Lotte 11-7. Go figure.)