I've said it before and I'll say it again -- no matter how nice you renovate the Seibu Dump to be, it's still going to have the issue of being in a location that is really inconvenient for not only most of the greater Tokyo area to attend a game, but even for most people in Saitama. Usually on weekends you need to show up pretty early to snag a prime piece of outfield turf seating. This is not a problem on weekdays; you can spread out as much as you want and it's rarely crowded, but you still have to actually schlep out there. For me, even running from train to train and making the quickest connections possible, the earliest I could arrive at the station was 6:09, for a 6pm game.
So by the time I got out there, get a ticket, get a sandwich, and get into the stadium, it was already towards the end of the first inning and the score was
2-2
. The bad part is that I missed seeing Shinji Takahashi hit a home run off of Lions starter Takayuki Kishi. The good part is that I didn't see Itokazu walk two and hit one of the first three batters, loading the bases for Seibu (Yoshihito Ishii doubled to drive in those two runs).
As previously mentioned (but I deleted the post in favor of this one), Fighters starter Keisaku Itokazu forgot his uniform and borrowed one from Brian Sweeney...
(photo from Sankei Sports)
And unfortunately, I think the jersey carried Sweeney's bad luck at the Seibu Dome with it. I sat with some of my friends in the back for the first few innings, and one of them (Akki) is a huge Sweeney fan, so when everyone was yelling "Ganbare ganbare Itokazu!" he was yelling "Ganbare ganbare Sweeney!"
Anyway, the Fighters got out to another lead fairly quickly in the 2nd inning. Yoshihiro Satoh, in his very first ichi-gun at-bat of the year, hit a home run to right field. I was surprised enough to see him out there because I'd just watched him all weekend at Kamagaya, but Jason Botts was sent down and Satoh was sent up. Crazy.
3-2
.
In the top of the third, Itoi walked, and Inaba singled to right, pretty much a hit-and-run since Itoi was at second base by the time the ball left the infield. Shinji Takahashi hit a pop fly to left, and despite Ozaki charging and throwing in, Itoi was faster and scored.
4-2
.
However, the Lions quickly closed that gap in the bottom of the 4th. Yoshihito Ishii was hit on the leg by a pitch, and then GG Satoh hit a long fly ball to right field which looked like a home run, but instead it hit the wall along with Inaba, for a double. Ozaki walked, so the bases were loaded with no outs yet again. Itokazu momentarily got lucky when Taka Miura lined back to the mound (one out) and Itokazu threw to third base to double off Ishii, who had started to run and didn't get back in time (two outs). However, Ginjiro Sumitani singled to center after that, scoring GG Satoh, and in the meantime Itoi's throw back home was relayed OVER the plate, so in the meantime Ozaki scored as well and Ginjiro made it all the way to third.
4-4
.
I went down to the front to cheer for the 5th inning, but in the bottom half, Hiroyuki Nakajima singled and then Okawari-kun Nakamura hit a home run to left field, making it
6-4
. Itokazu came out of the game at that point and Ken Miyamoto replaced him.
Miyamoto, Ejiri, and Miyanishi kept the Lions from scoring for the rest of the game, but Takayuki Kishi ALSO kept the Fighters from scoring for the rest of the game and ended up with a complete game win, and was the game hero as well. I actually don't have much to say about the rest of the game; I spent most of it talking to people about when they are travelling to various cities, since I'm trying to figure out when to go to Hokkaido and Sendai and so on.
It was a quick game. We were out of the stadium a few minutes before 9pm, so I went around for a few minutes looking at all the Tanabata stuff I'd been too much in a hurry to look at before the game. (
Tanabata
is a summer festival of sorts, held on July 7th.)
One of the things people do is write wishes on pieces of paper and then tie them to branches, making colorful decorations. They had papers at the Dome, so I even wrote one (I couldn't think of anything to wish for though, so I wrote "いい天気がほしい", which means "I wish for good weather"). Most people wrote baseball-related ones. One of my friends who loves outfielder Tomochika Tsuboi had written one of "I hope Tsuboi plays in tonight's game and does well". He pinch-hit a single in the 9th inning, so I guess she got her wish, sort of.
Some of the tanabata papers.
An older guy attaches his paper to the tree.
Seibu players all wrote tanabata wish papers.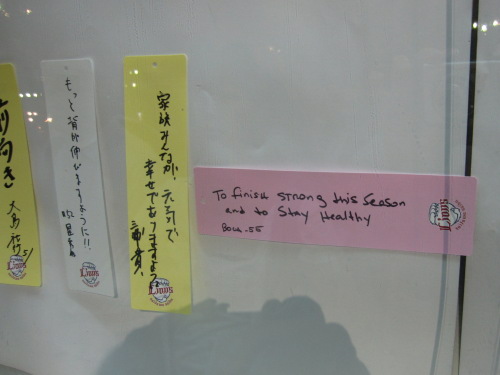 Here's Hiram Bocachica's paper.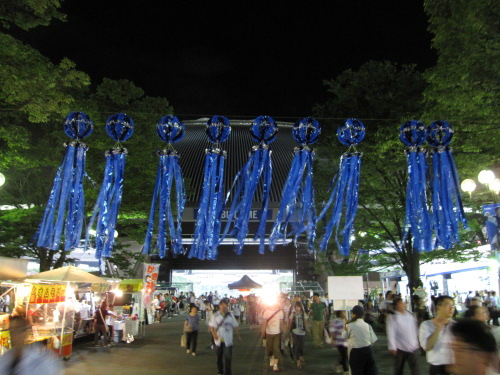 Paper lanterns strung above the walkway going towards the Seibu Dome.
In the middle of the 5th or 6th inning, they also told us that the starting pitchers for Wednesday's game would be Darvish and Nishiguchi, so it's back to the Seibu Dump tonight for me!