The stars and planets aligned yet again on Wednesday for several events to occur:
-
Simon
is back from Okinawa
- He got the
Tsubamegun
guys, namely Christopher, to save us seats at the top of Section D
- Christopher hooked me up with
the coolest t-shirt on earth
- Shohei Tateyama was the Swallows starter, just like last time I'd gone to Jingu and cheered against the Giants with these guys
- The Swallows beat the Giants! Hooray!
No, seriously, the Swallows have played 10 games against the Giants this year. They have won 3 of those games. I have attended 2 of those 3 winning games. My hatred of the Giants must really provide some good luck for Yakult!
Anyway, there really isn't a reason for me to summarize the game action when you can read the
fine recap on Tsubamegun
. I'm just going to add a few observations/thoughts.
First, Fukuchi was really close to hitting for the cycle. He hit a homer in the first, a single in the third and a triple in the fourth... but then just like the rest of the team's crazy offense, he also slowed down at that point and didn't get another hit for the rest of the game.
As I was keeping a scorecard, the people around me kept asking if every Yakult batter had gotten a hit yet -- and more importantly, had they all gotten RBIs? After Shohei Tateyama drove in a run in the 4th, we tallied it and noted that D'Antona didn't have a hit yet (he got one in the 5th) and Miyamoto and Beavis didn't have RBIs (they never got any). The team did eventually tally a total of 20 hits, making 33 in the game between both teams, for the second 30-hit game that Simon and I had sat through.
The scary thing about this monster win was that they could have had even MORE points if they hadn't done boneheaded things like grounding into double plays when bunting when they shouldn't have been bunting in the first place. Once was in the 2nd inning with Aikawa on second and Keizo at first, and Tateyama bunted... back to the mound, for a double play to get Aikawa at third. The next time was in the 3rd inning, with Aikawa on third and Keizo on first... Tateyama tried to pull off a squeeze bunt, but struck out instead and Aikawa was caught between 3rd and home for another double play. Imagine a 20-run game instead of just a 13-run game!
And Aoki wasn't even in the starting lineup, which was the kicker. In the 5th inning they did their typical gig where they ask some people in the stands, "who is your favorite player? Can you say a cheering message for them?" and they get this group of three people and the first two say "my favorite player is Aoki... Aoki, ganbatte! Get a hit for me today!" and we're all like "Dude, he's not out there!"
Ogasawara's clean-shaven doppleganger hit two home runs for the Giants, for 5 RBIs of their 7 runs. Grr.
Also, the Giants did something "cute" when Shota Kimura was pitching and they pinch-hit for him with Takuya Kimura.
I had a lot of fun cheering with everyone, and I picked up more of the Swallows ouenka, which are actually somewhat similar in style to the Fighters' ones in general. A funny story: before the game started, a Yakult ouendan leader guy went around saying "Hey guys, we've been told to keep it clean, so please don't sing Kutabare Yomiuri at the start of Tokyo Ondo, okay?" Naturally, though, three batters into the bottom of the first, Fukuchi hit a 2-run home run, everyone high-fived around, opened their umbrellas, looked at each other, and started bellowing "KUTABARE YOMIURI..."
I still haven't figured out a new favorite Swallows player since Miyade was traded. I'm vaguely thinking of going with Yasushi Iihara, though who knows. I was also thinking of Keizo Kawashima, but since he's an ex-Fighter it's a little too weird. You'd think this isn't an important decision, but it's extremely important in Japanese baseball, for female fans, to have an answer to the question "だれのファンですか?" because it's what people ask all the freaking time.
Oh, I give you your Game Heroes: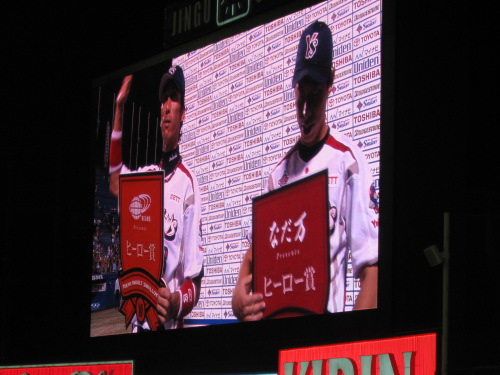 Fukuchi and Beavis, who were both great with the bat and the glove.
Two outs in the 9th. See, Jingu sucks at showing the score after the game ends, so this is the best I could do.