Last year on the 4th of July I celebrated my Americanness by going to the immigration office to do the paperwork to live in Japan for another year. This year, I spent the 4th of July watching baseball, which is arguably more American, although I didn't see any other Americans all day, unless you count Lenn Sakata, and I didn't talk to him anyway.
I got to Kamagaya station in time for the first bus to the field, and yet the place was already pretty crowded, since a lot of people drive there from around Chiba. But a few nice people gave me a ticket to the sign-kai table going on, and I happened to bring shikishi for once, so I ran outside and got them signed by Mitsuo Yoshikawa and Suguru Ichikawa! That was pretty cool.
After that I spent an hour basically wandering around and saying hi to people and talking to friends and taking photos and eating food and all. At one point, Keisuke Tanimoto and Romash Tasuku Dass (pitchers for the Fighters) wandered into the food court, which was pretty wacky. I took a photo but it didn't really come out.
Anyway, there was a game. It featured the following starting pitchers...
Kazuhito Tadano for the Fighters, and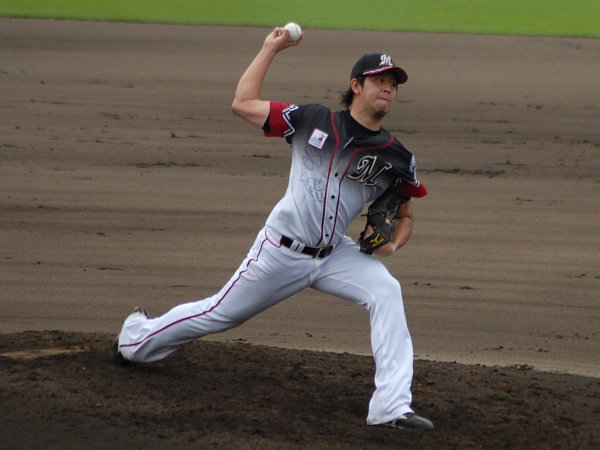 Yuta Ohmine for the Marines.
Rumor was that if Tadano did well, he'd have a really good shot of being moved up to ichi-gun. I wouldn't say he did poorly but I'm also not sure he was fabulous enough for them to move him up. 5.2 innings, 6 strikeouts, 2 earned runs, that's not too bad, but he allowed a lot of runners. The Marines actually had the bases loaded with no outs in the first, but then he got the next three batters to keep runs from scoring. And they had a lot of guys on in the 3rd too, when they scored the first run of the game off a Nemoto double and a Hosoya double. Tadano also gave up the first home run of the gsme to, of all people, Masato Watanabe.
In the meantime, Ohmine got a lot of strikeouts, BUT then proceeded to lead off the 3rd inning by hitting Yoh with a pitch in the shoulder, and then hitting the next batter Konta in the shin. A series of crazy errors during Satoh's two-out at-bat were what scored Konta and Imanami (the latter had tried to bunt up the first two, but succeeded in getting Yoh out on the force at third instead). First, the Fighters' Yoshihiro Satoh hit the ball to left field, but then the Marines' Kenji Satoh, who was playing left, ran out for the ball... and dropped it. So Konta scored, Imanami went to third, and then as they threw in the ball from left, it also MISSED the first baseman and kept going, so eventually the Fighters' Satoh ended up at third, and Imanami also scored, and neither run was earned for Ohmine.
That made it
2-1
, and Masato's homerun made it
2-2
.
Tadano threw an 0-2 eephus pitch to Takumi Kohbe in the 5th, which was hilarious, and Kohbe struck out on the next pitch and was so pissed off he threw his bat into the ground.
Anyway, in the 6th, Hosoya got on base when the aforementioned Fighters Satoh dropped a fly ball in center, and stole second, and Ohtsuka walked, and then that pesky Masato Watanabe singled to right and drove in Hosoya, making it
3-2
, and that's when Tadano came out of the game.
For the record, when Hosoya hit that to center, he actually ran towards 2nd base, then ran back to 1st, and the ball was thrown in by then and he was called safe, but he looked kind of out, and manager Mizukami came out to argue the call. Lotte fans were yelling, "We have a night game to go to in Chiba, hurry up and decide!"
Yachiho Hoshino pitched the top of the 7th inning and gave up a whopping 5 runs to Lotte, including homeruns to Heiuchi (solo leadoff) and Ohtsuka (3-run).
8-2
.
Sho Nakata hit a home run in the 8th, a solo shot over the centerfield wall, making it
8-3
, not that it really mattered at that point. You can see a box score
here
for more details; I'll try to add more later, if I have time.
After the game, I went to stalk players with some of my friends, but thanks to the game being long and the last bus out being at 5:19pm, I only got to see a few. I spent a while talking to Luis Jimenez while he was signing stuff, though. He's a nice guy. I made a really dumb comment not realizing his translator was standing right there, too. I swear, I should just stop speaking English altogether. I'm much nicer and much less likely to say something stupid in Japanese (or rather, less likely to say something stupid where I'm aware I'm saying something stupid, instead of just making a language mistake).
Got a photo with Luis, though.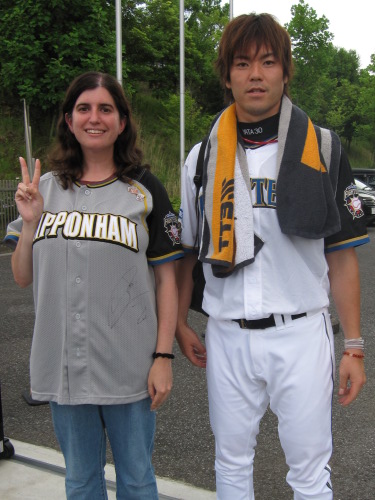 I also caught Yataro Sakamoto and bugged him for a photo. Saitama pride!
Anyway, here are some more photos I took on Saturday. I did say it was a photo post, right?
Toshimasa Konta taking practice swings.
Cubby-mascot reading some of the players' tanabata wishes.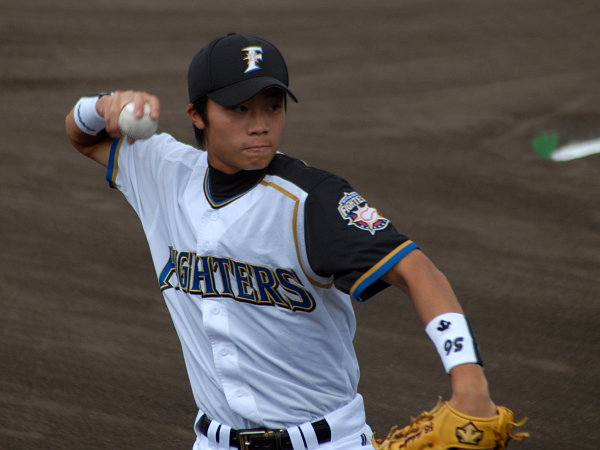 Young infielder Takuya Nakashima.
SE-I-I-CHI! Ohhira, laughing at someone's joke.
Sho Nakata got some kind of weird haircut, not sure if it's since he came down to ni-gun or not.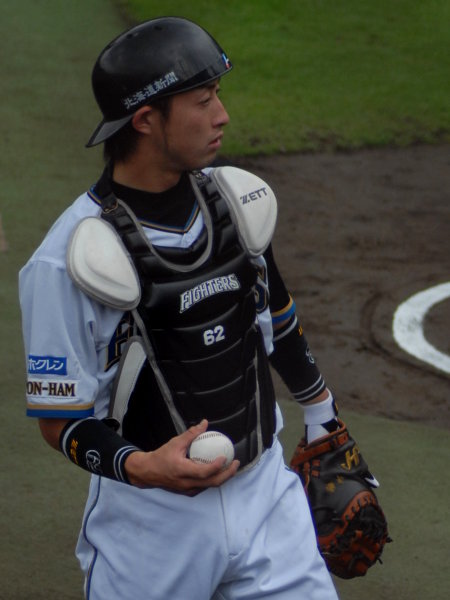 Ryota Imanari, my favorite Fighters ni-gun kid. Rumor has it that after the all-star break, they might move Shota Ohno down to ni-gun to work on stuff and bring Imanari up. Who knows.
Imanari again.
Shunichi Nemoto watches a ball go flying up.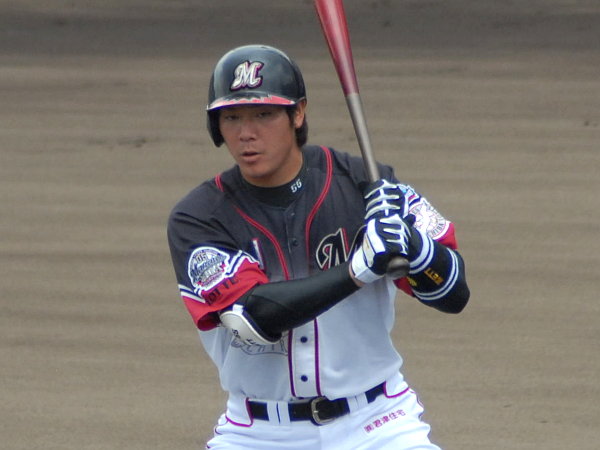 Takumi Kohbe.
Ryuichi Watanabe warms up with Tadano. But why does his glove say "Ohtsuka"? We don't have a catcher by that name...
Third-base coach Hajime Miki.
Konta running in from the outfield.
Hisao Heiuchi at third base joking around with Miki during a delay.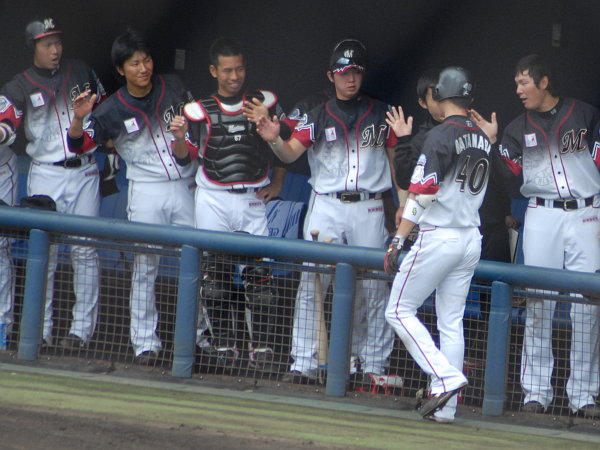 Masato Watanabe high-fives the dugout after hitting a home run.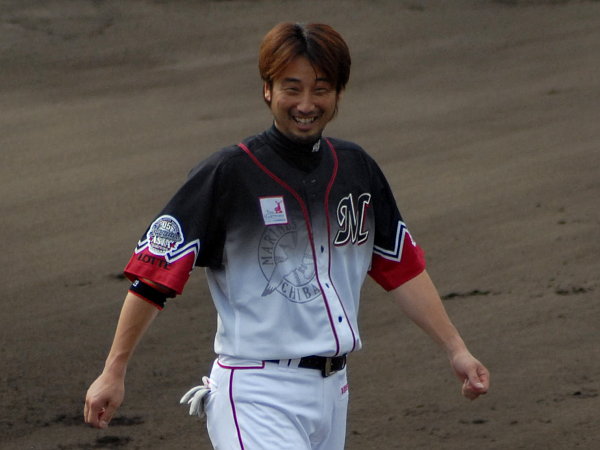 Go Go Ohtsuka Akira! (He has the best smile on the Marines, hands down, although Ueno may give him some competition.)
In the 7th inning, they had something called "Cubby Taiso", where kids came on the field to ostensibly do some kind of dance, but in reality just waved noisemakers and did whatever.
I'm off to Kamagaya for Sunday's game. Hope it doesn't rain!