Since I obviously didn't have enough fun going up to Sendai for an evening to yell with the Fighters on Atsunori Inaba's birthday, on Monday night I went down to Yokohama to yell with the Baystars on Seiichi Uchikawa's birthday.
The first thing I saw when I walked across the street from Kannai station to the stadium was my friend Sign Guy, standing outside the stadium with one of his signs:

(To sum up: "Patience: Yeah, yesterday sucked, but we will do better today." The day before, the Baystars were KILLED 19-2 by the Tigers, see.)
I asked him if he had a Happy Birthday Uchikawa sign. He said that wasn't really his sort of thing, but he'd think about it.
I had an outfield reserved ticket for this game, but that was only because I knew I'd probably be running late after my Sendai escapades, and it was a game against the Hanshin Tigers so I thought the outfield might be crowded and sell out, but I underestimated the power of Monday night being a low attendance night. Still, it was nice not to have to find a seat.
We did the starting lineup cheers, and I realized the pitching matchup was Daisuke "Bancho" Miura vs. Satoru "Kanemoron" Kanemura. I have seen many, many Kanemura starts in my life, but they were all with him wearing a Fighters uniform and me being worried he was going to have a meltdown at any moment.
However, this game started off with Miura giving up three quick runs; while he got a popout from Kanemoto with two guys on base, he gave up a 3-run home run to Kentaro Sekimoto right after that, a HUGE shot to centerfield that bounced between the top of the wall and the "Coca-Cola" ad at the bottom of the scoreboard. Fortunately Toshihisa Nishi made a fantastic running play to catch the ball in shallow right field to end the inning at
3-0
.
The Baystars got out to two quick outs, and when Seiichi Uchikawa came up to bat, I got my camera ready because I was pretty sure we'd sing Happy Birthday to him:

Happy Birthday, Dear Uchi!
Uchikawa struck out, but the third strike got away from the catcher, so he advanced to first, and then Yuuki Yoshimura, batting cleanup since the other half of the Mura Machine was off training for the Olympics, hit a triple! A big triple! It nearly went over the CF wall and bounced against it. So Uchikawa scored and things were nice at
3-1
as Larry Bigbie grounded out.
The guy sitting to my right had been at the 19-2 slaughter too -- noting my scorecard, he asked me if I wrote them for every game, and if I had one for yesterday, and I told him I hadn't been there. He said he had. I said I was sorry. Apparently the same thing had happened, with the first inning ending at a Tigers 3-1 lead, so he was a bit worried it would happen again. I asked who the starter was the day before, and he told me Sanada, and after we made some jokes about nothing good coming from the Giants, I said not to worry, Bancho would take care of everything, plus Kanemura had a long history of losing games when I was watching.
Noguchi got a one-out single in the top of the 2nd, and Kanemura completely FAILED to bunt him ahead, hitting a pop out to the catcher instead. Then Aikaiwa gunned down Noguchi at second base to end any threat.
I got up and waved my Takuro Ishii towel to start the bottom of the 2nd, and yelled my usual "TAKUROOOOOOOOOOO!!!!!" -- note I was wearing my Takuro jersey, and he was in the starting lineup, and before we could even start his cheer song, he HIT A HOME RUN INTO THE RIGHT FIELD BLEACHERS!!!!! That was so cool! He always does well when I come to see him play, I swear!
3-2!
Things held steady for a few innings. The kid sitting to my left was funny, he loves the strikeout animation (I think all kids like it.) Takuro's second at-bat he almost hit another HR, but it bounced off the right field wall a few feet below the top. And so it was still 3-2 going into the bottom of the 5th.
Takehiro Ishikawa led off with a single, and amid cheers of "Miura! Miura!", Bancho sac bunted him over to second. Kinjoh hit a pop out to center, and it seemed like Kanemura was still going to handily dispatch of all the Baystars batters, but then Toshihisa Nishi singled to left. Birthday Boy Uchikawa singled as well, and that tied up the game as Ishikawa scored!
3-3
. Yoshimura, amid chance music, also singled, scoring Nishi!
4-3
. Kanemura was notably shaken, as his first pitch to Larry Bigbie went wild over the catcher, moving Uchikawa to third and Yoshimura to second. So when Larry singled to center, both of those guys scored.
6-3
!
That took Kanemura out of the game. Believe me, it was SO nice to be on the OTHER side of a patented Kanemura 4.2-inning meltdown after all these years.
Mop-up middle-game man Hirotaka Egusa came in and struck out Takuro Ishii to stem the bleeding and end the inning.
And well, if you look at the box score,
the Baystars ended up winning the game 6-3
. Most of the game action in the late game was defensive, really -- I have a lot of exclamation points in my scorecard for excellent catches and dives and so on. Like that G3 on Toritani in the 8th, that is really where the groundball came inward of first base a bit, and Uchikawa dived for the ball, and THEN dived for the base as well, tagging the bag with his glove just seconds before Toritani ran in.
The Baystars did get a few runners on base, and even one as far as third, but didn't bring any more of them home. As for me, my better memories of the late innings were more to do with the people around me; chatting more about the Baystars with the guy on my right, and doing the alternating shouts for the cheers together (seriously, it is awesome to actually be doing the cheers WITH someone, I usually end up alone at Baystars games or with people who don't cheer). I also spent a while entertaining the kid on my left, who was like "You write better kanji than I do!" The kid's mother went away to get food at one point, and she couldn't find her way back, so me and the kid stood up and waved my Takuro Ishii towel so she could find us. She said "Good idea! You are easy to find like that!"
We also tried to wave to get on the big screen, but no luck there. Just as well, I guess.
Anyway, the game heroes were Miura, who pitched 8 innings (Terahara got the save in the 9th), and Yoshimura, I guess for hitting in the first run and for hitting in the go-ahead run. No Takuro for his fantastic plays and home run, but that is okay with me. I like Bancho and Yoshimura quite a lot too.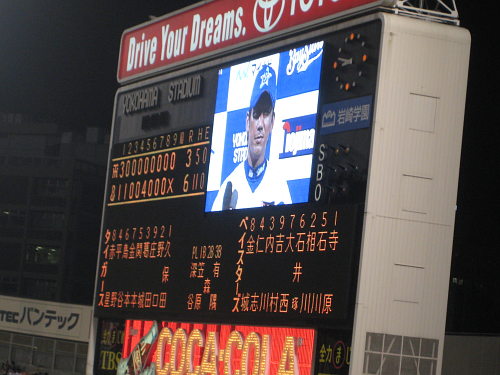 Bancho game hero.
We sang a whole bunch of songs after the game as usual, including one I totally don't know, but conveniently the ouendan were holding up words to it: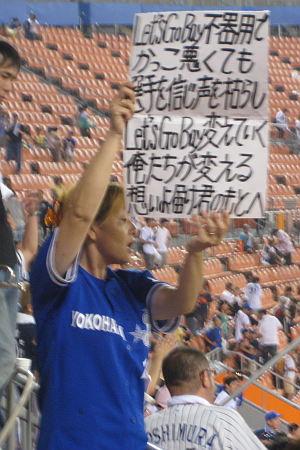 I bought a Yoshimura towel at the Baystars store after the game, and also got 3 more pinbadges from the capsule machine. Funny, I got one I already had (Shimokubo), so I gave it to a random guy who had just bought one too. He offered me Koike, but I already have that one too. Another lady offered me Yokoyama since she hates him, but I had JUST gotten it. I was like "Anyone have Takuro?" and they're all like "No. We want him too!" I did get Kimiyasu Kudoh, though, that was kinda cool.
And of course, on the way back from the game, I saw the box scores and that Masa had gotten his 200th career win, so it was a good day all around.