I took a day off from work so I could go see the Fighters play the Marines at the Tokyo Dome on Tuesday.
It was another one of those games where the Fighters were the home team in Tokyo, which means that the full fan club tables were there and a lot of the Hokkaido-only merchandise was available. I was FINALLY able to buy a
WE LOVE HOKKAIDO
series jersey! They only sell them for a limited time, and I think it's a really nice design.
The other good thing is that I could finally get that little bitty error fixed where I had a JUNIOR fan club member's card for the last 5 months and didn't know it. Yeah.
I went to do pinbadges, and ran into the Crazy Kensuke Fan that I met after the last Tokyo Dome game I went to. She was sitting there near the gatchapon machines with a TON of pinbadges in front of her, looking kind of like a flea market merchant or something. Anyway, she recognized me, and explained that she has TOO MANY PINBADGES so please, go ahead and switch mine for whatever ones I wanted. I forget what I originally got, but I came out with Interleague Chunichi, Interleague Baystars, and Sledge #10, Micheal #36, and Hichori #1. (A bit later one of my friends gave me another Hichori pinbadge, so now I have two, heh.)
As it turns out, due to me misunderstanding a bit of Japanese, two different groups saved me a seat. I sat with Kamagaya Ojisan and Hiromi and that gang, because they were in the very front row of the outfield seats, which you just can't beat; tons of leg room and an awesome view and perfect place to hold up signs and all. I went to talk to my other friends for a while. One of the guys said that his wife just gave birth to their first kid the day before, so everyone was like "congrats on becoming a father!" Me, I was like, "congrats... WHY ARE YOU HERE TODAY??? IS YOUR WIFE OKAY?" Baseball fans here really are pretty crazy.
I was a little worried about Ryan Glynn starting since he never seems to win games when I am there, but I also realized that Hiroyuki Kobayashi, the Marines starter, ALSO never wins games when I am there, so it seemed like luck was more likely to be on the side of the Fighters in a case like that.
Also, it should be said that the left field side was PACKED with Lotte fans in the outfield. They were crazy and loud and warlike and bouncing and never let up for one minute, to the last out of the game.
The Fighters got off to a quick lead in the first inning when Hichori ran out an infield single, and Kobayashi walked Kensuke and Koyano to load the bases and Jason Botts hit a sac fly to center to score Hichori,
1-0
. Unfortunately, that's all the Fighters got out of their bases loaded opportunity.
In the 4th inning, Kaneko singled and was bunted up, and Hichori walked, and then there was a wild pitch to the backstop during Kudoh's at-bat, Kaneko and Hichori moving up a base. Kudoh hit a long grounder to short, and while Heiuchi made a decent play on it, it was a long throw and Kudoh went SLIDING HEADFIRST into first base, which would normally totally piss me off, but it was pretty dramatic here and it allowed Kaneko to score.
2-0
.
JA-SON BOT-TSU hit a MONSTER shot home run in the 5th inning -- they measured it at being 140 meters, but it literally went all the way out to centerfield, PAST the scoreboard on the right, almost hitting the #34 uniform board for Masaichi Kaneda's retired number. It was huge! It was happy. It was
3-0
.
Hashimoto grounded a ball off Glynn's foot in the 5th, but apparently it didn't do any lasting damage (thank god).
The mascots for both teams came out in the fifth inning for YMCA. The Fighters mascot B.B. walked up in front of our section and he was carrying a pink handbag. At first I thought it was some bizarre prank like when rookies have to wear pink backpacks sometimes in the US, but it turns out that no... he had STOLEN RINE-CHAN'S HANDBAG and came over to the Fighters side to show it off. Hee.
Minako got a text message from her mother up in Sapporo who was watching the game, "I just saw you on TV with Hiromi and a gaijin ojosan, all of you in green!" Heh.
My friends decided that I am apparently "shibui" because I brought age-sembei to share. Me, I'm just happy to not feel like a leech for once.
In the bottom of the 7th inning, with Koyano on base, and Jason Botts at bat, the ouendan struck up the Ponyo ouenka from the Seibu Dome, only singing "big big HOME RUN" at the end. Thing is, none of my friends had been at the Seibu Dome games, so they were like "huh? what is this?" So I whipped out my camera and showed them
the words
. I know there's got to be some weird full circle thing going on here; 6 years ago at the Tokyo Dome a bunch of Japanese people taught me the ouenka, and here we are now, with me teaching ouenka to some Japanese people.
Well, Botts walked and so we struck up the Kanto-only Chitty Chitty Bang Bang chance music for Itoi, who responded by singling to center, scoring Koyano.
4-0!
They switched to the Hokkaido-only Genghis Khan chance music for Shinji Takahashi after that, and he popped out to right. It was my first time hearing it and I'm not sure whether I like it or not yet.
Then, the "From the North Country" chance music for Kaneko, who walked. At this point Lotte pitcher Yoshihiro Itoh (who had taken over for HiroKoba after the 5th) came out of the game and Satoru Komiyama took the mound. Wasshoi chance music filled the pitching change, and then back to Chitty Chitty Bang Bang for Naoto Inada's at-bat, which resulted in him grounding out to second. Oh well.
Hisashi Takeda handled the top of the 8th pretty quickly; Kodai Matsumoto pitched the bottom of the 8th and managed to PICK HICHORI OFF FIRST BASE, and then Micheal Nakamura closed out the 9th and that was it!
FIGHTERS WIN!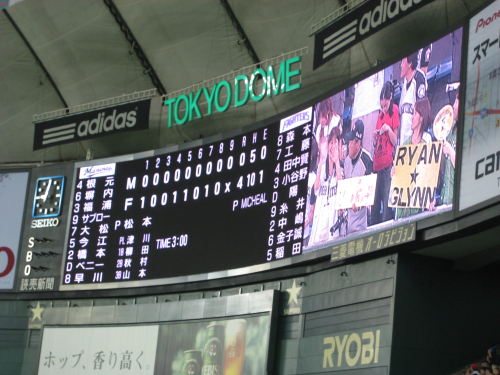 There's Ojisan and Minako up on the big screen with their signs.
Jason Botts and Ryan Glynn were the game heroes; Glynn for pitching 7 shutout innings and Jason for his monster shot and the 2 RBI. Ryan said that he was happy for Jason since he's been working so hard and it was good to see that pay off finally, and Jason said he was just happy he could help the team and all that.
And naturally, I missed Sweeney's pitching by one day yet again, since he threw a complete game win in Fukuoka on Monday. Figures. Also figures that I missed Hichori doing another crazy stunt by a day -- this time he
dressed up as a frog
during pre-game practice during Monday's game in Fukuoka. No idea why he couldn't save it for the home fans -- maybe Shinjo is there in Kyushu? Who knows.