I had a pretty special day at the Seibu Dome on Monday (August 11). This entry is long and took me several days to write. I apologize. If you want, you can just scroll through and look at pictures and check out the bizarre statistic at the end.
Masanori, one of the marketing guys for the Lions, who speaks amazing English, had invited me to come see things behind the scenes a little at the stadium sometime -- perhaps as a further effort to have me stop calling it the Seibu Dump -- and so with the Fighters in town, I took the opportunity to see my favorite team a little more close up :)
It was also going to be
Lisa's
last baseball game in Japan before moving back to Canada. She came along as my "translator", which really meant "your perceived lack of language skill is no longer an excuse for being shy HA HA HA". Lisa is fearless and also fluent in Japanese and English. If you could combine my baseball brain and her social/speaking skills, you would probably have some sort of unstoppable creature. Baseblogtrix, Devourer of Worlds?
I arrived first, around 3:20pm for the 6pm game, and I was introduced to Taisei Takagi, who is one of the marketing/PR guys for the team. If that name sounds familiar to you, that is probably because he was an all-star first baseman for Seibu for ten years, out of Keio University. And I totally did not remember seeing him play, or anything about him, which made me feel TERRIBLE. Seriously. He was really nice about it though. (Can you imagine someone who played in the MLB for ten years in America being so forgiving of someone interested in baseball not knowing who they were?)
The guys ushered me down to the field almost immediately, and we sat down by the dugout and watched the end of Lions BP. To my credit I was, infact, able to name pretty much every [current] player that walked by -- even newer guys like Kurose and Gotoh. I suppose it helps that I saw them all in Chiba three weeks ago.
The stadium actually opened up at 3:30 that day as a "special service for fans" to see the Seibu batting practice. Apparently teams actually DO get a lot of claims or threats to sue them when fans get hit by baseballs during batting practice and the games, which is why they can't take down all of those silly obstructing fences everywhere. Lions BP (and Marines as well; I would guess maybe other teams too?) features TWO batting cages for the home team. Apparently that is REALLY REALLY dangerous because the fans can't watch both cages at once, so if anyone got hit by a BP home run ball they would sue the team. This seems very odd to me, of course.
As BP ended, the guys started walking off the field and Masanori said, "Hey, there's Bocachica-san, you wanted to talk to him?" and, I don't know where the courage came from, but yeah, I walked up to Hiram Bocachica and introduced myself and asked if I could possibly sit down and talk to him for a few minutes. He said sure, he'd be back in a minute or two after he put his warmup gear away. (I think the Lions guys were quietly giggling at how nervous I was about everything.) And so a few minutes later, sure enough, Bocachica came back out, and I got out my voice recorder, briefly explained who I am ("I'm a yakyuu blogger and I used to live in Seattle" sounds pretty lame, I admit), and chatted with him for about 5 minutes! (
You can read the interview here.
)
Afterwards I got them to take a photo of me with Hiram, and then Takagi got him to sign a baseball and gave it to me. Totally unexpected (kinda like my first time on the field at Chiba when I got a Bobby signed ball), but totally cool.
I got to go backstage behind the dugout and other stuff after that. We walked through the hallway behind everything, and I got to see the Control Room behind home plate, where they operate that lovely new scoreboard. It is apparently broken up into four parts that can be operated separately or together. During games they have one part for the lineup, one part for the overall score, and then the middle two parts for animations or replays.
Lisa arrived at the stadium just as we were walking out of the back hallway, so Masanori went to go get her, and Takagi took me up to see what the VIP restaurant area looks like. First, we got to walk up the "stairs of shame" as he called them -- when the Lions win a game they all walk up the upper set of stairs and high-five the fans, as a kind of fan service, to get to the clubhouse or whatever. When the team loses, they have to walk up this LOWER set of stairs, out of view from everyone, but it is still a BIG four-floor climb, not much fun at all, especially on a muggy summer day.
You take an elevator up to the VIP area, and it is basically a long row of... well, tables against a window, with these big plush benches. There's a really great view of everything, although it feels kind of far from the action. I was like "Is it really okay to sit down?" The airconditioning was on and it was actually really really nice in there, compared to the really hot humid weather outside. The only problem is, the Fighters were taking batting practice, so like the big dork I am, my eyes were GLUED to the field. Takagi must have thought I was completely crazy; they were offering for us to watch BP from a nice airconditioned comfortable chair and I was asking if I could go stand on the field in the heat!
Anyway, I did talk to him for a while, but I must have sounded like a complete idiot. "Oh, you played in the Tokyo Big 6 league? What college did you go to? Keio? You must be very smart... were you there at the same time as Yoshinobu? Oh, you are his sempai? Oh, also same high school as Yoshinobu? Toin Gakuen? Ahhh.. Toin... I know Osaka Toin... ohh... yeah, that is different, right? Ummm..."
I asked whether Seibu Dome was better than Seibu Kyujo, and he said definitely the old Seibu Kyujo... such nice trees everywhere, plus fireworks at night, and so on.
We went down to the concourse and met up with the others. Lisa and I got a picture taken with Takagi-san: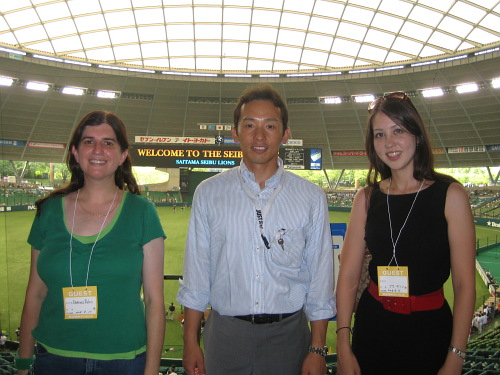 Then we went down to the field for Fighters batting practice! I was both really EXCITED and really SCARED TO DEATH to be standing ON THE FIELD with the Fighters all around!
So for lack of anything better to do, I took out my camera and started snapping photos. I mean, there was Tsuruoka! And Inada! And Imanari! Right there! Wearing high socks!
Lisa chatted with Takagi, since she's fluent in Japanese and can hold better conversations than me, and I chatted with Masanori, since he's fluent in English and can talk about the Philadelphia Phillies.
Eventually Micheal Nakamura came out to stretch and I don't know what possessed me exactly, but I walked up to him and introduced myself and asked if I could chat with him sometime. I probably did an extremely poor job of speaking because I was so nervous, but he said he'd come back after working out. Amazingly, he DID, and so he talked to me and Lisa for a while. I think Lisa was really delighted to meet a half-Japanese player who was half-whiteboy (as opposed to Darvish or Dass, or some of the Korean-descended players, etc), so they talked about being "half" for a while. I asked him directly why his name is spelled the way it is, and he said his dad did it to be different, and apparently it can be a pain a lot of the time with people mispelling it. He was born in Japan and did grow up in Australia, but he left when he was 18 to go to America for college and pro ball, and then ended up in Japan, so he barely goes back to Australia anymore, it seems.
We both asked him to let us take pictures with him. Here's me:
And I naturally have a bazillion questions to ask him someday. He asked me for a meishi so he could see my blog sometime, so for all I know he's already visited here and is going to run away screaming next time I see him. Who knows.
Makoto Kaneko came over and talked to Takagi for a while. I tried not to freak out. After he finished talking to Takagi and walked past me, I said ganbatte to him and nodded. He smiled and nodded back to me and said something of acknowledging! Wow! Kaneko is one of the only players left from my original time watching the Fighters, and has always been one of my favorites.
We had been keeping tabs on Hichori as he did fielding practice and batting practice and whatnot, and we saw him head to the dugout and a few reporters crowded him, so Lisa was like "Come on! It's your chance!!"
In the end, I was too nervous to say anything at all, so after people talked to Hichori for a bit and we were standing on the sidelines in the dugout, Lisa grabbed my arm and dragged me over and basically said to him in Japanese, "Excuse me, Mr. Hichori, but my friend is your BIGGEST FOREIGN FAN EVER and she's too shy to ask, will you pose for a picture with her?" I was so embarrassed, and completely starstruck and unable to say anything. But he smiled and laughed and was like "Really? Sure, of course!" So...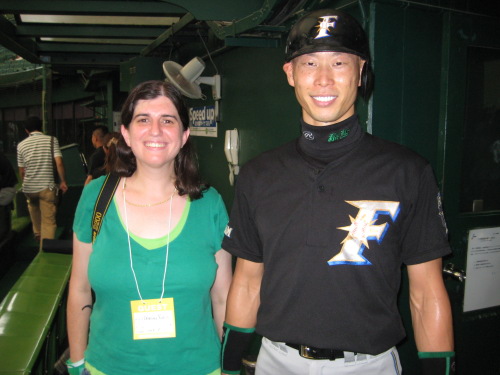 Good thing I was wearing green :)
(I have a feeling that if/when certain Fighters fan friends of mine see this they will totally freak out and I will have to figure out how to explain it all in Japanese.)
Anyway, I was kind of embarrassed and so I mostly just hung out after that. Took more pictures. Saw Jason Botts go by; couldn't decide how/what to say anything to him, especially because I was still feeling kind of guilty about the Botts cheer from the night before. Saw Ryan Glynn go by; waved and said a hello and good luck, but that was it. Sweeney was in the outfield the whole time I was there, so I didn't get to say hi.
Some of the younger guys (read: Imanari and Yoh) were in the dugout being goofy while the loudspeakers played the "Let's Go To The Stadium" song, they were waving their hands and dancing, it was really cute.
It should be noted that there were NO foreign press there, which was a little bit odd. In Chiba, there's almost always SOMEONE there covering things, which I guess makes more sense since Bobby is a popular subject for foreign fans to read about in English. BUT, this was the game that had the potential to be Seibu's FOUR THOUSANDTH FRANCHISE WIN. Why was nobody there? It didn't make any sense at all to me; there were NO other baseball games going on in the Kanto region; these Seibu guys are running away with the Pacific League title, the Fighters are the reigning PL champs and fighting for the playoff race, and such an important milestone? Maybe they were hiding in the press box...
Batting practice ended and we pretty much got dragged off the field. On the way up the stairs to the stands, we saw some American-looking guys sitting in the stands with clipboards and stuff. Lisa asks, "Are they writers?" and I'm like "No... those are scouts." "Who are they scouting?" "I... don't... know..."
We said goodbye to our excellent Lions hosts, and went to find our seats for the game.
On that note, here are some of the photos I took on the field. Keep in mind it was mostly an experiment with shooting at ISO 800 due to the lighting -- even when the sun is out in full force, the stadium is still fairly dark: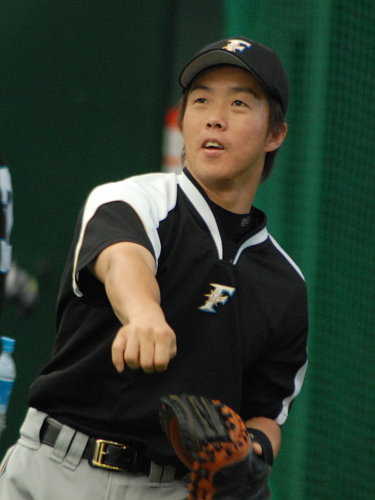 Catcher Shinya Tsuruoka.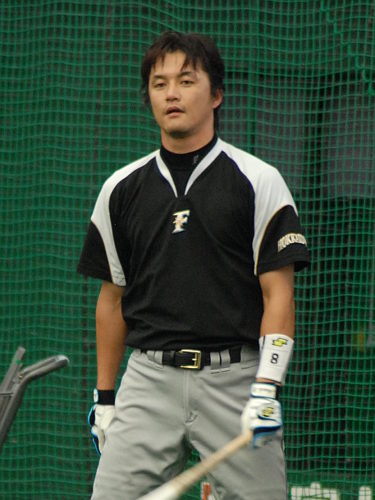 Shortstop Makoto Kaneko.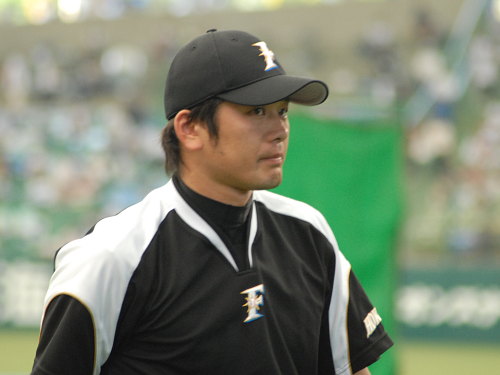 Naoto Inada.



Hichori in the dugout, a bit before we approached him.



Ryota Imanari defies gravity and wears high socks!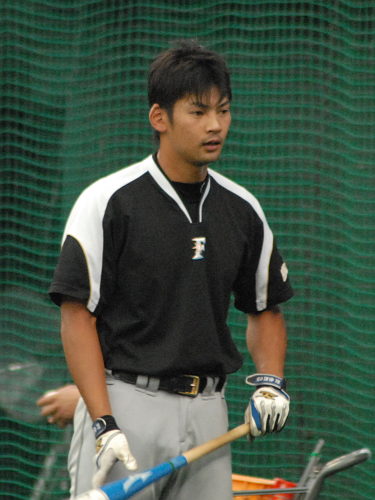 Atsushi Ugumori.



Toshimasa Konta, having an extremely bad hair day one day before his birthday.



Kazuhito Tadano walked past us too.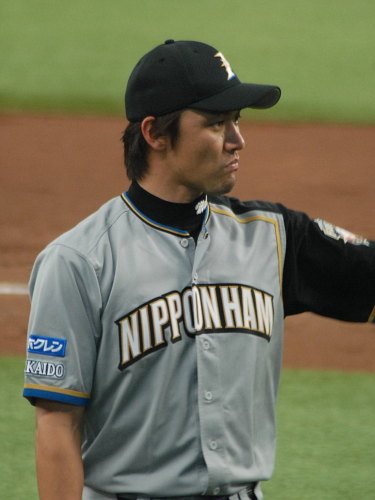 Kaneko in uniform.
We hunted down food. Lisa really wanted a player bento, but the bento stand behind the 3rd base infield only had generic bento boxes, not even the GG Homerun one or the Kataoka Steal one. I personally really wanted KFC for some reason, so we ended up both getting KFC katsu sandwich comboes. I felt a little bad that it was Lisa's last day in Japan and she was eating freaking KENTUCKY FRIED CHICKEN for dinner, but I guess that's how things go sometimes.
After all of that excitement, we got to see a baseball game, too. Masaru Takeda was starting for the Fighters, and Takayuki Kishi for the Lions. As we watched the game start, Lisa told me about many interesting things she learned talking to Takagi, including that one of the Fighters BP pitchers had been a player whose career was ended by leukemia, of all things.
The Fighters kinda threatened in the top of the first, when Takahito Kudoh walked and then stole second base; Koyano singled to right and Kudoh tried to score, but he was thrown out by about 20 feet.
In the bottom of the 2nd, Taketoshi Gotoh led off with a single and then, probably because we were making fun of him, Takeya "Okawari-kun" Nakamura blasted a home run out to center; Hichori climbed the back wall screen but to no avail.
2-0
. Tomoaki "I'm not G.G." Satoh singled right after that, and Hosokawa bunted him to second. He stole third (Shinji Takahashi dropped the ball anyway) and then scored on a squeeze bunt by Haruki Kurose.
3-0
.
(Side note: Before the game, I pretty much told my Seibu hosts that there would DEFINITELY be at least one Seibu home run, because I had never come to the Dome and not seen a Seibu home run. What I didn't realize was, not only that, I have NEVER come to the Dome and SEEN THE LIONS LOSE. Ever. Period. It's only a small sample size of 8 games or so over 3 seasons, but STILL.)
The Fighters tried again in the bottom of the 3rd; Makoto Kaneko led off with a single to short. Hichori was up two batters later and so they had a hit-and-run going when Hichori doubled to right. Kaneko was already off on the pitch, so he had no trouble getting to third on the play, but the coach waved him in, and in all honesty he beat the throw home by a hair but Toru Freaking Hosokawa was BLOCKING THE PLATE and so NATURALLY when Kaneko slid in he didn't have a shot at it; after the initial collision Kaneko grabbed for the plate and Hosokawa slapped him with a glove, and the umpire called Kaneko out. There was a brief "medical pause" while a bunch of trainers came out to take a look at Hosokawa's leg, and all I could think was, "Dude, if you didn't BLOCK THE DAMN PLATE you wouldn't have these problems with GUYS SLIDING INTO YOUR LEG."
We enjoyed the first 4 innings from our lovely seats 11 rows behind the Fighters dugout (thanks, Lions guys!!), but Lisa had to leave around 7:45pm in order to go home and finish packing for her sojourn across the Pacific. She wanted to yell and cheer in the outfield one last time, so we packed up our stuff and moved out.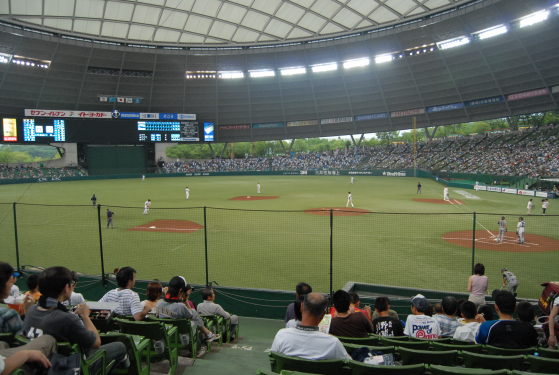 The view we had of the game.



Masaru Takeda!
We got to the outfield stands towards the middle of the 5th; stood in back of the section singing for Kaneko and Naoto's at-bats, and one of the guys (who I recognized from several games, he always has a scorecard) saw us and was like "you guys wanna sit down? there's space over there", and pointed to a space on the bench up a few rows.
So we did.
And then Scorecard Guy realized that I ALSO HAD A SCORECARD, and nearly blew a gasket. "Look at this!!" he was telling the others around him, "this crazy gaijin girl ALSO keeps a scorecard AND she can WRITE KANJI!!!"
And then some of the other people were like "HEY WAIT A MINUTE. I've seen you before. You were in Sendai cheering for the Fighters last weekend too, weren't you?"
I admitted I was. "I saw you guys too! And in Fukuoka two weeks ago!"
"YOU WERE IN FUKUOKA TOO??"
Anyway, Lisa stayed for the top of the 6th, and we cheered for Hichori, and Kudoh, and Kensuke, and Koyano... and she had to leave to catch a train back to civilization after that. "I think you'll have no trouble making some new friends here," she said before leaving me alone in the outfield.
The only problem is, both teams had decent pitching and there were a lot of strikeouts and not so much in terms of runners on base or other things to cheer for or boo or whatever. Kensuke Tanaka did lead off the 9th with a single, and then the next three batters struck out. To our credit, rather than doing the "Jason Botts Hits A Foul" music from Sunday night, we continued with the Chitty Chitty Bang Bang Kanto-only chance music, started during Eiichi Koyano's at-bat:

Ganbare bokura no Fighters, kimero hayaku!
Utte utte Jason! Ima da chance da Jason!
Well, anyway, Alex Graman struck out three guys in a row to end that 9th inning with Kensuke still standing on first base.
The final score was 3-0
, and it was the Lions' 4000th win as a franchise.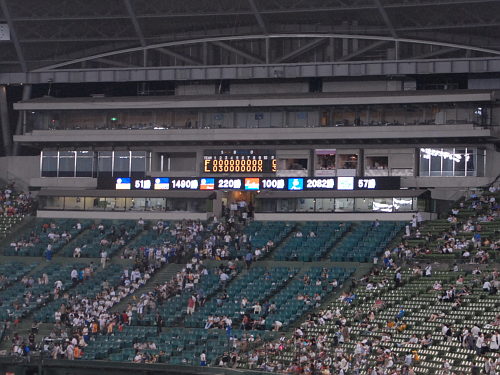 Infield board displaying the franchise 4000 wins broken down into Nishitetsu Clippers, Nishitetsu Lions, Taiheiyo Club Lions, Crown Lighter Lions, Seibu Lions, and Saitama Seibu Lions.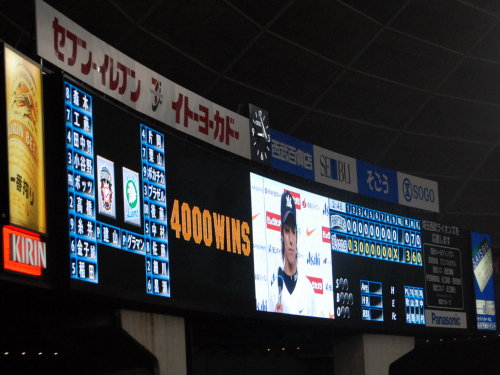 Game hero Takayuki Kishi, along with the big "4000 Wins" sign.
There were some history movies showing on the screen after the game, but I actually didn't really watch any of them at all. See, I had been talking to a group of guys for an inning or so -- after, for some reason I forget, the one guy made a "Kurose, korose!!" ("I'll kill you Kurose!" -- much funnier in Japanese) joke. So we were talking about random Fighters stuff. I asked where I could get one of the Hokkaido jerseys and he even offered me his jersey on to get an idea of size (which totally surprised me, given how most Japanese people have this attitude of "gaijin are too disgusting to even sit next to on the train", here's someone actually letting me WEAR THEIR CLOTHES, hence contaminating it for all eternity with my foreign-ness) and showed me where I could order it online on the Fighters keitai site. Super-nice guy. His friends and I talked about Yakiniku Erika and about last year's Fighters postseason and various other stuff. It was great.
Anyway, in what is probably one of the Weirdest Baseball Coincidences Ever, he was looking through my scorecard book and was like "Wait, you also write these at Kamagaya? And you were there on May 12?" He pointed to the date.
"Yeah, that was my first game there actually."
"I think that's the day I threw out the ceremonial first pitch!"
"You WHAT?"
"Yeah, I won a fan janken contest and got to throw out the pitch... I threw an overhand curve! Did you see?"
"I definitely saw, I probably even took a photo of you! Are you sure that's the right game?"
[looks through scorecard] "Definitely... Kikuchi-pitcher started.. Nakata-kun was playing, and Jones-player... the Fighters lost... I remember all of this!"
"Well, I am going to look through my photos when I get home and if I find you I will send it to you. Can we trade emails?"
So we traded email addresses and parted with a "see you next week at the Tokyo Dome in the outfield bleachers!"
(Sure enough, I looked through my photos the next day and I had one of him standing on the mound at Kamagaya. I nearly fell off my chair when I saw that. What are the CHANCES of going to my first Fighters minor league game on the day a fan throws out the ceremonial first pitch and then SITTING NEXT TO HIM IN THE BLEACHERS 3 MONTHS LATER IN TOKOROZAWA??)
I exited the stadium -- they gave us all "Seibu Lions 4000 Wins" postcards on the way out -- and go figure, the first people I see outside the gate are Scorecard Man and his friends. So I walked to the train with one of them, and then slowly our car acquired about ten more Fighters fans from their gang in the stands. There were these three guys who looked familiar that I hadn't seen in the stands, too, so I asked when we transferred at Nishi-Tokorozawa, and it turns out they were the guys who asked me and Lisa to pose for a picture with them at the Tokyo Dome last month. Go figure. Second bizarre coincidence of the day I guess.
I rode back to Ikebukuro with two other guys and didn't even notice how bloody long the stupid ride was because we spent the entire time talking about baseball and Olympics and Fighters and stuff.
I'm completely psyched for the Tokyo Dome Fighters-Marines game on Tuesday; I'm taking a day off work to go, and should get to see lots of Fighters friends new and old! Now I just have to hope they actually win the game :(
By the way, in case you are wondering, the subject of this post is NOT a joke. It was seriously the 4000th win for the Lions franchise, and it was SERIOUSLY the 4200th loss for the Fighters franchise -- I looked it up
on Yahoo
, the team had 3723 wins and 4151 losses through 2007, and their 2008 won/loss record after this game was 52 wins and 49 losses.
I guess that's the THIRD Big Weird Baseball Coincidence of the day, huh?