Oh god, I don't even know where to start when talking about this game. The first-place Seibu Lions, who have hit 141 home runs this year compared to the 53 hit by the second-place Nippon Ham Fighters, added four more tonight to their total as the Lions
devoured Kazuhito Tadano and the Fighters by a score of 11-2
.
Well, I know one place I could start: I have to thank a super-kind person who works for the Lions and left me a ticket for today's game, despite knowing that I'm a Fighters fan. The Lions organization seems to be filled with great people; it's just a shame they're a mortal enemy of my favorite team.
That said, I got to the game around 4pm and immediately ran into a bunch of Fighters fans I know, including some who had come down from Sendai and some from Sapporo. Pretty crazy. So I sat with them in the outfield benches, because it seemed like a lot more fun than being by myself in the infield.
And, since the Fighters BP wasn't quite over yet, I saw Brian Sweeney and Ryan Glynn standing down on the field... so I ran down and yelled hi, and Brian came over and said hi again! He's such a nice guy! Anyway, the Sweeney fans from San Diego who sent me email after my last entry will be happy to know that I told Brian you say hi, and he remembered you and he ALSO has no clue how you can send fan mail to the Fighters, and I don't know either, so I'm really sorry. Sadly I asked him when he was pitching and he said, with a grin, "Asatte", which is the Japanese word for "the day after tomorrow". And, of course, that means I'll miss him by one day yet again. Doh!
(Though, to be fair, I guess I kinda knew that the Darvish-less Olympic-period rotation right now is Tadano-Masaru-Sweeney-etc.)
Well, anyway, I settled in with the gang in right field. I do want to note one thing though: you know how sometimes you go to these games and some people have saved big sections of seats and you wonder whether they really need all those seats, and it's kind of annoying? Well, today was like that, except I was on the other side of it... we saved seats for a bunch of people, and then a bunch of them didn't come (I think one person said "well, Yohei [Kaneko] and [Kazunori] Yamamoto are still at ni-gun so I don't feel like coming to see the top team", and then it turned out Yohei got injured today anyway, so the gang of people coming from the ni-gun game got delayed anyway investigating that). But I felt bad because people wanted to sit in these seats, and we were saving them for no reason in the end.
Oh yeah, and I got the story on why Kamagaya Ojisan and his friend wear Shimazaki #73 jerseys -- it's because they're actually old friends of Shimazaki's and he GAVE them his real game-used jerseys. COOL.
I had made two new signs for this game -- one for
my ni-gun boyfriend
Ryota Imanari, a purple background in my book with 今成 in black with silver glitter, and a 3-paper folding banner blue-on-white 多田野 for Tadano. Kamagaya Ojisan's last name is Tada (多田), so when the group was doing the "ganbare ganbare Tadano!!!" thing, we were joking like "TADA! NO! TADA! NO!" and folding the third kanji back and forth so it spelled Tada and then Tadano. This was funny for about 3 innings.
The Fighters didn't really put up much of a struggle against Lions lefty starter Kazuyuki Hoashi, which isn't that surprising when you realize that Hoashi has been one of the best pitchers in the country this year. In the first 6 innings they basically managed 3 baserunners, on two walks and a single. (Infact, when Koyano singled in the 4th, I was like "oh, there goes the no-hitter.")
But the Lions, on the other hand, started their offense quickly and kept it going.
Tadano had handled the first five batters he faced pretty well -- if you count a few huge towering foul balls that were luckily not homers well -- and then Takeya "Okawari-kun" Nakamura singled to left, and then Yoshihito Ishii doubled to center, the ball rolling to the wall, and the cutoff relay throw going totally wide of the plate as Okawari-kun waddled in.
1-0
. Toru Hosokawa, my arch-nemesis, singled to left as well, and only a lightning throw from Koyano kept Ishii at third as Haruki Kurose grounded out to end the inning.
In the bottom of the 3rd, Takumi Kuriyama hit a somewhat unbelievable homerun to left which basically bounced in the 4th row of seats just on the fair side of the pole, it was in infield unreserved seating. At least it was solo.
2-0
. Hiram Bocachica doubled to left after that, the ball taking a bizarre curving path past leftfielder Koyano.
Craig Brazell came up to bat after that, and Tadano got up to 2-2 count on him, before rearing back and unleashing a DREADED TADANO EEPHUS PITCH! Sadly, it pretty much bounced like 5 feet in front of the plate, rather than actually hitting the strike zone as I believe he does most of the time with them. So despite being all grumpy, we all laughed and applauded. The next pitch was a normal fastball and Brazell struck out on it, so I guess mission accomplished?
(Something great: Yahoo Sports lists the eephus pitch, inbetween normal fastballs and forks and whatnot, as "特殊球", which is "tokushukyuu", or, well, "special/unique pitch". I don't think they HAVE "eephus" in their classification system :)
Chon-so Yoh made a nice play after that to end the inning, and the Lions also managed to not do anything in their half of the fourth. It was around this time that the people around me started playing the "what will the gaijin eat" game, which is always kind of fun for me because I like when people give me food. It started early on with these dried salmon chips, and then in the fourth inning, Other-Ojisan brought back dango and was like "here! try this, can you eat these?" and so I ate some. I dunno what was in them, but they weren't half bad, kind of sweet really. Then before the 5th inning, Kamagaya Ojisan offered me some goma-sembei, which is basically sesame-flavored rice crackers. A bit strong, but not bad either. Then Keiji came down halfway through the bottom of the 5th to offer me a... I don't know how to describe it, but it was basically a whole cherry (including pit) surrounded by Jello inside a small wrapper. Really good, but the cherry pit surprised me. He said it was omiyage from Yamagata.
Yeah, so, that bottom of the 5th, food aside, was pretty lousy. It started off with the aforementioned Haruki Kurose taking the first pitch of the inning half and launching it into the Lions cheering section for his first ever professional home run.
3-0
. Kataoka grounded to short after that and Kaneko dropped the ball but recovered it in time for the out. Then, Kuriyama doubled to center. And Bocachica walked. AND BRAZELL WALKED. So the bases were loaded with one out, and I got this sinking feeling in my stomach. I don't know HOW many Lions grand slams I have seen in the 5th inning of games, but it is an awful lot, I know that much. Amazingly, Gotoh popped a high popup in the infield caught by Kensuke Tanaka (probably out on the infield fly rule anyway).
And then Okawari-kun launched the grand slam, a biiiiiiiiiiiiig towering pop fly which really should have been too damn high but instead landed in the front of the Fighters cheering section.
7-0
.
Tadano got himself out of the inning, but that was it for him. Poor guy. Yataro Sakamoto took the mound for the Fighters in the bottom of the 6th.. and succeeded in giving up another run. Kataoka had a one-out double and was caught in what I wrote down as a 7-6-2-5-1 rundown after a Kuriyama single, and then Hiram Bocachica doubled to left -- almost a home run, Koyano hit the fence as well as the ball, scoring Kuriyama to make it
8-0
.
Sigh.
Both of the Ojisan decided to pack up and leave at that point, because Kamagaya is far away and it's no fun watching your team get slaughtered. They offered me a bunch of their extra snack food, which I politely declined.
A bunch of people in the section moved up a few rows, abandoning the seat-saving stuff, finally. I ended up in the front row sitting with a group of ladies who had come down from Sapporo. Before you ask: two Konta fans, one Iiyama. This is relevant because for the beginning of the Lucky 7 inning, I was going to hold up my Tadano sign, then realized they had Konta signs, so held up my Konta sign instead as a show of unity.
And Kensuke Tanaka led off the Lucky 7 with a double to center!
Hoashi knocked down Eiichi Koyano after that, hit him with a pitch, which was unhappy. Takahito Kudoh came in to pinch-run for him... and then Shinji Takahashi grounded to second, where Kataoka stepped on the bag for the forceout on Kudoh, then threw to first for a double play on Shinji. Grrr. The good part is, this made it possible for Makoto Kaneko, batting 6th for a change, to actually get a hit and drive in the first Fighters run of the game! Whee!
8-1
!
Botts grounded out, and that kind of sets the stage for what happened next.
While the Lions were busy scoring lots more runs (2 off Kanamori in the 7th including a Gotoh home run, one off Itoh in the 8th, brought the score to
11-1
), and the scoreboard operators were having a nightmare keeping up with all the changes, the Fighters ouendan were hard at work thinking of a way to vent their frustrations at the game.
Well, first, I should explain that I had actually hoped to get a video of Jason Botts's ouenka since the words/tune aren't really online much since he was a mid-season signing; I've been trying to get videos of random foreign player ouenka all year. But, early on in the game, all I could get was this, of the JA-SON BOT-TSU call, which has superceded the normal E-I-I-CHI call:
Well... to be perfectly honest, I don't know if the reason they weren't doing his cheer song through the game was because the opportunity didn't arise, or because they were too busy yelling "HOME RUN HOME RUN JASON", or what, but after an entire game of him striking out and/or hitting these gigantic towering shots to the wrong side of the foul pole, combined with the general frustration of getting mauled by the Lions, plus I guess people are sad seeing the Lions' foreign batters being amazing while the Fighters' ones kind of struggle... anyway, at the start of the bottom of the 8th, we see the ouendan leaders start coming around with a big cardboard and talking to various groups of people. They got to us and explained what was going on: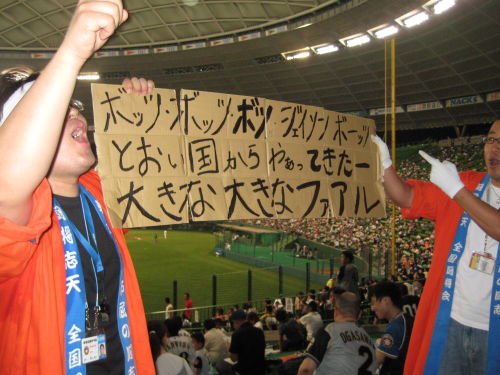 "This is the new Jason Botts ouenka," they told us. "It is for the Seibu Dome only... for now, anyway... we just made it up... we think it will be fun. It's to the tune of the song from Gake no Ue no Ponyo."
(For reference, Ponyo is the
new Studio Ghibli film
, and the theme song from it has been playing EVERYWHERE in Japan recently, and it is a very stick-in-your-head sort of tune. I suppose it is vaguely baseball-related because Kazushige Nagashima is one of the voice actors in it?)
Well, uh, if you look at the words to the ouenka, they are:
ボッツ ボッツ ボッツ ジェソン ボッツ
とおい国から やってきたー
ボッツ ボッツ ボッツ ジェソン ボッツ
大きな 大きな ファアル
Or, "Botts, Botts, Botts, Jason Botts, he came from a faraway country. Botts, Botts, Botts, Jason Botts, HITS A BIG, BIG... FOUL BALL."
I would normally feel really bad about something like this, but it's so totally out there that it's really FUNNY to me instead.

Here they are teaching the ouenka to a group of people. Note the guy says at the end, "If he hits a home run, we'll substitute that instead of 'Foul', okay?"
Well, they taught it to us, but the due up batters in the ninth inning were Kensuke, Kudoh, and Shinji (and Imanari after that), so it wasn't looking particularly likely that it'd get down to Botts. But then Kensuke led off with another double (!) and Kudoh grounded out, moving Kensuke to third. Tomoyuki Oda pinch-hit for Shinji Takahashi, and grounded out before we could even start his ouenka, but at least that scored Kensuke.
11-2
. Ryota Imanari came up to the plate with two outs and nobody on.
I held up my Imanari sign, while we did a cheer of "Utte! Utte! Imanari!" over and over again. During the Imanari call, half of us yelled "Ryota!" and the other half yelled "Imanari!" He seems popular, which is good, I think he's a great kid. And Imanari walked!
So, Jason Botts had a final at-bat of the game, and the ouendan leaders wasted NO time, the minute he was at the plate they were like "Okay guys, it's time for the new Ponyo ouenka! BOTTSU BOTTSU BOTTSU JASON BOTTS!!"
Botts struck out to end the game.
I don't know, Fighters fans are overall usually pretty positive people, and it's rare for them to be dissing one of their own players (unlike certain other fanbases I could name), but it does happen sometimes I suppose. I really, really hate to be part of something that rips a foreign player, but
1) it's kinda funny and
2) he HAS been striking out a lot :(
I think people want him to do well, but they are also really quick to yell at gaijin who get off to a slow start here, basically. It's kind of the nature of the country; I've been living here over a year now and I'm still struck every day by the stereotypes and prejudices people have here.
Anyway, whatever. This game sucked. On to tomorrow, where Masaru Takeda takes on Takayuki Kishi. I'll be there too. I hope it goes better.