The Fighters, behind starter Kazuhito Tadano,
lost 11-4 to the Eagles
on a muggy Sunday night in Sendai, but I was too busy yelling and singing to notice. Really.
I took a train up to Sendai in the mid-afternoon, arriving in the city around 3:30pm and at the stadium around 4. I walked around outside a bit, since I hadn't been there in two years, and checked out the current attractions outside the stadium:

Kleenex Stadium Miyagi -- yes, that is really the new name of the Stadium Formerly Known as Fullcast.



Frontier Station, and dancers with some crazy new cowboy mascot they have there now. (Seriously, I dunno, though there's a little on the official site.)



Naturally, you can also see a ton of women in Rakuten yukatas. I suppose this counts as a summer fireworks festival, after all...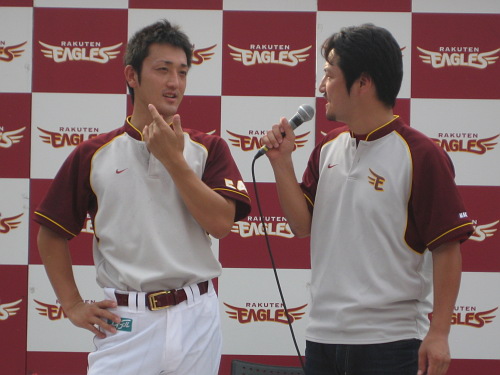 Hisashi Kitani was outside doing a short talkshow. He would end up being the final pitcher in the evening's game.



Dear Ma-kun: I hate to break it to you, but Iwakuma's stuff is better than yours.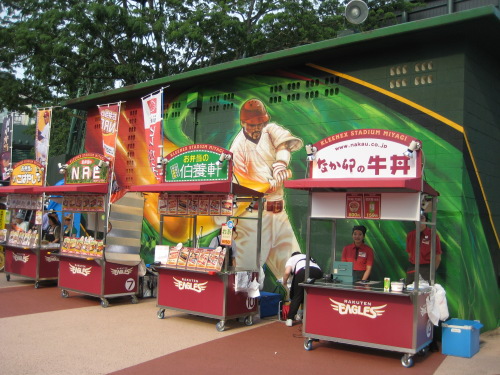 This was a really cool-looking mural, obscured by food carts.

I went into the stadium, and found my seat. I had bought an outfield RESERVED ticket for once. More on why that was a bad call in a little while. The good part about it was that I was allowed to go down to the centerfield wall and hang out with the other Fighters fans who were stalking the pitchers working out in the outfield hoping for autographs. Me, I was not hoping for autographs, I was hoping to annoy Fighters pitcher Brian Sweeney again. I mean, I said in Fukuoka that I was stalking the team around the country, so I had to make good on my claim, right?
And sure enough, he came out and we chatted for a while! He's a super-nice guy, really funny, good pitcher too, of course. I yelled hello and he recognized me and came over to say hi, and seemed impressed that I really came up to Sendai. He said that the bullpens in Sendai were actually pretty stuffy, so it was nicer to come outside and run around despite the heat. Also, he said he hates country music (which was blaring over the loudspeaker), being from New York and all.
I apologized for not really writing about him more on this blog, but somehow I almost never see him pitch. Seems like I always miss him by a day or so, and see Glynn or Fujii or Tadano instead. (Though since coming home I have realized that I did see one Sweeney start this year -- that May 5 game at Seibu with the Toru Hosokawa grand slam that I blocked out of my memory.) Ryan Glynn was also out there on the field running around with his son (a lot of people were like "wow! look at that blonde boy!"), but I'm afraid to talk to him for some reason. Not sure why exactly. I'll work on it.
After running around a bit and playing with the exercise ball and all, Brian came back and signed stuff for some people. He asked me if I was really fluent in Japanese, and I said "I suck at speaking, but I have decent listening, and by the way, everyone is saying what a totally nice guy you are." Which was true; after I talked to him the first time, people were like "I wish I could talk to him in English too! He seems like such a nice guy!" He said he's studying Japanese, "but it's muzukashii". Hehe. At least he has lots of conversation partners -- a whole team of them! I think it's awesome that he's making an effort to learn! It seems like he has a really good attitude for playing in Japan, which is great. I also recommended he talk to Bobby Valentine about it since Bobby's the Kanji Master.
(A Japanese guy offered me an autograph board to get signed but I just got my ticket signed, which I even told Brian -- "they all think I'm a crazy American because I'd rather get my ticket signed than a board.")
The family standing next to me, their little boy's name is Naoki and he even has a "Naoki #25" Fighters jersey so they had been yelling over to Naoki Miyanishi for a while to come over and sign it, and finally at the end of practice he did. They explained to him about the name, and were happy to meet him, but the little boy was SO shy, he was just like "umm... hi..." It was really cute.

Hisashi Takeda and the exercise ball.



The vast expanse of field (I guess this is kinda what Hichori sees.)



Brian Sweeney! I asked him to smile for a picture and he did.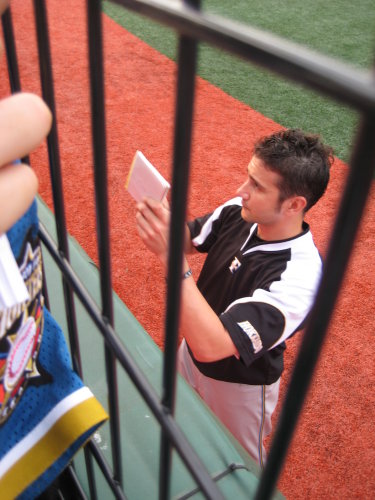 Sweeney signs stuff for people through the outfield fence.



Naoki meets Naoki.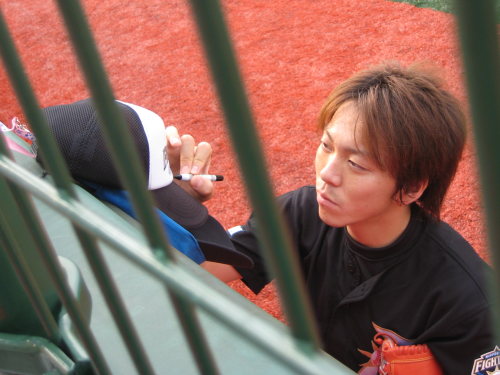 Miyanishi signs some more stuff.

After that I went to my seat. As I said, I had bought an outfield reserved ticket, mostly because I worried about the small capacity at the Kleenex Box. Outfield reserved is in front of outfield unreserved, and as it turns out, even on the Fighters side, is pretty much full of Rakuten fans, and I was surrounded. There WERE Fighters fans in the section, but they were few and far between, and not really the cheering sort from what I could tell. Also, trumpets are banned at Kleenex Stadium, so it's actually pretty difficult to cheer or hear the cheering people from the front half seats.
So after the ouendan did the lineup and I could barely hear anyone, I went up to find a seat back in unreserved. And well, as I was looking for a seat, I see this old guy waving at me and he's like "HEY! IT'S THE TOKYO DOME AND KAMAGAYA CRAZY GAIJIN GIRL!" And I'm like "HEY! IT'S THE TOKYO DOME AND KAMAGAYA CRAZY OLD MAN!" He invited me to come sit with this big group of Fighters fans, the Sendai gang called "Michinoku Fighters". Michinoku is apparently an alternate name for the Tohoku region, dating back to before the Meiji era, so I learned something new. Anyway, these guys were crazy but very cool, and Kamagaya Ojisan is REALLY the nickname for the old man (I sent Hiromi an email like "Dude, I found Tada-san" and she's like "oh, we just all call him Kamagaya Ojisan, you should too"). He even told me that he has his own popular Fighters blog on Ameblo called
鎌ヶ谷おじさん
. Go figure. I think I accidentally called him Oyaji-san though, I hope that wasn't too big a mistake on my part :(
The Michinoku Fighters gang were really cool too. There's one guy who is kind of their "boss", and he sits front and aisle, across from the official ouendan. Then everyone else just kind of takes the first 2-3 rows, along with whoever else they pick up. One lady had a Koyano jersey and gave out copies of the Fighters Press magazines, and another girl is named Yuu, like Darvish, and she also went to Tohoku HS, and that's how she became a Fighters fan. Almost all of the people in the group had player wristbands that were actually given to them by actual ni-gun Fighters players -- I was really jealous of the girl with Imanari's wristbands :)

Sitting up front with the ouendan.



Michinoku Fighters.

As usual, there is ALWAYS something new to learn from a new regional cheering group. As the Fighters ouendan have special Sapporo-only cheers, and special Kanto-only cheers, and even special Tokyo-Dome-Only cheers, there are, naturally, Sendai-only cheers as well. Notably that they yell "ナイスバッティング! ナイスバッティング!もう一つおまけに ナイスバッティング!" after all hits and before "Oi Hokkaido" after a run scores. And before the game they were teaching chance songs, and they had a REALLY funny song to the tune of Ten Little Indians, only it went, in Japanese, "First guy, second guy, third guy, strikeout, fourth guy fifth guy sixth guy, strikeout" etc, ending in "ganbare [pitcher], ganbare [catcher]".

The strikeout song.
So, I yelled a lot with everyone for 3-4 hours and the Fighters lost anyway. That was sad. I had a good time, but it's a shame, especially Tadano losing. I also didn't keep a scorecard for a change, because I decided I wanted to just cheer and enjoy the game and hang out with the people around me. As a result, to be perfectly honest, I don't entirely remember everything that happened in the game.
I remember the Fighters going up 3-0 in the first two innings, especially when Itoi hit his triple, because he had made an absolutely fantastic catch in the bottom of the first and we were joking about how we'd have to start doing an "Itoi Jump" for him in Inaba's absence. And since that day was Inaba's birthday, many of us were lamenting that he wasn't there for us to sing to him.
But then the Eagles tied it up 3-3 in the bottom of the second on a home run by Teppei, which I also remember (we were joking "The Kensuke call is cooler than the Teppei call!!" before that).
But then the Eagles went ahead 4-3... then 5-3... then 6-3... and I went to go get some food, and by the time I got back to my seat, Tadano was out of the game. (Note: the bathrooms are INCREDIBLE in the outfield at the Kleenex Box, but finding food, maybe I made the mistake of waiting at the gyu-tan (cow tongue) place, and the food I got wasn't even that great (it was supposed to be gyu-tan yakisoba and there was barely ANY meat in it).
I knew there was supposed to be fireworks but I didn't know when, so I was also worried about missing them. They were in the middle of the 6th inning, IIRC, and unlike most other stadiums, they were shot over the home plate side of the stadium rather than the outfield side. Not entirely sure why. Seems to me like you're supposed to give the better fireworks view to the people sitting in the more expensive seats, although there might be something about the grounds outside the stadium that make it undesirable to set off fireworks near the outfield area.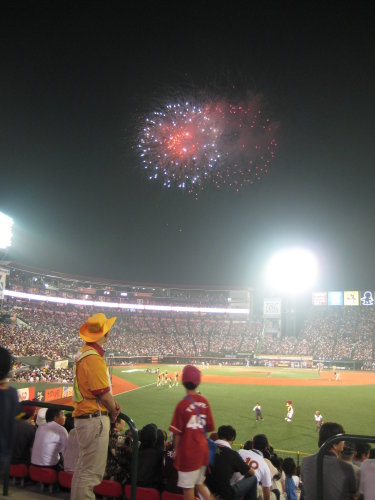 Fireworks at Kleenex Miyagi Stadium.
The Fighters did add a run in the 8th, after Ugumori doubled and Kensuke singled him in (and Kamagaya Ojisan has a
5-minute video
of that part of the game, you can even see me and my Kensuke hand in front of him), but other than that it was all Eagles teeing off on Fighters batters. Takasu had that homer off of Tadano, and then later on TAKESHI SMASH added another homer in the 7th, and Rick Short added one in the 8th, and the Eagles eventually won 11-4.
I didn't even notice it, but I apparently saw Little Kensuke Uchimura's ichi-gun debut with Rakuten. He came in as a pinch-runner for Jose Fernandez and even got a single right before Rick Short's homerun. I've watched him at ni-gun quite a bit, and his primary distinguishing feature is the fact that he's like 5'3 or so. He was drafted as a taxi squad guy out of the Hokushinetsu league champion Ishikawa Million Stars last year, so it's nice to see him make it to the show, as it were. And I just realized he is now wearing #98 instead of #121.
The game was REALLY fast -- it was over a little after 9pm -- and I had a ticket for a midnight bus back to Tokyo. But, as it turned out, so did Kamagaya Ojisan, so he invited a whole bunch of people to go hang out at an izakaya near Sendai station, so I went off with him and a lady named Tomomi, and we walked halfway there and took a taxi for the rest. I didn't know it at the time, but Ojisan is like 70 years old. I thought he was around 50. He looks about the same age as Nashida-kantoku.
It was probably a little weird to have one old guy and 7 younger women at an izakaya, but that's what it came down to once everyone arrived. The weirdest part was that not everyone knew each other beforehand, so it wasn't just me asking names and all. One lady was a huge Hichori fan and came down from Sapporo. Another was a gigantic Kensuke Tanaka fan (and also Masaru Takeda). Then another, a little older, was a big Nakajima fan. ("SATOSHI Nakajima?!?!" I said, surprised.) And so on. See, when you get a big group of female Fighters fans together, what inevitably happens is that we all go on about who our favorite player is, and why we love them, and then we all talk about how great everyone else's favorite players are. It's kind of fun.
I claimed Hichori and Imanari as my favorites, explaining that I live in Saitama. ("You came up alone from SAITAMA!?!?!?" exclaimed one lady. "But you are a gaijin, you are amazing!!")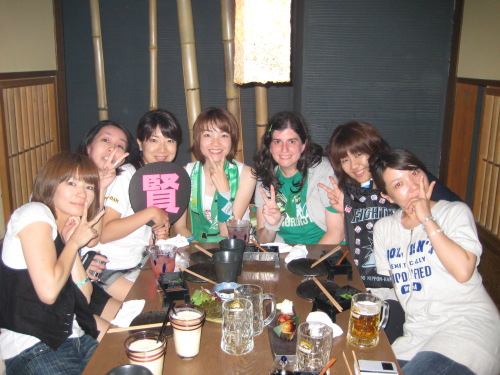 One of these things is not like the others.
And then we all passed around cameras. The Sapporo lady had movies on her camera from the fashion show with Masaru Takeda and Brian Sweeney modelling the new "FWITH" clothing line that the team made. Even though FWITH itself is totally broken English, and the clothes are way too expensive, I think they're pretty cool and I'll probably get a shirt when I go back to Hokkaido.
(A little more about FWITH: F is for Fighters, WIT is for, well, wit, and H is Hokkaido. Then I guess the fact that it has "WITH" in it as well just seems cool to people here.
Press release in English
,
concept page in Japanese
,
blog entry with pictures of Sweeney and Masaru fashion show
.)
I had to duck out at 11:30ish to find my bus. As it turns out, Kamagaya Ojisan had actually paid for everyone in our group when he left -- wow! Tomomi was worried I would get lost trying to find my way back to the station, so she actually walked me there. Turns out she used to study English for a while, and has the same problem I do -- good listening, bad speaking. So we talked with her speaking Japanese and me speaking English, mostly because by then my brain was kind of shutting down. Keep mind that the only person I'd spoken to in English all day was Brian Sweeney :)
I got on the bus and eventually managed to get about 2-3 hours of sleep. It left Sendai at 23:50 and arrived at Tokyo station at 5:11am, and I guess I finally got home around 6:15am, and to sleep around 7am... and then got up around noon to watch some Koshien, do some chores, and head down to Yokohama for more baseball. Stay tuned.