Better two months late than never, I suppose.
Something that is kind of disappointing in Japan is that there are very few, if any, baseball games on Mondays. It's mostly disappointing to me because my weekends are Sundays and Mondays, of course. So May 12th was a rare Monday game, although a minor-league game, with the Fighters farm team hosting the Eagles farm team at Kamagaya.
It was a pretty great experience. First, my ticket was only 500 yen because I'm a member of the Fighters fan club. Second, the stadium is really nice for minor league -- there's a reasonable sized food stand with a nice wide variety of stadium food, and Kamagaya Fighters goods booths, and the bathrooms even have western toilets! Perhaps because it was a Monday there was also lots of room in the stands, and I got to sit in the very front row right over the dugout and take tons of pictures. Also, I got ambushed and bearhugged by the mascot.
Literally.
I took around 600 photos that day. Here are a few of them.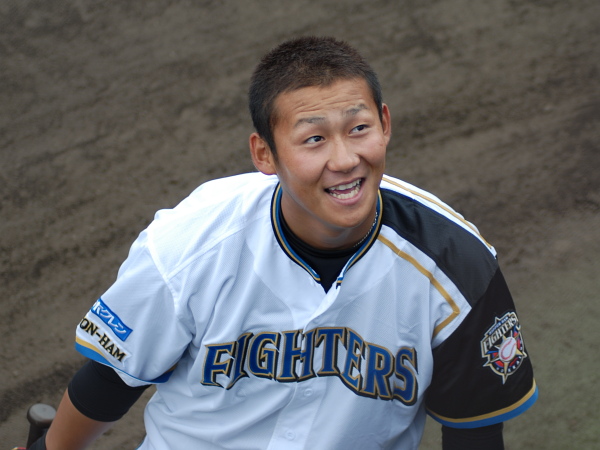 That Nakata Sho kid that everyone's always talking about.



Takayuki Takaguchi



Youhei Kaneko



Fighters starting pitcher Kazumasa Kikuchi.



Eagles starting pitcher Rui Makino.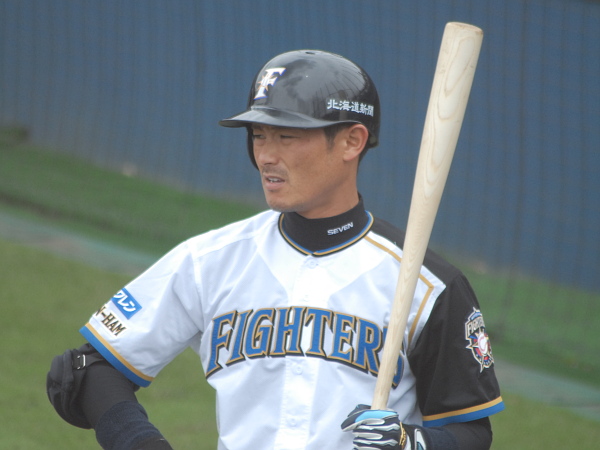 Tomochika "Tsuboi-chan" Tsuboi. One of my former favorite players, it pains me to see him struggle now.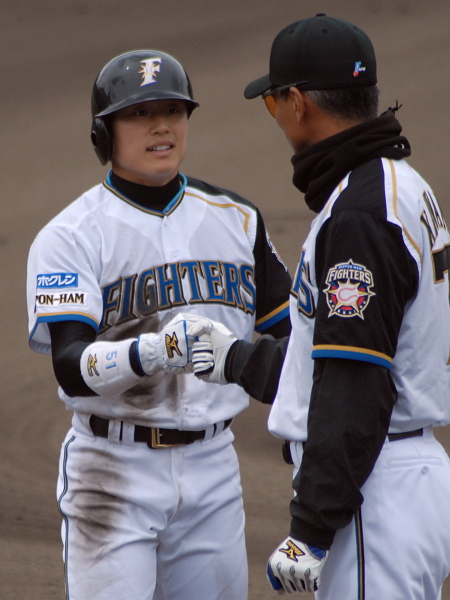 Kazuya Murata gets to third after the Eagles screw up throwing him out at second.



Catcher Ryuichi Watanabe



That Sho Nakata kid again, at bat.



Mitch Jones, in the process of striking out. It is likely that this was my last time to ever see him play (as, since then, he has been released from the team).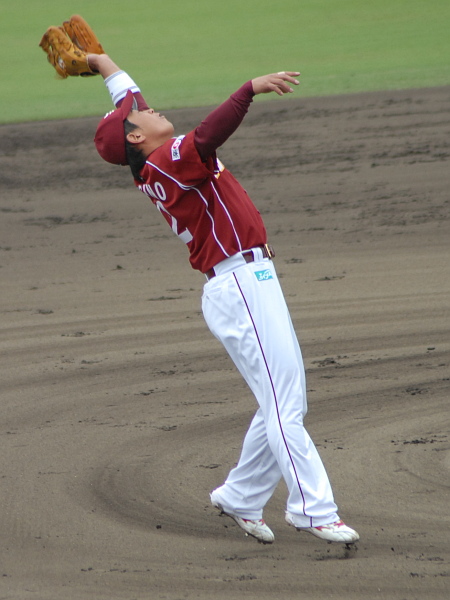 Daisuke Kusano does a ballet catch.



My ni-gun boyfriend, Ryota Imanari. He is goofy and comes from Urawa Gakuin. (And now that I am writing this, he is kicking butt at ichi-gun, go figure.)



Final scoreboard at the Kamagaya name. It's quite nice for a minor league scoreboard and stadium, seriously.
There really isn't a lot to say about the game itself. The Fighters got kind of clobbered by the Eagles, ultimately losing the game 6-2. Or more like, Yasuhiro Nakamura got clobbered by the Eagles, giving up 4 runs in the 6th inning. Of course, I know very little of Nakamura besides that he is left-handed and we got him from Hanshin in the trade for Kanemoron. Nakamura put up superstar minor league numbers in past years, but seems to be struggling with the Fighters minor league for some reason.
The Eagles had more interesting guys down on the farm team than the Fighters, what with Koichi Isobe and Daisuke Kusano playing, although the Fighters had the aforementioned Tsuboi playing, and struggling. Sigh.
As for the folks in the stands, they were a really easy-going crowd. There isn't any real cheering in ni-gun, though in the 4th or 5th inning, Cubby went up and started kind of leading cheers with a group of women, just banging a tambourine and saying "kattobase _____" or "go go let's go _______". They did seem to have a cheer for Suguru Ichikawa, or more like, a bunch of women yelling high-pitched "ICHIIII!!!!" There was also a cheer for Kazuya Murata, possibly because he is from Chiba. And banners were all over for various players; I saw them for Nakata, and Murata, and Youhei, and Imanari, and even Ugumori.
In the 6th inning this crazy old dude (who had been yelling random stuff loudly all day) came up to me while Mitch Jones was at bat and said (in Japanese), "Hey, you should cheer for Jones in English!!! Come on!!" So I yelled some stuff in English like "Cmon, Mitch, you can do it," and when Jones struck out and was walking back to the dugout, I said "Hey, it's okay, you'll get them next time," and he actually looked up at me and kind of half nodded/half smiled. The funny part being that I totally would have never said anything if the crazy old man hadn't encouraged me to. So a few minutes later the old dude comes back and hands me a can of Asahi beer. I'm not kidding. He was like "Here! This beer is for cheering the Fighters with us!"
In the 7th inning a lady came over and asked if I understood Japanese. I said sure, I understand better than I speak. So she spent the entire 7th inning chatting with me in Japanese. Turns out she is from Sapporo, and came down to Kanto for the week. She goes to around 40 Fighters games every year, and was also at the Golden Week games that I was at. (I have yet to meet a Fighters fan from Hokkaido that did not go to at least one of those GW games, actually.) Her favorite player is Masaru Takeda, and he was injured at the time, so she hoped she could see him here in Kamagaya, but alas, he wasn't healed enough to play. She told me, "The other women over there were wondering about you. They had never seen you here before, is this your first time?" I explained yeah, it was my first game, though I'd been to Kamagaya before for Fan Fest and such. "They thought maybe you were friends with Mitch Jones..." "Hahaha, no, I have never met him, I do sometimes cheer in English for the foreign players..." "Oh, like Sledge?" "No, like Seguignol... Micheal..." She was really amazed that I'd been a Fighters fan for longer than she has, and wanted to know if I'd come cheer the Fighters in the Tokyo Dome that week. And naturally I had to say "No, I'm an English teacher and Sunday/Monday are my only days off."
After the game, some other people asked me if I was friends with Mitch Jones too, and I was like "no, I'm really just a random Fighters fan. Sorry."
Anyway, the epilogue to this is that I went back to Kamagaya and had a similar experience this past Friday -- July 11th -- so I wanted to chronicle the "old man gives me a beer for cheering in English" story on here for my own log of random Fighters fan experiences. (And as I mentioned, some of the people I met at Kamagaya have actually said hello to me at games after that, so...)
Next up: Kamagaya Fighters go Back to the Futures.