The Baystars extended my personal record with them to 4-1 as they smashed the Yakult Swallows 10-5, in a nice cool evening game on Monday night at Meiji Jingu, featuring the return of Daisuke "Hama no Bancho" Miura to the mound after a 2-month injury hiatus, and two home runs hit by Yuuki Yoshimura. It was on a national holiday, "Umi no Hi", otherwise known as "Marine Day" or "Ocean Day" or "A really good excuse to take a midsummer 3-day weekend and go to the beach somewhere."
I went to this one with my friend Kohei, who is from Yokohama. Last time we tried to go to a game together was in mid-June and the game was called due to pouring rain a few hours beforehand. This time, we were both running a little late; I showed up around 5:30pm and bought us tickets, then went to scavenge for food among the street vendors. Heard the lineups from outside the stadium and groaned as I realized neither Ishii NOR Nishi were playing, although I kind of giggled when they announced Saeki playing first base. They got to the end of the lineup and I heard "Pitcher, Miura, number 18" and stopped DEAD in my tracks. "BANCHO??? Cool!!" I actually said out loud, causing a few people to look at me funny.
We got seats in the third row of the outfield unreserved seating, but a bit far away from the main cheering people. That is, we were far enough out that I felt a bit weird standing up to cheer, though everyone around us was banging cheersticks and singing, at least.
Kohei asked me how many games the Baystars had won so far this year, and I was like, "I'm not sure, but I think it's less than 30."
However, oddly enough, they came out and immediately started roughing up Yakult starter Ryo Kawashima! (You have no idea how many times I've mistyped his name as "Ryo Ishikawa", by the way.) Tatsuhiko Kinjoh led off with a single, advanced as Takehiro Ishikawa grounded out, and Seiichi Uchikawa followed that up with another single. Shuuichi "THE MAN" Murata walked and the bases were loaded for veteran Takahiro Saeki to come to bat.
Saeki must have been a little confused by being in the lineup instead of pinch-hitting, but he singled to center, and both Kinjoh and Uchikawa scored on the play!
2-0
.
Yuuki Yoshimura, the younger half of the Mura Machine, came up to bat after that and ALSO hit a double to center, scoring the older half of the Mura Machine.
3-0
.
After that, something bizarre happened. Kazuya Fujita, who I wasn't even aware was back up at ichi-gun, hit a sac fly to center, and Saeki tagged up and scored (
4-0
). That part was normal. The abnormal part was that Yoshimura also tagged up and moved to third on the play. Well, no, I suppose that was normal too, but the part where Aoki fired the ball to Shinya Miyamoto at third, only Miyamoto missed the ball... was NOT normal. So Yoshimura ran home too. But, Ryo Kawashima was out by the third base dugout to back up the play, so he quickly recovered the ball and threw it home to get Yoshimura out at the plate, hence an inning-ending 8-5-1-2 sacrifice fly double play.
Anyway, by the time Miura got to take the mound he already had a comfortable 4-0 lead to sit on. And he even struck out the first two batters, which was very, very promising. I was really psyched to get to see him pitch -- somewhere along the line I started to see past the hair gel and become a big fan of his, and yet, I rarely ever actually get to SEE him. (And no, I haven't bought
his new book
, but that's another story.)
The Swallows took a run back in the 3rd when Ryohei Kawamoto walked to lead off, was bunted over to second, and scored on a Kazuki "Long Train Runnin'" Fukuchi single, making it
4-1
. Fukuchi then became Mr. "Been Caught Stealin" a few seconds later, though. And then Norichika Aoki, being himself, hit a home run into the Swallows cheering section to lead off the bottom of the 4th.
4-2
.
I want to pause for a Patented Marinerds Tangent for a second and mention that this year's at-bat animations at Jingu are really nice and do fully take advantage of that gorgeous new scoreboard. But speaking of Aoki, his at-bat animation, combined with his at-bat music of a Carmina Burana remix, feels a little bit too over the top to me. I took a short video of it (later in the game):
Okay, anyway, the score was 4-2 going into the top of the 5th, and a fresh start from the top of the order saw Tatsuhiko Kinjoh hitting a double into the right-field corner. Ishikawa bunted him up to third, and amidst cheers of "timely, timely, Uchikawa!", Seiichi Uchikawa singled to center and Kinjoh scored,
5-2
. Murata The Man struck out after that, though Uchikawa stole second on the third strike. (He was barely safe.) A wild pitch moved Uchikawa to third, and a few more outside pitches moved Saeki to first.
"THREE RUN HOMERUN YOSHIMURA! THREE RUN HOMERUN YOSHIMURA!!" we all shouted from the left-field stands.
Yoshimura obliged by knocking a home run into the right-field stands. BOOM! That would bring the score to
8-2
.
"Do you think the Baystars will win now?" Kohei remarked as Fujita grounded out to end the inning half.
"I am pretty sure they won't blow ALL of this lead," I replied. "But you never know. Look, Terahara is stretching over there with the other bullpen guys..."
I guess maybe Miura wasn't ready for a full start again, because he started breaking down in the bottom of the 5th. Kawamoto led off with a single, and then a pinch-hitting Shingo Kawabata walked, Fukuchi singled in Kawamoto AGAIN (
8-3
), and Shinya Miyamoto also singled, loading the bases. With no outs. So yeah, Miura came out of the game and Shigetoshi Yamakita, a current LOOGY on the Baystars staff, came in, pitched to Norichika Aoki, but the "one out" part turned into "one hit"; Aoki singled to right-center and Kawabata and Fukuchi both scored.
8-5
. Since the LOOGY did not succeed, they took him out and put in Yukiya "Wild Thing" Yokoyama.
"Who's this guy?" said Kohei.
"Err... Yokoyama... he used to be pretty good... like, he was the closer a few years ago... before... err..."
Something funny: He was, indeed a closer for a team I followed, just not the Baystars, which is why there was no way to finish that sentence, because "before Kroon" didn't make any sense, and neither did "before Terahara". What I had forgotten is that he was the closer for the FIGHTERS, before they got Micheal. Which makes more sense. I don't know what's worse, that my brain makes these blips, or that there's enough random data in there for it to do so.
Anyway, Yokoyama came in and got the next three batters out. So, yay.
There was a brief intermission between the 5th and 6th innings while they had a fireworks display behind the scoreboard. Only problem is that from our angle, it looked like all the fireworks were coming from behind one of the gigantic stadium lights. Pretty cool though. They led a group of kids onto the field and let them sit in centerfield to watch the fireworks, which was cute.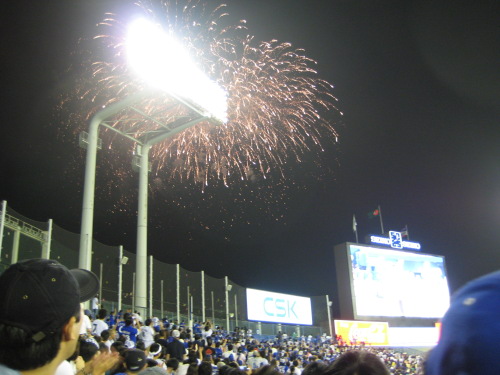 Exploding lights... or just fireworks?
Jun Hagiwara took the mound for Yakult in the top of the 6th, and I laughed, because Hagiwara was pretty bad when he was with the Fighters for a year. And naturally Ryoji Aikawa, who would ultimately be 3-for-4, led off with a single, and Larry Bigbie pinch-hit in the 9-slot and walked!
The Baystars ouendan struck up the "Get the Chance" chance music after that and I even stood up to yell with everyone around me. Lots of shuffling happened; after a popout by Kinjoh (Aikawa advanced to third), Shingo Nonaka pinch-ran for Bigbie, and Hiroaki Ohnishi pinch-hit for Ishikawa, and grounded out (but Aikawa scored!
9-5
). Uchikawa also grounded out to end the inning. I find it funny that there was no chance music for all of those times where the Baystars were racking up 4 runs in an inning, but when they played it, they could only weasel ahead one run on 3 consecutive outs. Go figure.
More pitcher shuffling, a few more changes, but nothing overall exciting. Well, Yuuki Yoshimura hit ANOTHER home run in the 7th, off of Yuuya Kamada.
10-5
. That was pretty exciting. I've been thinking for a while that I may adopt Yoshimura as my new post-Takuro favorite Baystars position player, just because I can't decide on anyone, don't want to go with the easy choice of Murata, and I need to pick someone young. Plus, he's #31, which is kind of an ongoing joke for me (many of my favorite players wear #31 - Shunsuke, Morino, Lin, etc). I guess what I really need to do is catch some Shonan Searex games, heh.
ANYWAY, I've mentioned a few times that there's this guy I've seen running around the stands at Yokohama, who always wears a Baystars headband and leather pants and carries various handwritten signs that he makes. I can't always read them because he goes by too fast sometimes (today, for example, he had one that said "This is an away game, so please clean up your trash", and all I caught was "away game"), and last time I saw him he had one about Kroon, and so on.
For some reason I am never sitting near an aisle seat when this guy comes by, so this time I decided, what the heck, I'd go hunt him down. I jumped up from my seat and ran up the stairs and caught him at the top like "Excuse me! Excuse me! Can I take your picture?"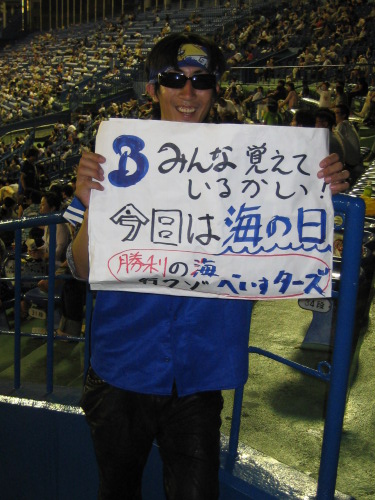 "Does everyone remember? TODAY IS OCEAN DAY!!! So let's have an ocean victory -- LET'S GO BAYSTARS!"
I talked to him for a bit, told him I love his signs but I can't always read them because he runs by too fast. He apologized that they weren't in English. Heh. Anyway, his name is Uchiyama and he pretty much goes to ALL the Baystars games and makes these signs and walks around holding them, it's kind of his hobby/job/whatever. So next time I see him I'll totally be like "yeah! you rule! can you slow down a sec so I can read that?"
I was turning away to go back to my seat when another guy taps me on the shoulder. It was a big American guy who looked vaguely familiar. "Are you Deanna?" he asked.
"Yeah, I am."
"Oh, cool. I recognized you from your blog pictures. I post to Westbay's site sometimes as No. 1 Bay Fan."
"Oh! I know who you are. Matt?"
"Yeah!"
So we chatted for a while and also did the songs for Murata and Saeki, and stuff. Turns out Matt remembered me from that Baystars-Marines open-sen game back in March, because "I was so surprised to see another gaijin there, and SHE ACTUALLY KNEW THE SONGS!" Me, I remembered him because he was talking trash about Bobby Valentine in English. "Sorry, but you were dissing my friend Bobby, so I was a little confused by that." But, he seems like a good guy, so it's good to set the record straight.
Matt is moving to Saitama soon, although further out in the sticks than I live, so it's unclear how that will affect his baseball habits, but we should be going to a Baystars game together sometime, maybe in September. I'm sure it will duly confuse everyone in the stands even more to see TWO crazy foreigners speaking English and cheering in Japanese. Or something.
I got back to my seat and Kohei's like "Did you find Sign Guy? What took so long?"
"Oh, I met another random guy who knew me from the Japanese baseball forums."
"Wow! You're famous!"
"Nah, I just stick out in a crowd."
Anyway, Kuwahara, who had even batted for himself in the top of the 9th (everyone was like "why do you not pinch-hit Nishi or Ishii or Takanori or some other fan favorite? What do you have to lose?") finished out the bottom of the 9th really quickly, and oh my GOD, the
Baystars actually won a game
!
For obvious reasons, such as hitting two home runs, getting 5 RBI, and playing fairly decent defense in right field, Yuuki Yoshimura was game hero.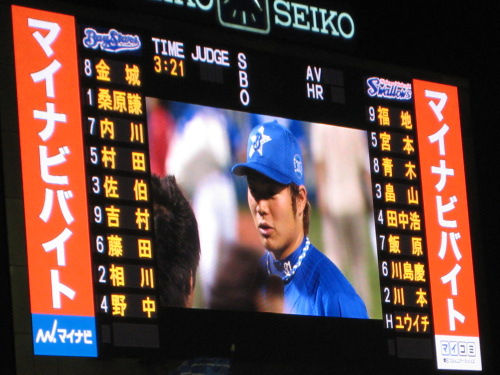 I have gone and cheered for the Baystars 5 times this year and they have won 4 of those games. Seriously.
Anyway, we left the stadium pretty quickly after that and hiked up to Sendagaya station and caught our trains our respective ways. I got on the train going my way and ended up sitting next to two guys who also were at the game, so we were chatting about the Baystars and about other baseball crap. We both had on Murata jerseys (well, mine is a t-shirt) and Yoshimura cellphone charms, oddly enough.
We checked the box scores for other games on our cellphones and I was like "OH MY GOD!
MASA YAMAMOTO GOT ANOTHER WIN
! 198!!"
So yeah, a good evening all around, and a great weekend in general. More later.