I wrote
a little bit already
about the July 20th game in Chiba, but here's a long rambling version about the game itself.
A little bit of backstory needs to come with this, though. See, I went to Chiba on July 6th also, for the Hawks-Marines game (never did post photos, just wrote
Satozaki fanfiction
about the game -- will rectify that sometime). Before that game, I hung out with Rob Smaal from the Asahi Shinbun, and got to briefly meet and talk to CJ Nitkowski, Rick Guttormson, Mike Restovich, and Brian Sikorski, all of whom are incredibly nice guys. (And after the game I also met Mike Pagliarulo by total random chance.) While hanging out with Rob on the field, we were joined by two of his former coworkers, Yayoi and Ono-san. They both speak excellent English, having both spent a significant amount of time living overseas. Yayoi is a Lotte fan, works for TBS, and is much bolder than I will ever be. She even encouraged me to go up and stand in the reporter throng around Sadaharu Oh, so now I have been about TEN feet away from the living legend!
I introduced them to Bobby and Larry (how bizarre is that?), and then I went to camp out in the camera well and watch the Hawks, while Yayoi and her friends went to go cheer in the rightfield stands. It turns out, though, that Yayoi is a gigantic Shunichi Nemoto fan. And I am a pretty big Nemoto fan myself. So we decided to try to stalk him after that July 6th game, but we failed miserably, and gave up after waiting around for about 10-15 minutes.
So, for July 20th, we basically had two goals:
1) Meet Nemoto
2) Cheer in the rightfield stands
No, seriously. I promised to help Yayoi stalk Nemoto if she would help me breach the Marines ouendan. Seems like a more than fair trade, right?
By total luck, I happened to end up on the same train as Yayoi heading to the stadium, so we walked over together. We got our passes, and Larry introduced us to a couple of the big Lotte ouendan people, including ouendan leader MAB-san, who I had met a few times before, and who promised to sneak us in unscathed.
Then we went on the field. Sadly, we didn't make it there until 11:30am, so not only had all the Marines finished practice already, but even the bigger names on Seibu were already off the field. Me being me, I still snapped photos of some people and pointed out various players. "See, there's manager Watanabe... and that over there, that's Tomoaki Satoh, otherwise known as 'NOT G.G.'... and there's Ginjiro Sumitani taking catcher's practice. He just turned 21 yesterday. And over there, that guy is Kenta Matsusaka. He has the same name kanji as Daisuke so sometimes he's very funny and says stuff like 'Hello, I am Seibu's Matsusaka. No, not THAT one.' Oh hey, and there's Gotoh. He played baseball with Matsuzaka in high school."
Yayoi's like "Why do you know all of this? You said you hate Seibu."
I answer, "I don't know. My brain is strange."
We wandered over to the Marines side after that, and found Alex. Alex is a journalism major from USC who has been interning with the Marines this summer. If you've been at the stadium this summer, you've probably seen him wandering around with a videocamera before the games. I met him at his first game on June 4th, and I guess apparently also saw him at his final game on Sunday. He produced a series of short videos about the Marines team and the fans and the stadium and various other things, and you will be able to see all of them on
Bobby's website
eventually.
While we were chatting with Alex, I noticed that Yusuke Kawasaki had finished signing photos for the fans, and was coming back towards the dugout, so I was like, "If I ask Kawasaki if we can get a picture with him, will you take it?"
"Sure," he said. And so I went over to Kawasaki, asked him, and he got a huge smile and was like "Of course!" He was very friendly to us, and we took two pictures. So

here we are with lefty reliever Yusuke Kawasaki.
And then other players started filtering out a little bit after that... Jose Ortiz came out, I waved and said hello. Strength coach Tachibana... a few others... and then Nemoto came out and I'm like "Don't look now, but there's your boy!" Yayoi wasn't sure what we should do. I was a bit surprised because she's usually so bold, but I guess he IS her favorite player. I'm still too nervous to talk to Satozaki or Shunsuke, after all. Anyway, Alex said that if we wanted to say or do something, we should do it soon, because the players were going to go onto the field for warmups shortly. He also offered to take a photo should we get the guts to ask for it.
So, of all people to do it, *I* went up to Shunichi Nemoto, and said in the most polite Japanese I could muster, "Excuse me, Mr. Nemoto-player, do you think it would be possible for my friends and I to take a photo with you?"
And he said sure. So we posed for a picture. He is actually not that much taller or bigger than I am, which I guess I knew, but didn't realize until he was standing RIGHT NEXT TO ME. I thanked him profusely and wished him good luck in the game. Yayoi, on the other hand, introduced herself to him, said she worked for TBS, and even GAVE HIM HER BUSINESS CARD. Haha!
So someday, when he is the best second baseman in Lotte history, or something like that, I will be able to say I met him in his breakout year :)
Yay, Nemoto.
So, then we wanted to say hi to Bobby, only we hadn't seen him anywhere. I look around and also don't see Frank or Paul or any of the Marines staff I'm comfortable talking to, so what do I do? I ask the first foreigner I see, which happens to be, uh, Benny Agbayani.
"Hey, Benny?"
"Yeah, what?"
"Err.. do you have any idea where Bobby is?"
"I think he's still in his office."
"Oh, okay! Thanks! Good luck today!"
I'm sure Benny wondered why the hell three random women were standing in the dugout to begin with, but that's neither here nor there. :)
We went to Bobby's office, and Frank was in the hallway too, so he knocked on the door for us while we were lurking outside (don't ask how I had the guts to talk to Nemoto, yet couldn't knock on an office door). Bobby was signing jerseys, which I guess he has to do a lot. Larry was there too, so we all chatted for a bit. I told Bobby I was going to go cheer the team from the rightfield stands, and since it was Shunsuke Day, they were absolutely definitely going to win the game. Also told him I'd be in Kyushu next weekend and would probably come see the team in Fukuoka. He offered our fangirl trio a box of cakes that were sitting there. And then Yayoi and Ono-san exchanged business cards with Bobby. I asked for a card too, so now I have Bobby's card! How cool is that?
Well, that was more than enough pre-game excitement for quite a while, so we decided to make our way out to the stands, stopping to chat with Paul Pupo, Bobby's chief stathead, for a bit.
Me: "Paul, do you think the Marines will win today?"
Paul: "Nobody can predict the future, you know."
Me: "Let me reword that. How is Fumiya Nishiguchi this year? He doesn't look so good to me lately, but you actually would KNOW this stuff."
Paul: "His control's been pretty awful, that's all I can really say."
Me: "I'm going out to the rightfield stands to cheer, so I promise the Marines will win. Also, I'm going to stalk you guys in Fukuoka next weekend!"
Paul: "Really? You know, it's HOT in Kyushu right now..."
So, we made our way out to the concourse, and with a little bit of getting lost near Bar Magic, found our way to our seats. Yayoi and Ono had rightfield bleacher tickets, but I actually didn't have anything, just a media pass and a guarantee from the Lotte Marines Mind Control Task Force that it would be okay for me to sneak into the stands. We met another friend of hers, Mayu, when obtaining food. Mayu was totally decked out in Marines stuff too, and also came down from Saitama.
Yayoi claimed that "her friends were saving us some seats", but it turned out that actually, the OUENDAN LEADERS were saving us some seats. They put us pretty much right in the dead middle of their area; we were sitting between two of those large black banners that they hold up (and helped hold them up for half the game), and were given MVP flags to wave, and everything. I put on my Watanabe #31 shirt for the occasion, although I later commented that I "felt stupid wearing #31 when everyone else around me was wearing #26."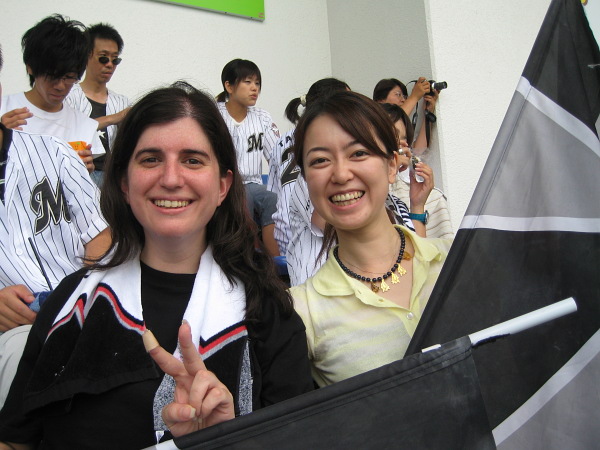 Here's me and Ono-san with our flags. Goal #2!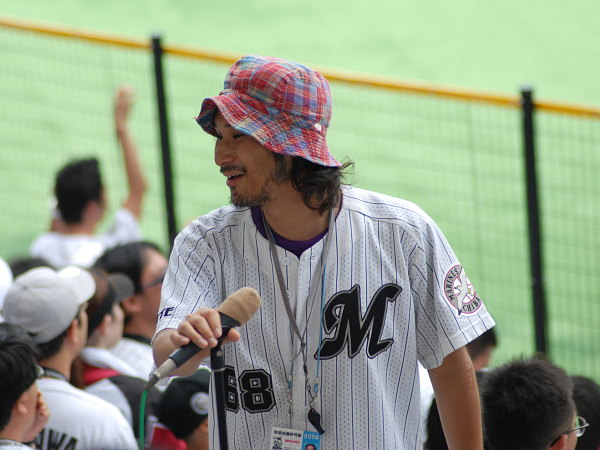 This guy led the ouendan cheers for the entire game, from a platform with a microphone and speaker system set up. If you have ever wondered why you can hear the ouen calls so loud, this is why.
A guy named Daigo came up to me and said in English, "Nice to meet you, I heard from Larry that you write a baseball blog. We are very crazy, and very violent, but please write nice things about us anyway, okay?"
And then I met a guy named Declan, who is this Irish dude who has seriously been in the Lotte ouendan for like 4 years, and yet Larry had never mentioned his existence to me before. Seriously, Dec even travels with the ouendan, sometimes plays drums, does all the chants, has the shirts, shows up 5 hours early to set up, goes to all the home games, and so on. He pointed out another older guy named Nevin who has also been with the ouendan for a few years. I have half a mind to see if I can interview both of them for this blog someday, but I didn't think of it until afterwards. Declan said he'd be gone for all of August on holiday anyway, so I guess I have time to think about it.
And then the game started and it was time to yell a whole lot. SHUNSUKE! SHUNSUKE! SHUNSUKE!
The first inning went by blazing fast, and so did the top of the second. In the bottom of the second, Saburo got a one-out single, and then Hashimoto doubled to right, the ball bouncing against the wall near us. Saburo had hesitated to see if the ball was caught, so he and Hashimoto were kinda in a leapfrog run which ended with them at second and third. Imae hit a sac fly which scored Saburo, and then Jose Ortiz singled home Hashimoto.
2-0
.
Bottom of the third, Fukuura singled, and then a few batters later, Shoitsu Ohmatsu hit a home run to right field which landed about ten feet in front of where I was sitting.
4-0
.
Bottom of the fourth, Jose Ortiz hit a home run to center.
5-0
.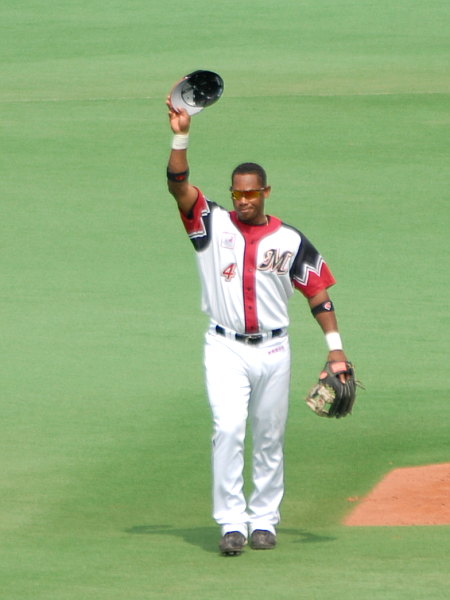 Jose Ortiz tips his hat after the crowd chants at him.
You might notice I say nothing about the Seibu offense. That is because there was none to speak of. Shunsuke allowed a hit in each of the first three innings, and then he did not allow another Seibu batter to reach base for the rest of the game. It was pretty amazing, given what a pounding most of Japan has taken from Seibu's batters this year.
But anyway, the Lotte offense kept rolling. I sang my parody lyrics for Nemoto's at-bat and he singled, and then Fukuura followed that with a hit-and-run single to move Nemoto to third, and then Satozaki followed that with another strikeout. Ohmatsu walked and the bases were loaded for SABUROOOOOOOOOOOO. I was sad that he had apparently changed his at-bat music, but maybe no, because no sooner had the strains of "Eikou no Kakehashi" faded out that Saburo took the first pitch he saw and BLAM sent it to left field. Nemoto and Fukuura went home, Ohmatsu went to third, and Lions manager Watanabe went to his bullpen.
7-0
.
The Marines flags went up in the air for the first round of the Flag Theme, a ska song which I had heard a few times from across the stadium, but never quite like it is to be right in the middle of it all:
As you can see in that video, at the end of said flag theme, Hashimoto doubled to the left-center gap, scoring Ohmatsu.
8-0
. Saburo moved to third, and thus Imae got his second sac fly of the day after that to send him home too.
9-0
.
Normally, you would think a 9-0 lead was enough for anyone, but not the Marines, apparently. They continued to rough up Tetsuya Iwasaki well into the 6th inning, continually sending a barrage of hits over the head of Lions centerfielder Takumi Kuriyama.
Actually, Daisuke Hayakawa led off with a grounder towards first which bounced on the bag, or something. The Lions didn't field it, it was ruled fair, and he was safe at first. Then Nemoto hit the first of the "over Kuriyama" doubles to right center, scoring Hayakawa.
10-0
. Fukuura followed that up with a single to center, scoring Nemoto.
11-0
. Satozaki finally did NOT strike out, hitting another double to right-center over Kuriyama, scoring nobody. (15 RBI on the day and none of them belong to Satozaki.) Ohmatsu hit ANOTHER double to center over Kuriyama, scoring Fukuura and Satozaki,
13-0
, and then Saburo came up to bat, at that score, and with no outs and Ohmatsu on base.
I don't know how long they've been doing this, but a new call for Saburo is like the two-syllable call most other teams have for some player (like the Fighters have two drumbeats, and then yell "KEN-SUKE!!!" for Kensuke Tanaka, or the Eagles yell "TEP-PEI!!!!" for Teppei Tsuchiya, or whatever). So two drum beats, a call of "se-no!", which means "ready?", and this weird two-syllable shortening of "SA-BRO!" gets yelled.
His at-bat lasted a really long time. And so as a joke, a guy in front of us said "se-no!" and as if on cue, another guy, all by himself, yelled "SA-BRO!!!!!"
Repeat about 4 times. It was pretty funny. But it worked. Saburo got up to a 3-2 count, fouled off a few pitches, and then ALSO doubled to center over Kuriyama, scoring Ohmatsu.
14-0
.
Well, six straight hits and no outs was enough to get Iwasaki off the mound, Ohnuma ON the mound, and the Flag Theme going again. Takehara came in to pinch-run for Saburo. A guy sitting next to me asked in English, "Why you always checking score?" to indicate my scorecard that I was writing.
I explained, "I always WRITE a scorecard because I want to remember what happened, for now, and forever."
I'm not sure the word correction came through, or if he understood the point, but he said "You write nice kanji."
After that, Hashimoto singled to center, moving Saburo to third, and Imae singled THROUGH the shortstop to center, the ball flicking off Nakajima's glove, scoring Takehara.
15-0
. Masahiko Tanaka pinch-ran for Imae. A Jose Ortiz fly out moved Hashimoto to third, but then Hayakawa grounded into a double play to end the inning.
As about seven announcements came across about substitutes and pinch-hitters, I hastily scribbled who went where. Yayoi asked, "Wait, who went away?"
I looked down. "Saburo came out, and so did Imae. Tanaka's at second now and Ortiz went to third to replace Imae, see?" Then I grinned at the guy sitting next to me. "THAT's why I keep a scorecard!" He laughed.
I also asked Yayoi to confirm a few cheers for me. I've picked up most of the Marines cheers just by listening, though I had one or two words wrong along the way. I had gone and really learned all of the words to the first verse of We Love Love Love Love Love Marines for this game, so I got to try singing them for real. Mayu provided us with big white balloons, although we actually ended up hidden under the black streamers for most of the 7th-inning break anyway.
And well, Nemoto led off with a triple to right, he just kept running and running and running and running. Fukuura managed a sac fly to left and it didn't matter as the catcher dropped the ball anyway when Nemoto came home, and that was
16-0
. Declan had come back up to chat for a bit by that point. "Looks like we're going to get a complete game out of Shunsuke today," he said.
"Have you seen a landslide quite this crazy?"
"This year? No."
"Great, now they're going to make me always sit out here, aren't they."
I also noted that Nemoto had hit a single, double, and triple in order. "We need Nemoto to get one more at-bat so he can hit a home run for the cycle!"
But, it was not to be.
The calls of "Shunsuke! Shunsuke! Shunsuke!" were deafening as we went into the ninth inning. And just as he had done for the rest of the game, he set down the Lions batters Kuriyama, Hirao, and Kurose for a 1-2-3 ninth, and the crowd went wild!
Shunsuke had thrown 88 pitches in 9 innings, faced 30 batters, walked none, and struck out 6. He was, to put it mildly, amazing. I expected him to be the sole game hero, but the game heroes were actually Shunsuke (complete game AWESOME shutout against the biggest offense in the NPB), Imae (first RBI of the game, 3 RBI overall), and Ohmatsu (first home run of the game, 4 RBI total, 3 runs scored, etc), eschewing Fukuura (4-for-4, 2 RBI, 3 runs scored), etc. I guess when your team
raps out 16 runs on 20 hits
it's a bit difficult to pick one hero, really.
The heroes gave speeches (all of which started with "it is HOT today"). Imae pointed out that they had 16 runs, a multiple of 8, and Shunsuke threw 88 pitches, and Imae's uniform number is 8, and he was batting 8th, so obviously it is all a big cool 8 conspiracy working together.
Then they came out to the outfield stands, threw a few baseballs into the crowd, waved and bowed to everyone, and then got surrounded by press and cameramen.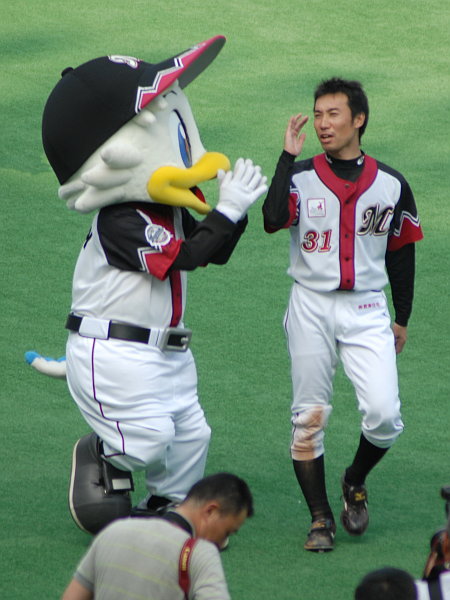 Shunsuke walks out with the Mar-kun mascot.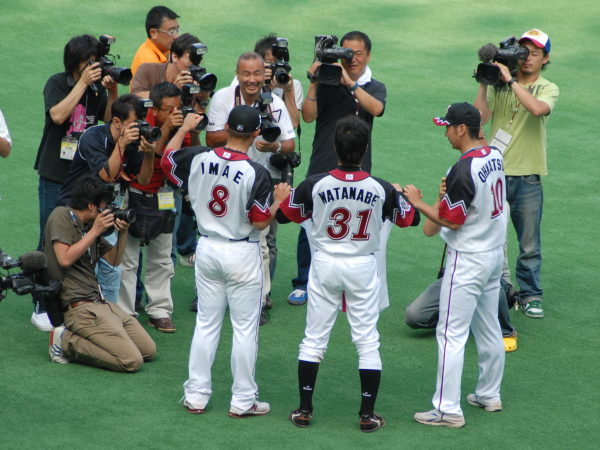 Your heroes, surrounded by media.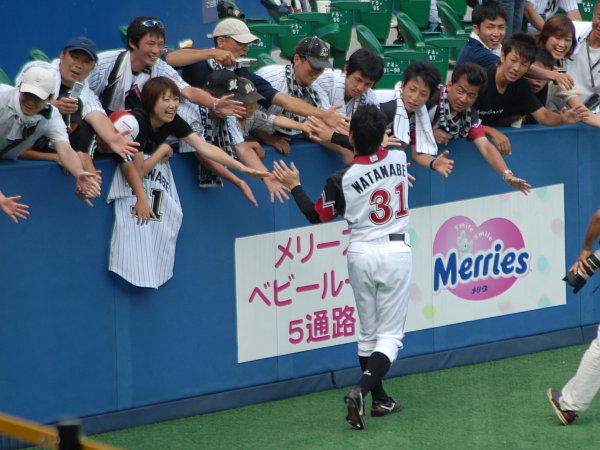 Shunsuke high-fives people along the stands as he runs back to the dugout.
This game went pretty fast, finishing by around 4:15pm. There was a ni-gun game starting at 5pm, but everyone was still in the stands for quite a while afterwards, singing more cheers and practicing. In particular, the ouendan leaders seemed unhappy with how people did Masahiko Tanaka's song when he came to bat in the 8th, so they practiced it a couple of times.
Something you have to understand is that his cheer is actually just the chorus of a song called "Gingiragin ni sarigenaku", sung by idol boy singer Masahiko Kondoh, almost 30 years ago. I have to admit I don't really know why they're using it per se aside from the fact that Tanaka's first name is also Masahiko. But if you've never heard it before, well, I present a few Youtubes of it:
Kohaku 1982 performance
and
a Christmas 1981 performance
. If you think it's embarrassing enough watching old disco performances from America, well, I do think Japanese ones put that to shame.
And well, after that, we left, because we had to sneak back to the bowels of the stadium and all.
I ran into Rob in the press room (was surprised, he wasn't out on the field before the game), and he introduced me to the woman who manages the "L-ism" magazines for the Lions. The ni-gun pitchers were starting to set up to film/chart pitches for the game, and Rob and I chatted with one of them, a Marines pitcher who I totally have seen before but utterly could NOT remember who the heck it was, which is embarrassing. I asked him who was starting, and he said it was Ono. "Shingo? Ni-gun? Really?" "Yeah." So DOUBLE oops on me. It's really hard to keep track of movement sometimes, seriously.
On the other side of the room was Alex the Intern, who was showing his video to batting coach Frank Ramppen, so I went over there to watch too. Again, these are a nice set of videos -- this one was all about the fans, with English voiceovers and even subtitles for the cheer songs. Hopefully you will all be able to watch them soon.
After nagging Larry again I went to say goodbye to Rob, and then while walking out noticed the OTHER pitcher sitting at the charting table, Yasutaka Hattori. I have watched Hattori a lot at ni-gun and I think he is awesome, plus he has a very distinctive face, so I was so shocked seeing him that I just blurted out, "Hattori! Oh!" He looked at me and smiled, and all I could think of to say was, "...ganbatte kudasai?" I guess that makes me feel like a big dork, and also makes me feel really bad that I had no idea who the other pitcher we were chatting with was. Hattori looks really kind of violent and mean when he's pitching, I guess you could call it a game face, but when not in uniform and just hanging out in the press room, he looks very different, a lot more relaxed. I mean, come on, he smiled! :)
And yeah, then I left. Met up with Lisa again and some of her friends and had a really fun evening talking about stuff (and trying NOT to keep talking about baseball).
Because I have spent all week trying to write this entry (and well, I still think it isn't very good, but nobody reads this blog anyway except for Larry so it's not a big deal), and it is now Friday, here are a bunch more pictures, in Friday Foto tradition: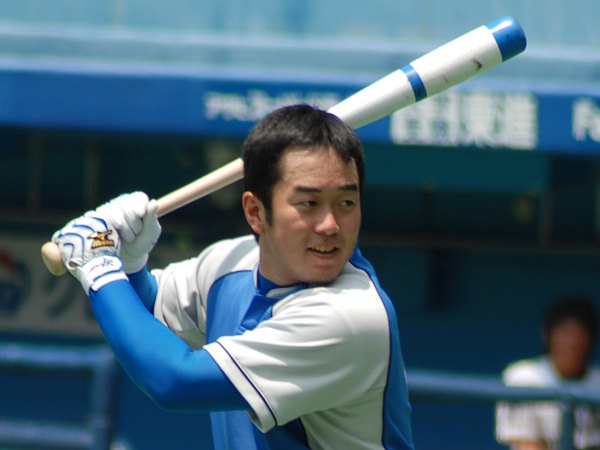 Tomoaki "I'm not G.G." Satoh.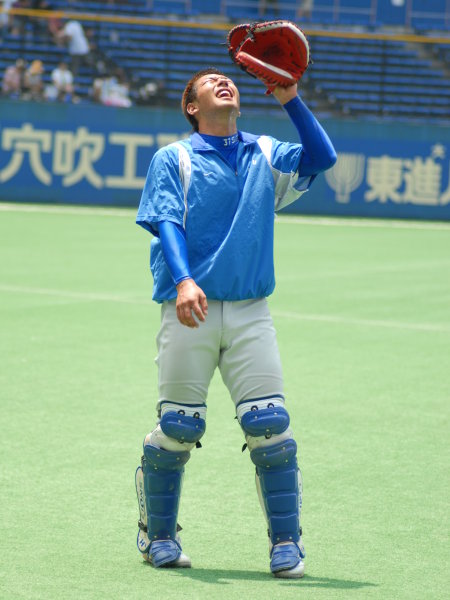 Ginjiro Sumitani taking catching practice.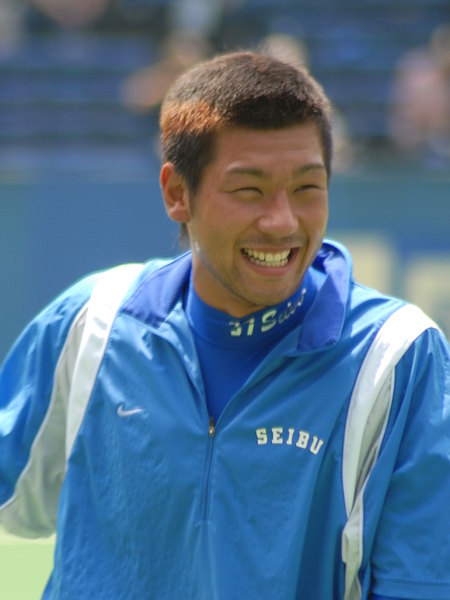 Another shot of Ginjiro so you can see the silly streaky hair dye job he has right now.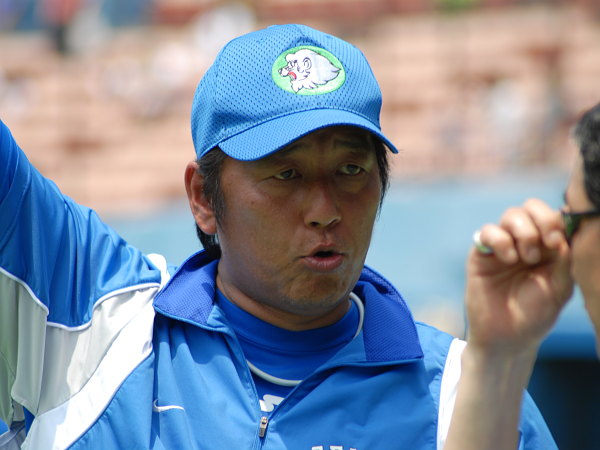 Seibu manager Hisanobu Watanabe.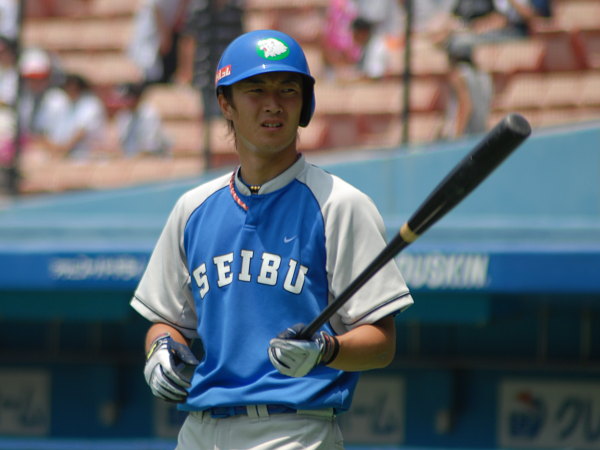 Kenta "Not Daisuke" Matsusaka.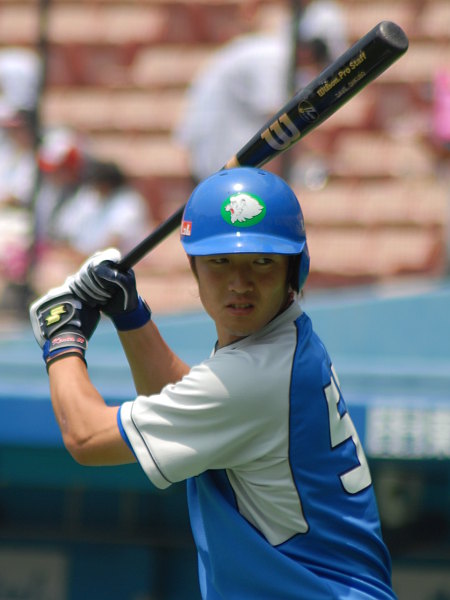 Another shot of Matsusaka. If you look closely, you might notice he is actually using batting coach Hiromoto "Dave" Ohkubo's bat.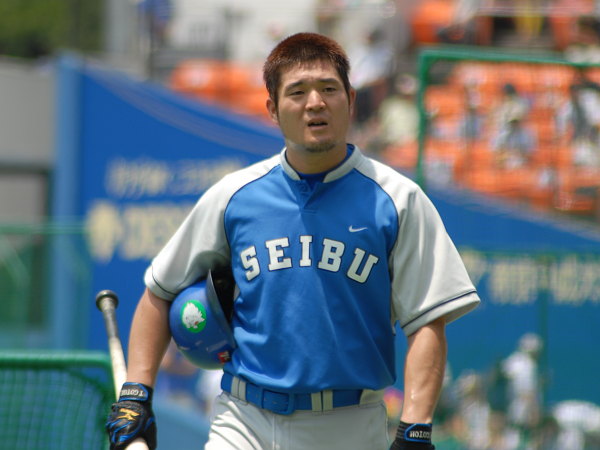 Taketoshi Gotoh. Last time I saw him he hit two home runs against Lotte.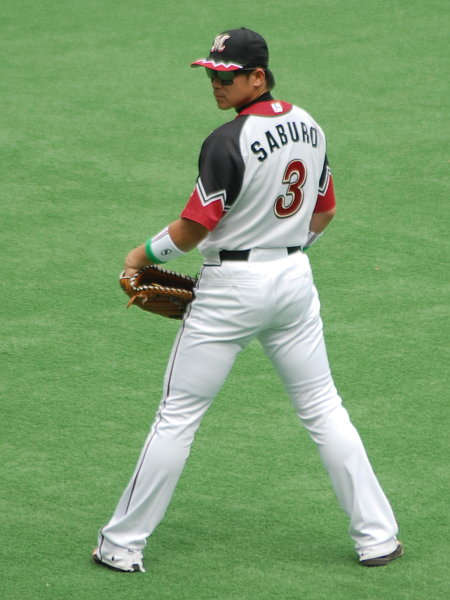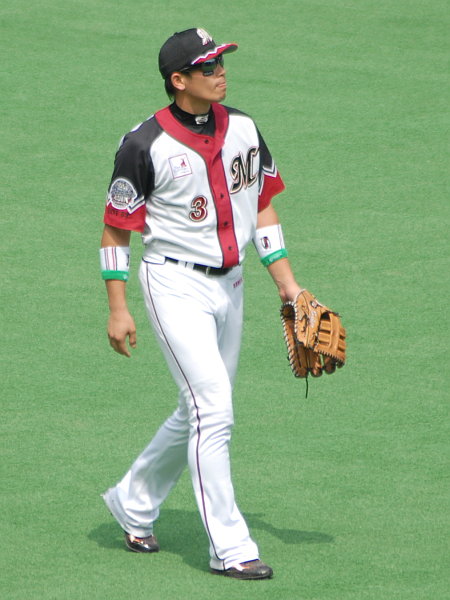 We spent a lot of time staring at Saburo in right field. He's such a rock star.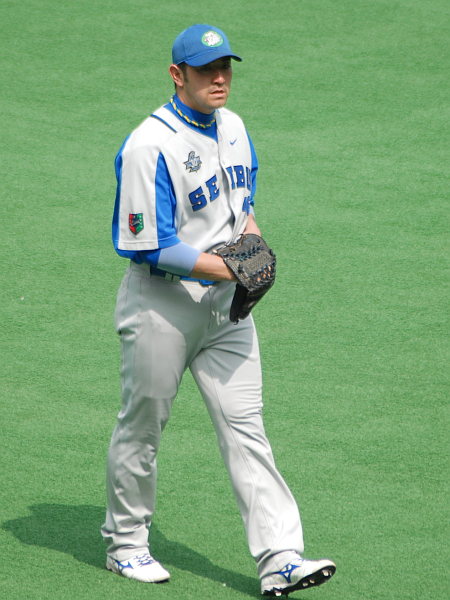 This is the Olympics-bound G.G. Satoh. I did not yell "Kimochiiiii!!!" at him.
Man, what a day.
Tomorrow I am going to Kyushu for the first time, from Saturday morning to Tuesday morning. I'm psyched! I will indeed watch a lot of baseball, although aside from seeing Nippon Ham at the Yahoo Dome on Monday night, I haven't really entirely planned out what I will do. I kind of want to catch a ni-gun game at Gannosu, and I kind of want to go to Hiroshima since it'll be my last chance to see a game there, and I kind of want to see Shunsuke and the Marines at the Yahoo Dome on Sunday, and I kind of want to go to Sasebo or Nagasaki. But it's going to be super-hot, so ugh. Too many things, too little time. I should probably go back to Kyushu in the winter, maybe, for touristy things.