I think it is safe to say that today was easily one of my best experiences as a Fighters fan ever. The only way it could have possibly been better would have been if, well, the Fighters had actually won the game.
To sum up:
- I met Lisa (writer of the
Orientalmix
blog)
- She had gotten us free tickets to the game from a coworker
- We had lunch at the Baseball Cafe and watched part of the MLB All Star Game (Sherrill!!)
- We stalked Ma-kun and the Eagles pitchers, and Lisa got Domingo Guzman's autograph
- My Fighters friends made room for us in the FRONT ROW of the outfield cheering section
- Yu Darvish's younger brother was sitting in our row for a while
- Our group was on the scoreboard screen for a few seconds
- We sang and cheered and had an AMAZING time and everyone was AWESOME
- and the
Fighters lost 5-2 :(
But at least Ryan Glynn didn't take the loss.
And now for the longer, fangirl babbling version...
First, you might be wondering about the post title. It has absolutely nothing to do with the game itself, for once. (Otherwise, it would have been "Glynn and Bear It".) See, I became a Fighters fan at the Tokyo Dome back before they moved to Hokkaido; my first game ever was Fighters vs. Orix Blue Wave. (I wrote a bit about it in my
goodbye to Kanemura
post.) That time, I sat in the outfield having absolutely no idea what the heck was going on, and essentially, the Fighters fans around me said "Here's a lyrics sheet. Come sing with us." And I had such a good time then that I have been a Fighters fan ever since. But I haven't seen a Fighters home game in the Tokyo Dome since 2003, basically.
So today, for me, was a homecoming in a way. It was coming back to my roots as a Japanese baseball fan, renewing and refreshing every thing that I love about baseball here, and especially about Fighters fans. As I said, the only way the day could have remotely been better was if the Fighters had won.
It started off when I met up with Lisa in the early afternoon. For the backstory here, Lisa is a
CIR
for Chiba prefecture. Part of her job is helping foreigners in Chiba adjust to their lives there... and "foreigners in Chiba" includes the Marines players, of course. Lisa's mom is from Sendai so she's really a Rakuten fan, but being in Chiba and being so close to Bobby and the Marines staff, she's pretty much fallen for
Yuki Karakawa
the team. Larry Rocca virtually introduced us a long time ago, but today was the first time we could actually meet up. Sadly, this was probably also the last time, since Lisa is moving back to Canada in mid-August. Very sad, as a matter of fact, because she is really an amazing person, very friendly and kind and fluent in Japanese. If I was even half as beautiful and outgoing as her, you wouldn't see nearly as many game reports here of "I was too shy to talk to ____..."
As I mentioned, we went to the Baseball Cafe for lunch because, well, I figured it'd be funny, and it was convenient. As it turned out, we randomly got seated at a table with a Phillies patch in it, which is my hometown team. And so I decided to order their "cheese steak", which was closer to a Primanti's steak sandwich (from Pittsburgh) than anything, but not bad. The All-Star game was running on TV, and when we sat down, George Sherrill was pitching, complete with unbent baseball cap, and I nearly blew a gasket. "OH MY GOD THAT'S GEORGE SHERRILL!!!" I exclaimed, and started babbling about George's life history and how he came out of the independent leagues into Seattle's system and got traded and blah blah blah. And Lisa, rather than running away screaming like "Oh my god you are such a geek," was like "That's an amazing story!" And then she started telling me all about her weekend in Sendai at the Marines-Eagles games.
We baseballgeeked around the Tokyo Dome area for a while -- I showed her Yamashita Books, and the Tokyo Dome shop, and so on. And eventually it got to be stadium-opening time, and so we went in. My first order of business was to get gatchapon pin badges, so we found the Fan Club table, I bought five tokens (the maximum), and I got: 1) Hakodate Local Game, 2) Giants Interleague, 3) Hanshin Interleague, 4) Keisaku Itozaku #20, and 5) Shintaro Ejiri #27. Now, I love Ejiri quite a bit, but I already had his pin, so I asked the girl behind me what she got, and if she had Ejiri, she said no, and traded me for Naoki Miyanishi #25. Score! :)
Then we snuck into the outfield unreserved seats (technically we had infield unreserved seats so this was a downgrade) and sat down in the 4th row one section over from the major ouendan. I got out my Fighters jersey and cheersticks and an extra Fighters jersey and sticks for Lisa. And then I looked around, like "I wonder if I'll see anyone I know..." and then I swear I looked up and I'm like "Wait a minute, I think I know that person!" and yelled "HIROMI!!!!" and sure enough, it was Hiromi and a few of her other friends who I had met before at Kamagaya and the Tokyo Dome as well. They were all like "Oh! It's the crazy Fighters fan gaijin! Long time no see!"
Lisa wanted to go stalk the Eagles pitchers, namely Masahiro Tanaka, so we put our stuff down on our seats and made our way over towards centerfield. I'm pretty good at spotting/recognizing players, so as soon as we get there I'm like "Hmm... I don't see Ma-kun yet but hey, there's Domingo Guzman," and so Lisa just runs up and yells "HI DOMINGO! WHAT'S UP?" And he kinda stops like "Hey there." Now keep in mind, we were at the top of the Tokyo Dome centerfield wall, which is like 15 feet high, but... some other people asked if he'd sign some stuff they were dangling over the side of the wall, so he did stop and sign, and Lisa chatted with him and then asked if he'd sign her Rakuten ticket from Sunday. And he did, and sent it up on the clipboard one of the other people was dangling down. And I asked, "Hey Domingo, are you pitching tomorrow?" And he said that yes, he was, and then ran off to try to crush one of the younger pitchers with an exercise ball. No, just kidding. Mostly.
I spotted Ma-kun, and pointed him out to Lisa. He was jogging back and forth across the outfield, so she yelled "Tanaka!!!" and I yelled "Ma-kun!!!! Ganbare!!!!" He jogged some more. I looked around the other pitchers. "Oh my god that's Kanehisa Arime," I said, noting a certain tall skinny left-handed dude playing catch practically right in front of us. And then Ma-kun jogged by again and Lisa yelled again, and I yelled with her, and eventually we finally got him to look up and wave at us :) I think maybe Domingo told him, "Your crazy gaijin stalkers are up there."
We stayed out in center for the entire time the Eagles were taking BP and thus the pitchers were hanging out in center. They also did pitcher fielding practice and the guys were all joking around. It was cute.
When we came back to our seats, Hiromi told us that there was room up front and we could come sit with them! So we got to sit in the VERY FRONT ROW which was PURE AWESOMENESS. First, there's so much leg room! And plenty of room to stow bags and... well... stuff. All of us had a ton of stuff. I had my inflatable Hichori microphone and Kensuke hand, and sketchbook full of signs for players. Hiromi had her sign for Kazuya Murata. Her friends all had various other stuff -- Mariko had a ton of felt signs for various players, and Minako had all of these absolutely gorgeous signs she had made as well, some of which were even signed by the respective players; her one for Tsuruoka in particular was really nice. Oh yeah, and she was wearing an Imanari jersey so I said "Is Imanari-kun up at ichi-gun still? I love him too... I live near Urawa..." One of their friends is this older guy who had a videocamera and was wearing a Takeshi Shimazaki #73 jersey. (Shimazaki used to be the closer for the Fighters in the mid-1990's and is currently a pitching coach. I am a big enough dork to know that.) He ended up taking a bazillion videos of all of us cheering and holding up our signs and all. I wonder if I will ever get to see any of them.
And incidentally he was also the one sitting and chatting with Darvish's brother in the later innings. But that's another story.
Okay, so anyway, there was a baseball game. Ryan Glynn started for the Fighters, and Hiroshi Katayama for the Eagles. Glynn has been having terrible luck this year; his peripherals aren't fantastic but they're not that bad for a 3-12 record. Katayama, on the other hand, is a 21-year-old lefty who is apparently fairly good at pitching, but I'm not really familiar with him.
Inaba and Sledge were not in the Fighters lineup for various reasons (rumor is Inaba has a slight injury). With a lefty starter with Rakuten it makes sense to send out a more righty-heavy lineup, anyway. Jason Botts got the nod as the DH, Shinji Takahashi was catching, and Kazuya Murata was starting in left field.
Toshimasa Konta was playing right field for the whole game. We kept trying to get his attention between innings but he was totally not looking at the stands at all - Mina and I kept holding up our 紺田 signs but it took until like the 6th or 7th inning before he'd look up at us.
Hichori got to third base in the bottom of the first but didn't score. Rakuten loaded the bases in the top of the 2nd but amazingly didn't score, mostly on a fantastic double play pulled off by Makoto Kaneko and Kensuke Tanaka, shortstop Kaneko running out to make a catch of a low blooper in left field and then firing the ball to Kensuke at second to double off Daisuke Kusano. Kaneko, for his part, walked in the bottom of the second with two outs but got caught stealing second base. Oops.
In the top of the third, Teppei Tsuchiya led off with a single out towards us, was bunted to second, and then BOOM, Yosuke Takasu hit a home run 110 meters into the Rakuten cheering section in left field.
2-0
.
FINALLY in the 4th inning the Eagles went down 1-2-3 and we got to hear them play "Who Let The Dogs Out" over the loudspeakers. In general, the sound system played all of the same at-bat songs and general music and sounds as in Sapporo, which was really pretty great. I've been watching the Fighters as the away team so much that it was really refreshing to see them as the home team again, although I regret not getting to see and cheer for Atsunori Inaba. No Inaba Jump, no sitting right behind Inaba in the rightfield seats, no blaring of "I Was Born To Love You" over the loudspeakers, no hoping to catch another one of his
home run balls
. I have to admit, I do love Inaba, but since he's such a popular player and since I got my heart broken so badly by Ogasawara, I've kind of shied away from him. I didn't think about it until realizing how much his absence from the lineup made me sad.
The reason I mention this is because Lisa was commenting on the Fighters cheer songs. First, she said how they really were pretty difficult -- compared to the Marines songs at least! But she also said that it was funny how we weren't all bouncing up and down all the time. I pointed out that well, we did infact have a few times for jumping up and down, but those were, namely, the Naoto Inada jumping cheer, and the infamous Inaba Jump which was the bane of all outfield cameramen during the Japan Series. And then, well, the Kanto-only Chitty Chitty Bang Bang chance music, which involved a little jumping. "If the Fighters do something cool, you'll certainly get to hear it, it's really neat and still pretty novel."
So with one out in the bottom of the 5th, Jason Botts singled, ran to second on a wild pitch, and then Makoto Kaneko doubled to left!! (I was so happy Kaneko was doing so well today. I like our senshu-kaicho very, very much too.) So that scored Botts, bringing it to
2-1
, AND brought out the fanfare for the aforementioned chance music! It's funny enough trying not to get tongue-twisted over saying "Kattobase Takaguchi" in four beats, but even more impressive is that Lisa could actually pick up the lyrics of the "ganbare bokura no Fighters" part. And then a few batters later (with the chance music still going strong) Hichori came up and singled home Kaneko to tie the game at
2-2
! Wheee! Sadly, Murata got himself picked off third to end the inning a bit after that. Oops.
The Lucky 7 inning came up, and Lisa got out her Rakuten folding fan and waved it a bit while the Eagles fans were singing their team song. Glynn struck out catcher Motohiro Shima, and then there was a pitching change and he came out of the game. I felt really bad that there was no chance Glynn could get a win, but at the same time he also couldn't get pegged with another loss, at least. Naoki Miyanishi, whose pinbadge I had traded for earlier that evening, took the mound... and Wataru Nishimura singled to left. Teppei bunted him over to second, and it was time for ANOTHER pitching change.
Yoshinori Tateyama took the mound after that.
Now, remember how I was calling this game my "Homecoming" of sorts? Well, something funny is, in my very first Fighters game, at the time, Tateyama was the team's closer, and so he also came into that game in the 8th inning, and immediately gave up two runs. And today, everyone in our row was even like "Tateyama? Oh crap."
So after some pinch-hitting musical chairs -- Toshiya Nakashima was pinch-hitting for Masato Nakamura originally, and then Kenshi Kawaguchi pinch-hit for Nakashima -- and Naoto Watanabe pinch-ran for Nishimura -- naturally Tateyama got up to a 1-1 count and then HIT KENSHI WITH A PITCH. Argh. Yosuke Takasu came up to bat, and I was like "Oh yeah, he hit that home run in the third inning..." and then this time he came up and singled to left, easily scoring Watanabe. The cutoff throw from left even went sailing over home plate, but they fortunately recovered it in time to not allow another run to score. Sheesh.  
3-2
. た~て~や~ま~~
So, the bottom of the 7th arrived and we all sang Go Go Fighters, people held up more signs and towels and whatnot, and then OUR GROUP WAS ON THE BIG SCREEN! They panned across our entire row -- Lisa elbowed me like "Deanna! We're on the screen!" and sure enough, I looked over, and there we were -- a row of people in Fighters jerseys and me looking VERY green in my Hichori t-shirt (it was hot, so I had taken off my jersey by then). Lisa had said before the game that she thought it'd be really cool to be on the screen, and was psyched when she saw my book of player name signs, so I think between this and stalking Ma-kun, she filled all of her goals for the day!
(The sad part is, because Jason Botts was leading off the bottom of the 7th, I didn't actually HAVE any signs to hold up for him. So I was caught empty-handed. Doh!)
It was also at this point that Hiromi and others told me that Darvish's brother was sitting at the end of our row. At first I could not understand what they were getting at and then Lisa, who was chatting with Mariko, explained, "That's Darvish's brother! She says that he's 20 years old and has a kid already too." Lisa managed to take a
picture
of him, but I couldn't because I swear every time I looked over, he was giving me a really funny look. It was VERY weird. So I just tried to avoid looking over that way and instead concentrated on yelling a lot.
Which wasn't hard. After Botts grounded out, Kaneko got another walk, and then advanced to third on a hit-and-run that Takaguchi pulled off with a single to center. And then, despite Hiromi being psyched that her favorite player Murata was up to bat... he was pulled for a pinch-hitter... ("Oo! Daida! Dare da? Inaba?") SHINYA TSURUOKA? Huh? Well, Mina likes Tsuruoka so she got out her sign for him, and then the ouendan struck up the Chitty Chitty Bang Bang chance music again and then we all just jumped and clapped and yelled and sang and whatnot. Unfortunately Tsuruoka struck out, and SO DID HICHORI, and arrrrrggggghhh.
In the bottom of the 8th, Konta led off with a single and then advanced to second on a wild pitch, and Kensuke Tanaka walked. So the ouendan struck up the Wasshoi chance music, which I ALSO remember from my very first game because I couldn't figure out what the heck they were saying. UNFORTUNATELY at this point Shinji Takahashi grounded out to third -- and worse, it was a double play as Kusano tagged third base for the forceout on Konta AND made the throw to first base in time. Eiichi Koyano struck out after that to end the inning.
Yataro Sakamoto took the mound for the top of the 9th. One of the other women in our group actually had a jersey that said 弥太郎 30 on it, which I had noticed earlier. I recalled that Sakamoto also comes from Urawa Gakuin, and she was so surprised like "Wow, this girl really DOES know the entire team!" Sadly, though, Yataro started off the inning by giving up a double to Motohiro Shima -- the ball actually came out towards us, we stood up to look over the wall as the ball bounced against it over Konta's head, and watched him throw it back in. Naoto Watanabe bunted Shima over to third, and then there was another pitching change, Tatsuo Katoh taking the mound.
Teppei hit a liner to second -- and Kensuke Tanaka made a FABULOUS DIVING CATCH of it, because he is made of pure awesome. Except, it turned out it wasn't a liner, and so Kensuke threw to first base and wasn't in time to get Teppei. Doh! Shima scored on the play, making it
4-2
. Kenshi hit a fly ball out towards left field after that, Makoto Kaneko running out to make the catch for two outs. But after that, Yosuke Takasu -- who was already 3-for-4 on the day with that home run in the 3rd -- hit ANOTHER towering shot out towards center. Hichori ran out, out, out to get it... and it wasn't a home run, bouncing off the wall about 3 feet below the top, thank god, but it took a while to recover the ball and thus Takasu had a TRIPLE. If he had gotten a double he would have had a cycle for the day! Sheesh! Anyway, Teppei scored and that made it
5-2
.
Tsuyoshi Kawagishi, who I have never seen pitch before that I know of, came out to close out the game for Rakuten, and he did so in pretty quick order, striking out Botts and Kaneko (although Botts hit TWO towering shots to right field... both a few feet on the wrong side of the foul pole), and then Takaguchi got up to a full count before hitting a pop fly up in the air above home plate that was caught for the game-ending third out
and the Eagles won it
.
I suppose if there WAS a game hero it would be, by all means, Yosuke Takasu.
But anyway, I was really sad that the Fighters didn't win, probably even sadder than everyone around me, because they can go to a lot of games, but I can only go to games from time to time. Plus it would have been a great end to the story, but alas.
I wanted to get a picture of me and Lisa together since I will probably not get to go to a game with her again for a very long time if ever. So we got Hiromi to take a picture:
And then the funniest thing happened. Some other guys came up to us and said, "You gaijin are amazing, we watched you cheering your guts out for the entire game, it's just a shame the Fighters didn't win! Can we take a picture with you?" So then we posed for a whole bunch of pictures with them too! That was really bizarre.
Finally, a security guard towered over us as I finished packing up all of my Fighters stuff, and we were almost the last people to leave the outfield stands. I don't remember security being that crazy, but hey, whatever.
We walked around to the front of the Tokyo Dome to go towards Suidobashi station, and then Lisa's like "Hey! It's the mascot! Let's get our picture with him!"
So we did.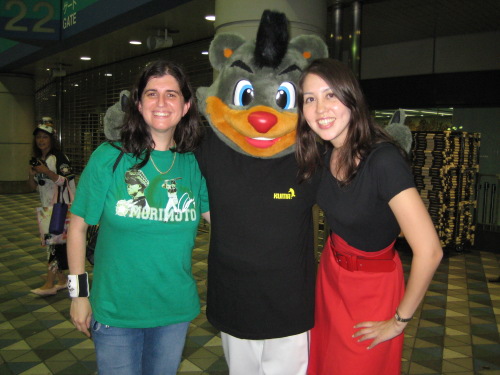 He even had a cute "Kuma" logo as a parody of the "Puma" logo, heh.
Then we stopped off in the videogame arcade and did crazy Fighters purikura, putting on all the Fighters jerseys and cheer goods as props, and we wrote stuff on it like "Tokyo Dome! Rakuten wins! Yay Fighters!" and so on. I accidentally got it so it printed out a few big photos instead of lots of small ones, whoops, but that's ok I guess. It was fun.
We got on the train with this lady who was a HUGE crazy Fighters fan and had her jersey signed by practically the entire team. She loves Kensuke Tanaka and thus had a ton of pink stuff and Kensuke stuff. I was all in Green Power Ranger mode (aka "Hichori Fan Mode") still, of course. So she talked to us in English, although I had to get off the train and transfer two stops later, so alas.
When I got home, I realized I hadn't actually eaten any food in the last 10 hours and was completely starving. I think the adrenaline rush of being in the stands had basically fueled me for the entire game -- it was just SO exciting to be up there, and to be at a Fighters home game, and to be around such a great group of people, and so on. I just wish I could do it more often!
The best part is, this was Lisa's first game at the Tokyo Dome, and even her first time actually sitting in an outfield cheering section. I'd been joking that I would make sure she had a good time at the game, but I had no clue how that was going to happen. Fortunately, dumb luck and the utter kindness of Fighters fans came to the rescue and we had a blast, a day that I will remember always, the same way I remember my very first Fighters game, a perfect homecoming... aside from the Fighters losing, of course. But hey, that also makes it a more authentic Tokyo Fighters experience, right? :)