Hypothetical question: Is it illegal to sneak into a minor league baseball stadium and take a picture of yourself in the dugout? And is it technically sneaking if all of the gates were open anyway?
I sure hope not.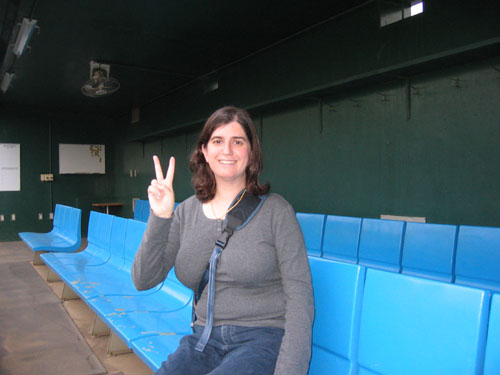 Some baseball bloggette in the dugout of the Lotte Urawa Stadium.
Let me explain. No, there is too much. Let me sum up.
While searching for information on NPB events in November, I found out that there's a series of
"Futures games"
going on right now. They seem to be a series of games featuring a bunch of NPB minor leaguers playing against various industrial league teams. Sadly, I found out about the one today a little bit too late (and it was at the Giants park in
Yomiuri Land
anyway, bleeeggghh) but next Sunday afternoon there's going to be a Futures game at the Lotte minor league stadium, NPB Futures vs. JR Higashi Nihon. Yes, I'm planning to go to the Konami Cup finals on Sunday at 6pm, but that gives me plenty of time to go catch a futures game at 12:30pm, right?
Well, it gets even better. I looked up where the Lotte minor league stadium is, and
it's in Saitama -- in Urawa, even!
Now, I live in Kawaguchi, so it's about 4 miles from where I live as the crow flies, and a bit more on bicycle, but that sounded like it'd be a nice ride. So today I rode out to check out the stadium and see what the area's like, and whether I could bike it, or if I should take the train to Musashi-Urawa instead.
Anyway, I found the stadium without too much trouble. And much to my surprise, the stadium gate was actually open.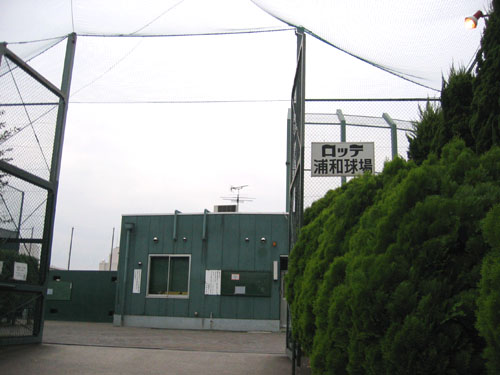 Welcome to Lotte Urawa Stadium.
I saw a pretty funny sign on the gates, actually.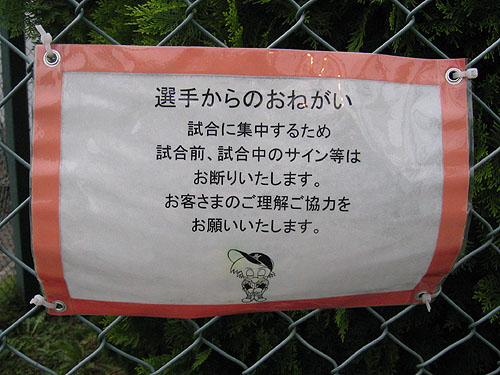 This sign basically says, "From the players: In order for us to concentrate on the game, we request that you please don't ask us to sign stuff before or during the game. Thanks."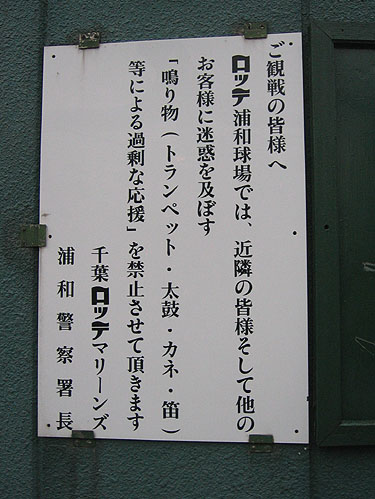 And this sign, which is posted up on the wall inside the gates, basically says, "Lotte kindly requests that people don't bring noisemakers and instruments for cheering players."
Yeah, that's right, inside the gates. I walked in and poked my head around and said in Japanese, "Hello? Is anyone around?" but didn't get a response or hear or see anyone there, so I walked around a little bit to see what was there. There wasn't all that much anyway -- this is just a minor league stadium and not a big one at that. But, I'd come out here to see what it was like, so I wanted to, you know, see what it was like.
Then I walked to where the field was, and that gate was ALSO open.
So I took a picture or two of the field.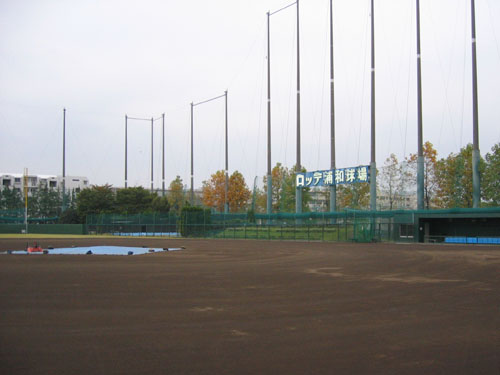 Urawa Stadium has a huge dirt infield!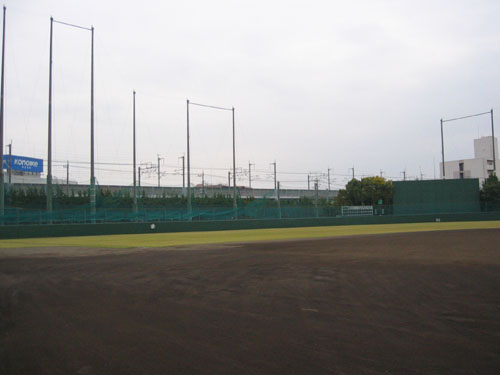 A minor league stadium without a bazillion ads in the outfield. Is that allowed?

I wonder if this really IS all the seating they have there. I suppose it might be more of a picnic-type place.
So, anyway, I took those pictures while just standing in the gateway looking at the field, but still nobody appeared to be around, so I... walked along the edge of the infield for a bit. And there was still nobody there. So I went right into the dugout and sat down for a minute, set my camera's timer, and quickly took that picture shown at the beginning of this post.
I wanted to try to take some good shots of the field, except I was really sure I was going to get caught at any moment, plus I only had my little camera and it was sort of cloudy out anyway. So I basically snapped a few more pictures and ran off the field, rather than worrying about composition or anything. Hence, it mostly looks like it's a vast sea of dirt, when in reality that's just the infield. The outfield fences are pretty close -- 96 meters to the corners, which is 314 feet.

The area behind home plate.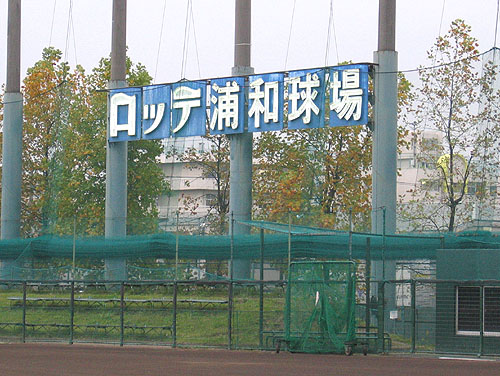 The Urawa Stadium sign up on the first-base side.
I walked around a little bit more. There was something resembling a clubhouse or at least an equipment room open, but there wasn't anyone in there.

Maybe it's a laundry room. I dunno.
I finally saw a human being when I was on my way out. Well, kind of. If you look at the picture of the stadium gates, you can see that there's a window of some sort, with a few inches at the bottom of the window under the window shade. So, I did see that there was some guy in the office there, but he was doing paperwork or something and wasn't looking up at all.
Either way, I figured I should leave, so I did. I mean, it's not like I did anything wrong, and I didn't take anything except pictures, but it was both really awesome and really freaky that I was able to just wander into the dugout of the Chiba Lotte Marines minor-league park, if you know what I mean.
Across the street from the stadium there's a big indoor practice center building, though: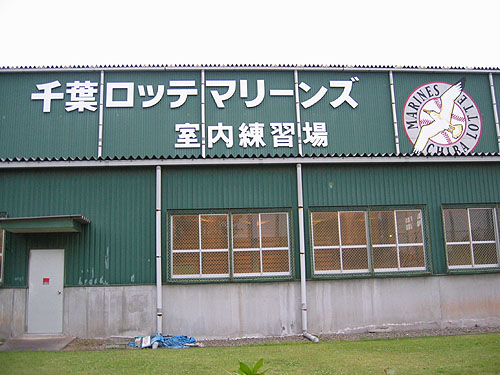 "Chiba Lotte Marines Indoor Practice Place"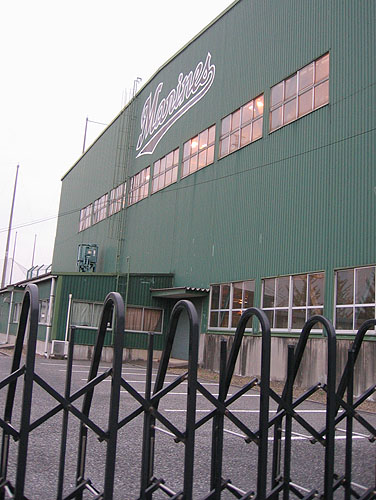 Yeah, see, THIS one had big gates that were quite closed.
Down the street from the stadium is a big Lotte factory of some sort. (For those that don't know, Lotte is a gigantic company that does all kinds of things, but in Japan mostly seems to be associated with candy, gum, ice cream, fast food, and Bobby Valentine.) The building smelled really strongly of chocolate, so I had my suspicions. When I got around to the other side I saw big signs on top of it for
Lotte Chocolate and Lotte Yukimi Daifuku
, which is a kind of mochi ice cream ball (which are AWESOME, I have a few packs of them in my freezer right now, I love daifuku). If they at least do some chocolate processing there, it'd make sense, I think.
Anyway, yeah. Next weekend I'll get to watch some baseball again! Hooray!
I'll try to post all the stuff I've discovered about fall camp schedules and fan fests soon.