A man whose last outing was 8 perfect innings walked the leadoff batter, the best double-play combo in Japan made no double plays, two former Hiroshima Carp pitchers lost the game for the Korean side, and two guys named Lee hit two-run homers for two different teams. Despite what the scoreboard shows, it was a close game all along and it was never entirely clear who was going to win until the final ball of the game landed in leftfielder Ueda's glove, and
Chunichi won the game 6-5
.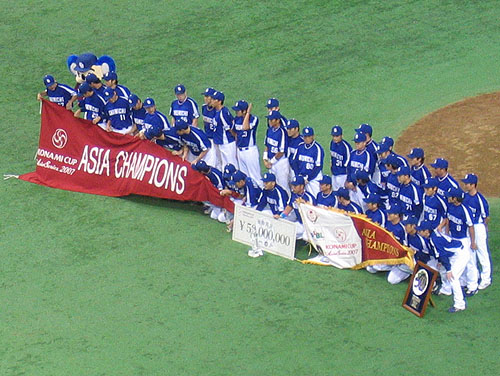 Your 2007 Asia Champions... viewed from the upper deck.
Let's take a moment to review what happened in
this year's series
.
China got completely demolished, but at least this year it didn't get demolished until the late innings in most cases. They were actually up 4-1 on Taiwan in the first game before eventually losing 9-5 with Taiwan scoring 6 runs in the 7th inning, and didn't even allow a Chunichi baserunner until the 4th inning of the third game, again only down 3-1 until a 6-run 7th inning. Sadly, the only game I saw of theirs was Friday afternoon, where they had the mercy rule called on them as Korea won 13-0 in 7 innings. They made 3 errors and were just sort of fundamentally Bad At Baseball in that game; it was sad to watch.
Taiwan also got completely demolished by Korea in another mercy-ended game, this one 13-1 (starter Peter Munro got rocked for 8 runs), but other than that they weren't bad. They only lost 4-2 to the Dragons, and they beat China, although everyone beat China, so that's not saying much.
The Dragons lost their first game of the Asia Series to the Wyverns, becoming the first Japanese team to lose a game in the Asia Series ever. They beat China and Taiwan, but with nowhere near the same margin the Wyverns did. Infact, I'm not entirely clear on how the rules worked for the round-robin format, but if the Wyverns hadn't completely clobbered the Lions there was a chance that Chunichi wouldn't even make it to the finals. I wonder if the Wyverns thought of that. My guess is they didn't.
The Wyverns kicked ass. That's really all there is to it. I went to Friday afternoon's game with Westbay and saw them play and we kept saying, "These guys are GOOD." They played some really fundamentally good baseball on all levels of the game.
I went to Sunday's game with Pau (a Hanshin fan who I've dragged to a bunch of games that have nothing to do with Hanshin), and his friend Martin (who hails from Germany, where they don't actually HAVE baseball). They had beer and sembei; I had cola and a katsu sandwich.
We found pretty decent seats up on the first-base side in the upper deck. The entire second floor and all of the outfield was unreserved seats. The Chunichi side of the outfield was completely packed, but that was about it. There were plenty of people in the upper deck but I wouldn't have called it crowded. And the Wyverns side of the stadium was pretty sparse; the overall attendance was reported as being 21,091, in a Tokyo Dome which seats around 50,000.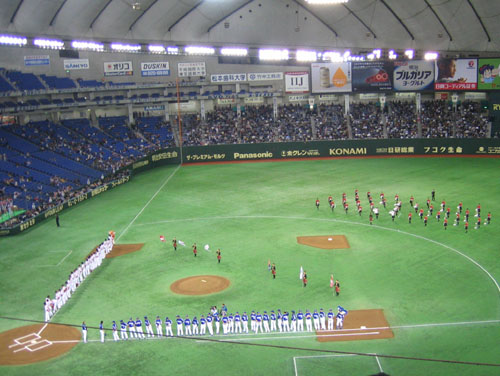 Hey, who ordered the marching band?
One majorly obnoxious thing during this game was that they had announcers in both English and Japanese. It makes sense in a way, because between China, Taiwan, Korea, and Japan, the common second language that most people will study is English. And even though all the places use kanji for writing, the pronunciation is really different among them.
The problem is, this announcer kept saying Japanese names in a way that made me want to kill him. I'm surprised at that. "The next batter IZZZ. Ma-sa-HEE-ko Mo-REE-no." "The catchaaaa, MotoNObu TaniSHEEEEge!!!"
Another Englishy point of amusement for the evening was the way they'd announce to watch out for foul balls. Now, keep in mind, EVERY game in Japan has an announcer saying "Be careful of foul balls." in Japanese whenever a foul goes into the stands. But this time it'd not only say the nice normal Japanese announcement but the English announcer would also say, in his weird voice, "Watch out for foul balls." And the kicker is that they'd added an English line to the scoreboard display...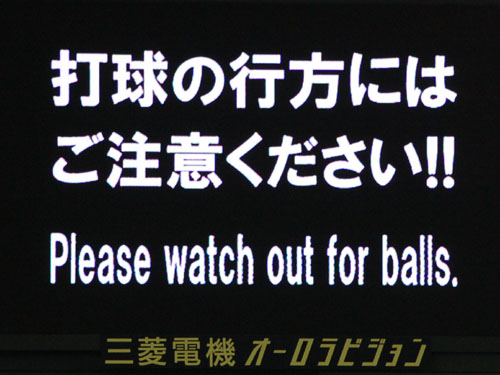 Watch out for balls!
Sure enough, a foul ball actually came into our section in the 9th inning. And boy, were we watching for it!
Anyway, the starters for this game were Kenny Rayborn for the Wyverns, and Daisuke Yamai for the Dragons. If you don't know who Kenny Rayborn is, he's had an interesting last few years wandering through Asia. After failing to make the Cleveland Indians team in 2005, he ended up playing for the Hiroshima Carp. Then he headed off to Taiwan for the 2006 season, playing for the La New Bears, who ended up being the league champions, visiting Japan for the 2006 Asia Series and narrowly losing to the Fighters in the final. In 2007 he moved up from Taiwan to Korea, playing for the SK Wyverns, who became the KBO league champions and visited Japan yet again for this year's Asia Series. One wonders if he'll somehow manage to play in the 2008 Asia Series as well.
Daisuke Yamai pitched 8 perfect innings of baseball last time he took the mound, in the fifth and decisive game of this year's Japan Series. He wears his sunglasses at night.
Full starting lineups:

Chunichi Dragons          SK Wyverns
----------------          ----------
Araki 2B                  KW Jeong SS
Ibata awesome             DH Cho LF
Dragonbutt 3B             JH Kim DH
Norihiro 1B               HJ Lee 1B
Lee RF                    JY Lee RF
Kazuki "DH"               JH Park CF
Tanishige C               KB Chung 2B
Kouji Nakamura LF         KO Park C
Fujii CF                  J Choi 3B

Yamai P                   Rayborn P

Anyway, the Dragons started off this game with a whimper instead of a bang. Araki and Ibata quickly grounded out to start off the first inning, and then Morino hit a high pop fly behind the plate that Korean catcher Kyung-Oan Park easily caught.
Yamai, who'd been perfect in his last outing, pretty much immediately walked leadoff batter Keun-woo Jeong. Jeong stole second on the third strike of Dong-Hwa Cho's strikeout, and Tanishige's throw was a bit wide of Ibata covering second, so Jeong made it to third on the play. Jae-Hyun Kim also struck out, but then Ho-Joon Lee walked. With two outs and runners at the corners, Jin-Young Lee hit a clean single to right, scoring Jeong and moving the other Lee to second.
1-0.
Jae-Hong Park hit a grounder up the left side past a diving Morino for another single, scoring the first Lee.
2-0
. Kyoung-Bae Chung hit a pop fly out to second after that, but the Wyverns were off to a quick lead. 2R, 2H, 1E, 2LOB.
As a joke, I yelled "KAZUKI!!!!! YOU SUCK!!!!!" when Kazuki Inoue was up to bat in the 2nd. He responded by hitting the ball into the first few rows of seats in left field.
2-1.
The Wyverns got off to a quick two outs in the bottom of the second, before Jeong walked again. Fortunately, he also tried to steal second during DH Cho's at-bat, and Tanishige totally read it and nailed him at second, Ibata getting the tag in early and cleanly. Boom.
Between the second and third innings, for whatever reason, the Dragons cheerleader girls danced to a song called "Jumpstart My Heart". I wouldn't have remembered this if not for the crazy Engrish announcer saying "The Dragons cheer girls, will now dance, and they will jump start, your heart!"
Much like the Wyverns, the Dragons also got off to two quick outs in the top of the third, with Kouji and Fujii both striking out. Araki singled to right, but then... a pitch or two into Ibata's at-bat, completely out of nowhere, Araki just sort of started running to second, before Rayborn had even delivered the pitch. Predictably, he was thrown out at second by a mile. We're not really sure what happened there; our best guess was that he missed a signal or something.
The bottom of the third was a 1-2-3 inning (or a K-9-9 as the case may be). Nori Nakamura walked in the top of the 4th, KB Chung singled in the bottom of the 4th, and that catches us up on excitement until the 5th.
I didn't yell anything about Kazuki sucking that time, so he started off with a strikeout. Then Tanishige was hit by a pitch -- and it looked pretty bad for a bit there. The Dragons are kind of screwed if anything happens to Tanishige, but he got up and walked to first after a bit. Kouji singled to right, moving Tanishige to second, and then Fujii hit a ball way out, out to center... for a double! Tanishige scored and Kouji moved to third.
2-2.
The Dragons oendan started the "uchimakure" chance music, and Araki grounded out to third after that, but Kouji Nakamura managed to score on the play.
3-2.
Ibata walked after that, and Rayborn was pulled so lefty Kwang-Hyun Kim could pitch to the lefty-hitting Morino (and Lee and Kazuki).
I held up my Morino towel and yelled really loud "MORINO! MORINO!" along to the chance music, and he did a pretty good job of wasting pitches -- around 10 of them or so -- before eventually striking out to end the inning. Still, the Dragons had taken the lead.
The Wyverns went down in their half of the 5th, and it was back to the Dragons quickly enough. Nori Nakamura walked, and then BYUNG-GYU LEE HIT A HOME RUN!! Blam! So much for the lefty theory.
5-2
. After Kazuki popped out to left field, there was another pitching change, righty Woong-Chun Cho coming in to pitch for the Wyverns. He struck out Tanishige and got Kouji Nakamura to ground out to short.
In the interim and during the pitching change, though, along with singing Moeyo Dragons, the oendan group also started playing the Ochiai-kantoku cheer song several times over. Normally it'd end with two chants of "Misero Ochiai Nippon Ichi!!" but this time instead it ended with "Misero Ochiai Asia Ichi!!" which was pretty funny.
Jae-Hyun Kim wanted to make it clear that he was NOT messing around here. Leading off the bottom of the 6th, he took a 1-0 pitch and hit one of the most beautiful home runs I've ever seen in my life. It just left his bat on a nice clean flat hard line drive and landed in the right-field stands a few split seconds later. There was no arc to the ball's flight, it just went upwards at a slight angle on a straight line until it hit the seats a few rows off the field with a loud thud. I realize some people love watching a big pop fly home run go sailing out into the stratosphere, but there's really something to be said for efficiency.
5-3.
Unfortunately for him the Wyverns didn't follow it up with anything beyond a single from Jin-Young Lee.
Fujii led off the top of the 7th with a single, his bat flying one way and the ball flying another. This led to another pitching change, with Eun-Beom Song replacing CW Cho on the mound. Once the game got going again, as a joke, I yelled "Hashire Fujii!!!" and sure enough, a little while later the oendan also started yelling "hashire hashire fuji-i!" So, of course, that meant lots of throws to first base to try to hold him. Araki hit a pop fly out to center and Fujii nearly got himself doubled off, but didn't. After that, Fujii did finally take off for second, and the pitcher Cho chucked the ball into centerfield by accident. Oops. So Fujii made it to third, and Ibata ultimately walked, Morino came up to the plate with runners at the corners again, and predictably, there was another pitching change.
Notice the scoreboard is actually in English. Also, Dragonbutt.
Lefthander Deuk-Yum Ka came out to pitch for the Wyverns. The Chunichi oendan started the tune of the "nerai uchi" chance music, but sadly Dragonbutt ended up hitting a pop fly out to right. Nori Nakamura hit a pop fly out to short and that was it for the half inning.
I didn't catch exactly what happened to the Wyverns third baseman, but during his at-bat, Jeong Choi somehow ended up down on the ground and the loudspeaker had the following announcement in English (but not Japanese): "The game is PAUSED! Jeong Choi is RECEIVING medical attention!" We also thought this was funny, like "Wow, so they say it in English for our benefit, but they figure that Japanese people are smart enough to look at the field and notice all the trainers around him and figure out that he's getting medical attention with no announcement?"
Between the 7th and 8th innings, the Chunichi cheer girls did another song and dance, but this time for some reason Doala was up in the upper deck also being all mascot-like! So I ran over to see Doala, just like approximately 3829483298 other Dragons fans up there.
Doala sighting!
The top of the 8th was a 9-K-K inning for the Dragons again, with the Wyverns making the "ok, we're done with the lefties" requisite pitching change yet again, taking out DY Ka after Kazuki's at-bat and putting in Mike Romano, who struck out Tanishige.
Daisuke Yamai pitched a pretty respectable 7 innings on 114 pitches, walking 3, striking out 6, and giving up 5 hits, with one HR, 2 earned runs. So, he came out of the game and Shinya Okamoto took over to pitch the bottom of the 8th.
Okamoto got off to a nice start, striking out a pinch-hitting Jae-Sang Park, and getting Jae-Hyun Kim to pop out to right for two quick outs. But then he walked Ho-Joon Lee, and no sooner had I gotten a text message from my friend Jeff saying "I have a bad feeling about this..." Jin-Young Lee got a pitch he liked and COMPLETELY BLASTED IT INTO THE UPPER DECK IN RIGHT FIELD for a game-tying 2-run homer that probably would have gone all the way to Korakuen station had there not been a wall in the way.
5-5
. Lee was the best hitter on the Wyverns that day, going 3-for-4 with that blast.
I don't have a better way of explaining exactly how freaking huge this home run was except to show a picture:
Jin-Young Lee's homerun wuz here!
It ricocheted off the empty seats into a completely stunned Chunichi cheering section in right field.
Okamoto gave up two more hits and Ochiai finally came out like "Ok, enough of that crap," and put Yoshihiro Suzuki out there, who struck out catcher Kyung-Oan Park to end the inning.
Well then.
I warned Pau that the 9th inning was going to be a LOT of chance music, and sure enough, it was. We just kept cycling through the three chance themes ("uchimakure", "nerai uchi", and "gogo") for the whole inning.
And it apparently worked. Ueda pinch-hit for Kouji Nakamura and led off with a walk. Fujii, showing bunt the entire way... bunted. Ueda moved to second, and Araki hit a bounder back to the mound. Two outs and things were looking a little grim, but didn't I mention several thousand times in the last month how awesome Ibata is? He proved his awesomeness once more by singling to center, and Ueda ran for his life and managed to beat the throw home!
6-5
. I got a text from Anthony saying "You know, your boy is the only one who hasn't been on base tonight," at the end of the 7th, so it was slightly gratifying that they intentionally walked Morino in the 9th to get to Norihiro, who obliged by grounding out to third base.
We were also informed that people should not use noisemakers at all for cheering after 10pm out of respect to the neighborhood.
For some reason they DIDN'T repeat this one in English.
As you can see from that shot, Hitoki Iwase, one of the best closers in Japan in recent history, came out to pitch the bottom of the 9th inning. A strikeout, a groundout to third, and a pop fly to left field later, the CHUNICHI DRAGONS WERE THE WINNERS OF THE ASIA SERIES!!!!!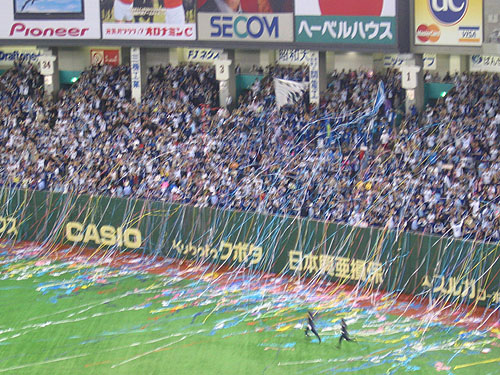 Yay!
Martin and Pau pretty much left right after the final pitch of the game, but I stuck around to see everything afterwards. First, the streamers flew from the right field stands, and of course the teams lined up for a big awards ceremony, where Ochiai was presented with some stuff, the other teams' managers were presented with some stuff, and Hirokazu Ibata was not only named the game hero for that final game, but was also named as the MVP for the entire damn Asia Series! Like I said, he's awesome.
The Dragons players (and Doala, of course) posed with the Asia Series flags and pennants, and then they did a parade around the field, waving to everyone in the stands and showing off the flags, and that was that.
The Dragons fans weren't leaving, though -- we sang another round of Moeyo Dragons and all of the player cheer songs, ending with another "Misero Ochiai Asia Ichi!", and the fans were still out there, so Doala came out to the field and started leading cheers and doing cartwheels and flips and stuff, and that was about when I gave up and went home, being as it was almost 11pm and I knew I still had a 40-minute trip to make.
Actually, I don't know how many people noticed it, but Byung-Kyu Lee snuck off from the Dragons team contingent and went over to the Korean fan side of the stadium to talk to a whole bunch of people, too. It must be sort of strange for him to have to play against the Korean team.
So, just a few more pictures and I'll be done with this post, which has taken me three days to write, seriously, and I'm sure nobody actually bothered reading all of it anyway, but that's okay.
I was apparently sitting in the Araki Fan Club section. Who knew?
But I will forever love Morino first. Ibata second, of course.
Doala sighting from before the game, as he tries to dance with the cheer girls.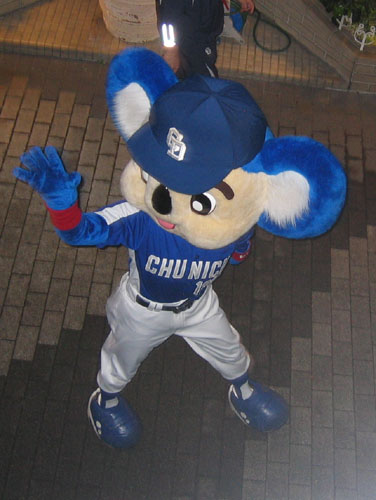 More Doala-stalking before the game.
And that's it!
Pretty exciting stuff! I'm really glad I got a chance to see some other Asian baseball teams play, and I'm also really happy for the Dragons (but sad that all their parades and fanfests are on Saturday and thus I can't go).