It's really cold in my apartment right now, and probably will continue to be really cold for the next few months. I really ought to figure out a way to use all of my baseball magazines and books as insulation.
Today I went to the fire department building in Akabane and asked them if I could have an Ayumi Kataoka smoke alarm poster, since I've seen these posters up all over the place in the last few weeks. They seemed REALLY amused when I explained that I love baseball and I respect Ayumi a lot, and gave me TWO posters! Whee! For those who don't know, she is a female professional baseball player in Japan. She's an infielder for Kin-chan's club team, the Ibaraki Golden Golds. They play in the industrial/club leagues in Japan, so not quite NPB, but still.
The poster is of Ayumi holding a smoke detector sort of the way one would normally hold a baseball. From a distance you'd almost think it WAS a baseball: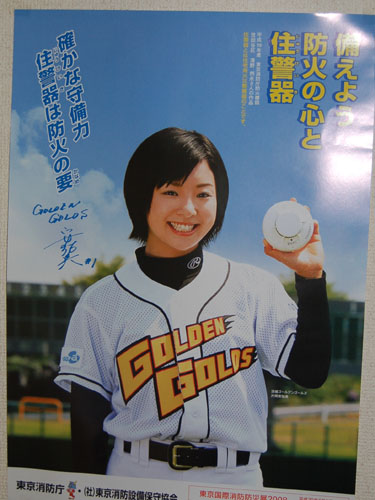 So, this called for rearranging the posters on my wall. I put Ayumi where Kazumi Saitoh used to be, shifted him down, and added a Morino page from Dragons magazine: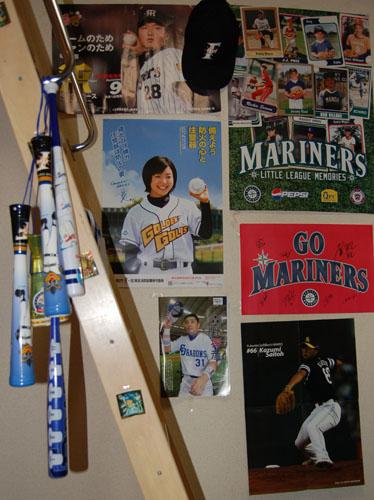 Baseball wall!
Above Ayumi is a Hanshin Tigers poster of Shinobu Fukuhara which I randomly got last year and just like, and the 2005 Mariners Little League Day poster, and the
Go Mariners
card I got signed by most of the bullpen near the end of the 2006 season. Dangling from my loft ladder are cheer sticks for the Dragons, Fighters, and Baystars.
This is what that corner of my room looked like a few weeks ago. Yes, that's a John Olerud poster on the other wall:
You might notice that there is an extremely cute pair of stuffed animals sitting there. Yes, the Phillie Phanatic is holding onto my cardboard noisemaker from the Keio-Waseda game: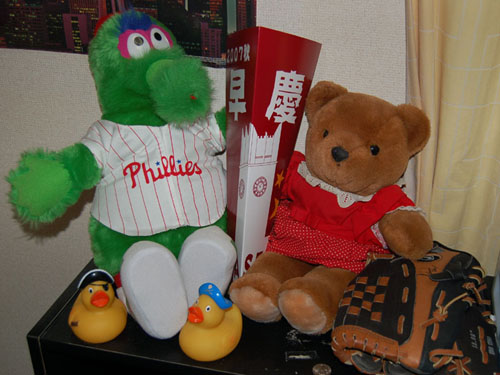 And the Inaba home run ball I caught back in August is being guarded by two Mariners rubber duckies, which are perched on top of my 100-yen-shop plastic drawer tower. The top drawer contains this season's baseball tickets, too:
"Wait," you're thinking, "Deanna, you're a gigantic Fighters fan. Where is all of your Fighters stuff?"
Oh, well, see, that's all on my closet door, on the other side of the room: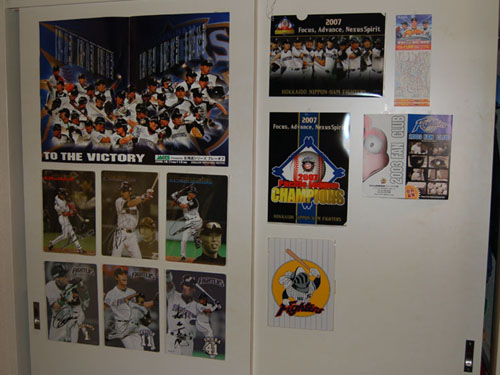 And while we're at it, let me show you something else I have in my room: championship t-shirts from the Fighters and Dragons. I know it's fitting because of the magnitude of the championship, but seriously, the Dragons shirt is 32293402343289582342 bazillion times cooler than the Fighters one. It features a nice gold victory dragon logo on the front, and on the back, a caricature of Ochiai pointing into the distance, and the Chunichi roster. It's a really nice silkscreen, and cost me 2650 yen: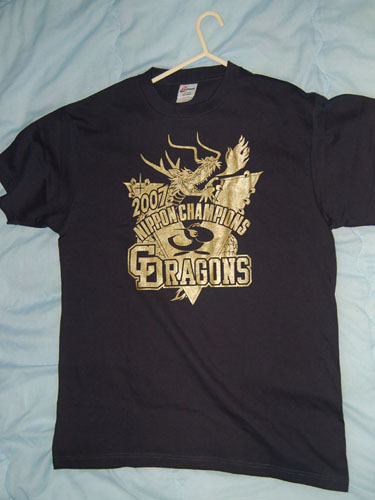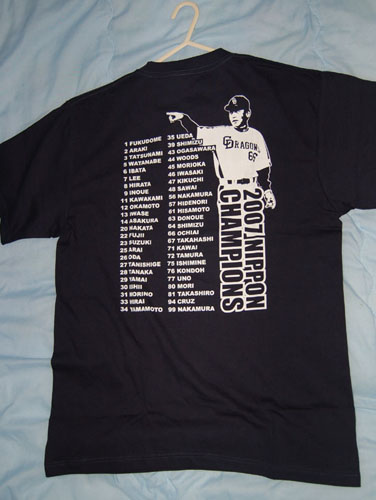 The Fighters one, on the other hand, cost like 3000 yen and is just a lame white shirt with nothing on the back and practically a dot-matrix-printer iron-on on the front:
Anyway, it's cold. I can't seem to go more than about 2-3 feet from my space heater without my fingers turning blue. I was going to go to Yokohama for the Baystars Fan Fest today, but that's REALLY far away from my space heater, so we'll see if I make it down there without freezing to death first.